---
U.S. Navy Cap Ribbons
By Patrick McSherry
---
Please Visit our Home Page to learn more about the Spanish American War
---
Click here to compare with Spanish Navy Cap Ribbons
---
General:
This is a view of a typical naval cap ribbon, also known as a cap tally or a hat band, which was worn on the Navy blue "flat hat." According to the 1897 regulations, cap ribbons were to be constructed from silk ribbon, 1 1/2" wide. The name of a sailor's ship was to appear on the band on 1/2" block letters. The letters were to be either woven with very fine gilt thread or were painted using gold paint. Length will vary. Those below vary in length between 33.75" and 37".


This is a cap ribbon for the USS MIANTONOMOH, one of the navy's remaining monitors at the time of the Spanish American War...and the slowest ship in the U.S. Navy.

This is the cap ribbon from the U.S. old sidewheel steamer MONOCACY, which was part of Dewey's Asiatic Squadron

This is the painted version of a cap ribbon from the USS CULGOA, a supply ship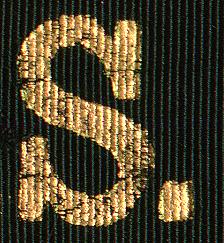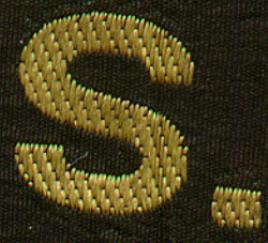 To the left is the painted version on one of the letters. To the right is the woven version of the same letter.
---

Support this Site by Visiting the Website Store! (help us defray costs!)

---

We are providing the following service for our readers. If you are interested in books, videos, CD's etc. related to the Spanish American War, simply type in "Spanish American War" (or whatever you are interested in) as the keyword and click on "go" to get a list of titles available through Amazon.com.
---
Visit Main Page for copyright data