">
---
U.S.S. Miantonomoh
By Patrick McSherry
---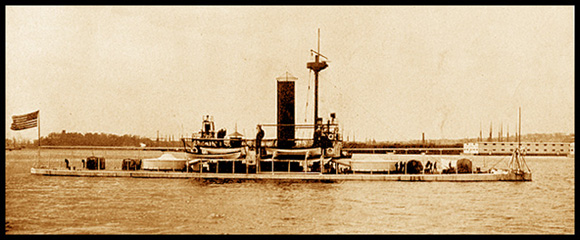 ---
GENERAL:
The MIANTONOMOH was one of the last monitors constructed for the U.S. Navy, and her history shadows the general history of the navy in the years leading up to the Spanish American War. The vessel took part in the blockade of Cuba, but saw little actual combat.
BACKGROUND:
The original monitor MIANTONOMOH was launched in 1863. Unable to obtain funds for the construction of new vessels during the 1870's, when the U.S. Navy virtually went out of existence, the navy utilized a funding system that it had relied upon in the past. Using funds allocated for repairs, the MIANTONOMOH was rebuilt. In actuality, the old vessel was scrapped and an entirely new ship built using only a few parts from the old vessel (this same funding rationale had been used to rebuild both the CONSTELLATION and the MACEDONIAN in times past, so this was a continuanceof navy tradition). The new vessels were constructed with iron hulls, not steel as were most later vessels were.
The new MIANTONOMOH was launched on December 5, 1875. When initially commissioned on October 6, 1882 for sea trials, she was still not yet completed, as her armament was not yet installed. The vessel was decommissioned only six months later in New York where she was to be finally completed. Her armor was compound armor imported from England, which was soon outdated. Her guns, however were ten inch, and were the first large caliber guns entirely forged and manufactured in the United States. This last phase of construction continued until 1891. When finally completed, she had been under construction for seventeen years! This was a long time, however she was till the first of her class (consisting of herself, the AMPHITRITE, MONADNOCK, and TERROR) to b completed. During that time a tremendous amount of funds were spent on maintenance. For instance, when it came time to install her armor, it was found that portions of her structure were no longer sound, and had to be rebuilt, a result of the tremendously long construction period.
Called derisively a "floating flat iron," she was finally placed in commission under the command of Capt. Montgomery Sicard on October 27, 1891. The vessel first steamed off the U.S. east coast, before again being laid up in New York. Later she served as a support ship in fleet target practices and also with the naval militias of Massachusetts and Rhode Island, before being decommissioned in November of 1895.
The aging monitor, now a coal eating dinosaur, was recommissioned for service as the threat of hostilities with Spain grew stronger. The ceremonies took place on March 10, 1898, and the vessel was placed under the command of Capt. Mortimer L. Johnson. After fitting out at Charleston, South Carolina, the vessel was added to the Cuban blockading squadron on May 5. She would remain with the blockading squadron until the cessation of hostilities. Her value was a blockading vessel was limited since shewas the slowest vessel in the American fleet and could not chase a blockade runner if the need arose. On August 12, while operating off Havana, the MIANTONOMOH, SAN FRANCISCO and the SYLVIA were fired on by the Morro Castle battery. The MIANTONOMOH was unscathed, but the SAN FRANCISCO was damaged by a ten or twelve in shell. Following the war, MIANTONOMOH was sent to Philadelphia, arriving on October 1, 1898, and was decommissioned in reserve on March 8, 1899.
In 1906, the MIANTONOMOH was loaned to the Maryland Naval Militia. The following year, she was recommissioned and operated out of Norfolk, Virginia. She took part in the Jamestown Exposition, and saw the Great White Fleet off on it cruise around the world. Very shortly afterward, on December 31, 1907, she was decommissioned.
On December 17, 1915 MIANTONOMOH was authorized for use as a target for naval gunnery. She was struck from the Navy roles on December 31, 1915, the eighth anniversary of her final decommissioning. The vessel was sold to J. G. Hitner and W. F. Cutler of Philadelphia on January 26, 1922.
---

Original hatband from the USS MIANTONOMOH
---
ADVANTAGES/DISADVANTAGES:
As were all monitors, the MIANTONOMOH was extremely slow, difficult to maneuver, and somewhat unmanageable on high seas. The MIANTONOMOH was one of the slowest vessel in the fleet, and was virtually unusable as blockading vessel for this reason. Her top speed was about 8 knots, therefore her cruising speed would have been substantially less. Her coal bunkers were small, and if she increased her speed from 4 knots to 8 knots, she would use the coal eight times as fast. Therefore,she was constantly searching for coal. Often, to conserve coal, monitors such as MIANTONOMOH were often towed by other vessels. Admiral Sampson comments that the monitors, including MIANTONOMOH caused him "endless trouble and delay."
Monitors in general had many problems at sea, and were simply not suited for use on the high seas. They were constructed with only about twenty percent reserve bouyancy whereas a "normal" ship had about eighty per cent reserve bouyancy. Basically, it took less water coming in to sink a monitor. Also, having such a low freeboard, monitors had more water coming in! It was impossible to remain dry in a monitor at sea.
Her armor was old-style compound armor, which consisted of a hard, but brittle, steel face with a tough, ductile iron backing. This armor was superseded with the United States began producing its own high quality "harveyized" armor. Her sister ships were supplied with better armor.
Ships such as the MIANTONOMOH were considered to be best fitted for harbor defense, which, with a sea-going navy, was no longer a great concern. The advantage of the MIANTONOMOH and the other monitors, though they never had a chance to prove it, was that they were basically floating batteries. Her large ten inch guns were larger than most guns in the fleet except for the guns on the battleships. However, unless the waters were smooth, the ship rolled so badly as to make the aiming of its gun extremely difficult.
The MIANTONOMOH's turrets were turned by steam. Steam-operated turrets did not operate smoothly. They often moved in a jerking motion which made aiming the guns more time-consuming and frustrating. Guns in steam turrets fired more slowly than guns in pneumatically assisted (Such as the TERROR was provided with) or electrically operated turrets.
MIANTONOMOH's engines were also outdated being inclined vertical compound engines, not modern triple expansion engines. Her speed suffered accordingly.

---
TECHNOTES: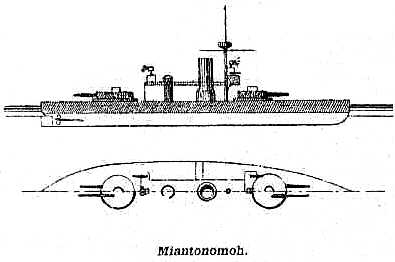 | Classification: | | Amphitrite Class Monitor |
| --- | --- | --- |
| Laid down: | | 1874 |
| Launched: | | December 5, 1876 |
| Commissioned: | | October 27,1891 |
| Rig: | | One military mast |
| Armament: | | Four 10 inch breechloading guns |
| | | Two 6 pounder rapid fire guns |
| | | Two 3 pounder rapid fire guns |
| | | Six 1 pounder rapid fire guns |
| | | Two Colt revolving guns |
| | | One field piece (for landing parties). |
| Contractor: | | John Roach, Chester, PA. |
| Length: | | 259 feet |
| Beam: | | 55 feet, 6 inches |
| Draft: | | 14 feet, 6 inches |
| Maximum draft fully loaded: | | 15 feet |
| Displacement | | 3,990 tons |
| Complement: | | 13 Officers and 136 enlisted men under the command of Capt. Mortimer L. Johnson |
| Engine Type: | | Inclined compound engine, 1,426 hp. 2 screws |
| Speed: | | 8-10.5 knots |
| Coal bunker capacity: | | 260 tons |
| Normal coal supply: | | 250 tons |
| Armor: | | Compound armor, 7", sides, 11 1/2", turrets, 1 3/4", flats. |
| Cost: | | Cost: $635,000 (approximately) |
---
Bibliography:
(As a service to our readers, clicking on title in red will take you to that book on Amazon.com)
AAlden, Cmdr. John D., USN (Ret.), American Steel Navy , (Annapolis: United States Naval Institute Press, 1972).
Clerk of the Joint Committee on Printing, The Abridgement of the Message from the President of the United States to the Two Houses of Congress, Washington DC: Government Printing Office, 1899.
Gardiner, Robert, Ed., Conway's History of the Ship: Steam, Steel and Shellfire. (London: Conway Maritime Press, Ltd., 1992)
Harris, Brayton, Lt. Cmdr., U.S.N.R., The Age of the Battleship, New York: Franklin Watts, Inc., 1965.
Jane, Fred T., Jane's All the World's Fighting Ships (New York: Arco Publishing Company, Inc., 1969). This is a reprint of the 1898 edition.
Naval History Department, Department of the Navy, Dictionary of American Naval Fighting Ships, Vol. 4, Washington DC: Government Printing Office, 1969.
Otis, James, The Boys of '98. (Boston: Dana Estes & Company, 1898).
---

Support this Site by Visiting the Website Store! (help us defray costs!)

---

We are providing the following service for our readers. If you are interested in books, videos, CD's etc. related to the Spanish American War, simply type in "Spanish American War" (or whatever you are interested in) as the keyword and click on "go" to get a list of titles available through Amazon.com.
---
Visit Main Page for copyright data