---
A Roster of the
8th Ohio Volunteer Infantry
Contributed by Betty Leonard
---
Please Visit our Home Page to learn more about the Spanish American War
---
Click here to read the history of the 8th Ohio Volunteer Infantry
Click here
to read an Obituary for William G. Hackworth of the 8th Ohio Volunteer Infantry
Click here
to see a roster of the dead from the 8th Ohio Volunteer Infantry
---
Click on the following to go the roster of the company:
Regimental Staff and Band
Company A (Bucyrus) ||| Company B (Akron) ||| Company C (Polk) ||| Company D (Wooster)
Company E (East Liverpool) ||| Company F (Canton) ||| Company G (Wadsworth) ||| Company H (Shreve)
Company I (Canton) ||| Company K (Alliance) ||| Company L (Canton) ||| Company M (Mansfield)
---
General:
Below is a roster of the entire 8th Ohio Volunteer Infantry!!
---
Roster of the Regimental Staff and Regimental Band of the 8th Ohio Volunteer Infantry:
Officers:
Colonel Curtis V. Hard, Wooster
Lieut. Col. Charles W. F. Dick, Akron
Major Edward Vollrath, Bucyrus
Major Frederick C. Bryan, Akron
Major Charles C. Weybrecht, Alliance
Adjutant Alexander W. Maynes, Akron
Surgeon Wilbert A. Hobbs, East Liverpool
Ass't Surgeon George H. Wuchter, Wadsworth
Ass't Surgeon Allen V. Smith, Canton
Quartermaster Herman L. Kuhns, Canton
Batt. Adj. Charles F. Schaber, Bucyrus
Batt. Adj. George M. Wright, Akron
Batt. Adj. Andrew T. Weybrecht, Alliance
Chaplain James O. Campbell, Wooster
Non-Com Staff and Band:
Reg. Sergeant Major Edward P. Barber
Reg. QM Sergeant Rezin M. Bailey
Batt. Sergeant Major Edward G. Reid
Batt. Sergeant Major Daniel W. Brown
Batt. Sergeant Major George Rea
Hosp. Steward Otto J. Oppenheimer
Hosp. Steward Frederick S. McKinney
Hosp. Steward Zaddock F. Atwell
Chief Musician William R. Palmer
Prin. Musician Otto Wollweber
Prin. Musician James E. Fulton
Sergeant Theodore Bride
Privates [Presumed to be bandsmen]:
Burklew, Sewell R.
Cheveraux, Paul S.
Cooper, Heber
Coyle, John W.
Denshal, David H.
Dewar, James
Harris, Walter H.
Lantz, Charles W.
McTammany, John
Miller, Ralph C.
Morris, John M.
Oberholser, William J.
Ruttman, Daniel W.
Snyder, Milo D.
Steadman, Harry K.
Walker, James A. G.
Woehler, Henry C.
Worthington, Wm. W.
Yohey, George E.
Zeurbe, Perry
Discharges:
Sergeant Major Charles S. Hoover, promoted 2nd Lieut., Co. G.; Sergeant Major Joseph W. Young, promoted 2nd Lieut. Co. F.
Deaths:
Chaplain Isaih N. Kieffer; Major Emmer C. Farquhar, surgeon; Hospital Steward Willis Clark Struggles

---
The Roster of 8th Ohio Volunteer Infantry, Company A (Bucyrus, Ohio)
Officers:
Captain, Marcus A. Charlton
1st. Lieut. John W. Birk
2nd Lieut., Guy D. Swingly
Sergeants:
[1st] Edward Rodey
John C. Cramer
[QM] Joseph E. Wert
Milton W. Stalley
Alva S. Humiston
Lewis S. Nedele
Corporals:
William F. Reber
Frank H. Hill
Frederick T. Beer
Ephriam G. Monnette
George E. Kinninger
John B. Crim
Robert W. Kerr
Christopher Dinkel
Henry E. Volk
Edward M. Wise
Fred W. Bacon
William M. Burwell
Samuel Raymond
Daniel Spade
Mus. C. W. Deardorff
Art., E. A. Burrough
Mus., Charles W. Raub
Wag., Wm. C. Beer
Privates:
Altaffer, Rufus
Bauer, Ulrich
Becker, Arthur
Beelman, Harry T.
Belzner, Charles F.
Berry, Thomas
Bittikofer, Charles L.
Bloodhart, Arthur C.
Breymaier, William J.
Brown, John B.
Bryant, Charles F.
Callaghan, Peter
Carle, Christ.
Charlton, Wilber J.
Christie, Robert L.
Coleman, George O.
Coulter, Jay E.
Couts, Harry
Cummins, William M.
Deam, William C.
Donnenwirth, C. F.
Emerson, Guy P.
Ferrall, Charles
Fidler, Charles
Fisher, Cyrus H.
Foreman, Charles W.
Foreman, Homer A.
Haffner, Luther
Hayman, Roy H.
Heintz, Albert
Hieronimus, Joseph J.
Hill, James P.
Hillis, E. G.
Hillis, William D.
Hipp, Michael
Holland, Harry H.
Hubbell, Walter M.
Huber, Jacob
Jones, Charles V.
Kehrer, George
Kerr, E. Harry
Kohler, Samuel
Koons, Glenn H.
Leitz, Harry W.
McCracken, Jay C.
McKeehen, Gilbert
Minich, Jesse H.
Mollenkoff, Louis
Moore, Jay
Morrow, Harry W.
Munz, Frank
Nail, Charles
Nelson, Samuel H.
Orr, Benjamin L.
Orr, William R.
Plummer, Thomas
Rayel, T. P.
Reminger, Theodore
Rettig, Edward
Rettig, John
Reynolds, Frank
Rice, Orlando C.
Rodgers, Birt
Sampsel, Sherman
Shanks, Charles E.
Stahl, Frederick
Stanley, Edgar A.
Stewart, Ralph J.
Taylor, Roscoe A.
Teeterick, Albert
Trautman, Frank
Trumbull, Roscoe A.
Ullam, Bert
Warden, Albert
Winner, Harry R.
Discharges: Fay W. Brown
Transfers: Henry C. Woehler
Deaths: Charles C. Keplinger

---

Company B in Akron after receiving mobilization orders were received. Harry S Quine is identified as #33
The Roster of 8th Ohio Volunteer Infantry, Company B (Akron, Ohio)
Officers:
Captain, Herman O. Feederle
1st. Lieut. Harry J. Blackburn
2nd Lieut., Will O. Rutherford
Sergeants:
[1st] William E. Walkup
Harry F. Treap
[QM] Earl Cranz
James R. Thomas
Clarence H. Cranz
Otis E. Prier
Corporals:
Franklin Tanneyhill
Charles R. Serfass
Joseph C. Morrison
Robert T. Dickson
Claude A Cass
George W. Rogers
Charles C. Crumrine
Lewis J. Grether
Jesse W. King
Harry S. Quine
Royal A. Walkup
Harry D. Hoagland
Cook, C. W. Kraver
Artificer, William Didion
Musician, Albert Roussert
Wagoner, David Whitestine
Privates:
Bachman, Charles A.
Bender, Ellwood C.
Bertsch, Paul
Bitter, Julius F.
Boise, Rice E.
Bordner, William H.
Bowman, Robert H.
Brown, Gerald H.
Brumbaugh, David J.
Burla, Frank T.
Cameron, Wilford E.
Campbell, Harry E.
Chapin, Robert H.
Christensen, Charles F.
Clark, Claude B.
Clarke, Joseph
Cline, Jerry
Cole, William A.
Creighton, Ossian C.
Diehl, Fred H.
Dorrance, John M.
Durant, George S.
Enhart, Harry
Galloway, Robert A.
Garman, Charles W.
Goddard, Frank D.
Groesel, Ernest
Halloway, Albert C.
Hanscom, Austin, B.
Harding, William H.
Helbling, Charles T.
Hetzel, John
Hoagland, Harley
Honodle, Edward
Jeppson, Charles J.
Johnson, Arthur C.
Jones, Alfred M.
Jones, William
Joseph, William
Keck, Harry E.
Kempel, Joseph
King, Charles E.
Lewis, Raymond E.
Longacre, Ellsworth H.
Love, William H.
Milbourn, Edmond W.
Morris, Walter R.
Nelson, Frank
Outland, William C.
Prior, George A.
Reinert, Charles
Ritter, William A.
Roberts, John
Robinson, Edson M.
Rood, Luther W.
Shaffer, Lyman E.
Smith, George F.
Snyder, Charles A.
Souers, James E. F.
Spafford, Willis B.
Spencer, William A.
Sprague, Arthur E.
Stair, Blaine A.
Swift, Oliver H.
Thomas, David R.
Weiss, Raymond
Whalen, George
Wheeler, Walter R.
Williams, Idris C.
Woods, Frank F.
Discharges:
Private Arthur R. Teeple
Transfers:
Privates George D. Allison and Bert H. Eakins to Hospital Corps; Private George E. Yohey and Musician Daniel W. Ruttman to Band; Private Edward P. Barber to Reg. HQ as clerk.
Dropped from rolls:
Private William P. Richter
Deaths:
Privates Fred G. Haushalter, Arthur Nelson, Ward A. Wilford, John Roose, Aleck Heller, Daniel F. Lillich, Charles A. Spade and Edward B. Strobel

---
The Roster of 8th Ohio Volunteer Infantry, Company C (Polk, Ohio)
Officers:
Captain, Tully O. Deibler
1st. Lieut. Kiser W. Taylor
2nd Lieut., Orlando R. Edwards
Sergeants:
[1st] James Hess
Frank L. Hartsel
[QM] Jess M. Clark
Joseph C. Bryan
[Col. S.] John M. Eidt
Eugene C. Glessner
Corporals:
William Marks
E. Clarence Kopp
Ilger C. Fahr
Lorenzo Baylor
David H. Nolan
Don T. Kiplinger
Grant S. Griner
John E. Spencer
Peter Hetzel
Frank J. Nolan
Jay B. Wilson
Orla P. Edwards
Charles E. Warner
Artificer, Jacob Barrick
Wagoner, Albert H. Jones
Privates:
Abrams, Ed. T.
Armstrong, Thomas
Auhl, Fred
Bell, Sherman W.
Berry, Joseph
Biddinger, Elmer
Bott, LaRoy F.
Boyle, John O.
Brownson, Charles W.
Buchter, Stanley D.
Chubb, Frederick
Clark, Scott A.
Closson, John D.
Clugston, James V.
Depler, Frank
Diveler, Amos M.
Downs, Robert F.
Egner, Otis J.
Ewing, Tom C.
Flinn, James G.
Fry, Alven C.
Geary, Herb
Gerhert, Woodbury W.
Gibson, Louis R.
Gilletly, Fred H.
Gorham, John D.
Harmon, Russell P.
Harpster, Bert F.
Hayes, Fred C., Jr.
Heifner, Elza
Hider, Clarence A.
Hockensmith, Charles A.
Hosler, Elza
Jarvis, Clarence J.
Knoth, William F.
Kolp, Willard E.
Kramer, Ezra
Leach, Coleman
LeFevre, Harry E.
Lersch, Arthur
Long, Col LeRoy
Long, Oscar W.
Maxwell, Curtis B.
McCray, Benjamin W.
McCrory, Charles J.
McKee, Frank S.
McQuillin, Willard
Miller, Bert
Miller, Denton J.
Miller, Maurice E.
Mish, Earl
Newton, John
Patterson, Jay H.
Plank, Joshua M.
Query, Derward
Renn, John Z.
Ricket, Orlo J.
Ridgley, Roy
Rittenhouse, Emmet C.
Robinson, Louis J.
Sattler, Thomas O.
Scanlain, Thomas
Schopf, William F.
Schott, Wilfred B.
Smith, Louis A.
Snoddy, Allen C.
Sweringen, Frank
Swineford, Harry
Tallon, Bernard
Way, Charles
Wertman, Charles
Wertman, Ed.
Wise, Tilden
Wolfe, Charles
Woods, William
Ziegler, Louis C.
Transfers:
Musicians William W. Worthington and Heber Cooper to band.
Deaths:
Privates John L. Carpenter, Alfred G. Gardner, William Leminger, Peter C. LaLone, Charles F. Miller and Frank Redding

---
The Roster of 8th Ohio Volunteer Infantry, Company D (Wooster, Ohio)
Officers:
Captain, Frank Gerlach
1st. Lieut. William E. Barnard
2nd Lieut., Gustave W. Unger
Sergeants:
[1st] Arch H. Dice
Harry P. Eaby
[QM] George S. Limb
Louis E. Gasche
Horace W. Miller
Franklin B. Horn
Corporals:
Webster D. Horn
Charles R. Scott
Harry D. Woolman
Cary W. Grassenbach
George M. Swarts
Robert Cameron, Jr.
LaVern C. Cumberland
Sterling R. Funk
Charles E. Unger
Will R. Curry
Perrine Lautzenheiser
Thomas R. Stevens
Mus., Charles A. Heater
Wag., Loyd A. Naftzger
Art., Willie A. Conrad
Privates:
Albright, Howard R.
Barnes, John R.
Baughman, William H.
Beckley, Willard K.
Blake, George H.
Boyd, William H.
Branstetter, Harry P.
Brown, George W.
Brown, Thomas D.
Brown, Thomas P.
Bucher, William H. Jr.
Burg, George
Cameron, Nathaniel C.
Carr, Sherman H.
Christine, Louis W.
Christy, Charles W.
Clark, Jerome E.
Conrad, Edward D.
Creath, Owen W.
Criley, Wallace K.
Critchfield, Lyman, Jr.
Cumberland, Charles E.
Derr, Eddie W.
Eddy, Ralph W.
Emrick, Edward E.
Fitler, Jacob P.
Fortney, Charles L.
Glenn, Joseph T.
Glenn, Samuel M., Jr.
Gravatt, Quintin M.
Graves, William W.
Gray, Frank G.
Griest, James E.
Heller, Harry M.
Hughes, William H.
Jacobs, Harry A.
Johnson, Merten R.
Jolliff, Harvey F.
Kinkler, Harry
Kistler, Joseph W.
Kostenbader, Frank
Langell, C. E.
Lerch, William G.
Linberger, Charles W.
Mahaney, Edward
Maize, Percy M.
McClarran, Harry L.
McClelland, William G.
McKinney, Charles H.
Milham, Arthur R.
Miller Harry C.
Miller, Edward H.
Moseley, Howard J.
Myers, John P.
Norris, Willis W.
Oltmanns, Antoni
Pinnicks, Sinclair J.
Plank, Harry F.
Plum, Floyd H.
Rieder, Edmond S.
Robertson, William W.
Ross, Amos L.
Schuch, Fred A.
Schuck, William
Segner, Robert, Jr.
Smith, Olin Lee
Smith, Vernon J.
Stotsbery, Charles C.
Stotsbery, John F.
Stotsbery, William A.
Swarts, John T.
Swartz, William B.
Thomen, Edward C.
Weaver, Samuel E.
Webb, George G.
Winebrenner, Calvin A.
Yoder, Ephriam S.
Discharges:
Private Charles W. Barnhart
Transfers:
Musician David H. Drushal to band, Private Frederick J. Leapold to s.c.
Deaths:
Privates Irven Lautzenheiser, Fern R. Naftzger, O. Earl Imler, Charles W. Frazier and Alvin B. Clay

---
The Roster of 8th Ohio Volunteer Infantry, Company E (East Liverpool, Ohio)
Officers:
Captain, William M. Hill
1st. Lieut. George O. Anderson
2nd Lieut., Robert T. Hall
Sergeants:
[1st] William F. Harley
William H. Kinsey
[QM] Frank L. Trump
Thomas C. Smith
Charles A. Purinton
George T. Blake
Corporals:
Joseph C. Davis
Harry G. Kerr
Vaughn P. Weaver
Ralph A. Wood
William J. Miller
Walter S. Cook
George E. Wyman
Lawrence E. Heddleson
William R. McCord
Thomas J. Beaty
William G. Hackworth
Edwin S. Morley
Art., Oliver P. Barker
Cook, Frederick A. Martin
Wag., John R. Gilson
Privates:
Albright, Percy, D.
Anderson, Baird N.
Burrows, Arthur
Campbell, George W.
Carnahan, Maurice J.
Caton, Harry A.
Cox, Charles C.
Cox, William G.
Crewson, Walter S.
Davis, Harry K.
Dodd, Carroll L.
Driscoll, Robert
Duke, Charles W.
Dye, Frank S.
Eoff, Harry
Eoff, William M.
Fair, Thomas
Farmer, Harry
Gladfelter, Fred A.
Hackathorn, Joseph H.
Haden, Harry
Hale, Frank T.
Harvey, Joseph B.
Headley, Harry E.
Headley, John C.
Heddleston, Edgar H.
Henry, Charles E.
Hoff, Rollo D.
Howard, John A.
Hoyt, Joel W.
Hughes, John H.
Jackson, William W.
Jones, Thomas
Kirkwood, Allie M.
Lucas, Isaih
McCarron, Dennis M.
McGill, Thomas G.
McIntosh, John P.
McKinney, William H.
McKinnon, John C. D.
McKinnon, Orville J.
Millsack, Frederick G.
Mite, Raymond S.
Moon, Samuel
Moore, Philip
Morian, Beecher
Murray, John W.
Mushrush, Ira G.
O'Rourke, John H.
Oschmann, Fred G.
Paisley, William L.
Pool, Lewis M.
Potts, Robert
Rabon, James D.
Reniker, Alfred W.
Reynolds, Oliver W.
Robinson, John
Secrest, Charles B.
Seevers, Noah C.
Shepherd, William M.
Simms, Ezra H.
Smith, Frederick A.
Smith, George A.
Smith, Harry A.
Smith, Harry E.
Stine, Albert M.
Stoffel, Clyde V.
Swingewood, George
Taylor, John E.
Taylor, Robert N.
Teeters, Carl D.
Trover, William C.
Ward, James E.
Wilkinson, George A.
Williams, Timothy
Williamson, Samuel
Wilson, William D.
Transfers:
Privates James H. Dewar and John McTammany to band
Deaths:
Privates Michael Eck, Orkey J. Eddy, Edwin C. Holloway, Charles Schwitzer and Francis Smith

---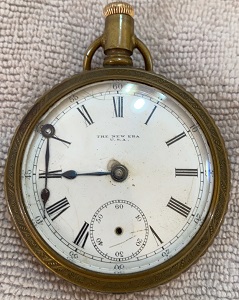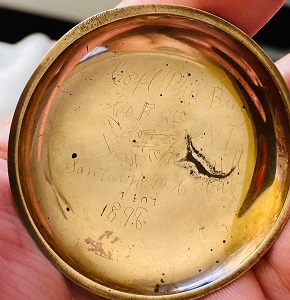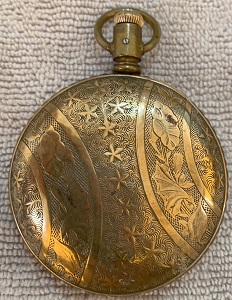 Pocket watch owned by
Philip Biery of Co. F, 8th Ohio Volunteer Infantry. The inscription reads "Corpl Phil Bierly / Co. F 8th OVI /Siboney / San Juan Hill / Santiago de Cuba / 1898" The regiment had landed at Siboney, Cuba, and was stationed on San Juan Hill after the famous battle, but did engage the Spanish from that point. Cpl. Biery was born on January 26, 1876. He married Anna Davis and the couple had five daughters and four sons. Biery and died on May 21, 1957. He is buried at West Lawn Cemetery in Canton, OH. The watch is from the "New Era" watch company and likely has a movement from the Lancaster Watch Company of Lancaster, PA
The Roster of the 8th Ohio Volunteer Infantry Company F (Canton, Ohio)
Officers:
Captain, John A. Leininger, 13 May 1898, died 8 Aug 1898
Captain, August Weidman, 9 Aug 1898 to muster out
1st Lieut. August Weidman 13 May – 9 Aug 1898
1st Lieut. Herbert S. Spidel, 9 Aug 1898 to muster out
2nd Lieut., Herbert S. Spidel, 13 May – 9 Aug 1898
2nd Lieut., Joseph W. Young, 9 Aug 1898 to muster out
Sergeants:
[1st] Clement O. Bloomfield
George Weldman
[QM] Victor F. Buch
Clark Ferguson
Charles W. Clewell
David Eschliman
Corporals:
John H. Smith
Frank P. Schicker
Ernist Raber
John E. Robinson
Philip Biery
Ira C. Goodyear
William P. Hurford
James F. Davis
William P. Leahy
Edwin L. Wagner
William Breckenridge
John W. Coleman
Mus. John M. Hill
Wag., George Homer White
Art., William H. Miller
Privates:
Anthony, Louis H.
Atkins, Frank A.
Baird, Henry L.
Bessi, Joe
Beuchat, Henry
Bock, Otto
Bolender, Walter L.
Bowen, William
Broeski, Henry
Cantleberry, Joseph N.
Chaddock, Ollie
Cunin, Austin E.
Deckman, Arthur W.
Delaney, Thomas E.
Donze, Albert
Eckstine, Frank
Farrell, Frank
Fillies, George E.
Flanagan, Barney
Freeman, Thomas G.
Gloss, William H.
Green, Herbert S.
Grossklaus, William H.
Grunau, Brunno
Gustafson, Ernst
Gween, Herman H.
Hanny, Bert
Hauptfuer, Edward
Hemperly, Clarence E.
Henning, Harry F.
Hewitt, Herbert J.
Hinkle, Oliver C.
Hoslar, John
Knorzer, Ludwig
Koenig, Max V.
Kress, John C.
Kutz, Frank
Little, Robert
Locke, August E.
Maiers, Harry
Manley, William
McGaffic, Wilmer
McKinnon, Cash
Meeker, Carl S.
Meister, George
Metzger, August H.
Misch, Eugene
Myers, Walter W.
Myers, William W.
Nieschwitz, Charles
Olinger, Edward
Ortt, Otis
Oschmann, Edward J.
Penfield, Earnest
Potts, Bert
Prendeville, James P.
Purnell, Lewis E.
Remy, Richard W.
Reynolds, Delvan C.
Rubin, Christian
Sexton, William W.
Sheaffer, Robert H.
Shotts, Charles E.
Shriver, Charles E.
Shroyer, John W.
Skeels, Walter E.
Smith, John
Snyder, John
Stormfeltz, Charles C.
Streby, Edward
Tucker, William D.
Walcutt, Bert J.
Walsh, Michael
Wilkinson, Paul
Willaman, Clement H.
Young, John J.
Discharges:
1st Lieut. August Weldman, promoted to Captain; 2nd Lieut. Herbert S. Spidel, promoted to 1st Lieut.; Private Carl R. Van Dervort
Transfers:
Privates Harry K. Steadman, Charles W. Lantz and Perry Zerbe to band; Privates Franklin Pfirman and Benjamin Jones to Hospital Corps
Deaths:
Captain John A. Leininger, Privates Frank J. Hagerman, James L. McGrath, Frank Eckley and Charles Harbert.

---
The Roster of the 8th Ohio Volunteer Infantry Company G (Wadsworth, Ohio)
Officers:
Captain, Frank C. Lee
1st. Lieut. Fred C. Hile, 13 May – 21 Jun 1898
1st Lieut. Herbert E. Bolich 6 Jul 1898 to muster out
2nd Lieut., Herbert E. Bolich 17 May – 6 Jul 1898
2nd Lieut., Charles S. Hoover, 6 Jul 1898 to muster out
Sergeants:
[1st] W. W. Hunsberger
William J. Wells
[QM] Harvey O. Yoder
William Bolich
Thomas Hambleton
Allen Weaver
Corporals:
James E. Dick
Harry H. Dibble
Claude L. Yoder
Abraham L. Stauffer
Fred C. Dibble
Alman J. Baughman
Valentine Gerstenschlager Jr.
Earl P. Funk
Art., Albert K. Loomis
Wag., Frederick W. Santrock
Privates:
Alexander, Herbert O.
Arick, Bert F.
Bauch, Joseph J.
Brought, Frank H.
Brumbaugh, George F.
Buchholz, Jacob
Burgess, John
Burk, John
Conrad, Kirk H.
Cunningham, Oliver M.
Degenhard, Henry
Dick, Frank P.
Dunn, James
Ebner, Clement J.
Falor, Clarence
Ferguson, Sherman
Fiscus, Stanton C.
Fouche, Ira
Fretter, Albert H.
Frick, Frank
Geissinger, Frank F.
Gerstener, Edward
Good, Charles W.
Graham, Harry
Gunsaulis, William
Hambly, Charles
Harrington, Bert B.
Harter, Rollin E.
Hedd, William P.
Herst, Charlie E.
Hoisington, Fin H.
Huffman, Charles S.
Huffman, Edward E.
Hunt, Ernest L.
Ish, Bert
Keefer, Joseph W.
Kraver, Fred W.
Kreider, Fred W.
Lee, Ernest R.
Long, William A.
MacIntire, Charlie G.
Markley, Joseph C.
Martin, John
Merfield, Joseph
Miller, Eugene
Mohn, John H.
Neiswender, Carl
Nicely, Arthur H.
Omeara, Patrick
Overholt, Charles H.
Overholt, George
Pruner, Willis G.
Putnam, Edwin P.
Rebaux, Curtis A.
Richardson, Maurice
Robleder, David T.
Roshen, Charles A.
Saner, Bert M.
Schafer, Arthur O.
Seiler, George
Shumacher, Frank
Siegfried, John J.
Smith, Edgar
Snyder, Samuel
Sonnanstine, Walter G.
Strachen, Robert
Tanner, Wilber J.
Taylor, Ulysses S.
Tuttle, Harry G.
Van Epp, Arthur
Vernosky, John
Wait, Ralph H.
Warner, Clare R.
Wells, Clarence
Welsen, Mike
Welty, Clement J.
Worthington, Elmer A.
Yoder, Archie L.
Yoder, Charles J.
Discharges:
1st Lieut. Fred C. Hile; 2nd Lieut. Herbert E. Bolich promoted 1st Lieut.; Sergeant Herbert E. Bolich promoted 2nd Lieut.
Transfers:
Musicians John W. Coyle and Milo D. Snyder to band
Deaths:
Corporals Dudley D. Wilson, John S. Lee, Charles E. Boden and John C. Long; Privates Otis P. Thompson, Nicholas Gallagher, Lowell L. Campbell and Bryon A. Sheets
Deserted:
Ernest Snyder
---
The Roster of 8th Ohio Volunteer Infantry, Company H (Shreve, Ohio)
Officers
Captain, Ammon B. Critchfield
1st. Lieut. Stanford M. Swarts
2nd Lieut., Marion S. Robison
Sergeants
[1st] Peter E. Miller
[QM] Charles E. Airhart
Robert J. Campbell
Samuel N. Manson
Eugene D. Merkel
Bert D. Robison
Corporals
Harley H. Airhart
Harold S. Brink
William H. Burnett
James R. Cole
Joseph D. Duer
John C. Manson
Herbert V. McNamara
Henry N. Miller
Alva V. Mohn
Herbert Morrison
Alfred M. Skelly
Harry B. White
Artificer: Galilean C. Eberhart
Wagoner: Ernest A. Berry
Privates
Alban, Harold G.
Allmeroth, Ellsworth E.
Anderson, Bert A.
Austin, Rufus
Barrett, Perry
Barry, William E.
Bedford, Frank
Beeman, Earl T.
Bird, Charles E.
Bricker, Altie L.
Brown, Frank W.
Brown, Thomas B.
Buchanan, Frederick H.
Carpenter, Joseph W.
Christopher, Albert
Christopher, Calvin
Christopher, Charles C.
Clewell, Charles E.
Close, William M.
Cole, Elmer L.
Critchfield, Ben H.
Croker, John W.
Darling, William M.
Derry, Lawrence
Dix, Martin W.
Donald, Harry C.
Douglas, Harvey C.
Douglas, William H.
Eberly, George
Farver, Cyrus W.
Genet, Edward
Getz, John W.
Hanna, Robert L.
Hensel, Rolland V.
Hites, Emanuel
Hoover, Harold
Hudnut, Charles
Jarvis, Arthur
Jones, Samuel T.
Keister, Charles W.
Kidd, Samuel M.
Kister, Melville S.
Kostenbader, John W.
Kuhn, Edward G.
Landers, John F.
Lautenschlager, Harvey
Leeper, William H.
Lehman, Harry J.
Linton, William H.
Loller, Harry D.
Mast, Emanuel T.
Maxwell, Allen C.
Merillat, Oliver
Miller, Bert
Neiswanger, Ellis B.
Patterson, Thomas C.
Ports, Delbert A.
Ports, Harry A.
Purdy, Charles O.
Riffle, Albert E.
Robinett, William L.
Robison, Walter
Rope, John W.
Schodorf, George A.
Seib, William
Smith, William F.
Stewart, Harry
Stuber, George W.
Switzer, David O.
Way, Ebbert Wesley
Weaver, Charles
White, Charles
Wyre, Orphanas F.
Wyre, Sherman

Discharges:
Sergeant Walter Campbell,
Private Harry B. Brown
Transfers:
Musicians Walter H. Harris and Sewell R. Burklew to band
Deaths:
Artificer Leonard L. Welker
Privates William K. Adams
Lincoln Robert Armstrong
Harry G. Hague
George L. Happer
Asa B. Kiser
Moses McDole

---
The Roster of the 8th Ohio Volunteer Infantry Company I (Canton, Ohio)
Officer:
Captain, Henry L. Willis, 13 May 1898, died 29 Aug 1898
Captain, Philip Yost, 10 Oct 1898 to muster out
1st. Lieut. Philip Yost, 13 May to 10 Oct 1898
1st Lieut., Dudley J. Hard, 10 Oct 1898 to muster out
2nd Lieut., Dudley J. Hard, 18 May to 10 Oct 1898
2nd Lieut., Homer A. Wise 17 Oct 1898 to muster out
Sergeants:
[1st] Edward P. Terrett
Benjamin A. DeMuth
[QM] John L. Whipple
Charles J. Houser
Morris M. Converse
Roy S. Seager
Corporals:
Edward C. Renner
Hugh J. Spotts
Charles T. Rea
Charles A. Witter
Homer G. Ringle
Frank A. Ungashick
Don M. Carr
William E. Hagy
Harold S. Copthorne
Marion M. Murphy
Charles A. McCoy
Lucius E. D. Seeger
Musician, Albert M. Russell
Wagoner, Thomas M. Crum
Artificer, Alfred L. Vogelgesang
Cook, S. W. Buckwalter
Privates:
Aderholt, Robert K.
Babcock, Charles
Barber, John D.
Bernhard, Hugo A.
Brothers, Arthur M.
Buchman, John
Burwell, James B.
Carson, John S.
Clark, William W., Jr.
Corey, James A.
Corey, William E.
Dannemiller, Augustus F. Jr.
Dauber, John G.
Dieringer, Edward H.
Donze, Julius E.
Dyer, Ward B.
Edleman, Charles N.
Erdman, Walter L.
Essner, Joseph G.
Freed, Preston C.
Gibson, Ralph S.
Grable, Albert C.
Groth, John
Haase, Carl A.
Haase, Rudolph W.
Hadley, Glen W.
Hadley, Williams S.
Hagy, Homer C.
Harding, Elmer F.
Harding, Howard A.
Heisler, Jacob W.
Hershey, Benjamin F.
Hopusch, Fred
Karn, Harvey W.
Karn, James D.
Koehler, Percy B.
Koontz, William H.
Kuhlman, Howard W.
Lee, Bennie
Linn, Nelson F.
Lormer, Robert A.
Lothamer, Philip J.
McKinley, James F.
Merchant, Joseph U.
Miller, Harry C.
Mumaw, John H.
Mumaw, Welker A.
Nixon, Ralph K.
Phillips, Charles Lee
Piero, Oliver J.
Provines, James
Quaill, Theodore T.
Redman, Charles F.
Rock, Charles G. [sic]
Schauweker, James T.
Schumacher, Fred W.
Sheldon, George T.
Shew, Orrin P.
Shew, Samuel J.
Shine, Francis M.
Sliker, Harry W.
Spangler, Charles
Spangler, John A.
Steitz, Louis
Tarleton, Clare C.
Taylor, Frank H.
Tebay, Warren W.
Wagoner, Mason L.
Whiteman, Walter L.
Witt, Louis G.
Yost, William E.
Discharges:
1st Lieut. Philip Yost promoted to Captain; 2nd Lieut. Dudley J. Hard promoted to 1st Lieut.; 1st Sergeant Ralph L. Spotts promoted to Captain and A.A.G.; Sergeant Homer A. Wise promoted to 2nd Lieut.; Private Albert T. Bowman
Transfers:
Musician Paul S. Cheveraux to band; Privates Frank A. McGowan, Ralph E. Harrington, Frank L. Wagner, Aubrey W. Marchand and Martin W. Dreenen to Hospital Corps; Privates Herbert L. Sample and Nathan W. Brown to 5th OVI; Private Burton C. Hardgrove to 3rd N.J.V.I.; Sergeant George Rea to non-com. staff.
Deaths:
Captain Henry L. Willis, Privates Edward J. Wingerter, Frank Gibler, Guy G. Kosht and David F. Hoshour.
---
The Roster of the 8th Ohio Volunteer Infantry Company K (Alliance, Ohio)
Officers:
Captain, Elliott L. Gyger
1st. Lieut. Edgar E. Brosius
2nd Lieut., George Heer
Sergeants:
[1st] Harry E. Brosius
Edwin B. Silver
[QM] Charles F. Cooper
Harry m. Dobson
Lloyd F. Moyer
William S. Jarrett
Corporals:
Charles L. White
Fred Baker
George Hutson
Neal Douglas
Whitcomb A. Ballard
Loyal Grubb
John H. Clapsaddle
Harry W. Leu
Charles W. Scott
Curtis J. Bowman
James A. Silver
Michael Sullivan
Charles O. Wiley
Musician, Aldene Reynolds
Wagoner, Ernest Trescott
Musician, George A. Zuber
Privates:
Aldrich, Bert
Anglemyer, Thurman L.
Bankerd, William W.
Bardo, Oby
Bartley, Charles D.
Bourguard, Edward E.
Bryan, John L.
Burton, Ralph H.
Campbell, Walter G.
Cannon, Benjamin
Coffey, Richard W.
Crowl, Isaac W.
Culberson, Elmer L.
Davis, Herbert C.
Davis, Louis J.
Dever, Bernard E.
Dobson, David D.
Eckert, Calvin
Eells, Milton R.
Gilbert, Robert S.
Gilhuly, Joseph A.
Glenn, Charles E.
Griffth, Harry E.
Grimes, Lawrence H.
Heaton, Hugh
Hissner, Elmer A.
Hoppes, Lucius
Hutson, Jesse P.
Jones, Edward W.
Kelley, Charles E.
Kershaw, Edward
Kirkwood, Daniel E.
Kreighbaum, Frank
LeGraen, Alfred H.
Logan, Otis E.
Lowther, Robert W.
Maus, Walter B.
McCallum, William M.
McCowen, Charles H.
McGirr, James S.
Miller, Orva
Moore, Murray D.
Nause, William W.
Newcomer, Jesse
Ogline, Edward
Osborn, Bert I.
Price, John H
Reynolds, Eugene
Richards, Joseph E.
Richards, Martin H.
Rider, William H.
Robertson, Alexander
Robusch, John
Rohrer, John S.
Royer, Charles S.
Schaffer, Robert C.
Schaffer, William H.
Scott, John M.
Scott, Thomas J.
Seacrist, Edd.
Seacrist, Elwood E.
Shaffer, Ira J.
Sourbeck, Alva L.
Stephens, Leroy
Stokey, Fred E.
Urig, Edmund J.
Walker, Otis U.
Walker, Tony S.
Walser, Richard
Zang, Fred J.
Zimmerman, Harry P.
Zuber, Charels H.
Discharges:
Corporal Wallace Miller, Artificer Calvin D. Crowl
Transfers:
Privates Henry V. Buel and William J. Uebelhart to Hospital Corps; Privates John M. Morris and William J. Oberholser to band
Deaths:
Sergeant Clyde B. Crubaugh; Corporal William R. Knowles; Privates David B. Carnahan, James B. Heacock, John O. Patterson, Ora N. Royer and John G. Treuthardt

---
The Roster of 8th Ohio Volunteer Infantry, Company L (Canton, Ohio)
Officers:
Captain, Marcus A. Fisher
1st. Lieut. William M. Burson
2nd Lieut., Herbert C. Smart
Sergeants:
[1st] James A. Hudson
John R. Haus
[QM] Charles Bahler
William B. Graham
Charles E. Gotshall
John W. Holman
Corporals:
Joseph Herdicke
Lincoln A. Slusser
Harvey C. Moreland
George E. Winters
John H. Warner
Jared Herdlicka
William A. Clark
Charles R. Graham
Howard M. Greenwald
Uriah E. Clay
Melvin B. Lape
Joseph C. Snyder
Musician, Arthur C. Rogers
Wagoner, Charles E. Pruden
Artifier John A. Young
Privates:
Allison, William
Aughenbaugh, William
Balizet, August F.
Balizet, John E.
Barnard, Richard
Beaumont, Clifford
Betz, George H.
Black, John P.
Blinn, Albert H.
Bordner, Homer E.
Bressler, Roscoe L.
Browning, John H.
Chambers, Will M.
Chandler, Percy C.
Conrad, Harry E.
Cowley, George A.
Curley, Harry O.
Daniels, John W.
Delp, Henry
Doll, Kent
Draime, Frank J.
Dulabalm, Henry K.
Faubel, Charles
Flory, Charles W.
Genkes, William D.
Geogham, Edward
George, John
Hagan, Henry H.
Harding, Charles S.
Hentzell, Benjamin F.
Hostetter, Frank I.
Jahant, George A.
Kaiser, Harmon
Keiser, Rudolph
Kingsworth, Harvey Z.
Lape, John H., Jr.
Leslie, Darragh
Leslie, Levi
Lippoldt, Charles H.
Longley, George
Marpe, Theodore
McLaughlin, Rodney
Metz, Fred T.
Miday, Eugene
Miller, Roscoe C.
Mossgrove, Oliver P.
Newcomer, William H.
Newhouse, John Alfred
Paisley, George S.
Pennock, Frederick R.
Pumphrey, Ernest M.
Ralston, Robert J.
Reid, William F.
Reimensyder, Charles C.
Renie, George
Rich, Elmer
Roberts, Edward E.
Roshong, Harry L.
Scott, Harry H.
Seese, Dorsy
Seikel, Frank A.
Semler, Daniel H.
Sharp, Richard A.
Sherry, Clifford E.
Simpson, Charles H.
Stands, Frank J.
Stump, John A.
Suter, George
Thomas, William B.
Thurin, George A.
Tobin, Joseph P.
Uebelhart, Nicholas
Vogelsang, Elmer J.
Wertenberger, William H.
Wingard, John L.
Winters, Harry H.
Wise, Warren S. C.
Young, Joseph S.
Zimmerman, Gust
Transfers:
Private Zaddock F. Atwell to Hospital Corps.; Musician James A. G. Walker to band
Deaths:
Corporal Charles E. Tarner; Private Charles C. Mitchell
Deserted:
Henry L. Berlin

---
The Roster of 8th Ohio Volunteer Infantry, Company M (Mansfield, Ohio)
Officers:
Captain, Fred S. Marquis
1st. Lieut. Charles H. Hughes
2nd Lieut., Walter S. Bradford
Sergeants:
[1st] John B. Huggins
Jesse A. Starrett
[QM] Joseph G. Alvord
John B. Gailey
Peter V. Hine
Corporals:
Rufus H. King
Tom M. Bell
Charles C. Beelman
Charles H. Huston
John W. Gaudert
Frank Beverstock
Roscoe E. Porch
Alfred Harrington
William F. Frankeberger
Charles R. Hall
Musician, Harry J. Koons
Wagoner, Anson H. Smith
Artificer, William A. Culp
Privates:
Beam, William H.
Bloom, Geoffrey J.
Bride, Harry M.
Carrick, Thomas A.
Chatlain, Charles E.
Colesworthy, William C.
Connelly, Freeman E.
Cook, Vance C.
Craig, Frank
Culp, John C.
Curran, John
Daugherty, Harry F.
Day, Charles
Dorman, William C.
Eckis, Ezra L.
Fisher, Elmer D.
Hackett, Martin
Harbaugh, Wad
Hartman, William V.
Hastings, Thomas F.
Heidinger, Andrew
Hiltabiddle, Guy P.
Hogan, Patrick A.
Hull, Hugh B.
Irvin, Charles F.
Johnson, William C.
Johnston, Charles R.
Kanary, Pat
Karg, William
Kessler, George
Knapp, Arthur
Kraska, August
Lamberton, James C.
Lawrence, Birdsell S.
Lindsey, Elmer F.
Lowery, Dennis
Lowry, Robert
Mackley, Joseph H.
Maguire, Joseph
McFarland, Harry W.
McKay, William K.
McMahon, Peter
McPherren, James W.
Moffett, Samuel L.
Monastere, Arthur
Moser, David F.
Myers, Ralph H.
Neubert, Conrad
Nichols, Arthur J.
Overholt, Frank C.
Phipps, Elda L.
Post, Ira E.
Pugh, Edward H.
Rickets, Richard H.
Roethlisberger, Urich
Sawhill, Edward J.
Seymour, Joseph D.
Shade, Warner S.
Shea, Charles E.
Shrader, Samuel
Simon, John T.
Snyder, Norman R.
Stoll, Oscar L.
Summerville, Carl B.
Taylor, Thomas E.
Trease, Davis
Tucker, Charlie S.
Warner, John J.
Warner, Joy W.
Warrell, Thomas J.
Weber, Andrew
Whiteman, William H.
Winters, Edward H.
Wolff, William B.
Young, Charles R.
Discharges:
Privates Albert H. Massa, William W. Reed and George J. Hayner
Transfers:
Private Charles A. Gates to Signal Corps; Sergeant Theodore Bride and Private Ralph Miller to band
Deaths:
Corporals Durbin W. Spitler and Harry B. Hoyer; Privates Amos G. Simpson, George C. W. Coleman, Fred B. Byrd, Arthur L. Kaufman and Vincent E. Bruce

---
Bibliography:
Pratt, E. Warren, Official History of the Ohio National Guard and Ohio Volunteers: The United States Volunteers in 1898-99, including a History of each Local Organization and each Regimental Formation from its Inception to the Present Time. (Cleveland, Ohio: The Plain Dealer Publishing Co., 1901)
Photo of Company B courtesy of Mary Auerbach.
Photos of Cpl. Philip Biery's pocketwatch courtesy of Juan Alberto Guzman Hernandez

---

Support this Site by Visiting the Website Store! (help us defray costs!)

---

We are providing the following service for our readers. If you are interested in books, videos, CD's etc. related to the Spanish American War, simply type in "Spanish American War" as the keyword and click on "go" to get a list of titles available through Amazon.com.
---
Visit Main Page for copyright data