---
A Brief History of the 158th Indiana Volunteer Infantry
By John Allison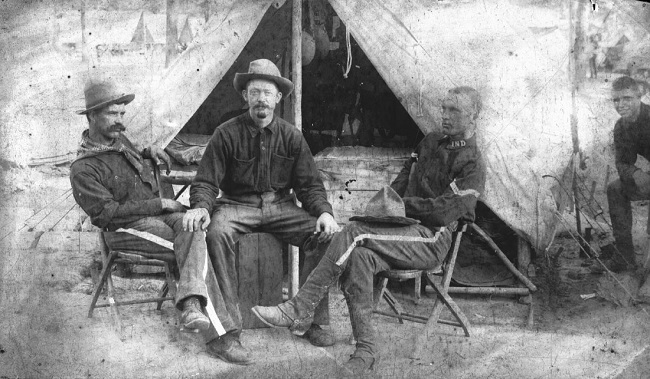 The 158th Indiana Volunteer Infantry in camp. The gent seated at left has been identified as Sgt. David Anson "Anse" Cisco.
---
Please Visit our Home Page to learn more about the Spanish American War
---
Click here for a Roster of the 158th Indiana Volunteer Infantry
Click here to read about the 158th Indiana at Camp Poland
---
General:
The 158th Indiana Volunteer Infantry served its term of service within the continental U.S.

Unit History:
The 158th Regiment of Infantry, Indiana Volunteers, was formed of the 2nd Regiment Infantry, Indiana National Guard, and was composed of companies from Indianapolis (3 companies), Rochester, Frankfort, Franklin, Winchester, Covington, Sheridan, Martinsville, Kokomo, and Crawfordsville. In numbering the regiments after being mustered into the United States service, it was determined to begin the numbering where the Indiana Volunteer regiments which served in the American Civil War left off. The regiment formed around a core of the 3rd Indiana National Guard Regiment being the first ready to be mustered was designated as the 157th Indiana Volunteer Infantry. The regiment formed around the 2nd Indiana National Guard Regiment was next formed and was designated the 158th Indiana Volunteer Infantry.
The regiment arrived at Camp Mount, Indianapolis, on April 26, 1898 for the purpose of being mustered into federal service. After the physical examination of officers and men, the regiment was mustered in on May 10, 1898, with a strength of 50 officers and 976 enlisted men, commanded by Colonel Harry B. Smith. Smith, in civilian life was the auditor of Marion County).

On May 16, the regiment left for Camp Thomas, Chickamauga Park, Georgia, arriving there on May 18, and went into camp. Two days later, the regiment was assigned to the Second Brigade, Second Division, First Army Corps, along with the 1st West Virginia Volunteer Infantry and the 6th Ohio Volunteer Infantry. Little is recorded about the regiment's service at Camp Thomas, but sickness was a constant companion for most units in the war, in many cases due to poor field hygiene practices. For instanc, one Indiana regiment established a garbage pit for its kitchen refuse only 20 feet away from the menís dining table, and its sinks (latrines) were only 30 feet further away. Further exacerbating these unhealthful conditions, the men often disobeyed the rules to use the latrines and simply wandered off into the adjacent woods. According to Fred Hurt, a volunteer hospital steward from Indiana at Camp Thomas wrote home on June 26, 1898 stating ďThe papers say the health in camp is improving, itís not so. When I came here there was 75 men in our hospitals. Today we have 125. Our corps is allowed 90 men to do the various kinds of work about the hospital, and today we only have 14 able for duty. They have to call men from the ranks to nurse and help us out.Ē
Since the U.S. and Spain had reached an armistice ending the warís fighting on August 12 and since the conditions at Camp Thomas continued to deteriorate, the decision was made to move the men to other camps to save as many lives as possible. On August 25, the regiment left Camp Thomas under orders to proceed to Camp Poland, Knoxville, Tennessee, where it arrived August 26. The following day the regiment was assigned to Second Brigade, Second Division, of the First Army Corps. Colonel Smith of the 158th was placed in command of the 2nd Brigade.

Having been ordered home for muster out, the regiment left Camp Poland on September 12 and arrived at Camp Mount, Indianapolis on September 14. The regiment was furloughed for thirty days from September 17 and was finally mustered out and discharged November 4, 1898 with a strength of 50 officers and 1,223 enlisted men, having lost ten men who died of disease. In addition, 35 men were discharged for disability, seven men were discharged by order. In addition, three men deserted.

The ten men who died from disease were as follows:
Allis, Newton D., Pvt., (Athens) Co. B, Died Oct. 19, 1898.
Boothroyd, Louis G., Musician, (Delphi) Co. G, Transferred to Band June 14. Died Sept. 19, 1898.
Britton, Benjamin F., Pvt., (Crawfordsville) Co. M, Died Aug. 17, 1898.
Jennings, Ashley J., Pvt., (Lafayette) Co. C, Died July 1, 1898.
McMullen, Harry A., Pvt., (Indianapolis) Co. D, Died Aug. 5, 1898.
Mitchell, Harry., Pvt., (Crawfordsville) Co. M, Died Oct. 10, 1898.
Moon, John A., Pvt. (Greentown), Co. L, Died Oct. 20, 1898.
Rosberg, Victor G., Cpl., (Indianapolis) Co. A., Died Sept. 30, 1898.
Stevens, Ira W., Pvt., (Putnam Co.) Co. B, Died Sep. 2, 1898.
Wiley, Clarence C., Pvt., (Fortville) Co. D, Died Sept. 17, 1898.
---
Bibliography:
Record of Indiana Volunteers in the Spanish-American War 1898-1899. Issued by authority of the Sixty-first General Assembly of Indiana. Gen. James K. Gore, Adjutant General. W. B. Burford, Contractor for State Printing, Indianapolis, 1900. Available online in the public domain via the Library of Congress at https://lccn.loc.gov/01005459
Correspondence Relating to the War with Spain, Center for Military History, U.S. Army, Vol. 1, 509, 581. Data retrieved via Google Play and via http://www.fortwiki.com/158th_Indiana_Volunteer_Infantry
US Army Center of Military History Historical Resources Branch, Spanish-American War: Volunteer Forces. Note: This document replicates in its entirety Adjutant General's Office, Statistical Exhibit of Strength of Volunteer Forces Called into Service During the War With Spain; with Losses From All Causes (Washington: Government Printing Office, 1899). https://history.army.mil/documents/spanam/ws-stat.htm

"The 158th Indiana Volunteer Infantry at Camp Poland." Knoxville Journal and Tribune. https://www.spanamwar.com/158thIndianacamp.htm
"Indiana in the Spanish-American War." The Indiana Historian. Sept., 1998. ISSN 1071-3301. Available digitally at https://www.in.gov/history/files/inspanishamerwar.pdf
Matthews, Robert - Photo of David Anson Cisco.
McCaffrey, James M., Inside the Spanish--American War: A History Based on First-Person Accounts. McFarland Publishing, 2009.
---

Support this Site by Visiting the Website Store! (help us defray costs!)

---

We are providing the following service for our readers. If you are interested in books, videos, CD's etc. related to the Spanish American War, simply type in "Spanish American War" (or whatever you are interested in) as the keyword and click on "go" to get a list of titles available through Amazon.com.
---
Visit Main Page for copyright data