---
A Brief History of the 157th Indiana Volunteer Infantry
by Patrick McSherry
---
Click here for a roster of the 157th Indiana Volunteer Infantry
Click here for a letter from Florida written by 2nd Lt. Charles McCague of Company I
Click here for a newspaper account of the 157th Indiana in Camp at the beginning of the war
---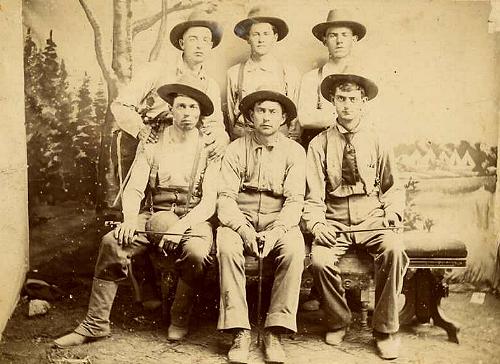 This is a group photo of several members of the 157th Indiana Volunteer Infantry taken for fun in a photo studio. The image behind the men of the camp with the tents is painted on canvas. The floor appears to be dirt, so it is possible that the studio was set up in the field near the unit's encampment. The man in the first row on the left is Sgt. (later 2nd Lt.,) Charles McCague
---
Please Visit our Home Page to learn more about the Spanish American War
---
General:
The 157th Indiana Volunteer Infantry served its term of service within the continental United States.
Unit History:
The 157th Indiana Volunteer Infantry, formed around the Third Indiana National Guard, was mustered into service at Indianapolis, Indiana on May 10, 1898. At the time of mustering in, the unit consisted of fifty officers and 972 enlisted men. The regiment was commanded by Col. George Studebaker.
The regiment was first ordered to Camp Mount, at Indianapolis, from whence, after a brief stay, they departed for Camp Thomas on May 15. Camp Thomas was located on the grounds of the Civil War battlefield known as Chickamauga in Georgia. Again, the regiment only stayed a brief time at Camp Thomas before being ordered to Port Tampa, Florida, where it arrived on June 3.
In conjunction with the First Ohio Volunteer Infantry and the Third Pennsylvania Volunteer Infantry, the 157th Indiana guarded the government warehouses at the docks until July 29 when they were ordered to Fernandina. The fighting of the war ended on August 12, with the agreement between the United States and Spain on an armistice. The regiment remained in duty at Port Tampa until August 30. The regiment departed Florida, going home to Indianapolis' Camp Mount. The members of the regiment were furloughed from Septemer 10 until October 10.
The regiment was mustered out of service on November 1, 1898 at Indianapolis, Indiana. At the time of mustering out, the regiment consisted of fifty officers and 1,223 enlisted men. During its term of service, the regiment had two officers and sixteen enlisted men die from disease. Another enlisted man was killed in an accident, ten men were discharged on disability and three men deserted.
On December 10, 1898, the Spanish American War ended with the signing of the Treaty of Paris.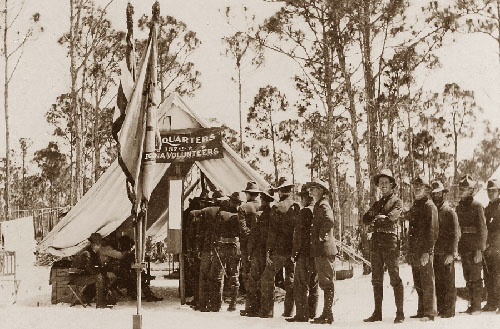 Headquarters of the 157th Indiana. The photo appears to have been taken in Florida as the men appear to be standing on sand. The sign on the tent reads "Headquarters 157th Indiana Volunteers". The regimental and national flags are furled in the foregound, left.
---
Bibliography:
King, Nancy, Info. on George Studebaker, and photo of the headquarters tent.
McCague, Thom, - image of the 157th Indiana.
Statistical Exhibit of Strength of Volunteer Forces Called into Service During the War with Spain; with Losses from All Causes. (Washington: Government Printing Office, 1899).
Wright, General Marcus J., Wright's Official History of the Spanish American War. (Washington: War Records Office 1900) 319.
---

Support this Site by Visiting the Website Store! (help us defray costs!)

---

We are providing the following service for our readers. If you are interested in books, videos, CD's etc. related to the Spanish American War, simply type in "Spanish American War" (or whatever you are interested in) as the keyword and click on "go" to get a list of titles available through Amazon.com.
---
Visit Main Page for copyright data