---
2nd Lt. Charles McCague,
of the 157th Indiana Volunteer Infantry
Writes Home from Florida
Contributed by Thom McCague
---
Please Visit our Home Page to learn more about the Spanish American War
---
Click here for a history of the 157th Indiana Volunteer Infantry
Click here for a roster of the 157th Indiana Volunteer Infantry

---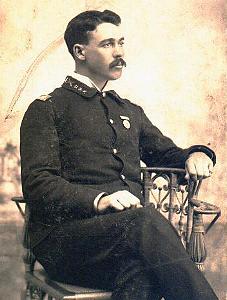 2nd Lt. Charles McCague of the 157th Indiana Volunteer Infantry, Co. I
---
General:
The following letter was written by Charles McCague of 157th Indiana Volunteer Infantry, Company I, while the unit was serving in Florida.
The letter, a private note sent to the lieutenant's sister, is transcribed as it was written. To read a brief biography of Charles McCague, click here (or scroll to the end of the letter).
The "straps" McCague is referring to are "shoulder boards," or the flat insignia worn by officers on their shoulders to designate their rank.

The Letter:
Fernandina
Florida
Aug 5th 1898
Dear Sister Blanch
I received your very welcome letter and was glad to hear from you. Well this is a very nice morning but quite warm. Well this afternoon we are to go into a Brigade drill in line of battle we have this drill every Monday Wednesday and Friday. Well Blanch I was over to the beach the other day and I tell you that it is quite a sight to see the waves role so high I was also in baithing and had lots of fun in the waves one minute I would be on the bottom and the next minute I would be in the air on top of a wave about ten or twelve feet and thare was only one thing that I did not like about it and that was the salty water my eyes was full all the time so that I could hardly see and I guess that I swallowed about a gallion of it and then I could drink about a barrel of water the water that we have to drink is sulpher water and it is quite good and the Sergeon says that we can drink all of it that we can hold and it will not hurt us when I take a cup full of it and put it up to my moth or my nose whare I can get a whiff of it and it smells just like a rotton egg. Well I am a little stuck on this place because it is more like a northern town and the people seeme more like northern people they have a G.A.R. post here of colored men and they think that we are just about the stuff. Well yos say that Bannett says that I look good with the straps on my sholders well I do not know just how good I look but I do know that it seams funny to have everybody saluting me and to have the guards all to to a Present arms whare before I got the straps they would all stop me. Well I expect that we will get our pay about Sunday Well I guess that I will close for this time hoping that this letter will find you well So Good By From Your
Brother
Lieut Chas A. McCague
Co I 157 Regt Ind U.S.A.
Fernandina
Florida.

---
Biography of Charles McCague:
Charles A. McCague was born in Waterloo, Dekalb County, Indiana on May 23rd, 1872 to James Purvis McCague and Nancy A. Bowman who were descendants of the early pioneers of Indiana and arrived by ox cart. He was the eldest of seven children. His father had a varied career including being the owner and operator of a sawmill, machinist, engineer, riverboat pilot and Civil War veteran.
At the age of 17 Charles was taken to Detroit for an operation to remove a malignant cancer. During his recovery but prior to returning home a vein in his face burst. Due to the extreme loss of blood it was feared he would perish.
During the late 1880's he enlisted in Co. I, 3rd Regiment Infantry of the Indiana National Guard.
He was presumably taught skills by his father and was employed by the Waterloo Manufacturing Co. makers of carriages and wagons. During this time he was the engineer of the stationary steam engine at that facility. By April of 1892 he secured a position with the old Lake Shore and Michigan Southern railway as a fireman. During the nationwide railroad strike of 1894 he was on duty at Hammond, Indiana.
When the call came for volunteers Charles again enlisted in Co. I, 3rd Regiment Infantry of the Indiana National Guard on May 7th, 1898 as a sergeant. In just a few days the regiment was discharged and reenlisted with Co. I, 157th Regiment Indiana Volunteer Infantry and were mustered at Camp Mount, Indianapolis, Indiana. Charles told that while they were in Port Tampa they were living in tents and frequently snakes would get in and run all the men out. While in Port Tampa he sent his sister Blanche a pair of napkin rings, a letter opener and penholder all made of mother of pearl, with an alligator engraved on the handle of the letter opener and decorated as "Florida souvenirs." By June 30th, 1898 he was elected second lieutenant and served in this capacity until he was mustered out after the war.
Charles returned to duty on the Lake Shore and Michigan Southern railway which was soon bought by the New York Central railroad. By May 19th, 1906 he married Lillian M. Phillips and had one son James Purvis II. They lived in Chicago until later in his career when they moved to Elkhart, Indiana.
Later in his career he pulled the throttle on some of the limiteds including the crack 20th Century Limited. He finally retired from railroading in 1937 with 45 years service of which almost 38 were with the New York Central railroad.
Charles died June 20th, 1943 of a coronary thrombosis at his home in Elkhart, Indiana. He was interred at the Waterloo Cemetery, Waterloo, Indiana.
---
Bibliography:
McCague, Thom, personal family correspondence, and family genealogical data (Family scrapbook clippings from the Waterloo Press newspaper, Waterloo, Indiana Rememberances from Mrs. James P. McCague II,Various scrapbook documents) as well as the photo of Charles McCague.
---

Support this Site by Visiting the Website Store! (help us defray costs!)

---

We are providing the following service for our readers. If you are interested in books, videos, CD's etc. related to the Spanish American War, simply type in "Spanish American War" (or whatever you are interested in) as the keyword and click on "go" to get a list of titles available through Amazon.com.
---
Visit Main Page for copyright data