---
A Roster of the 157th Indiana Volunteer Infantry
---
Please Visit our Home Page to learn more about the Spanish American War
---
Click here for a history of the 157th Indiana Volunteer Infantry
---
General:
The following is a partial roster of the 157th Indiana Volunteer Infantry. If you can contribute rosters of companies not listed, please email them to us!

---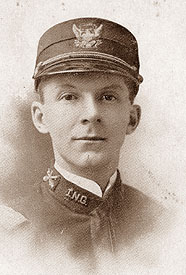 Colonel George M. Studebaker, Commanding 157th Indiana Volunteer Infantry. In this photo, he is wearing the unifor of the Indiana National Guard.

---
Regimental Field and Staff ||| Company A ||| Company B
Company C ||| Company D ||| Company E ||| Company F
Companny G ||| Company H ||| Company I ||| Company K
---
The Roster:
Regimental Officers and Staff:
Colonel George M. Studebaker
Will. T. May, Lieutenant Colonel
Elmer D. Rex, Adjutant
Harman L. Hutson, Quartermaster
Walter W. Barnett, Major Surgeon
Charles E. Barnett, Captain, Assistant Surgeon
Reginald W. Garstang, Lieutenant Surgeon
Charles S. Medbury, Chaplain
First Battalion:
George W. F. Easer, Major
Harry R. Ford, Adjutant.
Second Battalion:
Edwin H. Fitzgerald, Major
Bernard J. Collins, Adjutant
Third Battalion:
Aubrey L. Kuhlman, Major
John C. Noel, Adjutant
Col. George M. Studebaker
Non-Commissioned Staff:
John W. Wort, Regimental Sergeant Major
Charles F. Kinney, Quartermaster Sergeant
Joseph P. Hawks, Commissary Sergeant
Howard Long, Color Sergeant
O. G. Schell, Hospital Steward
Harvey Moore, Hospital Steward
Guy A. Schultz, Hospital Steward
Fred. S. Dennis, Sergeant Major, First Battalion
Charles F. Cline, Sergeant Major, Second Battalion
Clyde L. Hine, Sergeant Major, Third Battalion
Regimental Band:
Oscar Verwier, Chief Musician
Amos H. Briner, Sergeant
Frank Ordway, Principal Musician
J. W. Palmateer, Principal Musician
Bickel, John
Brown, Harry
Brokaw, Joseph
Borman, William
Butterbaugh, Samuel
Conway, Thomas N.
Clemens, Jacob
DeHart, William
Groat, William
George, Theodore
Lindner, Rudolph
Lyons, John
Newell, Delbert
Peters, John C.
Pillers, Lee H .
Stradley, William
Thomas, William
Waite, Claude M.
Knisley, Daniel
Knisley, Norman
Company A (Knox):


Officers:


Charles Windisch, Captain
B. D. L. Glazebrook, First Lieutenant
Geo. D. Laramore, Second Lieutenant
Sergeants:


Othar C. Wamsey
Charles H. Peelle
Wm. H. Claybourne
Louis N. Laramore
Thomas V. Wilson
Charles M. Hart
Corporals:


Eber Foote
Charles Potter
John R. Braden
Arthur B. Howland
Robert F. Rennewanz
Sam. J. Cunningham
Henry Garner, Artificer
Geo. Evans, Wagoner
Musicians:


Lloyd C. Brown
Charles E. Eikenbary
Privates:


Anderson, Mark S.
Anderson, William M.
Alexander, Arthur A.
Badgley, Byron H.
Bane, Arthur A.
Badger, Harry L.
Bonta, Clayton
Biniakowski, Maximillian
Barrick, William F.
Beaston, Willard
Bence, John C.
Bressler, Andy
Carpenter, Norman E.
Carpenter, George W.
Chamberlain, John S.
Chandler, John M.
Chapman, Warren
Clark, Thos. J.
Chidister, A. B.
Davidson, Harry
Deutsch, Wm. E.
Delong, Scott
Dillon, William E.
Draper, William M.
Defrees, Samuel W.
Durken, Anthony
English, Albert J.
Elder, George D.
Fawley, Edward
Forkies, Julius
Finch, Beaver
Fielder, William
Green, Worthy M.
Grzesk, Chester
Gall, William A.
Geller, Edward D.
Griffith, John L.
Harmon, William M.
Haskins, Frank M.
Hewlett, Clayton
Hilberg, Augustus R.
Horn, William
Hunter, Alvaro
Hunter, Joseph
Harmon, Wellington
Haines, John
Humphreys, Frank
Jacks, Clyde E.
Jennings, Harry S.
Kootz, Spencer S.
Kincel, William F.
Koscicski, John J.
Latshaw, Ross
Lohse, Charles T.
Loudermilk, Jos. W.
Lauderback, Elmer E.
Mann, George C.
Martin, Michael
Miller, Harry
Miltonberger, Wm.
McDonald, Matthews
Musselman, Merl N.
Nowinski, Frank
Phillipi, Franklin E.
Phillips, Charles O.
Platz, Clarence E.
Rader, Lloyd
Rater, James L.
Rathfon, Francis S.
Savage, Wilford E.
Scott, Charles L.
Seagraves, Milton L.
Szalewski, Stanley
Sloan, Thomas T.
Smith, Wm. H.
Stevenson, Walter F.
Summers, Daniel V.
Vanderwalker, G. A.
Vanhorn, John D.
Walters, Daniel C.
Walters, Wm. H.
Wash, Wm. H.
West, Haddie L.
Woods, Walter J.
Woltman, Frank
Whalen, John J.
White, Elmer
Wilders, Frank
Wolfenberger, Chas.
Zedick, Frank


Company B (Fort Wayne):

Officers:

Charles E. Reese, Captain.
John B. Fonner, First Lieutenant
Wm. W. Kerr, Second Lieutenant

Sergeants:

Peter A. Thompson
F. H. Hilgemann
John W. Sanburn
William F. Walde
George O. Feustel
John O. Hood

Corporals:

Joe Deahl
Otis M. Cummins
William C. Vollmer
Hayes W. Glass
Wm. F. Trautman
John Engman
Edward Connett
Edward H. Kolb
John B. Ryan
Jacob C. Utley
Henry Reinkensmeier

Wm. Parent, Artificer
Charles A. Carpenter, Wagoner

Musicians:

Andrew Coleman
Geo. W. Coleman

Privates:
Anderson, Carl E. J.
Baker, Cain
Baily, Frank
Bernhard, Gustav
Bollinger, Wm. R
Buelow, John
Bunting, Henry M.
Burg, John J.
Cook, Edward C.
Carson, William W.
DeFrain, Francis
Doerfel, Eugene
Ellert, Benoit J.
Ellert, Louis A.
Engle, Henry
Emerson, William F.
Ferguson, Clarence
Fortmeyer, Ernest
Foley, Bartholomew
Furthmiller, Freeman
Funk, Samuel H.
Gocke, John P.
Godfrey, Harmon G.
Geesaman, Arthur B.
Grosvenor, Wm. C.
Haake, Fritz
Hannon, Enos
Hoke, Charles E.
Kaliker, Jacob
Killen, William A.
Kinney, Fred E.
Kleemeier, Edward G.
Lehman, Jacob
Liggett , John H.
Lantenier, John J.
Longfield Edward J.
Longley, John
Lovell, Cliffton
Monahan, Joseph E.
Mooney, John P.
Mayse, Noah
Moritz, Ongle A.
Neuman, Peter P.
Noll, Benjamin
Piepenbrink, Otto
Parker, Hannibal C.
Perkins, Lafayette B.
Peterson, Frank
Robbins, Verne
Robbins, Clarence
Reed, William
Reid, James
Rinehart, Ellis
Rupple, John
Schram, Henry
Sheafer, Burg
Stoehr, Eugene H.
Snyder, Edward
Snyder, Ralph
Snyder, William
Schaaf, Fred C.
Spain, John H.
Shirley, Claude
Steinau, Edward
Seymour, William
Storch, Henry
Tancy, Thomas W.
Trautman, Henry W.
Tombaugh, Wm. T.
Wichman, Henry
Wickliff, F. S.
Wood, Burt E.
Wort, Alfred A.


Company C (Goshen):

Officers:

Ellias D. Salsbury, Captain
Charles Slade, First Lieutenant (Died, Port Tampa, Fla., July 20, 1898).
Joseph Coll1ns, Second Lieutenant

Sergeants:

Eugene F. Gourdeau
Orlando W. Bale
John Roach
Thomas H. Mew
Warren Carpenter
Leroy Darnell

Corporals:

Harvey A. Hawks
Richard W. Collins
Lewis A. Boyer
Charles J. Kreger
Lindsley E. Perry
Ned Canberg

Mannam F. Eisenhour, Artificer
W. H. Burkett, Wagoner

Musicians:

Frank Ordway
James W. Palmeter

Privates:
Areheart, George
Arter, Lloyd
App, Fred
Bailey, Alvin
Beckner, C. A.
Boomershine, James
Bennett, Guy
Best, Harry M.
Bickel, Frank
Binkley, Earl
Bixler, Cleveland
Bloss. Richard L.
Bradford, Miles P.
Buck, Leland
Bandelier, Orlando
Beaver, George C.
Berkey, Allen
Bloss, William J.
Carrier, Dora
Chamberlain, Chas.
Copenhaver, Charles
Cook, George
Cripe, Noah J .
Cook, Edward
Compton, Eugene
DeBoer, Wm. P.
Dick, George F.
Downing, Marion E.
Darnell, Henry C.
Dillon, Earl
Doty, Samuel
Everett, Frederick
Edmon, Milton
Farrell, Porter
Fuller, Charles
Gilbert, Ora F.
Gingrich, Ivan S.
Girten, James H.
Griffith, Claude
Hatfield, George
Howell, Charles
Hebert, Bert S.
Hudson, Floyd
Hughes, George M.
Jackson, William C.
Judy, Ira F.
James, Clinton B.
Kirkpatrick, Edward
Kinzie, William E.
Kurtz, Frank
Kline, Charles A.
Klein, George
Larimer, George
Latta, James M.
Mays, Leno
Merrill, Frank
Miller, George O.
Mitchell, Wm. E.
Murray, Joseph A.
Niner, Charles A.
Osborn , Samuel
Ornt, William
Peffley, David J.
Peffley, John F.
Perry, Charles
Pippinger, Charles
Prickett, Delvin
Prough, Wilson
Purdy, William N.
Richmond, John
Rumpler, Edward
Robinson, Harry
Rose, Israel
Reith, John J.
Scarlett, Eugene
Schrock, George
Scheffer, Warren
Simmons, Guy
Simon, Charles F.
Scott, George O.
Stettler, Justin O.
Sohm, Alfred
Thomas, Bert
Ulery, Jerome P.
Weaver, Solomon H .
Weimer, Charles A.
Wolf, Harry L.
Wolfe, Charles
Yoder, Harvey


Company D (North Manchester):

Officers:

Benj. F. Clemans, Captain
John T. Dunbar, First Lieutenant
C. O. Spurgeon, Second Lieutenant

Sergeants:

Roscoe Steele
Chas. H. Olinger
C. N. Holderman
Louis L. Clemens
Dayton F. Abbott
Fern E. Kester

Corporals:

Harry E. Townsend
C. J. Snideman
Olive C. Bell
Charles C. Hite
George E. Hidy
Chas. J. Johnson

Musicians:

Fred Sandoz
Eli Oren

Ulysses G. Frazee - Artificer
Orlan Spacy – Wagoner

Privates:
Abbott, Albert A.
Andereck, Wm.
Argerbright, H.
Aughinbaugh, Ed. O.
Baer, Wm. E.
Baker, Wm. E.
Biege, Winnie W.
Bell, Frank E.
Blickenstaff, L. E.
Brown, Wm. J.
Buckingham, L. D.
Butterbaugh, J. W.
Ca1houn, Zerah
Clark, Wade
Clevenger, J. C.
Coble, George W.
Coble, Wm. Jr.
Cogan, Chas. D.
Cook, Floyd W.
Coblentz, C. L.
Coblentz, H. W.
Cook, M. A.
Crill, Gussie L.
Criswell, Harry
Darnell, Dan
Doll, Chas. F.
Dunbar, Chas. F.
Ellwood, Clyde
Enyeart, Ab
Enyeart, C. W.
Evans, Wm. M.
Fager, Oliver P.
Finkenbiner, J. S.
Fisher, Wm. H.
Flook, Edward
Forst, Chas. F.
Grossnickle, Jacob
Grossnickle, M.
Halderman, C. J.
Halderman, V.
Hammon, Henry E.
Hayes, O. S.
Hesse, Frederick H.
Hevel, Charles
Hidy, Levi B.
Hippensteel, J.
Hippensteel, J. W.
Hoff, John E.
Howe, Wm. H.
Haupert, C. P.
Hower, Esta D.
Iseley, Grant
Johnston, Charley
Jones, Neil L.
Keller, S. M.
Kerr, Ora O.
King, Dora A.
Kissinger, John R.
Koontz, Lester A .
Koontz, Herbert L.
Laven, Chas. T.
Lockridge, Bruce
Marshall, E. A.
Marshall, Lew
Middleton, A. H.
Noftzger, F. C.
Ogden, Allen W. O
verly, Macy
Rantz, Otto M.
Reelhorn, Elmer
Riegle, Rollie R.
Roush, Frank R.
Sexton, Tral G.
Sheller, Ernest L.
Shock, Barnett
Singer, Ernest J.
Smith, H. F.
Sprinkle, M. L.
Spurgeon, Albert
Steele, Lee C.
Taylor, Berdell
Toomire, P. E.
Toomire, C. L.
Ulrey, Charles
Ulrey, Lamoin
Warvel, Frank B.
West, Edwin


Company E (Elkhart)

Officers:

Joseph E. Graves, Captain
Norman E. Beall, First Lieutenant
August Groll, Second Lieutenant

Sergeants:

William II. Hopkins,
Harry H. Goldman,
Charles Hook
John A. Carper
L. Arthur Jones
Edward A. Lefebre

Corporals:

Spencer E. Pangborn
Frank Carper
George Adams
Edward Connell
Robert Darling
Ernest Fetzer

John E. Smith, Artificer
Frank E. Smith, Wagoner

Musicians:

Robert Higgins
Arthur L. Boice

Privates:

Adams, Arthur A.
Adams, Albert E.
Addis, Benjamin E.
Alexander, James S.
Aldinger, George
Aurand, James C.
Ball, Claude N.
Brown, Merwin D.
Bell, Albert W.
Buck, Verlie O.
Bulla, Guy
Cone, Ernest J.
Carrier, Henry W.
Corner, William M.
Corner, John E.
Cook , George H .
Connally, William
Church, Edward
Deal, Otto E.
Dunn, Ervin J.
Ebright, Arthur
Everett, Herbert E.
Garl, Earl I.
Godfrey, Emmet
Grootveld, Gilbert G.
Galpin, Robert F.
Grazer, Michael
Hoetger, Peter
Huth, Leo
Hamm, De Forest
Hendershott, Wm. A.
Holland, Smith
Inwood, John R.
Ives, Asa A.
Franzen, Axel
Farley , Paul D.
Jones, Liffey R.
Kreider, Frank E.
Kyte, W. Archie
Kantz, Asa H.
Leininger, William
MacBride, Earl A.
McBride, Guy T.
McClave, J. Frank
Mann, Victor
Mowery, Elmer H.
McGlaughlin, William
Nusbaum, Lawrence
Overly, Guy
Overly, Bert
Putney, Orrie E.
Pangborn Earl
Posey, Arthur
Parmater, Joseph
Pfotenhauer, Albert
Pletcher, Philip
Pressler, Ransome
Robinson, John
Rohrer, William
Rossiter, Sherman J.
Rowe, Henry A.
Smith, Otis E.
Sigle, William
Shanks, Claude L.
Shine, Francis M.
Showalter, James
Stillman, Albert
Stinebeck, George
Swayne, Leon
Singer, William H.
Speicher, Hiram F.
Strieby, Adam F.
Snyder, John L.
Scheurenbrand, August
Taylor, W. Clyde
Teeter, Burton
Topping, Ernest
Turner, Charles L.
Takker, William
Trocksel, William
Urquhart, Charles G.
VanHouten, George
Wagner, Thomas
Welty, Frank
Williams, Edward L.
Wicks, Ernest I.
Witman, Joseph


Officers:
George W. Fryermuth, Captain.
H. E. Faulknor, First Lieutenant
John S. Johnston, Second Lieutenant
Sergeants:
Thaddeus T. Keller
Otto W. Lockstidt
Ward B. Garrett
Louis C. Bilstein
Leopold F. Blakeman
Albert F. Alward
Corporals:
J. Durward Smith
Frank J. Miller
Rutherford B. Drais
George E. Vahlert
Melvin L. Brown
Musicians:
Arthur J. Garceau
Christian H. Fleegel
Peter Herring, Artificer
H. Hartman, Wagoner
Privates:
Andrisiak, Waclaw Y.
Bailey, Edward L.
Baxter, Emmett L.
Bernhard, Albert R.
Bertch, Wm. H.
Borden, William A.
Bourdon, Louis
Bovee, Clarence J..
Cooper, Voras
Clark, John
Connell, Clarence
Curry, Virgil
Dempsey, Albert I.
Denslow, Louis
Dominick, William G.
Doolittle, Charles G.
Doremus, Harry R
Elliott, John R.
Engeldrum, John J.
Eatzian, Frederick H.
Engelman, Jesse H.
Field, Everett L.
Flagle, William A.
Frick, Clyde M.
Frye, Charles E.
Herring, George E.
Herring, Harry W.
Hilberg, Otto P.
Houston, Benjamin H.
Hinkle, Francis M.
Huey, Otto C.
Heiser, Lawrence
Heiser, Henry
Hildebrand, Alex
Hupp, Ernest
Jameson, Henry K.
Johnson, James C.
Jacobs, Jesse W.
Keebler, George
Kentner, Irvin
Kopper, August
Keespert, Frank
Keebler, William
Krushanzki, Stephen
Lobaugh, Frederick
Lovell, Arthur C.
Lowry, Ralph E.
Mason, Edgar J.
Mayer, Lorenz
McCullough, Wm. M.
McGill, Robert, H.
Miller, Rex T.
Minsel, Oscar E.
Muessel, B. Rudolph
McGlinsey, Clinton
Meisner, John
McDonald, Samuel M.
Perkins, Harry O.
Platz, John D.
Porter, Ernest S.
Priest, John F.
Parker, John D.
Quinlan, William M.
Rach, Charles
Rickel, Egbert
Ritter, Harvey E.
Reid, Robert
Snyder, Fred
Schrumpf, Louis E.
Seifer, Frederick
Sester, August P.
Severance, Merritt E.
Slusser, Walter H.
Smith, Frank A.
Smith, John R.
Stewart, Harvey G.
Stroup, Robert I.
Sledzikowski, Albert
Shafer, Charles W.
Shrupert, Russell
Swintz, George
Thome, Jacob
Wagner, Wilbur E.
Walling, Claude E.
Welty, Albert
Wendt, Charles
Weslowski, Marion
Williard, Isaac



Officers:

O. C. Meyer, Captain
W. S. Mcleod, First Lieutenant
J. C. Jackson, Second Lieutenant

Sergeants:

M. J. Archbold
H. L. Miller
J. L. Bireley
E. C. Johnson
F. Arney
F. L. Holmes

Corporals:
R. Heffelinger
J. E. Schane
O. Ohlfest
I. D. Clippinger
A. C. Hartwig
J. F. Potter

Musicians:
E. Hessert
L. H. Pillars

G. W. Johnston, Artificer
J. W. Sessman, Wagoner

Allen, G. W.
Angell, R. L .
Archer, F.
Bartel, R. R.
Beaber, Wm. J .
Bird, T. S.
Bishop, F. H.
Brockerman, R. B.
Brower, F. A.
Brower, C. S.
Butler, G.
Carmer, G. W.
Carmer, W. A.
Conley, W. G.
Craig, C.
Dalby, W. A.
Daugherty, W. W.
Davis. H. R.
DeLong, L. E.
Donivan, H. T.
Driesbach, C. F.
Driver, I.
Ehrman, F.
Ehrman, G.
Epple, E. C.
Erwin, J. S.
Fisher, H. W.
Gorrell, J. T.
Hamilton, H.
Hargrave, R.
Hasty, A. E.
Holmes, W. E.
Honeck, C.
Howe, J.
Kaylor, C. E.
Kayser, W. D. C.
Lotz, W. J .
Larimore, J. A.
McCaffery, W. H.
Magers, J.
Method, O.
Meyers, H. F.
Miller, F. A.
Miller, G. E.
Morris, J. C.
Morrison, J. H.
Myers, L. J.
Neisser, W. M.
Nogal, F. L.
Osborne, C.
Piehl, J.
Porter, R.
Richards, W. H.
Roder, H.
Roepka, P. A.
Sams, W.
Schuman, G.
Spittler, B. A.
Stapleton, G.
Szink, E.
Taylor, H. L.
Tyler, S.
Umwake, D. H.
Underwood, A.
Webster, F.
Wheeler, H. M.
Whitney, G. B.
Williamson, L. E.
Wilson, F. M.
Wood, H. M.

Officers:

Newton W. Gllbert, Captain.
Fhank Kemery, First Lieutenant
Robert Carpenter, Second Lieutenant

Sergeants:

Arthur Norton
James Stocker
Frank Brewer
William Jarrard
Homer Jackson
Bart Lowther

Corporals:

William Ferguson
George Scovell
Frank Patee
Harley Brown
Don Stuck
G. W. McConnell

Wagoner: Frank Johnston
Artificer: Wm. E. Carrick

Musicians:

W. E. Williamson
Lauren Griffith

Privates:

Ball, Grant
Bennett, Edgar
Bennett, George
Berlein, John S.
Brower, George
Barber, Edwin C.
Bartholomew, C.
Carrick, Thomas
Clark, Ed
Cobert, James
Coffman, Francis
Crandall, Lorin
Clegg, J. H.
Clutter, T. J.
Davidson, J. W.
Denman, Ora
Drushal, Bert
Enzor, Freeman
Enzor, Isaac
Ewers, John L.
Faunce, John
Fletcher, A.
Flint, Charles
Fairchild, Ed
Fee, Asa
Garwood, Ira O.
Gleason, Chas.
Gleason, Dudley
Green, Samuel
Griffith, George
Gibson, Geo. H.
Gillispie, C. L.
Harman, Worthy
Huffman, Wesley
Hathaway, Park
Hall, Robert C.
Heitz, C. W.
Holmes, Frank B.
Hyatt, C. W.
Ingalls, Carl
Isenhour, Chas. N.
Jarrard, Bert
Kemery, Ernest
Kemery, Carl A.
Kimes, F. M.
Knapp, O. D.
Lahmon, Burr
Light, George
Lindersmith, E.
Luse, Warren S.
Lutz, Robert
Lubarger, Willard
Major, Cyrus
Meek, Ray
Meeks, William
Metzgar, Irvin
Morse, Charles
Miller, Harry
Moses, Homer
McKuras, Leonidas
McNabb, Duane
Norton, Edwin
Null, Perry
Parsons, Wm. E.
Persing, Frank
Playford, Ervin
Rockwell, Arthur
Shank, Emmett
Shank, H. Lyall
Sharitt, Frank
Sharrard, H.
Silbaugh, Morton
Somerlott, Boston
Smiley, Budd
Smith, Perry O.
Straucer, Clarence
Sunday, Marshall
Sutton, Clyde
Sutton, John
Van Pelt, Henry
Walberry, L.
Willennar, John
Wolf, Harvey
Woodford, C. P.
Weicht, Samuel
Wiseley, D. M.
Woodford, Geo. M.


Officers:
Captain, Levi L. Denison.
1st. Lieutenant, Chas. V. Barr.
2nd Lieutenant, W. H. Denison
Sergeants:
1st Sergeant, D. W. Rohrbaugh
Quartermaster Sergt., F. Moore
Guy Farrington
P.J. Geeting
C.A. McCague.
Jas. Wallace.
Corporals:
F. Beidler.
H. Beidler.
George Getts
F. M. Hine.
C. H. McBride.
E. D. Willis.
Musicians:
D. Ackley
W. Beecher
Artificer: H. Thomas.
Wagoner: P. Auckney.
Privates:
Bateman, A
Bateman, H
Boorman, Frank
Borman, Wm
Brewer, D
Briner, A
Brown, M
Bryant, C
Carter, S C
Castleman, E
Clemens, J
Corn, C
Crystal, J
Delong, O
Diehl, O
Dunfee, J
Dunn, E
Edge, S
Funk, C
Geeting, R
George, F
Goodrich, L
Groat, W
Hael, O
Harper, C
Hitchcock, W
Homer, F
Huyek, C
Jennings, E L
Johnson, E
Kannel, L
Kinnel, C
Kollman, B
Langley, E
Latham, E
Lehman, H
Linder, R
Martin, E D
McKinley, O
Miller, A
Monahan, J
Newell, D
Nodine, A
North, F
Oberlin, C
Opdyke, D
Opdyke, H
Patchett, J
Penick, A
Peters, J
Pettit, H
Piery, L
Pulver, J
Resler, S
Rising ,C
Rohrbaugh, C
Schroeder, C
Shea, Wm
Singrey, G
Smurr, D
Smurr, W
Thomas, W
Vancoik, C
Waite, C
Wheaton , Willis


Company K ("Indiana Tigers"; Dekalb County)
Officers:
Captain - James F Larnum
First Lieutenant - Othello B. Rufner
Second Lieutenant - John J. Wolf
Sergeants:
First Sergeant - Morton Hilkey
Quartermaster Sergeant - John W. Brown
Benjamin F. Jolliff
Irvin E. Rader
Worthy Keller
Charles A. Picker
Corporals:
Charles T. Elsen
Philip Holman
A. McDonald
James Williamson
George W. Wolf
Charles Martin
Artificer: Feagler A. Wilson
Wagoner: William O. Leighty
Musicians:
Dick McNanny
Roy McDowell
Privates:
Albert Ankney
Samuel Ankney
John Basse
Charles R. Baird
Bert Baker
Frank Baer
Forrest Bradford
William Breno
Frank Brand
August Bohlke
Edward D. Borland
William Boorman
E. Emanuel Budd
James Budd
Weber W. Caldwell
Oza L.Callender
Charles Carey
Guy C. Clement
Morris Curie
George F. Collins
Frank Daum
George W. Deal
Frank Donley
Calvin Edwards
Jesse Elliott
Thomas Elliott
George W. Elliott
Charles Foltz
Fred Fox
William D. Funk
Roy C. Garrett
William Grindle
John Grear
Wilson Grogg
H.W. Grambling
C.C. Gringery
John H. Hall
C.H. Hathaway
George Henslinger
Simon Hirsch
T.H. Holderman
T. Hoodelmier
M.D. Husselman
Bennett Heist
J. Jones
George Jones
August Kolbe
Fred Krueger
F. E. Lane
W. G. Lahnum
L. J. Loveland
Clarence Luce
Hugh Maxwell
Leslie Maxwell
William J. Magen
Myron Markley
John Markwalder
Karl F. Miller
Frank Miller
Morton J. Mills
Edison D. Mosher
Clinton Nicholas
Jacob T. Nichols
Fred L. Niles
Melvin Olinger
Vinson Owen
Frank Reesch
O.L. Reasoner
Hugh Robbins
William Robinson
James S. Roseberry
Mark S. Ruple
Thomas Shreve
Oscar Smith
William Sowle
W. E. Timmerman
William Towne
Abner Trostel
T. Vanderbogart
Claude M. Waite
George T. Walter
Henry West
Hayden Wheelock
James White
Joseph D.Williamson
William H. Wolf
Arthur Woodcox
A. D. Yingling
L. L. Yingling
Company Mascot: Johnnie Johnson

Company L (Ligonier)
Officers:
Charles A. Greene, Captain
Jacob L. Ochs, First Lieutenant
Ray Shobe, Second Lieutenant
Sergeants:
Henry Musson
Richard B. King
James P. Reed
Otto C. Wolfe
Finley Kitson
Otis O. Knepper
Corporals:
Henry Whitmyer
Herbet Stansbury
Norman Pearman
William Milner
Volnie King
Rollie E. Stage
Musicians:


George Hire
Verne Worden
Geo. Ferguson, Wagoner
Edward Stansbury, Artificer
Privates:


Anderson, Thomas G.
Anspaugh, John L.
Anspaugh, James L.
Banta, Charles R.
Bower, Lawrence M.
Billman, John
Brady, Marion
Benthin, Edward
Bly, Stephen D.
Britzius, Chas. A.
Carr, James D.
Campbell, Samuel
Clawson, Samuel
Clucas, Jesse E.
Cole, Prentiss B.
Cook, William E.
Curry, John W.
Davis, Eli
Decker, Orval
Draper, Walter
Droud, Marion F.
Eytcheson. Charles E.
Fitzhugh, Melvin
Flowers, Earl
Flowers, Oscar
Fritz Charley W.
Gale, Spaulding A.
Golden, James
Greathouse, Amos F.
Greene, John E.
Hadley, Frank F.
Hadley, Frank W.
Hardenbrook, Carl
Hardenbrook, Jay A.
Hawk, Albert
Haney, Charles
Heltzel, Seymour
Himes, George
Hinman, Perry
Hire, Elmer
Horne, Henry P.
Horne, Valentine G.
Hostetler, A. Pearl
House, Herbert E.
Huff, Herbert
Koontz, Arthur B.
Kreger, C. N.
Longenecker, Ethan S.
Mayfield, Frank
Milner, George
Monk, James C.
Morrison, Harry L.
Mullen, Bert
O'Conner, Edward D.
O'Conner, James O.
Parks, Charles
Penland, Marion
Rarick, Marion A.
Randecker, John
Reed, Joseph C.
Regula, Peter
Rench, David E.
Riska, Augustus
Roche, Robert
Robbins, Forrest B.
Rose, Frank A.
Schutt, Lee S.
Shaffer, Henry W.
Slabaugh, Willard
Smith, Delbert
Smith, James M.
Schneider, Charles C.
Stigner, Charles U.
Stutsman, Edward
Sparrow, Charles
Shoemaker, Clarence
Sweetnam, Arthur H.
Teal, Harry H.
Todd, Lewis O.
Van Scoyke, Wm. A.
Wade, Norman
Weir, Harry W.
Wemple, Clarence
Wills, George A.
Wolfe, Jay L.
Wolfinger, Jasper
Wolfinger, Sampson
Yonker, George
Zimmerman, Clarence
Company M (Plymouth)
Officers:
John C. Capron, Captain
Claude D. Fish, First Lieutenant
William Lankenau, Second Lieutenant
Sergeants:
Edward Lenfesty
Edward J. Giller
Lee M. Kendall
Edward R. Nell
Charles A. Protsman
Harcourt Corbin
Corporals:
Charles Crawford
Berthold Allman
Emory Ocker
Noyes E. Tyrrell
Percy E. Bailey
Arthur B. White D.
Otis Wickizer
William E. White
William Wilson
David B. Reed
Harry Fristo
William Shearer
Musicians:
Melvin Johnson
Arthur Robinson
George Bollinger, Artificer
George Cross, Wagoner
Anders, Albertus
Alexander, Pearl
Andrysiak, Stephen
Board, William
Beehler, Henry
Broadsord, William
Baker, George
Bayman, Claude
Bayman, May Rue
Barnum, George H.
Ball, Charles
Butler, Russell
Blycker, Axel
Conboy, James
Cannam, Elias
Crane, Earl
Calls, John
Drake, Urban
Dawes, Harry
Doppler, Fred
Elder, Peter
Elder, John
Edwards, Pierpont
Genrich, Henry
Hoham, George
Hayes, Edward
Haines, Oran
Irvin, Charles
Jacobson, Samuel
Kanarr, Seymour
Kepler, Edward
Kanouse, Francis
Labrash, Charles
Lechlightner, Adam
Linkenhelt, Floyd
Mowrer, Newton
Miller, Everett
Miller, Charles
Miller, Clarence
Miller, Solomon
Miller, Mike
McKague, Robert
Marshall, John
Neff, Charles D.
Osborne, John
Ohler, John
Primley, Seneca
Parogi, John
Pietraswszki, Stephen
Portz, John H.
Powell, William
Pontius, Wilbur
Rowell, John
Radel, Frank
Riggins, William
Ralston, William
Riggins, Lawson
Rowell, Charles
Schroeder, William
Schroeder, Williard
Shepherd, William
Stout, Frank H.
Shiveley, Jesse
Snyder, Venn
Stroup, Norman
Stuller, Burl
Stahl, Henry
Soice, Claude
Stangle, Quincey V.
Sausser, William
Sayles, Dwight
Turner, Charles O.
Turner, Herbert
Tabor, David
Traffka, Antoni
Tutt, Harvey
Vaughn, Harry
Wolfe, Charles
Wolfe, George
Williams, Lora
Wilford, Dallas
Wiseman, Charles
---
Bibliography:
King, Nancy, Info. and photo of Col. George Studebaker.
McCague, Thom - Roster of Co. I (from the Waterloo Press, Waterloo, Indiana,Monday, May 10, 1898)
McCague, Thom - Roster of Co. K
---

Support this Site by Visiting the Website Store! (help us defray costs!)

---

We are providing the following service for our readers. If you are interested in books, videos, CD's etc. related to the Spanish American War, simply type in "Spanish American War" (or whatever you are interested in) as the keyword and click on "go" to get a list of titles available through Amazon.com.
---
Visit Main Page for copyright data