The Diary of George W. Robinson,
Fireman 2nd Division, No. 1 Fire Room
U.S.S. OREGON
Contributed by Sean Cox
---
Please Visit our Home Page to learn more about the Spanish American War
---
General:
This diary is quite rare. Not only is it a first-hand account of the events that occurred aboard the Battleship OREGON on its epic voyage around South America and during the naval Battle of Santiago, it also shows a side of the navy not frequently recorded - life in the boiler rooms deep in the bowels of the vessel. The men who served in the boiler rooms, engine rooms and coal bunkers of naval vessels had the most unglamorous, and most difficult jobs in the navy. While the men above deck saw the sea, had the highly-lauded positions of serving on the gun crews, the men below fought their battles with shovels, oil cans, and steam in an unceasing crescendo of noise and clouds of dust. The story of these men is not often told. In this diary, it is laid out for us.
One item of particular interest is the situation involving the coal bunker fires. Bituminous coal is subject to spontaneous combustion. Such fires were sometimes difficult to detect, and, once found, difficult to extinguish. Capt. Clark of the OREGON mentions a single bunker fire in his reports. In fact, as the diary reveals, there were as many as four simultaneous bunker fires aboard the OREGON, with some in bunkers adjacent to magazines. This was a hellish situation, and one that was previously unknown. This is a rare first-hand account of the efforts and methods used to extinguish these fires. Also, since many believe a coal fire in a bunker adjacent to a magazine caused the demise of the battleship MAINE in Havana harbor, this diary may provide new insights into the issue.
The diary cannot, however, always be taken at face value. Fireman Robinson was not always in position to witness the events he descibes in the diary. In these cases, he based his statements on "scuttlebutt" and his own deductions. In some cases, he was simply misled. For instance, at one point he discusses the OREGON being in the harbor of Rio de Janiero along with the Spanish Torpedo Boat TEMARARIO. He describes how the OREGON reacted and what actions were taken. In fact, the OREGON never sighted the TEMARARIO or similar vessels during its trip. The reports of the OREGON passing through the Spanish squadron, however, may be true. Capt. Clark reported this event also, and it was later found that the Spanish Squadron was in the vicinity. By contrast, the Spanish Cruiser ALFONSO XIII, mentioned as being at Barbados just days before the OREGON's arrival cannot be true, since she was in such bad consition that she could not leave Spanish home waters...but such was the scuttlebutt!
The diary has been transcribed verbatim from the handwritten copy. Spelling and grammar has not been altered to maintain the integrity of the dairy.
We are indepted to the family of George Robinson for making this information available to the public. The family could have profitted by the publishing of this previously unknown diary, but has instead decided to make it available to the public. We salute their unselfish actions!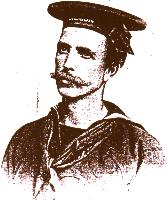 George W. Robinson, USS OREGON
---
The Diary, part 1:
"A Diary Kept on board of the
U.S.S. Oregon
From march 19th 1898 until
After the naval battle Off Santiago
July 3rd
By G. W. Robinson, Fireman 2nd Div.
No. 1 Fire Room"
U.S.S. "Oregon" San Francisco Cal. March 19th 1898
Weighed anchor at 4.45 .m. and got under way passing between Angel island and Alcatraz. Almost every whistle in the city and every ship on the bay saluted us as we headed for the Golden Gate at a 14 knot clip, even the little government tug "Gen McDowell" added her mite from the wharf at Alcatraz while the military prisoners on the "Rock" waved their hats and we could feel that they were cheering although too far off to be heard. The Battery at the Presidio fired a salute at which we replied with our whistle only - every ounce of the 800 tons of powder in this is ship to be used at a Spanish target we hope. Capt. Clark himself made the remark that "we had no saluting powder". As we rounded Fort Scott and came in view of the hills beyond It seemed as if the whole city of San Francisco had turned out to bid us good bye, the hills were literally covered with people and they cheered us as long as they could be heard. There is no mistake the people out here are wild for war. After crossing the bar (or potato patch as some call it) the helm was put to starboard an the ship headed south at 9.12 a.m. at a 10 knot rate and we settled down for the longest run we had made so far. The ship is loaded far below what was ever calculated as her load water line, she has nearly 3,000 tons of ammunition alone beside all her coal and other stores. While in the bay the men volunteered to give up their provision lockers for coal and we put to sea without our usual fresh provisions but we have an extra hundred tons of coal in their place.
March 27th: Every thing going smoothly so far, the sea has been like glass all the way, we have no had to batten down once so we have lots of fresh air. Are only making 10 knots average. They are giving us firemen a fair chance to get hardened in. Have a good crew and every one is willing to do their share - the sore heads all run away when the "Maine" went down. Sighted the "Southern Cross" tonight for the first time, are about 12 [degrees] N. L. now.
March 31st: Crossed the Equator at 9.15 A.M. in Long 82.16 W. Every thing going lovely. In order to relieve the monotony of the thing old "Neptune" and his party of "Assistants" came on board and started in to initiate all the new members of the crew, after he got through with them they returned the compliment to the old members and the result was that all hands including the Captain got a free bath.
The initiation consisted of a course of treatment calculated to make a fellow sea sick and sick of the sea both at the same time.
First the Dentist examined our teeth to see if we could eat hardtack (and nearly broke your jaws at the same time.) Then the Doctor gave us a pill which was "fearfully and wonderfully made," it consisted of flour, molasses, mustard, red pepper and tar. Maybe some of the ingredients escaped my taste but I can swear to these. Then old "Neptune" gave us his blessing, his wife (who is surely a canibal) gave us a kiss (and took a bite as big as your fist at the same time) Then the barber got in his work, His assistants or "Assassins" grabbed us and beat you half to death with canvas sacks stuffed with coal dust or sand I should judge, then we sere set on a bench while some more assistants lathered us with a white wash brush and lather composed of tar, molasses, cylinder oil and the Lord only knows what else. Then the Barber shaved us with a barrel stave, (taking care to break your nose and knock your ears off.) When he got through we were dumped into a tank of water where some more Assassins got hold of us and what little life was left in us was knocked out by the time they got through.
After the so called "fun" was over each one was given a certificate entitling the holder to the same kind of treatment next time they crossed the Equator.
I enjoyed the first part of this ceremony immensely, having been across several times I ought to have been exempt but the new men wee in the majority and after we got through with them they turned the tables on us by the Captains suggestion. The best joke of it all was that they ducked the Officers and all - including the Captain. This certainly was a gay old day.
Apr 2nd; Sighted the lights of Callao during the night and at daylight this morning we steamed into the harbor with the Secondary battery loaded and their crews ready. Being in a country where the Spanish language is spoken Capt Clark evidently intended to take no chance but kept the ship clear of every thing and the whole time we were in Callao there were always men near the guns and the ammunition was not lost sight of quite. A boat was sent ashore as soon as we anchored and an Officer reported to the American Consul but the only news given out to the crew was to the effect that war had not yet been declared.
The "Marietta" had been here and after ordering coal for us had left on March 31st for Valparaiso where we hope to over haul her.
Owing to the coal being ordered in advance it began to come off in a short time after we dropped anchor and by noon we were coaling for all we were worth. Our boat had been sent ashore for fresh provisions and returned about non with sweet potatoes and some fruit, the only articles they were able to buy. The Doctor condemned the fruit an we had to dump it over board but we had a good feed on Sweet potatoes. We were all pretty hungry, having lived ten days on pay masters stores which are not good.
The canned meat is unfit to eat, the Salt meat has been in pickle so long that the bones are eat up and can be crushed in your hand. The coffee is ground and put up in 5 pound tins but has all molded and can not be used, the Sea biscuit is good as is also the Beans and some of the Rice, this is about what we have lived on for the last ten days.
On our run of 4,200 knots to this port we have used less than 1000 tons of coal, the coal we are getting here is miserable stuff and costs the government #17 per ton.
Apr 3rd A few of us were allowed to go ashore this morning to hunt for fresh provisions and got a few chickens at 6 cents apiece but they had been fed on fish till they were unfit to eat. Even the eggs had a fishy taste. However we ordered beef and it came off to the ship bout noon - a little bit tough and stringy but pretty good to men with our apetities. The Peruvians made a kick about towing the coal as far and tried to get the ship moved farther in but Capt Clark refused and we are at our first anchorage nearly three miles from the beach and clear of all the shipping. At night the two steam launches are kept circling around the ship armed with one pounders and a dozen men with small arms. No boats are allowed near the ship after dark wthout first being closely searched. We have had one lesson in the "Maine" and don't need another.
Apr 7th. The Deck hands and coal Passers have been coaling the ship while the machinists and Firemen over hauled the machinery and boilers.
It has been slow and discouraging work as the coal all had to be brought off in lighter by Peruians and they will set the world on fire by work. However, it has given us the chance to the machinery all in good order again and as there is much of it there was plenty to be done. Put to sea about noon in a stiff gale and a thick fog, as we had a head sea we had to out on our hatch covers for the first time since leaving San Francisco. Stood out to sea till dark and then headed south, there had been a rumor that we were going to Honolulu so when the ships head swung South the crew gave a cheer that brought the Captain up to see what had happened. When told what was up he only smiled and went below without saying a word.
Increased speed to 13 knots and nearly killed all the firemen the first night. The most miserable coal I ever had the misfortune to handle, it forms in solid clinkers so hard they can hardly be broken. Had a felon on my finger that pained so much that I had to have it lanced but did not lose any time by it.
The Fire rooms and in fact the whole ship is as hot as a bake oven since battening down.
Apr 8th; Still bucking head seas that come clear over the turrets. I never saw a ship take such seas before, if she was any thing else but a battle ship a sea like some of these would crush her like an egg. Came near losing two of our men today, the Carpenter and Blacksmith, as it was they were washed into the Scuppers and badly injured. All boats have been thoroughly secured long ago, and man who falls overboard now is gone beyond all hope. A life boat couldn't live in the weather we have had any way.
Have had fire in the bunkers nearly all the way. Its just Purgatory.
Apr 16th; reached the western entrance to the Straits of Magellen, passing Direction Island at noon and anchoring in Sunday Bay at night. We have had a miserable time ever since we left Callao. There had been one continual storm and head sea all the way. We were battened down the entire time, our provisions were poor, the sleeping quarters were hot as fire almost – the berth deck registered 130o and our work on the fires was enough to kill a mule. Our coal bunkers were on fire nearly all the time, at one time there were four of them on fire at once, at another time the forward bunkers caught fire, and the Automatic Alarms failing to work, the magazine bulkheads became so hot before it was discovered that the paint was burned off them. It was certainly a close call as there was hundreds of tons of Prismatic Powder on the other side of that bulkhead that must have exploded in a very short time and blown every thing to atoms.
I did not keep count of the number of times the bunkers were on fire, we had too much to do to keep a diary but it seemed as if there was one or more fires going all the time. Spontaneous Combustion was always the cause and it realy seemed as if the only place that coal would burn was in the bunkers.
Steam, the usual antidote, seemed to have no effect on the fires and the only method that we found effective was to begin on one side of the bunker and shovel away the the coal, piling it up in the fire rooms or any odd corners we could find till a clear space could be formed . Once a little room was obtained the real work began. Commencing on the side next the door we would shovel every bit of coal over, keeping the salt water hose turned on it as we went till every bit of coal in that bunker had been handled. The heat in the fire rooms generaly was about 150o, in the bunkers it often went up to 170o or more while no air could be allowed to circulate, so all the gas, coal smoke and steam that was generated was confined right there and the only outlet was through the firemens lungs. It was just terrible and the poor devils who had to stand it are to be pitied. The men were played out time and again but they never gave up. It used to be a rule to go in there and work till they dropped senseless, then some one else would pull them out and take their places while the rest of the men turned the hose on the man who had fainted and he was always ready for more of it soon as he recovered Men frequently had to work 24 hours at a time like this, at one time I got only 5 hours off out of 48, at another we all worked 19 hours straight and to add to all our trouble we had to keep up a speed of 13 knots on the poorest coal that God ever made. We are certainly having a hard time getting a place where we can turn loose and be savages but a game of kill or be killed would suit this crew better than any thing else just now providing it was played with the Spaniards.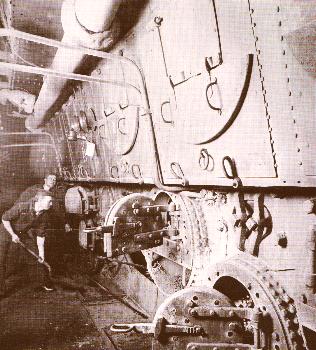 The view of a boiler room in one of the OREGON's sisterships. Feeding these furnaces was the duty of George Robinson
Apr 17th; Got ready to get under way at 3 a m but did not raise the anchor till nearly 8. The interval was spent in clearing ship for action, loading guns, testing the compass and getting ready generally. When we did get up anchor we were ready for actual battle and rather expecting it too as it was reported in Callao that the the Spanish torpedo boat "Temerario" was to lay for us in the "Straits" (I saw this boat when she first came out here in 1892 but she did not impress me then as being dangerous, she is a "torpedo-gun-boat of 19 knots." she was in montividio at a naval review when I saw her.)
Put on forces draught and proceeded through through the Straits at an average of 15.3 knots. Those waters are very dangerous but the Cpatain was evidently getting anxious for news especialy our own gunbaot "Marietta" which should have met us here, no doubt she waited for us in Valparaiso and is well behind us now.
Arrived at Punta Arean (Sand Point) Chili a 8.30 P.M. We made 153 miles in 10 hours with the entire crew at quarters and the guns loaded, the anchor was also kept hanging over the bows and men stationed at the anchor engines ready to let go at a moments warning. There was not an emergency in the catalogue that was not forseen and prepared for. Sent a boat ashore with an Officer to report to the American Consul while the same tactics employed at Callao were brought into play here. We anchored well clear of all ships and had the Steam launches doing patrol duty. Even an Argentine gun boat that came in an hour after we arrived was ordered to give us more room, as they seemed a little slow about doing so the Search lights were turned on her decks for a moment and then flashed up to our own mast head to show "Old Glory," the moment they saw our flag and the men at quarters in the fighting tops they started off and dropped anchor three miles away.
About 10 O'Clock our boat came back and we were informed that war had not been declared up to the 10th (the day the last mail boat left montevidio. There are no cable connections here). We were all disapointed to some extent but not altogether as we want to be there when fun begins. The "Marietta" came in at 11.30 P.M. and tired as the men were they turned up to give her a cheer. We had barely missed her in Sunday bay as she was just leaving Smiths Straits as we passed the entrance. They saw our fighting tops but could not over haul us while we did not see them at all.
Apr. 18th. Began taking coal from an english hulk, worse than what we got in Callao if possible, I hear that our Pay Master is paying $25 per ton for this stuff too. A few of us got ashore again for fresh provisions this morning, fresh beef is worth 2 ˝ cents per pound and mutton $1.00 per carcas no matter what it weighs. The beef is certainly splendid but can not be salted ----- ----- ---- told. Oh! What a feast we have today, we eat all we cared for at the table but some way we all got hungry before supper and it was fun to see the men frying steaks over a scoop shovel in the furnaces. That may not sounds apetizing to some but we were hungry as sharks and it was a treat to us. The international line between Chili and Argentine was through the town of Punta Arena and as the two countries are on the verge of war there are some interesting times here for us. Chili has an army here and Another marching overland it is said while Argentine has an Army here and is landing troops from a transport - both sides have men-of-war in the harbor, think there are eight altogether. The queer part of it is that the outposts of the two armies reach the international line so the two sentries can almost touch each other. We were told that hostilities were not to begin till may 4th.
Apr 20th; Left Punta rena at 7 A.M, the "Marietta" raising her anchor as we passed her and following us closely. We have put in full time while here and the the books show that we took in 1,100 tons of coal, in reality we took in about 600 tons of the worst stuff imaginable. Some one made a nice little stake out of this so we should have got some good coal at a much less juice.
50 miles east of Punta Arena we mat a couple of coasting steamers from New York, these little vessels were bound through the straits for San Francisco to go into the Alaska trade. They had left Rio de Janerio 15 days before so could give us no news except what we already had. They guyed the officer who was sent to them unmercifully and that was all the satisfaction we got.
Reached the Atlantic about 2 P.M. in a heavy gale and had to batten down again. Turned north at 3.30 and had to slow down fo the Marietta who was unable to proceed at full speed in the face of the gale. The Atlantic is more choppy that the Pacific and the absense of the heavy swell of the other side is in our favor but the little gun boat don't stand the same show as we do.
Apr 21st; Have held a six knot gate for 24 hours. We are having a snap of this and the rest is fully appreciated - God bless the Marietta if she can run. If we were alone now we would be making 13 or 1 knots.
Apr 30th; Left the Marietta off the River Platte at day light and struck out for Rio. It had been intended to use her as a kind of picket boat but she is entirely too slow so we had to give her up. Arrived at Rio De Janerio at 2.30 P.M. and followed the usual custom of anchoring away off from the rest of the shipping and sending a boat to report to the American Minister this time. The Minister proved to be away at a summer resort in the mountains enjoying himself as they had to report to the consul who told them that War had been declared. As the boat came pulling off to the ship every man on board guessed the news without being told, we could see it in the bend of the oars and the faces of the men. Such a cheer as the crew gave when the news was finaly announced I never heard before but it was equaled by the by the way they made preparations to begin coaling. At noon the coal came off and was dumped into the bunkers for us by slaves but they were entirely too slow to suit our taste so the crew turned to without orders. The "Temerario" was laying in the harbor when we got in, she had just arrived from Montividio and it was said that she was sent out to intercept us at sea, if we had not fooled so long with the Marietta we might have had a go at her but it would have been like a bull dog fighting a rat. As it was we shifted our anchorage farther up the harbor and had a couple of six pounders looking her way till the Authorities could act. The Marietta came in at 2,30 P.M. and by orders of Capt. Clark anchored just outside the Temerario, this changed the complexion of affairs to such an extent that Capt. Clark sent a Steam launch armed with a one pounder to notify the Spaniards that we would "blow them out of the water if they moved." After delivering this message the launch dropped anchor right alongside the "Temerario" and watched every move the Spaniards made. That must have been a bitter pill for them but the directions said take it and they did. That same evening the Brazilian government put an Officer on the Temerario's deck to see that she did not move but we kept our watch all the time we were in port just the same. The regulations were carried out here in regard to patroling in the vicinity of the ship, as at Callao and Punta Arena, beside which the Brazilian government sent two armed tugs every night and one in the day time and no boat could come near the ship except on business. All the coal we got here as well as all the provisions were furnished by the Brazilian government. At very reasonable rates. The provsions were good and we needed them badly. At Punta Arena we had been unable to get any thing but meat which soon spoiled. We had an ice machine but the officers took all of the ice it made and left the crew without. Its an actual fact that I have seen a ton of ice stacked up in the Ward Room to cool the atmosphere while the crew were drinking water right from the Evaporators, hotter than Coffee could be drank with comfort. The Marietta's crew are as wild over the news from home as we are but they don't seem to have any confidence in their captain.
May 1st; The Machinists and firemen have been over hauling machinery as usual while the rest of the crew coaled ship.; Such work as this has not been done on as American ship for many a day, I put in 15 hours today in the fire rooms in a temperature of 145o. There is not a breath of air in the harbor. Every man on the ship been very busy today except Mr. Cogswell (our Executive Officer) he has been drunk ever since we heard that war was declared.
The American minister came back this evening and came on board about dark, he and Capt. Clark had a very sarcastic conversation on account of the minister having been away at the time we arrived. About 9 P.M. Mr. Cogswell and this same minister made their appearance on deck as drunk as lords, they made us stop coaling ship while they had the band up to play for them and delayed coaling for at least two hours. A very nice pair of Americans these.
May 2nd; The United States having bought the cruiser "Nichteroy" from the Brazilian government, a party of the Engineers force were sent over to examine her machinery today. They have had a force of men repairing her for some time but her boilers are in bad shape still. She used to have a Dynamite battery but has no guns at all now. (This ship is named after the city of Nichteroy, just across the bay from Rio)
May 3rd; Finished coaling last night every bunker is now full of the best coal we ever had on this ship, in contrast to the stuff we got in Punta Arena, which would not burn even in the bunkers. Left in company with the "Marietta" at 6.40 A.M. The Nichteroy not coming with us for some reason. There was a rumor last night that the American fleet had fought a battle at manila but the rumor was not confirmed up to the point we left port. Steamed north as far as Cape Frio (60 miles) and then hove to till dark, then started south again past the entrance to Rio Janerio bay and kept in that vicinity till mid-night. The crew supposed we were waiting for the Temerario to come out but she failed to come. All our guns have been loaded since we entered the Straits of Magellan and the men are kept at quarters day and night. About 1 A.M. we steamed into the shadow on a Cliff a few miles South of Rio and dropped anchor till daylight but got little rest as the Captain was evidently looking for some thing. Cogswell still drunk.
May 4th; Got up anchor at daylight and stood north past the harbors mouth, found the Marietta hiding behind an island or rock watching the entrance. Both ships started north but hove to off Cape Frio till noon. About 2 P.M. Capt. Clark signaled the Captain of the Marietta to come alongside and ordered him back to look for the Nichteroy, giving him a pretty hard calling down for being too slow in reporting. This is the second time this Captain has been on the Carpet since the two ships have been in company. Marietta and Nichteroy returned about ten O'Clock and all three ships laid a course to the north. This was the last we seen of either ship, for during the night we parted company, they to come on as best they could, while we started ahead at full speed.
May 5th;Capt. Clark sent Lieut-Com, Cogswell to his room to sober up. There are a few ore of these tanks who need a lesson and it is to be hoped they will get it. Averaging about 14 knots but run out of our way to examine every ship we sight.
May 11th; Reached Bahia Brazil after dark and entered the harbor about 10 P.M. Nearly scared the Custom house officers to death. They came off to the ship thinking us a merchantman and pulled off like mad when they found what we were. Sent a board ashore at once to report to the navy department by way of Liverpool and started in at once overhauling machinery.
May 12th; Telegram from the department was posted on the bulletin board giving us the result of the manila fight but no details, rumors from the shore say Dewey lost half his men. The men cheered themselves hoarse over the news. A local paper today published to a statement to the effect that the Spanish fleet had dodged the north atlantic Squadron and captured Philadelphia and Boston. There are some men who believe it but all are hoping for the best (It was from here that Capt. Clark sent his famous message "Don't tangle me up with instructions")
May13th Slipped out of the harbor after dark and put to sea although our Captain had previously reported his machinery out of order. By this means we observed the 24 hour law and kept the enemy in the dark as to our movements,
May 13th; The bulletin board was covered this morning with the dispatches from home giving the location of the Spanish ships and so on. One dispatch from the department told us that "the eyes of the world were on us." The world must have little to do if that is the case.
Capt. Clark called all hands aft and gave us a lecture in which he stated plainly that he expected to meet the cape De Verd fleet. He gave us a full description of their ships and also told us of his plans in case we did meet them. Taken altogether the outlook is pretty blue, while we all have confidence in our ship, the odds of 4 to 1 and three torpedo boats besides is pretty big. The general talk among the men is that there wont be so many ships in that fleet when they get through with us. We certainly will have a share in the fight if we meet.
May 14th, The Boatswain, Mr Costello has been drunk for two days and today spoiled the chance of our lives – or saved our lives ---, God only knows which. About noon our anchor chain dropped over the side and it took two solid hours to secure the 20 fathoms of chain. This chain had previously been unshackled and stoppered to the Bitts in order to prevent the anchor engine from being injured in case the anchor or chain should be struck by a shot. Mr. Costello had been told several times that it was not secured properly but the drunken fool would listen to no one and the result was that we lost two hours of valuable time. About 11 O'clock we run square into the Spanish fleet, had that accident not happened we would have met them before it was fairly dark, as it was we sneaked through without being seen.
The Spanish fleet were strung out in a line looking for us, their hulls were black and each was showing one light, we saw three distinctly. Our own ship had been painted lead color in Bahia and we had no lights showing at all. We passed one Spanish Ship about a mile to port, training the forward 13 inch guns on her. The one to starboard was about a mile and a half away and the after 13's were brought to bear on her, beside these we had 4 – 8 inch 2 – 6 inch and 10 – 6 pounders trained on each ship but as they showed no sign of having seen us we did not fire but held our course.
If they had made a single move to show that they had seen us those two ships would have been wrecked in a minute.
The third ship was three or four miles away, the rest of the fleet we did not see. The men are all cussing Costello but perhaps after all he saved our lives by his drunkeness.
There would have been an interesting session if they had seen us but I will confess that the odds were too much in their favor to suit me.
May 17th; Reached Bridgetown, Barbados today, have had nothing to complain of since the 14th. The coal we got in Rio is the best we ever had in the ship and our fresh provisions lasted till we got here. Every thing is lovely. Anchored and Reported to the department by way of Liverpool and begun taking coal on at once. Raised the yellow flag to scare visitors away as the natives were bothering us too much. Got the daily paper from shore, these papers confirm the report we got in Bahia that the Spanish fleet captured Philadelphia. The men are feeling pretty blue and are not very complimentary in their remarks about the North Atlantic Squadron. The Spanish Cruiser "ALFONSO XIII" left here two days ago with a lot of troops for Martinique, we cincerely hope that we will go after her. There was a torpedo boat reported off this port last night but we can find out nothing about where she came from or where she went. We have been obliged to chip in considerable money out of our own pocket to help feed ourselves on this run. At Frisco we chipped in $5. At Callao $5. At Punta Arena $8. At Rio $10 and now we have to dig up another $10. The grub that we got from the paymaster is poor in quality so there is nothing else for it.
We got some garbled accounts of the Manila and Matanzas fights but no particulars. American flour cost us $17 per hundred here, other provisions in proportion.
Coaled ship all day and got away for home at dark; Hung around the entrance all night looking for any boats the enemy might have watching us but failed to find any so we headed east just before daylight and got well out of sight while the darkness lasted.
May 21st; We are now very nearly off the east end off the Island of Cuba and heading north. One of the funniest incidents of this long run happened this morning just before daylight The ship was making about 12 knots (showing no lights) when she suddenly run into a ship so close there was hardly room to turn. There was no time to see what she was and the first thought was that we were up against that Cape De Verd fleet. The wheel was jammed over and we took the back track as fast as the engines could drive us, the men were called to quarters and turned out with cheer, for we all felt for sure that their would be a fight this time sure. Lieut-Com Cogswell turned up drunk as usual having made a night of it and the Chief Engineer got so excited that he lost his false teeth while trying to give an order in the fire rooms (One of the firemen threw them in the furnace and the old coward was toothless for nearly six months afterward. We run for half an hour and then as daylight was breaking we took back on our course ready to fight but just image our disgust when the ship we had run from turned out to be a "Wind Jammer". This is the first case on record of a modern battle ship was chased by a Sailing Ship.
May 24th; Reached Jupiter inlet about dark and nearly scared every one to death. The whole town took to the hills while the telegraph operator telegraphed to Key West that a Spanish Ship was in the harbor. Sent a boat ashore with dispatches for the department.
May 25th. Got a dispatch from the Secretary of the Navy which was read to the crew at 4 A. M. by the Captain. The telegram was short and to the point, " If you need repairs go to Norfolk, if ready to fight go to Key West." That settled it, we were off for Key West in fifteen minutes after that dispatch came aboard. The only things we need is coal and grub and we need both badly.
May 26th. On Account of the shallow water on this coast we have had a slow run for the last 24 hours, we had no pilot and had to heave the lead all the way. Arrived here and dropped anchor six miles out at 10 A.M. Began taking coal from a big four masted schooner half and hour after anchoring and none too soon for I don't think there is ten tons in the ship. If we had encountered a storm yesterday we would have been out of luck for two more hours would have used up our last pound of coal. Sent boats ashore for fresh provisions and news papers (I hardly know which we wanted worst.) and the rest of the day was spent over hauling machinery, coaling ship, eating and reading the news. Lord what a racket there was on the ship when we found we were in time for all the principle part of the fighting.
The ------ came past in the afternoon and when the word went round that she was in the fight at Cardenas the men gave her a cheer that nearly upset her crew. No doubt they thought we were crazy but they ought to be in our place. We have run nearly 15000 miles in a race against time and have had but one chance to fire a shot and I hardly think we can be blamed for not taking that, considering the odds against us. I am willing to bet that we never miss another chance even at those odds. Had to dig up another $ 10 for grub today – its getting about time the government put in its share, according to the articles we are entitled to rations.
The papers are giving us quite a send off for our long run and are taking us by surprise. Not a man on board had any idea of the excitement we were causing. We have felt all along as if we were being lost in the shuffle. Got a letter today form Ola, the only one from home.
May 27th. Continued taking coal all day and over hauling machinery, coal is going into those bunkers at a rate it never did before. The men are determined not to be tied up here longer than they can help and all hands are at it for all they are worth. Provisions are scarce and high. The government has plenty on the beach and the Officers get all they need but the men can get nothing. The "New York" came in today and anchored near us, her crew gave us a cheer as did the "Helena" which we returned with a will. The latter vessel is one of the picket boats here now and is a smart looking ship.
May 28th. Continued the same schedule today as yesterday, they have also been stripping the ship, sending all boats and every thing else ashore that could be dispensed with. All tables and benches were stowed in the hold as our bags and hammocks were ready to go ashore – in fact some of them had gone, mine among the number when the order was revoked. Received a draft of 60 men from the Chicago Naval Reserves late in the evening, the poor devils are expecting a snap but are not likely to find it on this packet, she is about the hottest old workhorse afloat. Owing to some mistake we have been unable to get more fresh provisions here than would last us from day to day, had ordered sea stores for 7 a.m. May 29th but owing to some order we stoppedcoaling and got under way at 10 P.M. with hardly any provisions at all. The Officers have plenty and that is all that seems to count in this ship.
May 29th. Joined the blockading fleet off Havana at 8 a.m.(At least we suppose we are off Havana from the direction we have come, there is hardly a map among the crew. The fleet consisted of the Battle Ship "Indiana", (Sister ship to the "Oregon") the monitors Terror, Puritan, Miantonomo, three torpedo boats whose names I did not learn and half adozen cruisers, including the New York. Also a supply ship or two.
The fleet gave us a rousing reception as we passed through them although we must have looked tough, the ship had not been cleaned since we coaled and had a great list to port owing to hasty coaling. The Indiana's band played "When I run that bully down". Put in the entire day drifting about among the fleet which is a very powerful one, they are ten miles or more from shore but have a lot of smaller craft closer in. Got under way at 4 P.M. standing S. E. till dark and then hove to till daylight.
May 30th, Started S. E. at daylight in company with the "New York", the torpedo boat "Porter" and the converted yacht "Mayflower", a very fine little vessel though they say she was a terror before she was "converted". Hove to at 9 a.m. while the captains of every ship reported on board the New York, after which all the ships started westward except the torpedo boat "Dupont" New York, Oregon and Mayflower. The New York Got funny and tried to run away from us, giving us a hard run all day. Every half hour or so they would signal to know if we could make any better time, the affirmative flag was always the answer till we were going full 15 knots and finally when we were abeam of them and forging ahead they signaled to slow down. They had enough for once.
Hove to for the night at 9 p.m. with the Cuban Coast in sight on our starboard beam.
May 31st, Got underway at daylight, standing close in shore, then hove to till noon. The lookouts were busy examining the coast while the Dupont run close inshore, kept this up till dark, then stood out to sea and resumed our course. Rounded the S.E. Point of Cuba at 12:25 a.m. and turned westward.
June 1st, Arrived with the blockading fleet off Santiago at 9 a.m. The batteries fired half a dozen shots at us as we steamed past, all fell short and the New York being the closest in failed to reply. The"Marblehead" which was lying close in took up the challenge and the Forts shut up after she had fired a few shots. The fleet consists of the Brooklyn, Marblehead, Massachusetts, three torpedo boats seven or eight colliers and the ships which came with us. Sampson is in command and Como. Schley who has earned the title of "Commodore Cant" is second in command. The "Iowa" is also with us and the Texas, the former is our only "Sea going Battle Ship". The other three are "Coast line Battle Ships 1st rate" and the Texas a "Battle Ship 2nd Class". At 5 p.m. Stood in for close night blockade when the batteries again opened up without effect. Our ships did not reply.
June 2nd. The batteries saluted the stars and stripes at daylight with half a dozen shots but we heard nothing closer than the explosion of the guns and did not reply so they quit. Suppose this was another "Spanish Victory". At 9 a.m. a small steamer started to run past the fleet without a flag, we went after her and had to fire a blank before she stopped. She proved to be the "Dandy" an associated press boat under the British flag. Her Captain got funny and in answer to Capt Clark's question as to where his flag was he replied, "the crew are using it as a table cloth just now. He will run it up as the cook gets his dishes washed up". He changed his mind quick when the order was given to "load with shell", and run up his flag.
At 12:30 p.m. we were again sent to chase a steamer that had 8 miles the start of us and run like a scared wolf when she saw us coming. Put on forced draught and took her in after a 40 mile chase but it nearly killed every fireman to do it. She proved to be the "Triton" of Bath Me chartered by the New York "World" and was after a sensational article. We thought sure she was a prize and were badly disappointed when she run up "Old Glory". (The first time I ever hated to see that flag). In the run we made 17.3 knots, the best time ever made by a ship of this class and it beats all previous records for us. They sent our Officers a bunch of bananas and squared them, as to the men – the men be d—d. As we turned back we met the Marblehead, a 19 Knot ship that started when we did but was left in the race – we were in no humor to be beaten at this time, almost every ship on this side has had some satisfaction but we have not even fired a shot yet.
June 3rd, Got the news of the sinking of the "Merrimac" this morning, it seems they were volunteers but there were no volunteers called for on this ship.
The forts fired a few shots at us again this morning and both Officers and men are growling, not only because we can't return the fire but because they think Sampson sunk that ship in the channel so he would not be called on to fight the Spaniard fleet. Have not had a bit of meat or any thing else except hard tack and New Orleans molassis since the 1st of this month – not even coffee.
At 12:30 the Oregon got orders to take position inside the cable ship while the latter fished for the cable. Every one hoped this was our chance but in spite of the fact that we were within 8000 yards they failed to fire at us. They must have known what we were doing. Continued close inshore till 4 p.m. when the Spaniards sent a flag of truce. We were told that they brought word that the men on the "Merrimac" were safe. Resumed work in half an hour and about 5:30 the cable ship secured on cable and cut it, this was only 2800 yard from the "Morro" and the Oregon had to lay on this in-shore side of the cable ship to receive any shots that might be fired at her. Continued dragging until 8 p.m. but got no farther results. Stood in close for night blockade, the Oregon taking 2 hour shifts with the Iowa in using his search lights on the channel. 8 steam launches armed with a 1 pdr each and a force with small arms are sent close in to the entrance and kept there all night on picket duty. These little boats take the most desperate chances, firing on any thing they see moving although their chance of escape is very small if they are struck.
About 10:30, we had a chance to see what our fleet was like on night work, at this hour one or more of the Spanish torpedo boats made a sudden dash out of the harbor. Our steam launches gave the first alarm with their guns and whistles and were promptly backed by at least six of our ships, the boats, or at least one of them turned east and was headed off by the New York and New Orleans, the former playing his search lights while the latter worked her batteries, the Oregon slipped close in to the entrance to prevent the boats getting back into the harbor while the Marblehead and Mayflower kept them from getting to the open sea. Just what the result was is hard to say, but men on the New York say that the torpedo boat was fair in the glare of their search lights one second and the next had disappeared like a bubble. The Oregon did not get to fire a shot the New York not many but the New Orleans was fairly grinding them out, in fact they worked their guns so fast we thought they were on fire at one time. The New Orleans is the only ship in our Navy using smokeless powder.
---
Continue on to Part 2 of the diary
---
Click here to visit the website bibliography ||| Click here to visit the website video bibliography
---
Support this Site by Visiting the Website Store! (help us defray costs!)
---
We are providing the following service for our readers. If you are interested in books, videos, CD's etc. related to the Spanish American War, simply type in "Spanish American War" (or whatever you are interested in) as the keyword and click on "go" to get a list of titles available through Amazon.com.
---
Visit Main Page for copyright data