…

---
A Brief History and Roster

of

"Chanler's Rough Riders"

By Patrick McSherry
---
Please Visit our Home Page to learn more about the Spanish American War
---
Click here for information on the Skirmish at Tayabacoa
---
General:
Chanler's "Rough Riders" was a small group of Americans who served under the command of the Cuban revolutionary forces in Cuba during the Spanish American War.
---
Unit History:
Not much is known about "Chanler's Rough Riders". The unit was conceived by William Astor Chanler, a cousin of John Jacob Astor, and a millionaire in his own right. When William Astor Chanler was informed that the roster of the 1st U.S. Volunteer Cavalry (Roosevelt's "Rough Riders") was already full , he came up with a plan to raise a full regiment which he would completely fund. The regiment was to be commanded by Robert Emmet, a man related through marriage to the Chanler family, and who was formerly a brevet colonel with the 9th U.S. Infantry.

Recruiting began at 140 – 142 Sixth Avenue, in New York City on April 21, 1898, four days prior to the declaration of war with Spain. However, the plans changed when William Chanler obtained the position of assistant adjutant general on the staff of Major General Joseph Wheeler. Completing the formation and deployment of the unit fell to Winthrop Astor Chanler, William's brother and also a member of the new military unit.

The size of the organization changed and only consisted of about fifteen to twenty-five men when finally deployed. Membership in the organization consisted of New York socialites, sportsmen, former military men and those with riding and shooting skills – similar to the requirements of members of Roosevelt's "Rough Riders". The known roster of the group is shown below. It is not known if all listed below were deployed to Cuba or if they remained with Chanler's Rough Riders throughout.
"Chanler's Rough Riders" departed from Key West, Florida on June 25, 1898. The cavalry unit was part of an expedition that was to land 650 Cuban troops, a company of the 10th U.S. Cavalry, Chanler's men, armaments and supplies in Cuba. The first attempt near Cienfuegos failed between serious Spanish opposition and the coral reefs at the proposed landing site. The next attempt was made at the mouth of the Tayacaboa River. Chanler and his men and a Cuban force landed, only to find themselves pinned down by Spanish fire in what became known as the skirmish at Tayacaboa. Early in the engagement, Chanler went down with a broken arm from Spanish fire. He was helped into the brush line and into a swamp at the edge of the beach by two physicians who were part of the group – Maximilian Lund and William Louis Abbott. Subsequently during the skirmish, Lee Hervey was wounded in the leg, and Eli Carpenter was killed, both apparently part of Chanler's force. The landing forces, including Chanler and his men, were extricated in a daring nighttime landing by the 10th U.S. Cavalry.

After the skirmish at Tayacaboa, the expedition was successfully landed at Palo Alto and joined the forces of Maximo Gomez. "Chanler's Rough Riders" took part in actions at El Jibaro (July 18) and Arroyo Blanco (July 27). At El Jibaro the Cuban forces, aided by the use of the Dudley-Sims dynamite guns landed by the expedition, captured eighty men, ninety rifles, forty thousand of ammunition and ten thousand rations. Similarly, with the aid of the dynamite guns, fifty Spaniards were killed, two hundred wounded out of a Spanish force of four hundred at Arroyo Blanco. In his book,

In Darkest Cuba: Two Months' Service Under Gomez Along the Trocha From the Caribbean to the Bahama Channel

, basically a diary of a man serving with the Cuban forces under another command, the author, N. G. Gonzalez, notes that Chanler's Rough Riders maintained their own camp and so the unit must have maintain its identity as a distinct fighting force. It appears that the unit served about two months. It is unclear how the unit disbanded, because some men served a bit longer and make no mention of a muster out of any sort. For instance, Hugh Thomason stated he did not learn of the August 12 armistice until September, and had remined fighting beside the Cuban forces until that time. At that point he went to a Spanish camp, surrendered to an officer who had been paroled by his force. He was given assistance. After recovering from a tropical fever, he was finally able to leave Cuba on December 3, 1898.


Annotated Roster of Chanler's "Rough Riders":

ABBOTT, WILLIAM LOUIS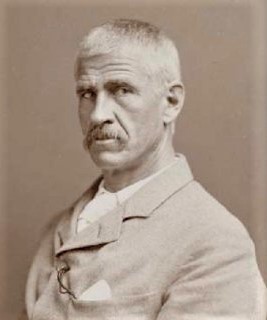 William Louis Abbott
(Source: National Anthropological Archives, Smithsonian Institution)
Abbott had earned a medical degree from the University of Pennsylvania in 1884, and traveled to London to study surgery. After receiving a very sizable inheritance in 1886, Abbott devoted his life to being a naturalist specializing in birds. However, in 1894, he attempted, but failed, to join with the Malagasy natives to fight the French in Madagascar. Five years later he joined with Chanler in the expedition to
Cuba
, and was wounded at the
Tayacaboa
skirmish. Correspondent Gonzalez referred to Abbott as being "kindhearted a man as ever lived though rough as a bear." He also noted that Abbott owned a "fine old home" in Philadelphia that Abbott had not seen in fourteen years. During the skirmish at
Tayacaboa
, Abbott received a mauser bullet through the shoulder. Gonzalez and Abbott departed Cuba after the armistice was signed aboard the schooner DELLIE. Aboard ship Abbott cared for the sick soldiers who were also aboard the schooner. After the war, Abbott continued his life as a naturalist. During his career he discovered forty new species and collected sixteen thousand animal specimens from all over the world. Near the end of his career he became the director of the Philadelphia Zoo. He died on his estate in Cecil County, Maryland on April 2, 1936.

AGUERO, ?


The only reference to Aguero appears in N. G. Gonzalez' book, In Darkest Cuba. Gonzalez stated that "At dusk Aguero of the Chanler party paid me a visit..." in late July, 1898. No first name is provided.


CARPENTER, ELY


Carpenter was killed in the boat during the Tayabacoa resuce from the beach. Since the landing party consisted of Chanler's men and a Cuban force, he is assumed to be one of Chanler's men. Some sources identify him as a stevedore, but it is unclear why a stevedore would have been part of the initial landing party.


CHANLER, WINTHROP ASTOR


Chanler was born on October 13, 1863. After being wounded in the left arm at
Tayacaboa
, he returned to Tampa aboard the Transport FLORIDA, planning to return to his unit in Cuba when sufficiently healed. It is unclear if he did so. Later in life, in 1909, he aided in the search for missing Americans following the Taomino earthquake in Italy. During World War One he served as an aid to Major General John J. Pershing. In his later years he retired to breed horses and hunt on his estate in Geneseo, New York. He died on August 24, 1926 after suffering a head injury following a fall from a horse.

CHARLES, W. A.


Charles was a wealthy American and African explorer who had offered to raise a regiment at his expense, as did William Chanler. The two traveled in the same social circles.


COWAN, JOHN H.

CHAULOS, WINTHROP

DELAIGNE, H. B.


Delaigne was apparently from Lakewood, Ocean County, New Jersey and a reporter for the

Washington Times

. After the war he became the "Superintendent of Dumps" in the Canal Zone of Panama.

EMMETT, CHRISTOPHER TEMPLE


Temple was a brother-in-law of Winthrop Chanler, an attorney and sportsman. He later served also in World War One and in the New York National Guard.


GALVIN, GEORGE E.


Galvin was a friend of William Astor Chanler having been on Chanler's on African expedition.


FLINT, GROVER


Flint was the son of a Civil War general. He was a foreign journalist, and had lived in Madrid, London, and in Chile. In the years leading up to the Spanish American War, Flint joined the Cuban revolutionaries, writing a book on the experience entitled

Marching with Gomez

. The book was published in 1896. Flint was wounded in the right arm at the Tayacaboa Skirmish, and returned to Port Tampa aboard the Transport FLORIDA, with the intention to return to Cuba when sufficiently healed. After serving with Chanler's Rough Riders he continued to travel in the Philippines and the far east. He became a director of the "Order of Santa Clara" for U.S. army and navy members who served in Santa Clara and Puerto Principe provinces of Cuba in 1898. Flint died in 1909.

HANKINS, WILLIAM


Hankins was listed as being from Lakehurst, New Jersey and in association with Delaigne. Both are listed as being "Rough Riders." Hankins does not appear on the roster of the
1st U.S. Volunteer Cavalry ("Roosevelt's Rough Riders")
so it is assumed that he was with Chanler's force.

HERRINGTON, WILLIAM T.


Herrington was a native of Nashville, Tennessee.


HERVEY, LEE


After being wounded at
Tayacaboa
, Hervey joined the U.S. Volunteers, and claimed to have been wounded five times in one leg, though some claimed the wounded were from a previous trolley accident. One meber of the unit states that Hervey claimed prior military service when he joined Chanler's men, which later roved to be untrue. Following the war he went to the Klondike to take part in the gold rush, and apparently did fairly well, with his prospecting allowing him to live at the Imperial Hotel in New York City. He was later arrested having deserted his wife before the war.

HOOD, JOHN B.



?, JACK


Jack's last name has not yet been found. Jack was an African-American servant who had accompanied William Louis Abbott in his travels around the world and apparently had gained some fame for boxing a kangaroo during their travels. It is not clear if he traveled to Cuba by choice or because he was employed by Abbott. In Cuba, Jack was reported to be intolerable by some other members of the Chandler party. Though accounts are vague, from Gonzalez' account of his time with Abbott and Jack aboard the schooner DELLIE, it appears that the problem was that Jack acted as an equal to the others rather than a servant, something that Gonzalez, a Cuban American who lived in the southern U.S., found annoying. In fact, during his service in Cuba, Jack appears to have simply asserted himself.


LLANOS, MAXIMILIAN


Accounts list Llanos as being part of the expedition. Correspondent N. G. Gonzalez reported his presence in camp in Cuba, therefore we know he did take part in the expedition.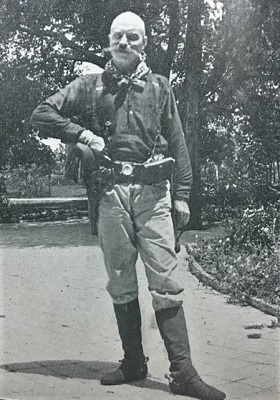 Maximilian Lund

LUND, MAXIMILIAN


A native of Copenhagen, Denmark, Lund attended Heidelberg University studying to become a physician. At Heidelberg, he was active in the fencing societies. Heidelberg fencing was a unique sport in which razor-sharp blades are used and the only target is the face, the remainder of the body, including the eyes are protected. Lund's face bore evidence of the wounds, showing numerous scars. He claimed to have fought in 47 duels, with three being with pistol. It is not known how many duels were with the fencing societies and how many were outside of these somewhat controlled conditions. Lund claimed to have spent seven years in the German military and to have served as a member of the bodyguard of King Albert of Saxony. In about 1895, Lund became an American citizen.

At the skirmish at
Tayacaboa
where Lund swam out to the transport and reported the plight of the landing party, Lund was recognized for "especially meritorious conduct attending the sick and wounded under fire." After finally getting ashore in Cuba, Lund basically left Chanler's force and attached himself to the company of the 10th U.S. Cavalry that landed at the same time. After the battle of Jabaro, Lund and Lt. Carter Johnson of the
10th U.S. Cavalry
and Lund got drunk on a barrel of rum and directly disobeyed orders of the Cuban commanders under which both Chanler's men and the
10th U.S. Cavalry
were serving, and threatened to fire on the Cubans themselves.
Lund also challenged a Harpers war correspondent to a duel, however when the man being challenged chose "bowie knives, toe-to-toe" Lund backed down. He became a director of the "Order of Santa Clara" for U.S. army and navy members who served in Santa Clara and Puerto Principe provinces of Cuba in 1898
In later years Lund was in charge of an insane asylum near New York.

PARTINGTON, WILLIAM

REMETREZ, REGOBERTO (or possibly REMIREZ)


Remetrez is listed a captain at the time of his joining the unit. Correspondent N. G. Gonzalez noted his presence in Cuba, and that Remetrez (Remirez) supplied him with tobacco. Gonzalez also refers to him as being a captain.


THOMASON, HUGH


Thomason served five years in the 6th U.S. Cavalry, then attended the Michigan Military Academy. After graduating he rejoined the army. His discharge from the army was secured so he could take charge of the cavalry in Buffalo Bill's "Wild West Show" which did an exhibition of military riding skills.

---
Bibliography:
(As a service to our readers, clicking on title in red will take you to that book on Amazon.com)
"Adventures of One Young Man,"

The Coalville Times

(Coalville, Utah), February 23, 1900, 6. (Lee)

"Chanler to Fight,"

The Courier-News

(Bridgewater, New Jersey). April 22, 1898, 2.

"C. Temple Emmett, Skier, Lawyer,"

New York Times

. July 25, 1957.

"Dane Blames Prussia,"

The Sun

(New York, NY), October 8, 1914, 6.

"Dr. William L. Abbott,"

The Midland Journal

(Rising Sun, Maryland), April 17, 1936, 8.

"Duelist Hero Talks of Deeds,"

The Los Angeles Times

. February 24, 1906, 18.

Fischer, William H.,

Biographical Cyclopedia of Ocean County, New Jersey

(Philadelphia: A. D. Smith & Co., 1899), 83. (Delaigne and Hankins).

"Florida Back at Port Tampa,"

The Sun

(New York, NY). July 16, 1898, 2.

Adjtant General's Office,

General Orders and Circulars, 1900

. (Washington: Government Printing Office, 1901), General Order #15 (Lund)

Gonzalez, N. G.,

In Darkest Cuba: Two Months' Service Under Gomez Along the Trocha From the Caribbean to the Bahama Channel

. (Columbia, S.C: The State Company, 1922), 168, 176, 179-180, 203-204, 329, 330, 337, 339, 349, 350, 366-367.

"Head Injuries Prove Fatal to Major Chanler,"

The Daily Messenger

(Canadaiqua, New York). August 25, 1926, 3.

"Native Cubans in Invading Army,"

Chicago Tribune

. May 24, 1898, 3.

"Major Chanler is Dead at 65,"

The Buffalo Times

(Buffalo, New York). August 25, 1926, 17.

Neely's Panorama of Our New Possessions (New York: F. Tennyson Neely, 1898)(Photo of Lund).

"Noted Army Surgeon Visiting This City,"

Los Angeles Evening Express

. December 27, 1905, 7.

"Obituary Notes,"

The Sun

(New York, NY). February 4, 1909 2. (Grover Flint).



Official Register of the United States

(Washington: Government Printing Office, 1899) 295. (Delaigne).

"Order of Santa Clara"

Chicago Daily News Almanac and Yearbook for 1903

, 117 (Lund and Flint)

"Regulars Never Kick,"

The Boston Globe

(Boston, MA), June 25, 1898, 3 (roster).

"Rich New Yorkers,"

The Topeka State Journal

(Topeka, Kansas), May 4, 1898, 2.

Some Tight Times at Tayabacoa,"

The Leaf-Chronicle

(Clarksville, Tennessee). December 28, 1898, 1.

"Sixth Cavalry Troopers Chosen," Evening Star (Washington, D.C.). February 24, 1897, 7. (Thomason)



The Inter Ocean

(Chicago. IL), December 29, 1896, 12.

Thomas, Lately. T

he Astor Orphans: A Pride of Lions

, W. Morrow, 1971; p. 126.

"To Search for Americans,"

The Houston Post

(Houston, Texas), January 8, 1909, 2.

"War To-Day,"

Hanpshire Telegraph and Naval Chronicle

(Hampshire, England). April 23, 1898, 5 (Charles)

"William Louis Abbott (1860 – 1936) https//ansp.org/research/systematics-evolution/history/ornithology/William-louis-abbott/
---
Support this Site by Visiting the Website Store! (help us defray costs!)
---
We are providing the following service for our readers. If you are interested in books, videos, CD's etc. related to the Spanish American War, simply type in "Spanish American War" as the keyword and click on "go" to get a list of titles available through Amazon.com.
---
Visit Main Page for copyright data