---
General Joseph Wheeler
(1836-1906)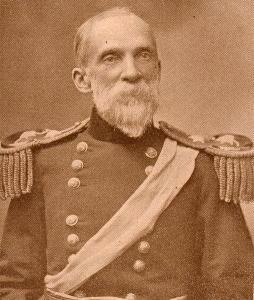 By Vineet Sandhu
---
Please Visit our Home Page to learn more about the Spanish American War
---
GENERAL:
General Joseph Wheeler was an American soldier, legislator and was the major general of volunteers during the Spanish-American War.
BIOGRAPHY:
Joseph Wheeler was born in Augusta, Georgia, on September 10, 1836. Joseph Wheeler graduated the U.S. Military Academy in 1859. He received the nickname of "Fighting Joe" while serving in New Mexico Territory prior to the American Civil War. He received the nickname after he and a teamster fought off a band of Indians which was attacking a wagon bearing a pregnant woman.
In 1861 he resigned from the army and joined with the Confederate forces. He then soon became colonel of the 19th Alabama Infantry. A year later, July 1862, he was promoted to commander of the cavalry of the Army of Mississippi. In February 1865, Wheeler rose through the ranks to lieutenant general.
General Wheeler was an active participant in many of the Civil War engagements. He led General Braxton Bragg's forces into Kentucky in August of 1862. Wheeler fought at Perryville in October of that same year. He was brilliant at Stone River (December 31, 1862) and Chickamauga (September 20,1863), where he raided into the Union territory and destroyed most of their valuable supplies. Wheeler was a part of the attack on Knoxville from November 17 to December 4, 1863. During the years of 1864-1865 he constantly attacked General William Sherman and his men first when they were heading towards Atlanta and then when they were marching through the Carolinas. In 1864 near the end of the war, General Robert E. Lee said that Wheeler, aged 28 years, was one of the best Confederate cavalry leaders.
After the war Wheeler settled in what would become Wheeler, Alabama which was named for his fame, becoming a planter and a lawyer. When he was elected to the U.S. House of Representatives and served in the Congress in 1881-1882,1883, and 1885-1900, he worked for reconciliation between the North and the South.

McKinley (left) and General Wheeler (right) inspect a military hospital on Montauk Point
In the Spanish-American War General Wheeler served as the major general of volunteers and defeated the Spanish at Las Guasimas on June 24. He was a counterpart at the battle of San Juan Hill on July 1. General Wheeler also helped in the attack of Santiago de Cuba. In 1899-1900 he commanded a brigade in the Philippine-American War. In September, 1900 Wheeler retired as a brigadier general in the regular army.
Wheeler wrote several books, including: Cavalry Tactics (1863); Bragg's Invasion of Kentucky, Vol. 3 in Battles and Leaders of the Civil War (1887-1888); and The Santiago Campaign (1898).
General Joseph Wheeler died in Brooklyn, N.Y. on January 25, 1906, and was buried in Arlington National Cemetery.

---

Bibliography:
:

Brown, Myers, Curator, Pond Spring, The General Joe Wheeler House, http://www.wheelerplantation.org/

Dyer, John P., From Shiloh to San Juan: The Life of "Fightin' Joe" Wheeler (Baton Rouge: Louisiana State
University Press, 1961). Revised Edition.

Evans, Harold, The American Century. (New York: Alfred Knopf, 1998) 491,529.

Gordon, Lois and Alan, American Chronicle. (New York: Atheneum, 1987) 473.

Morrison, Wilbur H., The 20th Century American Wars. New York: Hippocrene Books, 1993) 255-256.

The Fabulous Century: The Patriotic Tide. (Alexandria: Time Life Books, 1997).
---
Support this Site by Visiting the Website Store! (help us defray costs!)
---

We are providing the following service for our readers. If you are interested in books, videos, CD's etc. related to the Spanish American War, simply type in "Spanish American War" (or whatever you are interested in) as the keyword and click on "go" to get a list of titles available through Amazon.com.
---
Visit Main Page for copyright data