---
Officer's Collar Insignia
Contributed by Charles Dubee
---
Please Visit our Home Page to learn more about the Spanish American War
---
General:
To designate his regiment to his men and others, an officer wore a collar insignia on the collar of the officer's tunic. The example below is from the 32nd Michigan Volunteer Infantry. By regulation the insignia was to be one inch high and of gold, gilt metal or of gold embroidery. This example is meant to give the appearance of a gold embroided insignia. The crossed rifles indicate infantry (crossed sabers would indicate cavalry, and crossed cannon barrels would indicate artillery). Similar to the hat insignia, the number indicates the regiment. By regulation, below the crossed rifles is the state designation. In this case, we see "MICH" indicating Michigan. This particular example was found among the belongings of Dr. Arend Van der Veen who had served as a surgeon in the Civil War.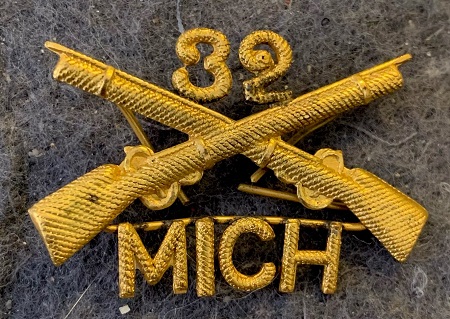 ---
Bibliography:
U.S. Army Quartermaster Department, Regulations and Decisions pertaining to the Uniform of the Army of the United States, Second Edition, 20 June 1898, (Washington, Government Printing Office, 1898).
---

Support this Site by Visiting the Website Store! (help us defray costs!)

---

We are providing the following service for our readers. If you are interested in books, videos, CD's etc. related to the Spanish American War, simply type in "Spanish American War" (or whatever you are interested in) as the keyword and click on "go" to get a list of titles available through Amazon.com.
---
Visit Main Page for copyright data