---
Model 1885 Trousers
Contributed by David L. Velleux
---
Please Visit our Home Page to learn more about the Spanish American War
---
General:
The Model 1885 Trousers are made from a medium blue wool. For mounted troops of all ranks, the trousers had leg seam and seat reinforcements sewn in to protect a rider from chafing. As a mark of rank, the trousers had a wool stripe sewn on. The stripe's width was determined by rank or duty: all "Big Three" officers had a 1.5" wide stripe, while other officers had none; Sergeants 1.0" wide; Corporals 0.5" wide; and Musicians had two 0.5" wide stripe spaced 0.5" apart. For the "Big Three" branches, the color of the stripes were white for Infantry, red for Artillery and yellow for Cavalry. For other enlisted troops, the stripe's color varied depending on the assigned branch, and was often piped in a contrasting color, i.e. engineering troops had stripes of scarlet piped in white, et cetera.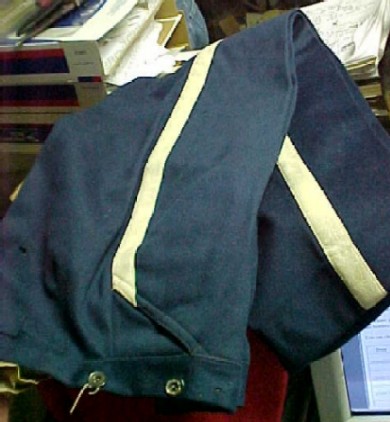 ---
Bibliography:
(As a service to our readers, clicking on title in red will take you to that book on Amazon.com)
Field, Ron, Spanish-American War 1898. . (Washington: Brasseys Inc., 1998).
U.S. Army Quartermaster Department, Regulations and Decisions pertaining to the Uniform of the Army of the United States, Second Edition, 20 June 1898, (Washington, Government Printing Office, 1898).
---

Support this Site by Visiting the Website Store! (help us defray costs!)

---

We are providing the following service for our readers. If you are interested in books, videos, CD's etc. related to the Spanish American War, simply type in "Spanish American War" (or whatever you are interested in) as the keyword and click on "go" to get a list of titles available through Amazon.com.
---
Visit Main Page for copyright data