---
Model 1885 Enlisted Infantry Full Dress Coat
Contributed by David L. Velleux

---
Please Visit our Home Page to learn more about the Spanish American War
---
General:
The Model 1885 Enlisted Infantry Full Dress Coat is made of dark blue wool, with nine buttons sewn in a single column. Each button has the Arms of the United States on its face with the letter "I" for the Infantry in the middle of the shield on the eagle's chest. The cuff flaps, shoulder straps, collar and tail flaps are made of white wool, with white piping along the front of the coat. The cuff and tail flaps have smaller versions of the buttons on the front of the coat, three on each cuff, three on the edges of each tail flaps. Rank insignia is of white silk with gold stitching. The Model 1885 Enlisted Heavy Artillery Full Dress Coat is identical to the Infantry version, except all the accents are in red and an "A" is on the buttons for the Artillery branch.
For enlisted men of the mounted branches, the Model 1885 Enlisted Light Artillery Full Dress Coat and the Model 1887 Enlisted Cavalry Full Dress Coat were identical to the aforementioned coats, but the button design reflected the branch of service, the coat's tails were shorter(so as not to get caught under a soldier when mounted) and, of course, the facing colors: red for Artillery and dark orange-yellow for Cavalry.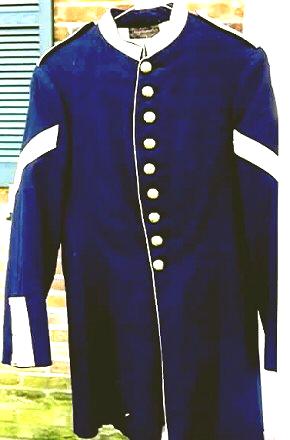 ---
Bibliography:
(As a service to our readers, clicking on title in red will take you to that book on Amazon.com)
Field, Ron, Spanish-American War 1898. . (Washington: Brasseys Inc., 1998).
U.S. Army Quartermaster Department, Regulations and Decisions pertaining to the Uniform of the Army of the United States, Second Edition, 20 June 1898, (Washington, Government Printing Office, 1898).
---

Support this Site by Visiting the Website Store! (help us defray costs!)

---

We are providing the following service for our readers. If you are interested in books, videos, CD's etc. related to the Spanish American War, simply type in "Spanish American War" (or whatever you are interested in) as the keyword and click on "go" to get a list of titles available through Amazon.com.
---
Visit Main Page for copyright data