---
Thomas Henry Dunn Writes Home From Cuba
7th U.S. Infantry
Contributed by Paul Cole
---
Please Visit our Home Page to learn more about the Spanish American War
---
General:
This letter was written by Thomas Henry Dunn, a corporal in the 7th U.S. Infantry, while in Cuba. The action that Corporal Dunn refers to is the Battle of Las Guasimas. This was where Wheeler's Cavalry division confronted Spanish troop, and where the Rough Riders had their baptism of fire. Thomas Dunn's comment that "Had a fierce battle yesterday. We lost twelve men and about 50 wounded..." is not a reference to his own unit's action, but that of the Fifth Corps in general. The 7th U.S. Infantry was not involved in this action.
The 7th later fought at El Caney, a difficult action against dug-in, but highly outnumbered Spanish troops, which occurred almost simultaneously with the attack on San Juan Hill several miles away. In this action, the 7th lost 1 officer and 33 men killed, 4 officers and 95 men wounded. Three additional men were missing. The unit strength had been 850 men.
Dunn's comments about the destitute state of the Cubans is interesting also. One of the U.S.'s major reasons for being involved in Cuba was that the rebellion against Spain and Spain's draconian response had left the Cubans in a terrible state. This view, greatly trumped up by the "Yellow Press" had swayed the public to support the war. Dunn was possibly suspicious of these reports, but felt they were substantiated.
Biographical information:
Thomas Henry Dunn was born in Statford, Ontario, Canada in 1870, the son of James Dunn and Mary Elizabeth Plews. In later life he lived in Oklahoma.

---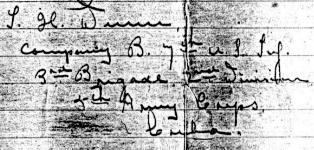 The Letter:
"Camp Cocoanut, Cuba
June 25 1898
Dear Folks at home:-
we arrived here four days ago after a journey of ten days on the sea. we are within five miles of Santiago and going to try and take it soon. Had a fierce battle yesterday. We lost twelve men and about 50 wounded. The Spaniards loss was heavy over 100 killed and several wounded this is a very hot place and I hope we will soon have peace so as to get back to the U.S.
I tell you everything is in a fearful state here. I did not think that an island as near our country had so many starving and destitute people and it is high time this state of things is stopped and the poor Cubans made free. If I am fortunate enough to pull through safe I will be very glad but if it be my fate to get killed or die from sickness I believe I will have died for a good deed.
There are all kinds of funny things here and it would take me too long even if I had convenience and time to give you any idea. All kinds of fruits such as lemons, oranges, Bananas etc. grow very plentiful and nuts of all kinds, cocoanuts in abundance and coffee is plentiful. I and all the boys seem to be in the best of health although suffering from the heat. I am in a hurry so will have to close with love and best wishes to all. Trusting to hear from any of you very soon I am the same old boy
Corporal T. H. Dunn
Company B 7th US Inf
3rd Brigade 2nd Division
5th Army Corps
Cuba"
---

Support this Site by Visiting the Website Store! (help us defray costs!)

---

We are providing the following service for our readers. If you are interested in books, videos, CD's etc. related to the Spanish American War, simply type in "Spanish American War" (or whatever you are interested in) as the keyword and click on "go" to get a list of titles available through Amazon.com.
---
Visit Main Page for copyright data