---
A Brief History of the 4th Wisconsin Volunteer Infantry
By Patrick McSherry
---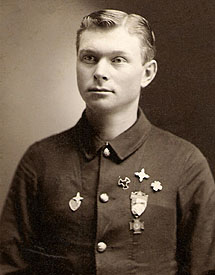 Paul J. Duessler, Private, 4th Wisconsin Infantry. Pvt. Duessler entered the service on July 14, 1898 and
served until February 28, 1899, being discharged at Camp Shipp, Alabama. On his uniform he wears
the four-leaf clover (at right) of the Second Corps, the three-tooth clutch of the Third Army Corps and two four-pointed
caltrop of the Fourth Army Corps. For color images of 2nd, 3rd and 4th Corps bagdes from Arnold Mueller of the the
4th Wisconsin, click here.
---
General:
The 4th Wisconsin Volunteer Infantry served its term of service within the continental U.S. during the Spanish American War. The regiment did not serve overseas.
The History:
The Fourth Wisconson Volunteer Infantry was mustered into service at Milwaukee, Wisconsin on July 11, 1898. At the time of mustering in, the regiment consisted of forty-six officers and 1,265 enlisted men. The regiment was formed late in the war. Within six days of the regiment's mustering, the fighting essentially ended in the vicinity of Santiago, Cuba, and within a month after that, the fighting of the war ended when an armistice was reached between the U.S. and Spain on August 13.
In September the regiment was ordered south, leaving Milwaukee on September 14, and arriving in Anniston, Alabama three days later. The regiment was originally assigned to the Second Brigade, First Division of the Third Army Corps. It was later transferred to the Second Brigade, Second Division, Fourth Army Corps, and finally to the Separate Brigade, Second Army Corps on January 16, 1899. It appears that through all of the transfers, the regiment never left Anniston, Alabama. While the regiment was in Anniston, the war officially ended with the signing of the Treaty of Paris on December 10, 1898.
The Fourth Wisconsin was mustered out of service on February 28, 1899 at Anniston. At the time of mustering out, the regiment consisted of forty-six officers and 1,090 enlisted men. During its term of service, the regiment had one officer and sixteen enlisted men die of disease. In addition, one officer was dismissed, fifteen enlisted men were discharged on disability, twelve enlisted men were court-martialed and six enlisted men deserted.
---
Bibliography:
Bock, Judy - Image and Information on P. Duessler
Clerk of Joint Committee on Printing, The Abridgement of Message from the President of the United States to the Two Houses of Congress. (Washington: Government Printing Office, 1899) Vol. 3, 494.
Correspondence relating to the War with Spain And Conditions Growing Out of the Same Including the Insurrection in the Philippine Island and the China Relief Expedition. Vol. 1 (Washington: Government Printing Office, 1902) 623, 520, 535.
Statistical Exhibit of Strength of Volunteer Forces Called into Service During the War with Spain; with Losses from All Causes. (Washington: Government Printing Office, 1899).
---

Support this Site by Visiting the Website Store! (help us defray costs!)

---

We are providing the following service for our readers. If you are interested in books, videos, CD's etc. related to the Spanish American War, simply type in "Spanish American War" (or whatever you are interested in) as the keyword and click on "go" to get a list of titles available through Amazon.com.
Search:
Keywords:
---
Visit Main Page for copyright data