---
Captain John Travis
of Company K, 4th Tennessee Volunteer Infantry
Writes Home of the Cuban Occupation
Contributed by John Humphreys
---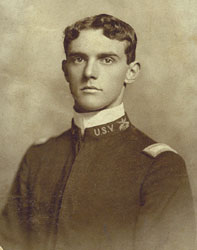 Capt. John Worsham Travis
Coommanding Co. K, 4th Tennessee Volunteer Infantry
---
Please Visit our Home Page to learn more about the Spanish American War
---
Click here for a Brief History of the 4th Tennessee Volunteer Infantry
Click here for accounts of the 4th Tennessee at Camp Poland, Tennessee
---
General:
The following letter was written by John Worsham Travis, Captain of Company K of the 4th Tennessee Volunteer Infantry. The letter provides insight into the life of the occupation forces in Cuba. The following letter is written to Mary Louise Dawson Travis, John's mother. The Agnes mentioned is John's sister, Agnes Rebecca Travis, and George is his younger brother, George Travis.
Biography of Captain Travis:
John Worsham Travis, Jr. was born on December 4, 1875 in Paris, Henry County, Tennessee. In 1898 while attending the University of Tennessee in Knoxville, Tennessee and studying engineering, he was called from school to command Company K, Fouth Tennessee Volunteer Infantry. As a Captain in the Spanish-American War, he and his Company were stationed in Trinidad, Cuba. The regiment did not see combat.
On May 6 1899, Travis was mustered out of the army. His dress uniforms from his service in the war are on display at the Paris-Henry County Heritage Center 614 N. Poplar St., Paris Tennessee.
On November 12, 1900 shortly after he returned to Paris, he married Anna Blanche Crawford at Beechwood, the home of Blanche's parents, Walter and Margaret Blanton Travis, in Henry County, Tennessee. The Rev. J. W. McDaniel performed the ceremony.
During the early part of the century, John was a dealer in coal and ice according to the 1910 Federal Census of Henry County. In 1935, he purchased a "lumber shed" from Mrs. Mary T. Lansdell for $9,000, a property from which he was already operating a building supply business. Travis operated the business under the name Travis Lumber Yard until his death. An astute businessman, the business he founded supported three generations of his family.
John Worsham Travis Jr. died Aug. 16, 1953 in Paris, Henry County, Tennessee. Both John and his wife are buried in Maplewood Cemetery, Paris, Henry County, Tennessee.

The Letter:
"Camp Harris
Buena Vista Plantation
Trinidad Cuba
March 19th 1899
My Dear Mother:
Your good sweet letter came Wed. and it was quite a surprise because we have only had one mail each week previous to last and we received mail three times, I hope it will continue so as long as we remain here.
I answered your letter in regard to paying for the lot and enclosed a $1,000 check, which you can put in as part payment. I dont (sic) know when we will be paid off again, it is rather doubtful whether in Cuba or the States, but any how I will pay the balance of fifty dollars as soon as paid off. Could borrow the balance if necessary from any of my men who have that much, and there is quite a number of them who are saving their money. I am very proud of my City property which you have been so kind as to transact for me. I am very much oblidge (sic) to you and will be very glad to return the favor immediately if I can.
"The purchase of the lot cleans me up. I have only about fifteen dollars in cash, and will owe that for board at end of month. However some of the officers will have some to spare, and we are all very kind to each other about lending.
We are all as much pleased with Buena Vista as ever, and have asked to stay out here as long as we remain in Cuba. I made requisition for a brick furnace to cook on and, my requisition was honored, so in a few days everything will be carried on in the house except eating.
I suppose I have let my opportunity to secure a commission in the Reg army slip, as I have not put in an application, and by this time all appointments have been made. I cant (sic) help but feel that I have lost an opportunity of a life time, and one that will never present itself again. I am very sure that army life suits me so well that I will never care to attempt any thing else and if I do it will result in a failure.
I go to Trinidad every week and spend the night; leaving my Company in charge of Sgt Moore, and he proves himself an excellent commander. Confidentially much better than Lieut Warfield. He Warfield is a very undersiable Lieutenant too much of a kid. Do you think Robt is doing any good at school how are his reports. I do hope he will take advantage of the opportunity.
I did not apply myself as closely as I should have while at College, and regret it now. Has George ever bought himself the saddle which I told him I would pay for. Tell him he must do the selecting, purchasing, and sending of the bill to me, without any assistance.
Did Agnes enjoy her saddle very much before cold weather set in. Tell her if I come home this Spring we will have some fine horseback rides. (and Geo also.)
The health of my company is improving very rapidly since we came out here. There is only about half dozen out of the seventy five here that are _iable(?) for duty, and only one who cannot go to his meals, and he is suffering from a pistol wound in the calf of his leg; however he will be able to go on crutches in a day or two.
I had a slight bilious attack last week, and had to go through a course of medicine, but feel much better now than before.
Hope you are all well. have you moved to the country yet.
Much love to all
Your Son
Jno."
---
Bibliography:
Humphreys Family Records
---

Support this Site by Visiting the Website Store! (help us defray costs!)

---

We are providing the following service for our readers. If you are interested in books, videos, CD's etc. related to the Spanish American War, simply type in "Spanish American War" as the keyword and click on "go" to get a list of titles available through Amazon.com.
---
Visit Main Page for copyright data