---
A 22nd Kansas Volunteer Infantry Trapdoor Rifle
And Grave Robbing in Northern Virginia

By Charles Pate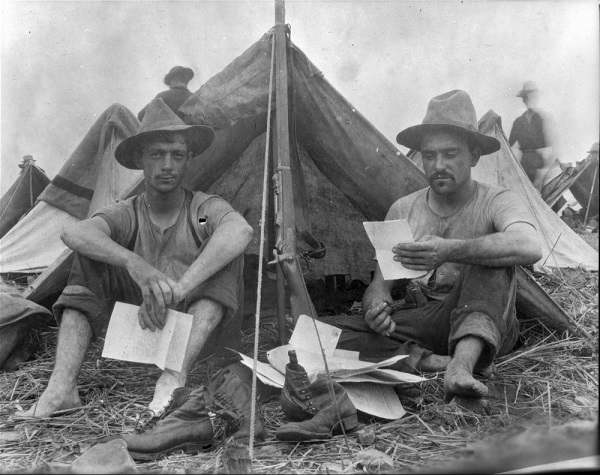 Two unidentified 22nd Kansas Volunteer Infantry soldiers, with "Trapdoor" rifle at hand, at Camp Alger. (Photo: Kansas Historical Society)


---
Please Visit our Home Page to learn more about the Spanish American War
---
Click here for information on the U.S. Springfield Trapdoor Rifle
Read about the effects of U.S. Springfield Trapdoor Rifle gunfire by clicking here
Click here for a link to the U.S. Springfield Trapdoor Rifle Information Center
---
General:
This article discusses a "Trapdoor" rifle that is traceable to a particular soldier in the 22nd Kansas Volunteer Infantry

Front view of Springfield Model 1873 "Trapdoor" rifle number 184062 was issued to Bugler Thornton Lewis of "G" Company, 22nd Kansas Volunteer Infantry. (Photos courtesy Al Frasca)
The Article:
Given you have made the effort to access this website, and specifically this article, I'm sure you have an interest in the Spanish-American War and probably in the Kansas regiments that participated in that conflict. If so, you probably also have an interest in the arms and equipment used by those regiments. What you may not know is that, in some cases, Spanish-American War arms can be traced, through their serial numbers, to the individual soldiers who used those weapons. Unfortunately, these arms are pretty scarce, because such records were considered to be temporary in nature and only those that happened to be included in with more permanent records survive today. For example, roughly 600,000 Model 1873 and later Springfield "Trapdoor" long arms were made with serial numbers that would allow definitive association with servicemen, but only about 4.5% of those serial numbers have been found in government records. In addition, some of these documented guns have pretty limited histories. For example, the records for 50 of these serial numbers give only the dates the arms were manufactured, which is interesting and useful information but it's not very exciting. As another example, the documentation for another 450 Trapdoors tell us little more than that the arms were in the Maine Militia in 1887-1889. That's not a lot of detail but still, it is of interest, especially if you happen to be from Maine. On the other hand, some weapons are documented to historic events or famous people. Despite the often stark differences in their documented service histories, to me they all have interesting stories to tell, and the subject of this article is no exception.

Rear view of "Trapdoor" rifle, serial number 184062
Trapdoor Arms Issued to the State of Kansas
The weapon discussed here is a Model 1873 "Trapdoor" rifle, serial number 184062, that was issued to a Spanish-American War soldier in the 22nd Kansas Volunteer Infantry. The Trapdoor rifle was given that name by collectors due its design, which employs a large and strong breechblock in the receiver that is tipped up for loading and extraction of the spent cartridge case. After going through several years of evolution, this single-shot design was adopted as the U.S. Army standard issue arm in 1873 and it served the Army well until being replaced by a five-round bolt-action "magazine" design starting in 1892. While the U.S. Army had been reequipped with the bolt-action rifle by the start of the Spanish-American War, most of the state militia forces were still armed with Trapdoor rifles when the conflict began.

Researchers have found only 1,005 Kansas serial numbers in regimental records at the National Archives. These serial numbers were found in the records of the 20th, 21st, 22nd and 23rd Kansas Volunteer Infantry records and they range from 77191 (made in approximately 1878) to 433253 (made in approximately 1889). The great majority of the serial numbers were under 300000. This tracks fairly well with issues to the State under the Militia Act as shown in the accompanying table and it is likely that all of the arms used by these regiments during the war were ones that had been issued to the State years earlier.
KANSAS .45-70 TRAPDOOR RIFLE ISSUES UNDER THE MILITIA ACT 1

| | | |
| --- | --- | --- |
| Date | Description of Stores Issued | Number |
| 8/20/1878 | Springfield Rifles, Cal 45 | 320 |
| 7/19/1879 | Springfield Rifles, Cal 45 | 109 |
| 3/19/1880 | Springfield Rifles, Cal 45 | 149 |
| 8/3/1883 | Springfield Rifles, Cal 45 | 400 |
| 8/27/1883 | Springfield Rifles, Cal 45 | 50 |
| 8/20/1885 | Springfield Rifles, Cal 45 | 500 |
| 8/13/1886 | Springfield Rifles, M1884 | 340 |
| 6/18/1889 | Springfield Rifles, M1884 | 160 |
| 10/12/1889 | Springfield Rifles, M1884 | 200 |
| Total | | 2,228 |

Close-up view of the mechanism of the "Trapdoor" rifle
Grave Robbing in Northern Virginia with the 22nd Kansas Volunteer Infantry
Only 94 serial numbers of 22nd Kansas rifles are documented; all were in "G" Company. They range in serial number from 184005 to 313347. One of those rifles, number 184062, which is illustrated here, was issued to Private Thornton L. Lewis. This rifle is a Model 1873 rifle that was manufactured in approximately 1882 and still retains its Model 1879 rear sight (some were upgraded to a Model 1884 sight). The barrel has considerable blue and the underside of the breech block has nice case coloring, although the exterior of the block and receiver are faded and speckled from age. Unfortunately the stock has been refinished, which removed most of the original markings.
Private Lewis was born in Granby, Missouri, and was a 21 years old blacksmith when he enrolled in the 22nd Kansas on 16 May 1898 in Topeka. At the time he was a resident of Galena, Kansas. His personnel record described him as being 5' 10" tall with a fair complexion, blue eyes and brown hair. Given his occupation as a blacksmith, it is a little surprising that he was mustered into the regiment as a "musician (bugler). Lewis' records shows little that is remarkable about his short service. In fact he was absent on furlough from 14 September to 13 October and then mustered out with the regiment on 3 November 1898. His medical record shows he was treated on 11 June for acute gastritis and on 12 July for tonsillitis and in both cases was returned to duty on the same day as his treatment. Like a great many Spanish-American War soldiers, he was also treated for dysentery on 22-23 June 1898. Obviously Private Lewis' short but honorable service was not very significant but his service was not the reason I acquired this rifle. I bought it because of where it saw service, Camp Alger, Virginia, which was about four miles from my home.

Top view of the mechanism of the "Trapdoor" rifle
In May 1898, the War Department established Camp Russell A. Alger2 on a farm of 1,400 acres called "Woodburn Manor" near a small community called Dunn Loring in northern Virginia. It was on both sides of the current Gallows Road in the area from current day Interstate 66 through Marrifield and down to the site of Fairfax Hospital (just south of Route 50 and just west of the Capital Beltway). In its brief existence, 23,000 men trained there for service in the Spanish–American War. Due to a typhoid fever epidemic, it was abandoned in August 1898, the month that the shooting war ended, and was sold the following month. The camp is commemorated by an official Virginia historical marker, which is on Route 50/Arlington Boulevard just inside Washington's Interstate 495 beltway and near Falls Church High School.
The 22nd Kansas left Topeka for Virginia on 25 May 1898 and three days later arrived at the Dunn Loring railroad station and then marched to Camp Alger. Their service there is well described on the excellent Kansas National Guard website3, which includes a regimental history that, in part, is based on the diary of one of the regiment's members, Pvt. Samuel Adams of Topeka. Much of the history included here is from that website.
The daily duties of the men included drill, sham battles and guard duty. The boring duty, the hot Virginia summer, poor food, infrequent pay, and the disappointment of not seeing action in the war all contributed to poor morale and slack discipline within the regiment. Drinking apparently became such a problem that patrols were sent out to discourage moonshiners and bootleggers. Even the acting regimental Sergeant Major, George A. Elliott, was arrested for getting drunk and threatening an old man who lived nearby with a revolver and ransacking his house. The behavior of the troops was such that every 24 hours 75 men were detailed for sentry duty around camp to keep the Kansans in rather than to keep strangers out.
In July a typhoid epidemic hit Camp Alger and 15 men of the 22nd died from the disease. Army authorities decided to remove some of the troops to healthier camps, and on 2 August 1898 the regiment began a march to its new camp near Manassas, Virginia, less than twenty-five miles away. It did not reach its destination until a week later and along the way its lack of discipline was sorely evident. Pvt. Adams wrote in his diary: "The boys have gotten tired of their slim diet of hard tack, potatoes, onions, "sow bosom" and coffee and are scouring the country for everything they can find. They are almost all broke, and so take apples and chickens and despoil the milk houses of milk and butter. It is reported to-night that they did not stop with smaller damaging. But killed beefs, robbed graves for relics and molested the inhabitants."

The most infamous charge of grave robbing was made against Capt. L. C. Duncan, the 22nd Kansas Volunteer regiment's assistant surgeon. He was charged with desecrating the graves of two Civil War Confederate soldiers. Virginia citizens were enraged. A General court-martial was soon convened with the trial lasting 14 days. Duncan was found not guilty of the grave robbing charges but guilty of "conduct prejudicial to good order and discipline'' in failing to arrest enlisted men who had committed the crime. He was sentenced to loss of rank for two months, the forfeit of half his pay for the same period, and to be confined to the regimental camp but the sentence was set aside by the convening authority.4

After spending less than three weeks in Manassas, on 27August the regiment was moved by rail to Camp George C. Meade in Pennsylvania and shortly thereafter orders were received for the regiment to move to Fort Leavenworth to be mustered out. The regiment left Camp Meade on 9 September and reached Leavenworth on the 13th where the citizens turned out to welcome them home. The men were given a 30-day furlough, and officially mustered out on 3 November 1898.


Notes:
1. National Archives, Record Group 156, Entry 118. Kansas received only two .50 caliber rifles (Model 1870 rifles issued in 1874) and two .45-70 carbines (issued in 1880). The State also received two "Springfield Sporting Rifles" in 1875. The State still had their Trapdoor rifles in 1900 for they had 336 rifles repaired by Springfield Armory in that year at a cost of $349.54.

2. Russell A. Alger entered the Civil War as a private and rose to the rank of colonel, and to the command of the 5th Michigan Cavalry. He was given brevet promotions to brigadier and major general after the war. After the war he was successful in both business (especially real estate and lumber) and politics (he served as Michigan governor and was considered for nomination to run for the presidency under the Republican ticket). Appointed Secretary of War by President McKinley in March 1897, Secretary Alger was blamed for many of the problems that had plagued mobilization for the war and the Army's execution of it. He resigned at the President's request but was mostly exonerated after investigation by a presidentially appointed commission. However, his reputation was never fully recovered.

3. http://www.kansasguardmuseum.org/dispunit.php?id=31

4. Following his court-martial Duncan was arrested by the sheriff of Fairfax County, Virginia, handcuffed, and confined in the county jail until he could make bail of $1,100. But according to one source the sentence eventually given to him was only a $100.00 fine.

---
National Archives, Record Group 156, Entry 118.
http://www.kansasguardmuseum.org/dispunit.php?id=31
---

Support this Site by Visiting the Website Store! (help us defray costs!)

---

We are providing the following service for our readers. If you are interested in books, videos, CD's etc. related to the Spanish American War, simply type in "Spanish American War" (or whatever you are interested in) as the keyword and click on "go" to get a list of titles available through Amazon.com.
---
Visit Main Page for copyright data