---
Green A. Settle, First Sergeant

1st U.S. Volunteer Cavalry ("Roosevelt's Rough Riders"), Troop H
(May 14, 1859 - 1946)
Contributed by Ben Settle and Fred Born
---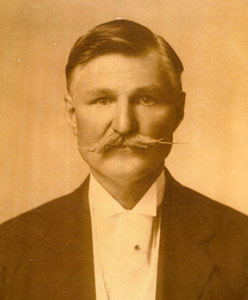 Green A. Settle
---
Please Visit our Home Page to learn more about the Spanish American War
---
General:
Green Adam Settle served with the 1st U.S. Volunteer Cavalry ("Rough Riders") as a 1st sergeant in Troop H.

The Biography:
Green Settle was born on May 14th, 1859. He was one of eleven children and the son of M.D. Settle -- an early Kentucky pioneer of Irish descent who worked as a sheriff, Justice of the Peace, County Attorney, mechanic and farmer during his lifetime. After completing his education in the Jackson county public schools, Green taught for a short time at the Gray Hawk school in Jackson county.
In 1885, he enlisted with the 5th Cavalry Regiment part of the First Division stationed in Oklahoma, and served one five-year term. He re-enlisted in the 7th Cavalry, made famous by Custer, and participated in the Battle of Wounded Knee, and an expedition against the Sioux Indians. His was honorably discharged from Troop D, 7th U.S. Cavalry on April 2, 1897.
When the Spanish-American War broke out, Green joined the 1st U.S. Volunteer Cavalry (also known as the "Rough Riders"), Troop H., serving as the troop's 1st sergeant. At the time of his mustering in at Santa Fe, New Mexico on May 7, 1898, he was thirty-eight years old, stood five feet, nine inches tall with light complexion punctuated with brown hair and dark brown eyes. He listed his occupation of that of "soldier." The troop in which First Sergeant Settle served was one of the four troops that were forced to stay behind in Florida, and did not see service in Cuba. Troop H rejoined the remainder of the regiment at Camp Wikoff, Montauk Point, Long Island, New York, when the regiment returned from Cuba (to read more about the Rough Riders at Camp Wikoff, click here). At the time of his mustering out, Settle served a total of thirteen years and seven months in the Army. Following the war, he returned to his home state of Kentucky and made his residence in London, Kentucky.
Because Green was born a few years before the Civil War and died right after World War Two, he witnessed some of the most turbulent times in American history. From the time he was in his teens until his late 30's Green was a teacher, barber, indian fighter, soldier and adventurer. He was known to proficient in the use of a gun and a saber, and enjoyed demonstrating the use of a saber to family and friends, where he would swing it wildly about his head and slash at the air.
As an Indian fighter in the American West, he had several close skirmishes with the Indian Nations. Many of his adventures were chronicled in numerous Kentucky newspaper articles. One such article told of how he was very honest and straight in fighting Indians. His actions were considered unusual because he would never shoot a retreating Indian in the back.
Despite his hard-nosed history as a soldier and adventurer, Green was a Christian and a gentleman with a reputation for being polite and nice to everyone. He never raised his voice or yelled at his children or wife, and he enjoyed going to town every afternoon to talk politics. He was also a member of the "Odd Fellows" -- a fraternity organized for the purpose of giving aid to those in need and of pursuing projects for the benefit of all mankind.
Green Settle died in 1946 and was buried in Pine Grove Cemetery, London, Kentucky.

---
Bibliography:
Research compiled by Green Settle's great grandson, Ben Settle and grandson Fred Born, and taken from various newspaper articles,
military records, obituaries and first hand accounts from Green Settle's surviving family members.
---

Support this Site by Visiting the Website Store! (help us defray costs!)

---

We are providing the following service for our readers. If you are interested in books, videos, CD's etc. related to the Spanish American War, simply type in "Spanish American War" (or whatever you are interested in) as the keyword and click on "go" to get a list of titles available through Amazon.com.
---
Visit Main Page for copyright data