---
William Page of the Rough Riders
1st U.S. Volunteer Cavalry, Troop A
Contributed by Colin Page
---
`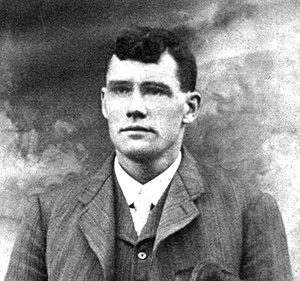 William Page, about 1908
---
Please Visit our Home Page to learn more about the Spanish American War
---
General:
William Milton Page served with the 1st U.S. Volunteer Cavalry ("Rough Riders") as a private in Troop A.

The Biography:
William Milton Page was born in Ottumwa, Iowa, in 1870, to William Page and Margaret Monroe Anderson. William attended normal school in Dexter, Iowa, living in the home of his uncle Milton Tandy Monroe. At an early age, William left home to seek his fortune in the West. As his father before him, Will became an avid miner, working in mines in California and Arizona. There is a family tradition that while mining in Placer County, California, Will lived in the cabin built by his father twenty to thirty years previously. Another tradition has of Will being surrounded one night in Mexico by Yaqui Indians, crawling out past their lines in the dark, and leaving all his gear behind him. Will Page was known to prefer mules to horses.
On May 2, 1898, following the declaration war against Spain, Will Page enlisted with Roosevelt's Rough Riders in Prescott, Arizona at the Whipple Barracks. At that time he was employed at the Richenbar Mine about fifty miles from Prescott. He was described in the regiment's records as being twenty-eight years of age, five feet nine and three-quarters inches tall, with blue eyes, dark brown hair and a dark complexion. Paige gave his occupation as that of "miner." He subsequently participated in all the "Rough Riders'" engagements in Cuba, including the taking of San Juan/Kettle Hill and Santiago. In his book, The Arizona Rough Riders, Charles Herner recounts a story from William Tuttle wherein Tuttle and Bill Page, in their charge up Kettle Hill, encounter a Spaniard leaping out of a trench before them. In the furious pace of the charge there was only time for Bill Page to batter the Spaniard to the ground with the barrel of his carbine before moving on. Bill Page was a private in A Troop under Bucky O'Neill and Frank Franz.
Will Page brought a smoking pipe back from his adventure in Cuba that, according to family tradition, was carved by a Black U.S. soldier and given to Will for him having saved the soldier's life. The pipe carving commemorates the taking of Santiago on July 1, and contains the initials J.D.H. as the carver of the pipe. The Black regiment that fought alongside the "Rough Riders" in Cuba was the 10th U.S. Cavalry, and in Troop M there was a private by the name of James D. Hale, the only soldier in the regiment to carry those three initials. Mr. Hale was still in the army in 1900 at Ft. Wingate, New Mexico, listed in the 9th U.S. Cavalry, H Troop. By 1920 he had married a woman named Clara and lived in Kansas City, Missouri. He is listed as a veteran of the Spanish American War in the 1930 U.S. Census, and his occupation was as a porter in a drug store, both in 1920 and in 1930. In all census records he is consistently listed as James D. Hale. Hale was born in Harrison, James County, Tennessee in 1875 to Stephen and Mary Hale and had a sister named Annie.
Upon being mustered out of the "Rough Riders", William Page visited his parents in Iowa (1899) and then moved back to the West, roaming and mining in Arizona (1899), Alaska and British Columbia (1900). After marrying Grace Hollister Barr in Kalispell, Montana, in 1906, establishing a home in Libby, Montana near his in-laws, Will continued to follow mining prospects in various locations in California (French Gulch and Hornbrook (1912); was working in the Gladstone Mine near Redding, California about July 1914) and Washington (Washougal, 1915-17) where he claimed himself as a "farmer," most often accompanied by his wife and children. He eventually returned to Libby, Montana before moving on to Black Diamond, Washington with his family about 1920.
William Page was a miner all of his life, operating a small gold mine in Montana and working in the coal mines around Black Diamond in Washington State. In his later years, due to the rigors of his life, William suffer severe arthritis in "virtually every joint in his body," according to medical reports in his pension papers. He died in Tacoma, Washington, in 1938 at the age of sixty-seven. William Page is buried in the Washington State Veterans Home Cemetery at Retsil, Washington near Port Orchard.

---
Bibliography:
Herner, Charles, The Arizona Rough Riders. (Tuscon:University of Arizona Press, 1970) 147.
Jones, Virgil Carrington, Roosevelt's Rough Riders. (Garden City, NY: Doubleday & Company, 1971) 321.
Page Family traditions.
U.S. Census records for the years 1880, 1920 and 1930
---

Support this Site by Visiting the Website Store! (help us defray costs!)

---

We are providing the following service for our readers. If you are interested in books, videos, CD's etc. related to the Spanish American War, simply type in "Spanish American War" (or whatever you are interested in) as the keyword and click on "go" to get a list of titles available through Amazon.com.
---
Visit Main Page for copyright data