---
Carl Lovelace of the Rough Riders
1st U.S. Volunteer Cavalry, Troop D
Contributed by Rev. Creighton L. Lovelace, Th.D
(6th Cousin, 4 times removed of Carl Lovelace)

---
Please Visit our Home Page to learn more about the Spanish American War
---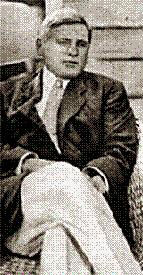 Dr. Carl Lovelace in Candelaria Hospital in Porto Velho, Brazil about 1906
---
Click here to read Carl Lovelace's letters from the Santiago Campaign
Click here for e brief history of the Rough Riders
---
General:
Carl Lovelace was a Private in Troop D of the First United States Volunteer Cavalry, also known as Theodore Roosevelt's "Rough Riders." He participated in the battle at La Guasimas on June 24, 1898, Kettle and San Juan Hills on July 1, 1898 and the siege of Santiago.
The Biography:
Family Roots
The story of Carl Lovelace begins with the arrival of the Lovelaces here in America, with William the Transportee; Carl's supposed 6th Great Grandfather. William begat Thomas, Thomas begat Faustus, Faustus begat Thomas, Thomas begat Aquila, Aquila begat Young, Young begat Andrew and Andrew begat Thomas. Thomas Jefferson Lovelace was born in Kentucky and served the Union cause. By war's end he was a major in the 17th Kentucky Cavalry. Thomas married Sarah Harrison and then moved to Jefferson City, Missouri. On the 6th of February 1876, Carl Lovelace was born.
The family then moved to Waco, Texas which is where the family finally settled. Thomas opened a small grocery which is where Carl learned one of his earliest lessons: that you must make something of yourself. The incident was that Carl delivered the groceries to the front door instead of the back door in which for doing so he was reprimanded.
At Baylor University
Carl went on to attend Baylor, and wrote poems and essays for the school publication. He participated in one of the school's most controversial events in which William Cowper Brann, publisher of the Iconoclast (a monthly publication dedicated to combating hypocrisy, intolerance and other evils), defended a girl who got pregnant and claimed she was raped by the brother of the school President's son-in-law. Brann used the event to launch vitriolic attacks upon the "hypocrites and humbugs" of the administration of Baylor University. Needless to say, Brann became unpopular in Waco and yet even though bitter partisanship resulted in acts of violence and bloodshed, Brann would not cease in his anti-Baylor sentiments. On April 1, 1898, while preparing to leave on one of his numerous lecture tours, Brann was mortally wounded in an encounter with T. E. Davis on a Waco street. Both Brann and Davis died of bullet wounds the following day. Carl began correspondence in which he solicited and presented information about Brann as he was recalled by his contemporaries. Two weeks later Spain declared War upon the United States of America. Carl graduated early to go fight.
The War with Spain
Once war was declared, President McKinley put out the call for Volunteers. One of the units formed was a new regiment of volunteer cavalry which which eventually became nicknamed as the "Rough Riders." On the 5th of May, Carl 'jined the cavalry' and on the 15th of May the Troops lettered A to M (with J omitted) were organized. Robert B. Huston, 34, of Guthrie was elected Captain of D Troop. Eighty of the 104 members of D Troop were from Oklahoma Territory, the remaining two dozen from ten states and the District of Columbia.
On May 19th, in San Antonio, Texas, Carl Lovelace, a young man of 22 years of age, standing 5 feet 7.5 inches with a fair complexion, gray eyes and had light hair was mustered into the 1st U.S. Volunteer Cavalry, in D Troop.
He was first paid by Major Dodge on May 31. After hard drilling at last things began to get underway in Port Tampa, Florida. On June 8th the Rough Riders began their journey to Cuba and thus to the war front. They began loading ships and by the 14th they were sailing out of Port Tampa harbor. But the ship they sailed on, the YUCATAN did not have much room left for the troops so the members of D Troop slept on the deck on the starboard side, just forward of the stern and between the cabin and rail. Carl was not used to sailing as he wrote: "I yearn for the solid earth, with a yearning that can't be stilled. I have spent the last twenty-four hours at the railing, and am now as hollow as any mockery on earth."
Having sailed down he took part in the adventures of the Rough Riders, serving in the Battle of Las Guasimas on the 24th of June, in the July 1st Battle of Kettle and San Juan Hills, on July 2nd was at the San Juan Heights looking in the direction of Santiago de Cuba. On July 17, after a period of negotiation, bombardment, and the destruction of the Spanish Fleet at the naval Battle at Santiago, the Spanish Santiago garrison surrendered.
During the time of the siege, there were numerous outbreaks of disease, and Carl is reported as being sick in the line of duty from the 22nd to 24th of July. He was then paid on 31 July by Major Townsend. He then is reported as being sick again on the 1st and 2nd and then for a final period lasting from the 12th to 14th of August which resulted from being on board the MIAMI, the transport taking him back to the United States. On the 15th of August the MIAMI docked at Montauk Point [Camp Wikoff], Long Island, New York where Troop Ddisembarked off of the ship first.
He remained at Camp Wikoff from the 15th of August to the 15th of September when he and the rest of the Rough Riders were mustered out of military service. He had served 133 days and it was an experience he would never forget, for from it he was critical of the war's administration by military and government leaders. In later years He wrote that the war made him a conservative and that the experience instilled in him a greater appreciation for the "dignity and privilege of American citizenship more than ever in my life."
At Vanderbilt
Apparently the war had changed something else in Carl's life that he would make something of himself so that he could help others. Perhaps his physical battles against the Spanish and sicknesses persuaded him to enter Vanderbilt University's medical school after a "brief, fitful, and unsatisfactory experience as a pedagogue - slave who escorted children to school." In 1899 he was named that year's All Time Letterman on the football team. His passion for the sport would never die.
The 1900 Census and Columbian University
Carl took a position as a census enumerator for the government in the summer of 1900 and left for Washington, DC where he finished medical school at Colombian University (now George Washington University Medical School). He focused his medical career on epidemiology.
Brazil
Carl next took the opportunity to work in South America, and sailed from New York in 1904. He was chief surgeon of Candelaria Hospital in Porto Velho, Brazil where a new railway was being constructed. "The years of medical research centered in the skill, knowledge, and patience of Dr. Carl Lovelace, who was winning the battle with malaria, yellow fever, beriberi, blackwater fever, and other jungle diseases."
Life in Waco
By 1913 Carl had returned to Waco, Texas and set up a private medical practice. On 15 April 1914 he married Lucille Hill. Carl and Lucille had three sons: Richard Carl Lovelace (born: December 10, 1916; died May 22, 1994) who in 1944 was a lieutenant in the U.S. Navy stationed at Clinton, Oklahoma, William Hill Lovelace (born August 7, 1918;died July 9, 1966) who in 1944 was a Lieutenant in the U.S. Army stationed at Long Beach, California, and John Henry Lovelace (born October 6, 1926; died December 25, 1992) who in 1944 was a student at Baylor University.
Carl served as a pall bearer in many funerals from 1918, 1922, 1924 and even one in 1937. One of Carl's favorite pastimes was to read and he was a voracious reader and especially liked Mark Twain. When Baylor had plans of selling and relocating to Dallas, Texas, Lovelace campaigned and pledged funds to keep the school in Waco.
While musing in 1921, Carl wrote: "Immeasurable are the comforts of nowadays, [yet] those old days seem in retrospect to have seductiveness and a glamour about them which illuminate and glorify certain of those who walked in them. Was it truly a heroic age, or is it that one simply looks back and sees all things glorified by the light of a youth that is gone?"
Carl served as one of Waco's City's four Commissioners in 1932 and 1933. It was during this time that the New Deal arose and it appears that Carl viewed many of the new governmental measures as necessary, but he worried about the many people who blindly accepted the changes. He was also not above making fun of what he saw as the absurdities of new federal programs. He kept a copy of a fictitious letter from a man who heard the government was paying farmers not to raise hogs and satirically decided to go into the 'not raising hogs business' himself."
From 1940-1942 (so it appears) he served as chairman of the Waco Public Library Board. Carl saw the rise of two world wars but failed to witness America's triumph over Japan.
On July 19, 1944, his beloved wife, Lucille, died. At 9:05am on Thursday the 14th of September 1944, forty-six years after he was mustered out of service at Camp Wickoff, New York, he mustered out of this life into eternity. Readers of the Waco News Tribune would have read this obituary on Pages 1 and 16 on Friday: "Dr. Lovelace Is Claimed by Death After Long Illness – Prominent Waco Physician, Veteran of Two Wars, To Be Buried Saturday. Funeral Services for Dr. Carl Lovelace will be held at 10 a.m. Saturday, with burial at Oakwood Cemetery. Dr. Lovelace, 68, a veteran of two wars, medical director of the Amicable Life Insurance Co., chairman of board of the Waco Public library, pioneer Waco physician, former city commissioner, former commander of the James A. Edmond post of the American Legion, died at 9:05 a.m. Thursday at his home, 1525 Washington Avenue, after an illness of many months. His death followed by approximately two months of his wife, Mrs. Lucille Hill Lovelace, who died on July 19. Surviving Dr. Lovelace are three sons, Lieut. Richard Carl Lovelace, U.S. navy, now stationed at Clinton, Okla., Lieut. William Hill Lovelace, in the army at Long Beach, Calif., and Henry Lovelace, student at Baylor University. Dr. Lovelace, born in Missouri (his father was Major Thomas Jefferson Lovelace, native of Kentucky, who was with the Union army in the War Between the States) came to Texas as a child, and resided with his family in Burleson county and later in Milam county. He came to Waco 55 years ago. Dr. Lovelace graduated from Baylor University in 1898, receiving his diploma before he left as a volunteer for service in Cuba during the Spanish-American War. After that war he graduated from the Vanderbilt school of medicine, interned at Washington D.C., then spent some years in South America with a railroad and later with the government. On his return to Waco he practiced medicine in partnership with Dr. H.F. Connally, Dr. J. W. Hale, and Dr. R. B. Nutter, until he accepted the post of the Amicable Life Insurance company, since which date he had not engaged in private practice. Dr. Lovelace was a major during World War I and was a member of the First Baptist Church." In turning to page 16 they would have come across more information pertaining to the Funeral of Dr. Lovelace on page 11 under the funeral notices: "LOVELACE, DR. CARL – Dr. Carl Lovelace, 68, died at his home 1525 Washington Avenue at 9:05 a.m. Thursday. Funeral services will be held at Wilkirson-Hatch Chapel at 10 a.m. Saturday, with Rev. Robert R. Brown officiating. Burial will be in Oakwood cemetery. Surviving Dr. Lovelace are three sons, Lt. Richard Carl Lovelace, U.S. navy, now stationed at Clinton, Okla.; Lt. William Hill Lovelace, in the army at Long Beach, Calif., and Henry Lovelace of Waco. Dr. Lovelace was born in Missouri and came to Waco 55 years ago. He served in the army in the Spanish-American and First World Wars. Pallbearers will be Dr. H. F. Connally, A. R. Wilson, Holt Massey, W. L. Edmond, John Sheehy and W. F. Crawford. Wilkirson-Hatch Funeral Home: 1124 Washington Avenue, phone 63." In a search of the Death Records of McLennan County, Texas, Vo. 2: 1935-1951 one notices: "Lovelace, Dr. Carl' Sept. 14, 1944; Vol. 25; Cert. 643 in reference to his Death Certificate" and finally in the Oakwood Cemetery Plot Information on page 190 in "Block 18" in Lot 15 we find the final resting place of Carl Lovelace.
Legacy
To this day, who knows about Carl Lovelace? The first time I read of him was in 10th grade at Chase High School where I read his name in the roster of the Rough Riders in Virgil Carrington Jones' book Roosevelt's Rough Riders I wondered if he and I were related and that was that until late this year I began digging in the Lovelace genealogy and found his name again, thus I began my successful quest to link up with my cousin.
May the memory of Carl Lovelace march on not only as a Rough Rider but as a man who made something of himself in order to help his fellow man.

---
Bibliography:
Family genealogical research by Creighton Lovelace based primarily on articles that appeared on the Lovelace List: http://homepages.rootsweb.com/~lovelace/index.htm
Jack D. Lovelace on 21 Dec. 2004 in a response email to Creighton Lovelace sent via the Lovelace Genealogical List supposes Carl Lovelace to be traced in relation from William the Transportee albeit unconfirmed. This email hereafter cited as: JD to CL.
"The Lovelace Chronicles" by Andrew Black, Fall 1997, Baylor Alumni Magazine.
The Handbook of Waco and McLennan County, Texas (1972)
http://www3.baylor.edu/Library/Texas/finding_aids/finding_aid_doc/brann_william_c.htm
Military service record of Carl Lovelace, documenting service in the 1st U. S. Volunteer Cavalry (Rough Riders) during the Spanish American War., 05/01/1898 - 09/30/1898; War Department. The Adjutant General's Office. (03/04/1907 - 09/18/1947) pg. 1
Jones, Virgil Carrington, Roosevelt's Rough Riders. (Garden City, NY: Doubleday & Company, 1971) 36.
Goldstein, Donald M and Katherine V. Dillion, The Spanish American War - Centennial Edition (Washington, DC: Brassey's Publishing, 1998) Pages 138-139, 142-144, 146-148 and 150-152.
http://www.vanderbilt.edu/commodores/football/history/alltimeletter.htm
http://www.vitruvius.com.br/arquitextos/arq000/bases/texto171.asp
Kravigny, Frank, The Jungle Route (New York: Orlin Tremaine & Company, 1940) 133
http://ftp.rootsweb.com/pub/usgenweb/tx/mclennan/obits/
http://pr.baylor.edu/gallery/document/000060.pdf
---
Support this Site by Visiting the Website Store! (help us defray costs!)
---
We are providing the following service for our readers. If you are interested in books, videos, CD's etc. related to the Spanish American War, simply type in "Spanish American War" (or whatever you are interested in) as the keyword and click on "go" to get a list of titles available through Amazon.com.
---
Visit Main Page for copyright data