---
Peter "Pete" Lafayette Butler of the Rough Riders
1st U.S. Volunteer Cavalry, Troop M
Contributed by Norma M. Edmoundson-Lopez (Granddaughter)
with the help of Robert Lopez

---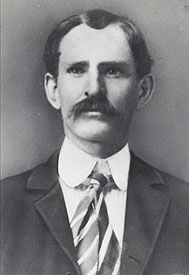 Peter "Pete" Lafayette Butler
---
Please Visit our Home Page to learn more about the Spanish American War
---
General:
Peter Butler was a Private in Troop M of the First United States Volunteer Cavalry, also known as Theodore Roosevelt's "Rough Riders." He participated in the battle at La Guasimas on June 24, 1898, Kettle and San Juan Hills on July 1, 1898 and the siege of Santiago. Butler joined the regiment at Muskogee on May 14, 1898.
The Biography:
Born Lafayette Butler in Missouri on March 29, 1873. Lafayette – known as "Pete" – was the youngest son of Irish immigrants' Samuel E. Butler and Elizabeth E. Smith-Butler. Pete was a child faced with tremendous adversity, a man at a very young age, a cowboy, a patriot, a soldier, a husband, and a father.
Pete's life began shortly after his parents came to the United States from Ireland. They had immigrated with the surviving five of their eight children just prior to Pete's birth. Tragically Pete's father died just 6 days after his birth and his mother died a month before his 10th birthday.
After his mother's death, at the young age of 10, Lafayette hopped a train in Missouri with the intention of going 50 miles to his Uncle Pete's house. He fell asleep on the train and when he woke up he was in was then termed "Indian Territory" (Oklahoma). When he got off of the train, he met some cowboys and when they asked his name he told them he was "Pete" and that his parents had passed away (between going to sleep in Missouri and waking up in the Indian Territory, his name changed from Lafayette to Peter and from then on he was known as Pete). The cowboys took in the young orphan and he helped a Cherokee woman with the chores of cooking, sewing, and doctoring until he was old enough to ride and work with the cowboys.
Pete worked as a cowboy until the Spanish American War when he volunteered and was assigned as a private in Troop M, 1st U.S. Volunteer Cavalry also known as the "Rough Riders" under the command of Theodore Roosevelt. Pete was an excellent marksman and was able to save the life of Roosevelt during the battle of San Juan Hill. A Spaniard was aiming at Roosevelt when Pete shot the Spaniard. As the man fell, his gun discharged and the bullet hit Roosevelt's boot heel.
When the war was over, Pete returned to the Indian Territory and took a job as a U.S. Marshal. He then met Ellen Eliza Dixon and later asked her if she would be his wife. She said yes, but only if he would give up his job as a Marshal. Pete agreed and they were married March 6, 1902. Pete worked as a farmer and as a leather man at a local harness shop. Pete and Ellen had six children, but tragically lost their first daughter at the age of only six months. Pete's wife Ellen died on December 21, 1918 when their five surviving children were only 4 to 13 years old. Pete raised the children alone until his death on March 1, 1929 in Lexington, Oklahoma. Their five children lived to be 74, 82, 89, 89, and 92. Pete and Ellen are both buried in Noble I.O.O.F. Cemetery in Noble, Cleveland County, Oklahoma. The locations of their graves are E4-R25-2 and E4-R25-3.
Pete and Ellen's children are Hattie E. (born January 16, 1903, died July 24, 1904); Aaron Lee (born January 6, 1905, died June 4, 1987); Detha Leona (born January 3, 1907, died January 25, 1996); Golda Mae (born July 13, 1909, died July 13, 1983); Iva Pearl (born January 8, 1912, died March 12, 2004); Roy Ernest born (September 6, 1914, died October 25, 2003).
After Pete's death his daughter Detha would often share stories with her children (Pete's grandchildren) about their Grandfather Pete. She would tell how Pete was very good at doctoring animals. One day she was chopping wood and something happened to the ax. The ax hit her wrist, cut it very deep and severed the artery. There was no doctor in the area, so Detha asked her father to sew it up, and he did. She maintained complete use of the hand and wrist and the scar was virtually un-noticeable. She was always amazed by her father's abilities to fix anything.
---
Click here to visit the Website Bibliography ||| Click here to Vists the Website Video Bibliography
---
Support this Site by Visiting the Website Store! (help us defray costs!)
---
We are providing the following service for our readers. If you are interested in books, videos, CD's etc. related to the Spanish American War, simply type in "Spanish American War" (or whatever you are interested in) as the keyword and click on "go" to get a list of titles available through Amazon.com.
---
Visit Main Page for copyright data