---
Captain John Woodward "Jack" Philip
(August 26 1840 - June 30, 1900)
By Al Sumrall

---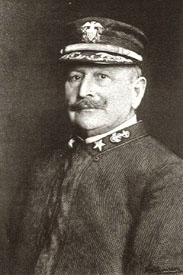 John Philip as a commodore
---
General:
Captain John Woodward "Jack" Philip was Captain of the USS TEXAS during the Spanish American War. The saw action around Cuba and took part in the Battle of Santiago.
Biography:
John Philip was born in Kinderhook, N.Y. August 26, 1840, paternally of Dutch ancestry and was raised with the Dutch language at home. He was appointed to the Naval Academy on September 20, 1856. He was almost dismissed from the Academy for excessive demerits, primarily to excessive high spirited non-malicious behavior, but do to the intervention of Commodore Craven he was not. Graduating Annapolis in 1860, he began his service on the USS Constitution but was soon transferred to the USS SANTEE. He was then pomoted to acting-master and assigned the sloop of war USS MARION of the Gulf Blockading Squadron, the war necessitating speedy promotion for trained officers. Shortly thereafter he was attached to the USS SONOMA of the James River Fleet. On July 16,1862 he was commissioned a lieutenant and from September 1862 to January 1865 was executive officer of the steam gunboat USS CHIPPEWA, screw sloop USS PAWNEE, and the Monitor MONTAUK in succession, being actively involved in operations involved with the siege of Charleston. On July 16,1863, in an action in which the PAWNEE was struck forty-six times, he was wounded, being struck by splintered wood and knocked ten feet across the deck. However, Philip got up and stayed in the action, evening firing one of the ships nine inch guns that had become partially disabled..
On being detached from this service in 1865 he was made executive officer on the steam frigate USS WACHUSETT, the captor of the raider CSS FLORIDA and sister ship to the USS KEARSARGE (famous for its battle against the CSS ALABAMA fame), and began a three years cruise in the far East. All indications are that Philip was a very well balanced officer. Although deeply religious and a non-drinker (he had sworn off liquor while at Annapolis and never drank again), he nonetheless worked easily both professionally and socially (he did smoke) with his fellow officers. He was noted as an excellent navigator.
In 1867, he was transferred to the famous steam frigate USS HARTFORD on the China station, again as an Executive officer. He would later transferred to the steam frigate USS RICHMOND in the Mediterrean and for a brief stint served as navigator but soon became an Executive office again. Because of the Civil War he had advanced to executive officer very quickly and maintained the position after the war by merit, although he was considered young for the post.
Philip developed a considerable reputation as an effective executive officer and as such was permitted to maintain the routine and discipline of the ship without interference from his Captains. When Philip became a Captain of his own vessel, he was noted for following this same style of management with his own executive officers.
Philip's first command was the old sidewheeler USS MONOCACY in 1873. He was commissioned a commander in December 1874. From 1876 through 1884 he commanded the bark rigged armed steamer USS ADAMS, USS TUSCARORA, and the iron hulled USS RANGER. In 1884 he was captured by marriage at the age of 44 and fathered two children. Quite possibly due to his marriage and the desire to establish his marriage on a proper footing, he was assigned as Lighthouse Inspector of the 12th District. He continued shore duty and in 1887 was placed in command in the receiving ship USS INDEPENDENCE.
He was commissioned Captain March 31, 1889. He was given command of the steel cruiser USS ATLANTA in 1890, but was transferred to be the Inspector of the armored cruiser NEW YORK that was then building. He was placed in command of the New York and was her Captain until August 1894 when he was made Captain of the Boston Navy Yard. He held that post until his appointment as Captain of the USS TEXAS on October 17, 1897.
Captain Philip had a good professional reputation in the Navy. Although he was somewhat reserved in temperament (in contrast to his Annapolis days) he maintained a sense of humor and was not aloof with his officers or his fellow Captains. When the USS MASSACHUSETTS, while on the Santiago blockade, accidentally discharged a round over Philips' own USS TEXAS, Philip responded to his close friend, Captain Higginson of the MASSACHUSETTS, with the following wry signal: "Good line shot, but a little high."
Philip was not embarrassed by his well known religious convictions. At an officers conference he objected to a planned bombardment of the Spanish forts at Santiago on a Sunday, and although his fellow Captains took his objection lightly and with some humor, Philip stood his ground and Admiral Sampson decided to postpone the bombardment to Monday, based solely on Captain Philip's objection. At the end of the Battle of Santiago, Captain Philip mustered his crew and said a prayer of thanksgiving for the victory.
The TEXAS deck logs indicate that Captain did not shirk from punishing the crew as their misdeeds merited, consistent with the times, although he appears to have balanced his punishment with common sense and a sense of humanity. He was known as a strict disciplinarian but not in regard to trifles. . He tended to lead and men followed him instinctively. There was no question of his physical courage. Even as a Captain he exposed himself to enemy fire and never hesitated to putting his ship in harms way, the TEXAS being engaged ten times in action in the brief period of the Santiago blockade including on one occassion penetrating 2.5 miles into Cuba at Guantanamo Bay to engage Spanish batteries and the Battle of Santiago. Yet there is no indication that he did anything for a self-serving reason. Due to a natural shyness he detested public speaking and avoided the public eye. He was not the sort to play "politics". His promotions clearly came by merit and not by influence.
The most notable and widely known quote attributable to Captain Philip was when he remonstrated his cheering crew while the TEXAS passed the burning Spanish cruiser VIZCAYA:. "Don't cheer men, those devils are dying!" However, some of his friends insisted that Philip said "fellows" rather than "devils", perhaps in deference to his sincere religious beliefs.
This good natured controversy was unfortunately not the only controversy over words late in Philips career. A much more serious controversy arose over an article published in The Century Illustrated Magazine in May 1899, written by Captain Philip, which was part of a series of articles written by several commanders involved in the war. In that article, Philip wrote: "....The smoke from our guns began to hang so heavily and densely over the ship that for a few minutes we could see nothing...Suddenly a whiff of breeze and a lull in the firing lifted the pall, and there, bearing towards us and across our bows, turning on her port helm, with big waves curling over her bows and great clouds of smoke pouring from her funnels, was the BROOKLYN. She looked as big as half a dozen Great Easterns, and seemed so near as to take our breath away. 'Back both engines hard!' went down the tube to the astonished engineers, and in a twinkling the old ship was racing against herself. The collision which seemed imminent, even if it was not, was averted, and as the big cruiser glided past, all of us on the bridge gave a sigh of relief". These words, and the accompaning dramatic drawing by illustrator F. Cresson Schell showing the BROOKLYN crossing the bows at what appears to be only a few hundred yards, if that, fueled the criticism of Schley's performance during the battle.
To date, no writings of Philip expanding on his writing clarify or defend his statement of the alleged close passing of the BROOKLYN and the TEXAS. he made no mention of the issue in his official report of the battle. He was dead only a year later and hearings on Schley's performance were not conducted until a year after that. There is no question that the TEXAS did back her engines for three minutes during the battle, proving only that Philip interpreted from what he saw the possibility of collision, but the proponents of Schley, even to this day, question the close proximity of the TEXAS and the BROOKLYN while the opponents of Schley (or perhaps just proponents of Philip) swear by it. Perhaps the answer lies somewhere in between and the issue has never been settled. It is highly unlikely the mild mannered and publicity shy Philip intended to contribute to the subsequent controversy on this issue. There is no indication found to date that Philip had any axe to grind with Schley, or whether he took a position in the early debate regarding the Sampson-Schley controversy.
Captain Philip was advanced five numbers in grade 10 August 1898 for "eminent and conspicuous service in battle". He was promoted to Commodore. From September through December 1898, he served as Commander, 2nd Squadron, North Atlantic Fleet, flying his broad pennant in New York. He was in placed in command of the Navy Yard and Naval Station, New York on January 14, 1899. He was promoted to Rear Admiral on 3 March 1899. Unfortunately Rear Admiral Philip was unable to enjoy for long the fruits of his successful naval career. He died suddenly on June 30, 1900, just three days away from the second anniversary of the Battle of Santiago.
The following ships were named in honor of Admiral Philip:
USS Philip DD-76 (Wickes Class Destroyer) (1917-1940) transferred to British as HMS Lancaster
USS Philip II DD-498 (Fletcher Class Destroyer) (1942-1968) Nine WWII battle stars, 5 Korean War battle stars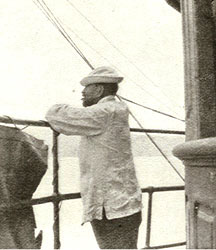 John Philip on the bridge of the TEXAS during the Battle of Santiago. He is watching the ongoing chase of the CRISTOBAL COLON. It is interesting to note that the hat he is wearing is not that of an officer, but that of the common seaman. To his left is a portion of the canvas that was hung over ships' rails to obscure the men behind and hopefull make them less of a target for Spansh sharpshooters. The Cuban shore appears in the background.
---
Bibliography:
Jones, Harry, Chaplain, A Chaplains Experience Ashore and Afloat, The Texas Under Fire. (New York: A.G. Sherwood, 1901)
MacLay, Edgar Stanton, Life and Adventures of "Jack" Philip Rear-Admiral USN. (New York: The Illustrated Navy, 1903).
Navy History.Com http://www.multied.com/navy/destroyer/dest2/PhilipIdd76.html
Office of the Chief of Naval Operations, Dictionary of American Naval Fighting Ships, Naval History Division, Washington http://www.ibiblio.org/hyperwar/USN/ships/dafs/DD/dd498.html
Philip, John, "The 'Texas' at Santiago," The Century Illustrated Magazine. Vol. 56, No. 1 (New York: The Century Co. May, 1899), 87, 91 (images of Philip).
---

Support this Site by Visiting the Website Store! (help us defray costs!)

---

We are providing the following service for our readers. If you are interested in books, videos, CD's etc. related to the Spanish American War, simply type in "Spanish American War" (or whatever you are interested in) as the keyword and click on "go" to get a list of titles available through Amazon.com.
---
Visit Main Page for copyright data