---

The Senior Officers' Staterooms
By Patrick McSherry
---

This is a view of the senior officers' stateroom area. looking aft. The ammunition hoist for the aft turret is within the structure at left.
Visitors first enter the OLYMPIA to find themselves in the area of the officers' staterooms. The sixteen staterooms extend along the outer hull, with the interior bulkhead forming a central open area. The curved interior bulkhead is constructed of varnished chestnut, with sliding wood doors that open into the individual staterooms. The central space is dominated by a large circular steel structure that branches out as it reaches the overhead. Built-in seating has been fit in between the radiating supports, giving the structure the appearance of an elaborate piece of built-in furniture. In fact the structure houses the ammunition hoist and structural support for the aft eight-inch gun turret on the deck above. Overhead, near the aft end of the central area is a skylight, emitting natural light. A hatch, presently kept closed, leads to the fantail.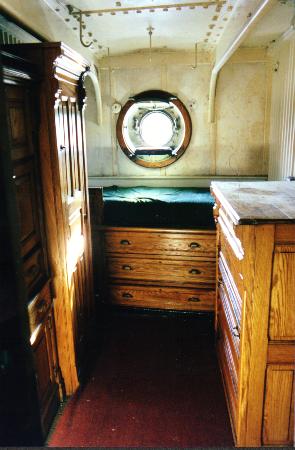 The staterooms in this area were occupied by officers of the rank of lieutenant and above. Each stateroom contains a built-in bunk along the exterior bulkhead, with a porthole above. The bunk is raised about thirty (30) inches above the deck and has removable drawer fronts below for storage of uniforms and personal items. The small space, about seven (7') feet by ten feet, four inches (10'-4"), also contains other furniture, usually including a dresser and an armoire. It is not presently known when the present woodwork was installed, however it matches naval woodwork of the Spanish American period as seen in photographs. The bulkheads separating the staterooms from one another are constructed of corrugated steel, and were installed in the first post-Spanish American War refit of the vessel in 1901. Hooks hanging from the overhead in each stateroom provide additional space for hanging equipment. Many visitors comment on the shortness and narrowness of the bunks, however, in reality, they are between six feet, six inches (6'-6") long to seven feet, two inches (7'-2") long and thirty (30) inches wide.
Through the watertight door aft of the staterooms are the officers' head, bath and the wardroom locker, which also serves to house two six-pounder guns. The passage through this space has its own small skylight.

Proceed to the Senior Officers' Wardroom
---

To visit the website bibliography, click here. To visit the website video bibliography, click here

---

Support this Site by Visiting the Website Store! (help us defray costs!)

---

We are providing the following service for our readers. If you are interested in books, videos, CD's etc. related to the Spanish American War, simply type in "Spanish American War" (or whatever you are interested in) as the keyword and click on "go" to get a list of titles available through Amazon.com.
Search:
Keywords:
---
Visit Main Page for copyright data


Return to Tour Introduction Page