U.S.S. OLYMPIA Needs Your Help!
Please Contribute to the Michael Borsuk Memorial Fund for OLYMPIA
Preservation!

---
Please Visit our Home Page to learn more about the Spanish American War
---
Click here to learn more about Mike Borsuk, for whom this fund was named
Click here to take a virtual tour of OLYMPIA
---
If you have questions concerning this fund, email a representative by clicking here
---
The Cruiser OLYMPIA is one of the United States' greatest historical artifacts. The sole surviving warship of the Spanish American War and the early American steel navy, OLYMPIA is the third oldest major U.S. naval vessel in existence, after CONSTITUTION and CONSTELLATION. She is also one of only two protected cruisers still in existence worldwide (the other being Russia's AURORA).
Her importance in American history is virtually unparalleled. Serving as Admiral George Dewey's flagship at the Battle of Manila Bay, she remains as the sole surviving witness to the birth of the United States as a world power, and the beginning of what has been called "the American Century."
In spite of her importance, OLYMPIA needs your help! She has managed to survive, sometimes tenuously, since her decommissioning in 1922 through the efforts of many individuals and organizations. Since 1996 the task has been the responsibility of Philadelphia's Independence Seaport Museum. The vessel has many problems, including a hull than is only 1/8" thick in places, and peppered with small penetrations. If major funding is not raised soon, the venerable vessel may be lost. .
You can help by contributing to the Michael Borsuk Memorial Fund for OLYMPIA Preservation!! This fund has been created by his former shipmates - the individual members of the 1998 Living History Crew - and this website, in honor of Michael Borsuk, a dedicated member of the ship's Living History Crew who passed away in June, 2000. ALL proceeds of the fund go directly toward preserving OLYMPIA.


Mike Borsuk, serving as Ship's Chaplain on the OLYMPIA
The country is in debt to the OLYMPIA and her crew who fought to make this country great. You can pay back that debt by fighting for her today! CONSTITUTION and CONSTELLATION have been preserved, and now it is OLYMPIA's turn! The Spanish American War battle cry had been "Remember the MAINE". The new battle cry is "Remember the OLYMPIA!"
To help, please contribute what you can to the Michael Borsuk Memorial Fund for OLYMPIA Preservation! All contributions are tax deductible! Any amount, no matter how large or small, will be appreciated!
To contribute directly, please mail checks or money orders to this address:
Michael Borsuk Fund
c/o Independence Seaport Museum
211 South Columbus Blvd.
Philadelphia, Pa. 19106
(Make the check payable to the Independence Seaport Museum. Note on your check that it is for Michael Borsuk Fund)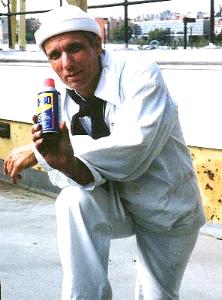 Mike Borsuk, armed and dangerous in his relentless efforts to help preserve OLYMPIA!
---

We are providing the following service for our readers. If you are interested in books, videos, CD's etc. related to the Spanish American War, simply type in "Spanish American War" (or whatever you are interested in) as the keyword and click on "go" to get a list of titles available through Amazon.com.
---
Visit Main Page for copyright data