---
Cavalry Hat Insignia
---
Please Visit our Home Page to learn more about the Spanish American War
---
Below is a typical infantry hat insignia. It has two inverted crossed sabers. Above the sabers is a number. This is the number of the cavalry regiment. Below the crossed sabers is a letter indicating the specific troop (comparable to a company) in the regiment. This is the hat insignia of the 1st U.S. Cavalry, Troop G.
The 1st U.S. Cavalry, Troop. G. served in Cuba, fighting at Las Guasimas and San Juan Hill (where they operated near the Rough Riders). At San Juan Hill, Troop G had two men killed and 4 wounded. The entire regiment suffered 12 killed and 47 wounded. Troop G was commanded by Capt. Wainwright.
---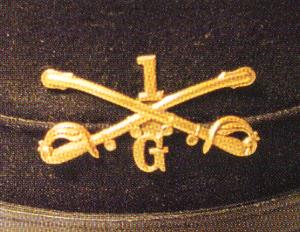 ---
Bibliography:
(As a service to our readers, clicking on title in red will take you to that book on Amazon.com)
Clerk of Joint Committee on Printing, The Abridgement of Message from the President of the United States to the Two Houses of Congress. Vol. 3, (Washington: Government Printing Office, 1899), 340-341.
Field, Ron, Spanish-American War 1898. . (Washington: Brasseys Inc., 1998), 59. (This is the source of the image).
---

Support this Site by Visiting the Website Store! (help us defray costs!)

---

We are providing the following service for our readers. If you are interested in books, videos, CD's etc. related to the Spanish American War, simply type in "Spanish American War" (or whatever you are interested in) as the keyword and click on "go" to get a list of titles available through Amazon.com.
---
Visit Main Page for copyright data