---
Patrick J. Gaul
Coal Passer, USFS Cruiser Olympia
By Renee Speight and Patrick McSherry
---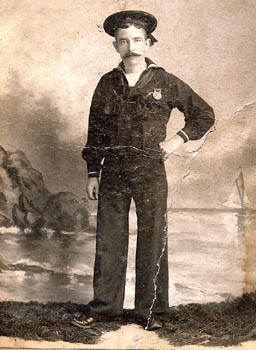 Patrick J, Gaul of the Cruiser OLYMPIA. The medal he is wearing is the
"Dewey Medal," awarded to those who served at the Battle of Manila Bay.
---
Please Visit our Home Page to learn more about the Spanish American War
---
General:
Patrick J. Gaul served as a coal passer aboard the Cruiser OLYMPIA during the Battle of Manila Bay.
Biography:
Patrick Joseph Gaul was born in County Kilkenny, Ireland on June 26, 1874. Looking for better opportunities than could be found in his home country, he emigrated to the United States on May 12, 1896, taking up residence in San Francisco where his sister Margaret, his brother Michael, and a friend James Hayes, were already living. On September 22, 1896, Gaul enlisted in the U.S. Navy. He soon found himself enroute to join the Asiatic Squadron, more specifically, the squadron's flagship, the Cruiser OLYMPIA.
Gaul enlisted as a coal passer. Many young men chose to enlist as coal passers rather than serve in the deck crew because the pay was significantly higher - $22 per month for a newly-enlisted coal passer versus $16 for a newly-enlisted landsman. The extra pay was well-earned since the work of a coal passer was among the most difficult, dirty, and dangerous duties in the U.S. Navy.
Frederick Wilson, a water tender in the U.S. Navy recorded the work of the coal passer as follows:

When on watch, his duties consist of getting out, or passing, coal to his firemen, and in some ships it is no snap to handle 40 or 45 buckets of coal, each weighing 145 or 150 pounds, in a temperature of perhaps 150 [degrees] to 175 [degrees]… & has to haul the ashes from the ash pans and load and send up buckets of ashes. He is put to work also at cleaning bilge strainers when they become clogged up with coal dirt and ashes. At times he has to put on the fires when a fireman plays out. He has to stow coal in the bunkers when they coal ship. Has to go in the boilers and knock off scale and scrape out mud, and scale and clean out bilges in port…scrub paintwork and paint, clean off pumps, polish bright work, and do any work he may be put at…goes in the back connections of the boilers and cleans out the soot and ashes from there and also in the smoke pipe…any old place that is hard to get at and dirty. It is hard an awfully dirty work and it is work that is never done. If he has any time off, he is at drill…"

In addition, coal passers were the first line action against bunker fires, wherein they had to dig into the pile of coal, expose the burning embers, and either shovel the coal to the boiler furnaces or douse the fire with water, while living is a mass of super-heated air, with smoke and other noxious gases. Also, in action, a coal passer was in a bad position. Should the ship founder, his chances of escape were not good, and in many cases, if working close to the active boilers, a hit to the boilers and the tons of boiling water they held meant a horrible death.
Lastly, a coal passer, living among the coal bunkers and the heat, could seldom ever get fully clean. On OLYMPIA, men exited the bunkers and boiler rooms by climbing ladders that led directly to the Firemans' Washroom, where they would attempt to clean up so as not to carry their dirt and dust out on the clean decks.
Of Gaul's life aboard OLYMPIA, we have little direct knowledge. He is mentioned twice in passing in the ship's newspaper, the Bounding Billow. Once, in a column, called "Contortive Cognomens" where the editor regularly made light of the crewmens' names, he quipped "A good name for the navy – Gaul, P." Secondly in a joking "Help Wanted" section of the newspaper, Patrick Gaul of Mess 15 reputedly put in a notice that read "Wanted – Assistant cook, must have experience in scrambled eggs, cracker hash and pate de foie gras." It may be possible that Gaul may have been commenting about the abilities of his mess' cook, or it may be possible that his messmates had jokingly put in the listing looking to replace him as the assistant cook!
During the Battle of Manila Bay, all of the "black gang" as the coal passers, firemen, men with similar duties were called, had a difficult time. The outside temperature was hot, adding to their usual misery. The noise of the boilers and engines made communications among the men difficult, and, cut off below the ship's protective deck, they had little knowledge of the progress of the battle. They did not know if they were winning or losing, but could feel the concussion of the ship's main guns firing. Word was passed down that a torpedo boat was making an attack, a particularly frightening piece of news, since a torpedo was a weapon specifically designed to attack the areas of the ship in which they worked. The vessel, though It was never determined if it was actually making a torpedo attack, was destroyed.
Patrick Gaul's three year enlistment expired in September of 1899, which coincided within a week of the OLYMPIA's return to the United States, amid tumultuous celebrations. It is not known if Gaul was still aboard the vessel at that time, however.


Patrick and Catherine Gaul and family, about 1907
After the war, Gaul returned to San Francisco. There, in 1900, he married Catherine "Kate" Mary Hayes (the sister of James Hayes, who had travelled to America with Patrick's brother, Michael). As a sidenote, Michael had married Bridget Hayes, also a sister of James Hayes, so the two brothers married the two sisters of their friend. Catherine was, of course, a fellow Irish immigrant, sharing Patrick's immigrant heritage. The Gaul family eventually moved to Vallejo, California, just missing the great San Francisco earthquake of 1906. The Gauls had nine children.
Mr. Gaul had a variety of occupations, being a sexton for Father O'Brien at St. Vincent's Cemetery, a carpenter at the Mare Island Navy Yard, caretaker for the Gordon Valley Dam, and runing a small dairy on his ten acres in Vallejo. His son and namesake, Patrick Joseph Gaul, Jr., inherited his father's prized "Dewey medal," awarded to all crewman in the Asiatic Squadron who took part in the Battle of Manila Bay, and proudly displayed the medal in his living room.
Patrick Gaul died on October 31, 1951, Hallowe'en night. He was buried at St. Vincent's Cemetery in Vallejo, Solano County, California.
---
Bibliography:
"Contortive Cognomens," Bounding Billow. Vol. 1, No. 1 (Nagasaki, Japan: USFS OLYMPIA:, November 30, 1897)
"Help Wanted," Bounding Billow. Vol. 1, No. 7 (Manila, P.I.: USFS OLYMPIA:, November-December, 1898)
Reckner, James R., A Sailor's Log. (Kent: Kent State University Press, 2004) 16.
U.S. Census Records for 1910, 1920, and 1930.
---

Support this Site by Visiting the Website Store! (help us defray costs!)

---

We are providing the following service for our readers. If you are interested in books, videos, CD's etc. related to the Spanish American War, simply type in "Spanish American War" (or whatever you are interested in) as the keyword and click on "go" to get a list of titles available through Amazon.com.
---
Visit Main Page for copyright data