---
Lt. Col. Ezra P. Ewers
Commanding 3rd Brigade, 1st Division, 5th Army Corps at Santiago, Cuba
(1837 - 1912)
By Major (Ret'd) James B. Ronan II

---
---
General:
Ezra P. Ewers (1837-1912) was the Lieutenant Colonel of the 9th U.S. Infantry during the Spanish-American War and as senior officer of the regiment present, commanded it during the siege of Santiago. He was typical of many officers of the United States Army during the last half of the 19th century who had enlisted in the regular army during the Civil War, accepted a regular commission during the war and remained in service until the early 20th century. He was "a professional soldier conspicuous for his gallantry in combat."
Background: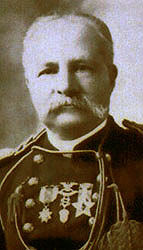 Ezra Philetus Ewers was born in Waynesport, New York, in 1837. He enlisted in the 19th U.S. Infantry on January 18, 1862, beginning a military career that lasted thirty-nine years. Ewers was appointed sergeant in Company E. By January 1863 he had been appointed first sergeant and in October 1863 he was appointed second lieutenant. #
During the Civil War he was assigned, with his regiment, to the Regular Brigade, 14th Corps, Army of the Cumberland. He served at the battles of Shiloh, Stone River (Murfreesboro), Hoover's Gap and Chickamauga. Ewers was severely wounded at the latter battle and was brevetted twice during the war. He also served in the battle of Chattanooga.
After the war he served in the 37th U.S. Infantry and was appointed captain in 1866. Transferred to the 5th U.S. Infantry in 1869, he served in several Indian War Campaigns and was brevetted for action against the Sioux at Tongue River, Montana in 1877. Ewers was a trusted company commander in the 5th and associated with the campaigns of then Colonel Nelson A. Miles. He had earned the trust of the Indians, also.
He was promoted to Major, 9th U.S. Infantry in 1893 and became the regiment's lieutenant colonel in 1897.
During the Santiago Campaign, the 9th Infantry was assigned to the Fifth Corps (Major General W. R. Shafter), 1st Division (Brigadier General J. F. Kent), Third Brigade (Colonel C. A. Wickoff, 22nd U.S. Infantry). Around noon on July 1, 1898, Wickoff was killed in action and succeeded by Lieutenant Colonel W. S. Worth, 13th U.S. Infantry. He was soon wounded and succeeded by Lieutenant Colonel E. H. Liscum, 24th U.S. Infantry. He too, was soon wounded and command of the brigade devolved on Ewers. In an ironic twist of fate, Ewers, who began his career in a brigade of regulars in the Civil War ended the battle of Santiago commanding a brigade of regulars. "The Third Brigade, connecting with Hawkins gallant troops on the right, had moved towards Fort San Juan, sweeping through a zone of most destructive fire, scaling a steep and difficult hill, and assisting in capturing the enemy's strong position, Fort San Juan at half-past one P.M."
From July 1898 to April 1899, Ewers served as Brigadier General of Volunteers. He assisted in caring for the people of Cuba.
In 1899, he became the Colonel of the 10th U.S. Infantry and retired in 1901.


Ewers as a Lt. Col. with the 9th U.S. Infantry
---
Bibliography:
Washington, Booker T., The Booker T. Washington Papers, ed. Louis R. Harlan, 14 Vols. Vol. 4, p. 486, n.2 (University of Illinois, Champaign, 1975) available at http://www.historycooperative.org/btw/.
Association of Survivors, Regular Brigade, Fourteenth Army Corps, Army of the Cumberland. Proceedings of Reunions, 1894-1898, p. 109 (Trauger, Columbus, 1898).
Heitman, Francis B., Historical Register and Dictionary of the U. S. Army. 2 Vols. (1903; reprint, Olde Soldier's Books, Gaithersburg, 1988). Vol. 1 p. 411; Vol. 2, p. 172, 290
Johnson, Major Mark W., observation of the irony of Ewers' association with two brigades of regulars.
Additional reading:
Green, Jerome, Yellowstone Command, Colonel Nelson A. Miles and the Great Sioux War. 1876-1877.
(University of Nebraska, Lincoln, 1994). [Ewers' association with Miles]
Wooster, Robert, Nelson A. Miles and the Twilight of the Frontier Army. (University of Nebraska, Lincoln,
1995). [Ewers' relationship with the Indians]
Young, James Rankin, Reminiscences and Thrilling Stories of the War by Returned Heroes. (Washington, J. R. Jones, 1899). [Brigade command during the battle of San Juan Heights]
---

Support this Site by Visiting the Website Store! (help us defray costs!)

---

We are providing the following service for our readers. If you are interested in books, videos, CD's etc. related to the Spanish American War, simply type in "Spanish American War" (or whatever you are interested in) as the keyword and click on "go" to get a list of titles available through Amazon.com.
---
Visit Main Page for copyright data