---
Spanish Cruiser Cristobal Colon
---
Please Visit our Home Page to learn more about the Spanish American War
---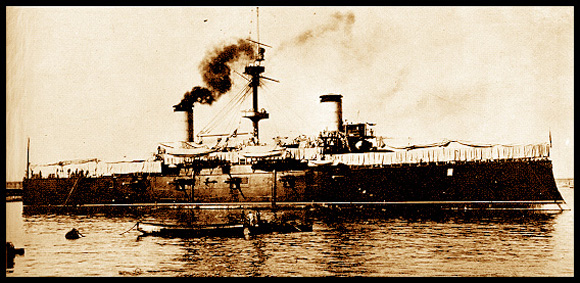 ---
Other views of the CRISTOBAL COLON:
Chart of hits ||| Colon's Officers on Deck ||| Colon at Sea
Click here for underwater views of the wreckage of the Colon
Click here to see a 6 inch shell casing from the Colon
Click here to read an article about attempts to raise the wreck and see it awash
---
GENERAL:
On paper the most fearsome vessel in Admiral Cervera's fleet, the CRISTOBAL COLON was the only authentic Spanish armored cruiser. Extensively armored, she was the best cruiser in the Spanish fleet, but the 254 mm main guns were never installed because a conflict with Armstrong. Colon had many sisterships: GIUSSEPPE GARIBALDI, VARESE and FRANCESCO FERRUCIO of Italy, GENERAL GARIBALDI, GENERAL SAN MARTIN, GENERAL BELGRANO and GENERAL PUYRREDON of Argentina, and KASUGA and NISSHIN of Japan. She was lost in the Battle of Santiago.
BACKGROUND:

CRISTOBAL COLON was the third ship out of Santiago Bay on July 3rd, 1898. She took advantage of the confusion of battle and her speed, and for a while it appeared she may escape. Soon, however, the COLON's fireboxes had used up the last of her high-grade Cardiff coal and when the stokers were forced to switch to inferior coal obtained in Cuba her speed dropped off dramatically. The COLON's commander, Capitán de Navío Emilio Díaz Moreu, also made a serious tactical error, hugging the coastline instead of heading for the open sea. Just before 2 PM the American fleet came within firing range and the Captain, declining a fight, turned his undamaged ship for the rocks, opened the sea cocks to scuttle the ship, and hauled down his flag. He was about 75 miles west of Santiago. An American salvage crew quickly went aboard, but later that evening the inexplicable decision was made to tow the CRISTOBAL COLON off the rocks although watertight integrity had not been restored. She quickly capsized and sank, a total loss.
ADVANTAGES/DISADVANTAGES:
The CRISTOBAL COLON was modern and speedy, almost brand new and the finest Armored Cruiser in the Spanish fleet. However, the Ministry of Marine had rejected the 10 inch guns of her main battery and the war broke out before replacements could be obtained. Thus, she sailed for Cuba with wooden dummies in their place, a major disadvantage in battle!
---
TECHNOTES:
| Classification: | | Steel Armored Cruiser |
| --- | --- | --- |
| Laid down: | | 1895 |
| Launched: | | September, 1896 |
| Completed: | | May 1897 |
| Rig: | | One military mast |
| Armament: | | Two 25.4 cm (10 inch) Armstrong guns (Not installed) |
| | | Ten 15.2 cm (6 inch) guns |
| | | Six 12.0 cm QF guns |
| | | Ten 57 mm Nordenfeldt QF guns |
| | | Ten 37 mm guns |
| | | Two 22 mm machine guns |
| | | 5 torpedo tubes |
| Contractor: | | Cantieri Sestri Ponenti of Ansaldo Shipbuilder, Genoa, Italy |
| Length: | | 100 meters |
| Beam: | | 18.20 meters |
| Mean draft: | | 7.75 meters |
| Displacement: | | 6,840 tons |
| Complement: | | 543 Officers and Men under the command |
| | | of Capt. Emilio Diaz Moreu. |
| Engine type: | | 14,000 hp. engines, twin screw. |
| Speed: | | 19.5 knots |
| Endurance @ 10 knots: | | 8,300 miles |
| Armor: | | 150 mm steel compound side belt, 150 mm turrets, 30 mm deck. |
---
(As a service to our readers, clicking on titles in red will take you to that book on Amazon.com)
Blow, Michael, A Ship to Remember , (New York: William Morrow and Company, Inc., 1992).
Clerk of Joint Committee on Printing, The Abridgement of Message from the President of the United States to the Two Houses of Congress. (Washington: Government Printing Office, 1899). Vol. 2, Vol. 4
González López, Manuel P., Personal Internet Contact.
Pérez-Reverte, Arturo, "July 3, 1898 - The Ultimate Day for Imperial Spain, The Battle of Santiago" (image of crew in action). The image was sent to us by Federico Iborra.
---
Support this Site by Visiting the Website Store! (help us defray costs!)
---
We are providing the following service for our readers. If you are interested in books, videos, CD's etc. related to the Spanish American War, simply type in "Spanish American War" (or whatever you are interested in) as the keyword and click on "go" to get a list of titles available through Amazon.com.
---
Visit Main Page for copyright data