---
A List of Graves of

Civilian Who Died Through Direct Service to the Military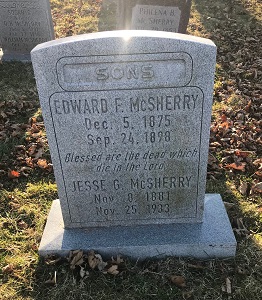 ---
This list is just starting and needs your help! If you know of more civilians who died while serving the military in an official capacity, please email us the known information (military unit, where buried, etc.) Visit the Cemetery Project page by clicking here
---
Please Visit our Home Page to learn more about the Spanish American War
---
Note: This list is for the graves of civilians who died as a direct result of their service in some sort of official capacity, such as clergy serving at military camps, members of civilian welfare organizations, sanitary commissions etc.

McSHERRY, EDWARD F., Chaplain,
Died from typhoid fever contracted while serving as a civilian chaplain at Camp Alger (December 5, 1875 - September 24, 1898)(Greenwood Cemetery, Lancaster, Lancaster Co., PA)*
---
Thanks to the following people for contributing information to the page!
Patrick McSherry (names followed by an asterisk -*-)
---
Click here to visit the website bibliography
---
Support this Site by Visiting the Website Store! (help us defray costs!)
---
We are providing the following service for our readers. If you are interested in books, videos, CD's etc. related to the Spanish American War, simply type in "Spanish American War" (or whatever you are interested in) as the keyword and click on "go" to get a list of titles available through Amazon.com.
---
Visit Main Page for copyright data