---
The U.S. Army Transport RITA
---
Please Visit our Home Page to learn more about the Spanish American War
---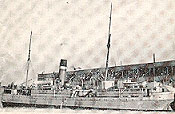 The Transport RITA
---
General:
The following information concerns the transport RITA.
The Ship:
The RITA (apparently originally known as LANTA RITA) was a Spanish cargo steamer which was on its way between St. Thomas and San Juan, Puerto Rico when she was captured by the Auxiliary Cruiser YALE on 8 May 1898. She was laden with a cargo of coal, a valuable commodity to the Navy. She was sent under a prize crew was sent to Charleston, South Carolina. The vessel was sold a prize and acquired by the Army Quartermaster's Department and outfitted as a transport.
While in use as a transport, she carried the 6th Illinois Volunteer Infantry, arriving off Guantanamo on July 17, 1898, enroute for Puerto Rico. The troops on the RITA made it known to the crew of the OREGON that they were hungry. According to private George Longbrake of Company C of the 6th Illinois Volunteer Infantry,
"...she was hastily prepared as a poor excuse of a troop transport. Companies of the Sixth 1ll. Inf. were the first to use her as such. Doubtless, as they landed at Guanica, P. R, not a single man expected to see her again, especially on the Pacific Coast at Seattle. But there it was the experience .of the following Comrades of Co. C. to see the Rita often: W. P. Brown, J. H. Dunn, G. R. Longbrake, C. R. Pendarvis, F N. Steele, C. F. Wade, L. W. Wright and C. H. Winders.
The vessel did indeed survive the war and was converted into a cable-laying vessel for use by the U. S. Signal Corps. Renamed the BURNISDE, the vessel saw service on Puget Sound and in the area between Seattle and Alaska where the men mentioned above apparently saw her. On March 17, 1923, the vessel was condemned and was taken to Seattle for scrapping. George Longbrake, who had made his memories of the vessel know to a friend, Gen. J. D. L. Hartman, then in command of the vessel, was invited to come aboard for her final cruise to Seattle.
---
Bibliography
Geneseo Soldiers Memorial Association (info. concerning George Longbrake), contributed by DA
Robinson, George W, The Diary of George W. Robinson, Fireman 2nd Division, No. 1 Fire Room USS OREGON
U.S. Navy, 1898 Appendix to the Report of the Chief of the Bureau of Navigation. Washington, D.C.: Government Printing Office. 367
---

Support this Site by Visiting the Website Store! (help us defray costs!)

---

We are providing the following service for our readers. If you are interested in books, videos, CD's etc. related to the Spanish American War, simply type in "Spanish American War" (or whatever you are interested in) as the keyword and click on "go" to get a list of titles available through Amazon.com.
---
Visit Main Page for copyright data