---
Monitor U.S.S. Monterey
By Patrick McSherry
---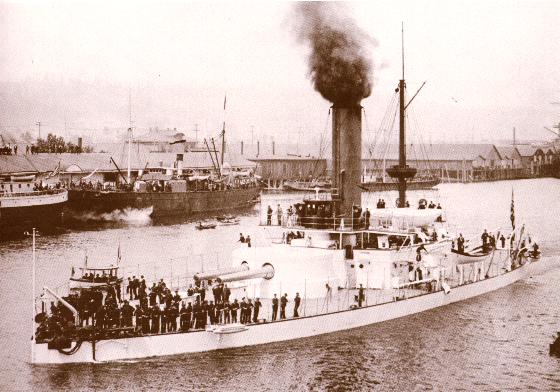 ---
Please Visit our Home Page to learn more about the Spanish American War
---
Click on the following to view:
Monterey's deck awash during sea trials ||| Monterey officers photographed forward of turret
---
GENERAL:
U.S.S. MONTEREY was among the last monitors constructed for use by the U.S. Navy. The vessel made the incredible (for a monitor) journey from the American west coast to the Philippines. The vessel was present for the final assault upon Manila.
BACKGROUND:
The monitor MONTEREY was constructed at the Union Iron Works in San Francisco, California, being laid down on December 20, 1889. The vessel's planned armament and armor was soon reduced, when it was discovered that she would exceed her assigned displacement. The vessel was finally placed in commission on February 13, 1893, sponsored by Miss Kate C. Gunn and commanded by Capt. Lewis Kempff.
The MONTEREY's first assignment was for harbor defense on the west coast of the U.S. She steamed off the coasts of California, Oregon and Washington. Also, in the spring and summer of 1895, the vessel made a cruise to Mexico, Peru and Panama. Beginning in 1896, the vessel was commanded by Charles E. Clark. As tensions began to rise following the loss of the MAINE, Clark was given command of the OREGON, which soon began its epic voyage around South America under his command.
With the victory of Dewey's Asiatic Squadron an the Battle of Manila Bay, efforts began to reinforce Dewey. There were concerns that the Spanish would send another squadron to the Philippines to try to eliminate Dewey, and also, there was concern that the Germans may also attack. On June 10, the MONTEREY, accompanied (or more precisely was towed by) the collier BRUTUS, began steaming the 7,000 miles from San Diego, California to Manila Bay. Senator Henry Cabot Lodge wrote to his friend Theodore Roosevelt that "we are not going to lug that monitor across the Pacific for the fun of lugging her back again." On June 29, the vessels arrived off Honolulu, Hawaii. Finally, on August 4, the MONTEREY and BRUTUS arrived in Manila Bay. Dewey was please to see the MONTEREY. With its large guns and its heavy armor, it was a substantial addition to Dewey's powerbase.
The MONTEREY had arrived in time for the final assualt on Manila. The battle was intended to be merely a show of force, since negotiations had been held that indicated that the city would surrender. On the morning of the final assault, MONTEREY took up a position close to the city of Manila. The city quickly surrendered under the threat of the American squadron, as per agreement.
The fall of Manila effectively ended the fighting in the Philippines during the Spanish American War. An armistice was agreed to with Spain on August 13, 1898, the same date that Manila fell.The war formally ended on December 10, 1898 with the signing of the Treaty of Paris.
With the outbreak of the Philippine-American War in February 1899, the MONTEREY continued to serve in the Philippines, supporting the occupation of Luzon. In September, 1899, the vessel took part in actions to destroy a large gun at the head of Subic Bay, in company with CHARLESTON, ZAFIRO and CONCORD.
MONTEREY left the Philippines for China in April of 1900, where she received new boilers in Hong Kong. Following this, she served as the station ship at Shanghai from July 1900 to September 1901. The vessel traveled upriver to Nanking on a diplomatic mission in 1902. She continued serving in various far eastern ports until being decommissioned on December 15, 1904.
MONTEREY was recommissioned on September 28, 1907 at Olongapo, but within eight and a half months was placed in ordinary. She was recommissioned in reserve through 1911 and aided in the protection of American interests through 1917. In 1917, the vessel was towed to Pearl Harbor, Hawaii where she served as a station ship. MONTEREY remained in service at the submarine base until 1921 when she was sold for scrap to A Bercovich Co. of Oakland, California. She made one final trip to the American mainland to be scrapped.

ADVANTAGES/DISADVANTAGES:
U.S.S. MONTEREY was not built for service on the seas, but for harbor defense. She was very slow. However, her large guns and heavy armor would have made her of value in harbor defense.
The vessel had a unique aspect in that it had trim tanks would allow it to submerge until only a vew inches of freeboard remained, decreasing her size as a target.

---
TECHNOTES: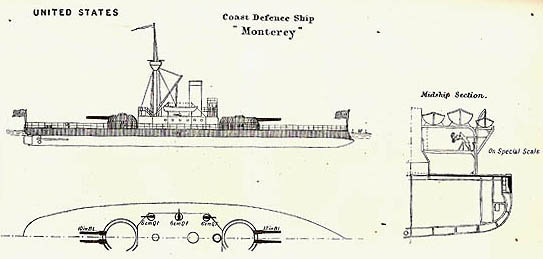 Classification:


Monitor BM-6
Laid down:


July, 1889
Launched:


April 28, 1891
Commissioned:


February 13, 1893
Rig:


One military mast
Armament:


Two 12 inch breechloading rifles




Two 10 inch breechloading rifles




Six 6 pounder rapid fire guns




Four 1 pounder rapid fire guns




Two Colt machine guns




One field piece
Contractor:


Union Iron Works, San Francisco, CA.
Length:


256 feet
Beam:


59 feet
Draft:


14 feet, 10 inches
Maximum draft fully loaded:


15 feet, 4 inches
Displacement


4,089 tons
Complement:


19 Officers and 176 Enlisted Men under the command of Commander J. W. Carlin (until May 24, 1898 when he was replaced by Commander E. H.C. Luetze)
Engine Type:


Vertical-expansion engines, 3700 hp. 2 shafts.
Speed:


12.4 knots theoretically, but 6-7 knots in reality
Boilers


2 single-ended cylindrical boilers and 4 "Ward Tubulous" boilers
Coal bunker capacity:


236 tons
Normal coal supply:


200 tons
Armor:


13 inches thick on sides
7 1/2 to 8 inches on turrets
11 1/2 to 13 inches on barbettes
3 inches on deck
Cost:


Cost: $1,628,950 (for hull and machinery).
---
Bibliography:
(As a service to our readers, clicking on title in red will take you to that book on Amazon.com)
Alden, Cmdr. John D., USN (Ret.), American Steel Navy , (Annapolis: United States Naval Institute Press, 1972). 94
Clark, Charles E., My Fifty Years in the Navy . (Annapolis: Naval Institute Press, 1984). Reprint of original 1917 edition. 139.
Clerk of the Joint Committee on Printing, The Abridgement of the Message from the President of the United States to the Two Houses of Congress. (Washington DC: Government Printing Office, 1899). Vol II, 1106 1174-1175, 1252, Vol IV, 107, 110, 118.
Millis, Walter, The Martial Spirit. (Cambridge: The Riverside Press, 1931). 225
Naval History Department, Department of the Navy, Dictionary of American Naval Fighting Ships. Vol. IV (Washington DC: Government Printing Office, 1969). 426-427
---

Support this Site by Visiting the Website Store! (help us defray costs!)

---

We are providing the following service for our readers. If you are interested in books, videos, CD's etc. related to the Spanish American War, simply type in "Spanish American War" (or whatever you are interested in) as the keyword and click on "go" to get a list of titles available through Amazon.com.
---
Visit Main Page for copyright data