---
Nelson Appleton Miles
(1839-1925)
By Luis F. Clemente
---
Please Visit our Home Page to learn more about the Spanish American War
---
General:
Nelson Appleton Miles, commander of the American forces that invaded and occupied Puerto Rico during the Spanish-American War, was perhaps one of the most characteristic American military figures of all time. Ambitious, nonconformist and thirsty for recognition, he became a hero for some and controversial for others, which casts a shadow of contradiction over his place in history

Biography: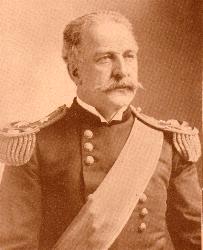 A self-taught soldier, Miles was born near Westminster, Massachusetts, on August 8, 1839. During part of his young adulthood, he worked as a clerk in a crockery store near Boston, where he attended night school, read military history and strategy books and even paid an old French soldier for being his drill instructor. At the outbreak of the Civil War, he was commissioned as a Captain in the 22nd Massachusetts Volunteer Infantry Regiment, where he caught his superiors' attention for his hard-working spirit and courageous, skillful leadership, which made him rise swiftly within the Union Army of the Potomac.
On May 31, 1862, Miles participated in his first battle, Fair Oaks, serving under General Oliver O. Howard and being promoted to the rank of Lieutenant Colonel of his regiment for bravery in battle. During the battle of Antietam, on September 17 of that year, he was given the rank of Colonel and the command of the regiment. He also saw action and was wounded on the battlefields of Fredericksburg (Dec. 13, 1862) and Chancellorsville (May 2-4, 1863), where his actions made him recipient of the brevet rank of Brigadier General in the regular army on March 2, 1867, and was awarded the Medal of Honor in 1892. Miles was promoted to full Brigadier General of Volunteers on May 12, 1864, for distinguished services in his last Civil War battles, Wilderness and Spottsylvania, during which he commanded a division. He also was commissioned briefly as Brevet Major General of Volunteers for distinguished services during the Virginia campaign and the battle of Ream's Station. He ended the war with an exceptional record, participating in nearly every major battle of the Army of the Potomac, except Gettysburg, and as a self-made folk hero.
At age 26, on October 21, 1865, he became Major General of Volunteers and the commander of the II Corps. As the officer in charge of Fort Monroe, Virginia, in 1865, he became a controversial figure nationwide by having Jefferson Davis, president of the Confederacy, shackled in his cell. By then he was sure his record in the Volunteer Army would ease his way up to the highest ranks in the regular army, specifically to the rank of Brigadier General, but he also learned the vital importance of high-level influences. He was eventually promoted to Colonel in the regular army and transferred to the West in 1866, and, although he accepted unwillingly, his new rank was basically the result of the use of political influence and was more than officers with more years of experience could have expected. As part of his quest for high rank, on June 30, 1868, Miles married Mary Hoyt Sherman, niece of Civil War hero Major General William T. Sherman, who was appointed Commanding General of the Army by President Ulysses S. Grant months later. He began to ask the General for official favors, which Sherman refused incessantly until his retirement in 1883. Still, Nelson was given the command of the 5th Infantry on March 1869 and was later transferred to the West, where he made a name for himself during the Indian Wars of 1874-1890 by crushing resistance from Sioux, Nez Perces, Bannocks, Cheyennes, Kiowas, Comanches and Arapahos, and by achieving feats such as defeating notable Sioux Chiefs Sitting Bull and Crazy Horse and capturing Chiefs Joseph of the Nez Perces and Geronimo of the Apaches. He was promoted to Brigadier General in December, 1880 and given the command of the Department of the Columbia, a post he had until 1885. In that year and into 1886, he was reassigned to the Department of the Missouri, and in April of 1886, took command of the Department of Arizona.
From 1888 to 1890 he was appointed commander of the Department of the Pacific, where he was promoted to Major General in April 1890. The Sioux rebelled again late that year, but Miles regained control for the United States government. As Deptarment Commander, his reputation was damaged by the massacre at Wounded Knee, South Dakota, where the U.S. 7th Cavalry opened fire to a Sioux camp, killing approximately 200 people, including women and children. In 1894, he returned to the command of the Department of the Missouri and dispatched troops to Chicago's Pullman strike. Later, he was transferred to the command of the Department of the East, with headquarters in New York. On October 5, 1895, he became the Commanding General of the Army, a post he would retain during the Spanish-American War but which would also frustrate him.
Miles's burning ambition went far beyond military ranks. He had visualized himself as Secretary of War by 1876, and as President during the 1890's, a desire he attempted to see to fruition in 1888, when Californian interests sounded his name as a candidate. This was a dream he would never see fulfilled since no party would make a serious effort to that end. In 1896 he wrote the book entitled Personal Recollections and Observations of General Nelson A. Miles.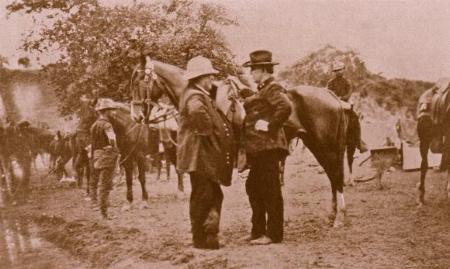 General Shafter of the 5th Army Corps (left) with General Miles (right) at San Juan Hill, Cuba
During the Spanish-American War, Miles recommended the assignment of the invasion of Puerto Rico prior to the Cuban campaign, but American military masterminds decided otherwise. He participated in the ground offensive in Cuba and was given the command of forces in places like Siboney. After the Spanish surrender at Santiago, he was given the command of the expeditionary force that would invade Puerto Rico. On July 21, 1898, he embarked from Guantánamo on the U.S.S. MASSACHUSETTS, taking with him 3,145 infantry and artillery soldiers (300 of them sick); two engineer companies and a signal corps company; and established the beachhead on July 25. Nevertheless, the experimental addition of "embalmed meat" to the soldier's supplies became the focus of controversy, since complaints against it were diverse and widespread, and the cause of bitter quarrels between Miles and his superior civilian officers. This scandal overshadowed Miles's swift campaign on Puerto Rico, which lasted until August 13 as well as his work as head of the first American military government on the island, where he acted both as military commander and civilian administrator in charge of public affairs. He was the Army's top officer, but during the course of the war President McKinley denied him any authority.
By the beginning of the century, he was promoted to Lieutenant General, a commission that gave him little gratification. Miles also received an official reprimand for taking sides in a feud between Admirals Sampson and Schley. He also opposed the reform of the War Department and criticized harshly the military personnel stationed in the Philippines after returning from an inspection voyage in 1902. He was honorably discharged in 1903, after reaching the official mandatory retirement age of 64, but to his sadness President Theodore Roosevelt didn't send the customary message and the Secretary of War didn't attend the ceremony. He then moved to a quiet life in Washington, D.C., and wrote the book Serving the Republic, published in 1911. When World War I broke out he volunteered again for the Army, but all his applications were put aside.
Miles died from a heart attack in 1925 and his body was buried in the Arlington National Cemetery. President Calvin Coolidge attended the impressive ceremony, made with full honors. Perhaps this was the best recognition he could ever desire.

---
Bibliography:
:
Charneco, Arleen P. and Eduardo A. Regis, Guánica: El orígen de su memoria. San Juan, Puerto Rico: State Office of Historic Perservation (Office of the Governor of Puerto Rico) and The Regis Group. Second edition, 1997. Chapter 5: "El 'huracán' del 25 de julio de 1898", pages 71-72.

Arlington National Cemetary Website: "Nelson Appleton Miles, Lieutenant General, United States Army". Retrieved from the World Wide Web on Jan. 17, 1999: http://www.arlingtoncemetary.com/namiles.htm.

Library of Congress: "Lieutenant General Nelson Appleton Miles". Retrieved from the World Wide Web on Jan. 17, 1999: http://lcweb.loc.gov/rr/hispanic/1898/miles.html.

A&E Biography: "Miles, Nelson (Appleton)". Retrieved from the World Wide Web on Jan. 17, 1999: http://search.biography.com/print_record.pl?id=17643.

Eugene School District 4J: "Prominent Men and Women of the Day: Gen. Nelson A. Miles". Retrieved from the World Wide Web on Jan. 17, 1999:
http://CyberSchool.4j.lane.edu/people/faculty/layton/biographies/M/NelsonAMiles/NelsonAMiles.html.
---

Support this Site by Visiting the Website Store! (help us defray costs!)

---

We are providing the following service for our readers. If you are interested in books, videos, CD's etc. related to the Spanish American War, simply type in "Spanish American War" (or whatever you are interested in) as the keyword and click on "go" to get a list of titles available through Amazon.com.
---
Visit Main Page for copyright data