---
Albert Lynn
of the USS Marblehead
Writes Home
Contributed by South T. Lynn, Jr.
---
Please Visit our Home Page to learn more about the Spanish American War
---
Click here for a history of the USS MARBLEHEAD
Click here for information on cutting the cables at Cienfuegos
---
General: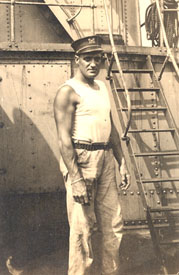 Albert C. Lynn of the MARBLEHEAD wrote letters that comprise a written account of what he saw and heard concerning the preparations for the sinking of the collier MERRIMAC at the entrance to Santiago harbor.
The letters are, of course, written from Lynn's standpoint and relate what he understood was to occur. He only could see so much, and was not privy to all of the plans and events that occurred. For instance, he believed the that MERRIMAC was being sent into the harbor to clear mines and explode near the city. In fact, the goal was to sink the vessel in the narrow channel leading into the harbor in an attempt to block the passage so that the Spanish squadron would be unable to escape. It can be inferred from this that the men that volunteered as crewmen for the MERRIMAC were probably not fully aware of her mission.
Also, Lynn relates that a Spanish Admiral came out to notify the American squadron that the crew of the MERRIMAC survived. Actually, the vessel sent out a message from Admiral Cervera, but the Admiral himself was not aboard (however, his son, also a naval officer, may have been aboard). Lastly, Ensign Lynn relates that the NEW ORLEANS sunk a Spanish torpedo boat on June 4. The only two Spanish torpedo boats present were not sunk until the Naval Battle of Santiago in July,
The letters were postmarked June 8 at Key West, and were received in Washington DC on June 13.
Albert Lynn was born in Wheeling, West Virginia on July 7, 1871. He enlisted in the navy on April 23, 1898 and was discharged on February 16, 1899 . He remained in the Naval Reserve and when World War One came around became a Boatswain's Mate on March 22, 1918 and then made Ensign on February 21, 1919. During World War One he served aboard the USS LAKE SUPERIOR. The photo at left was probably taken while he served aboard the USS LAKE SUPERIOR. Lynn was discharged on September 30, 1921. Later in life, he worked as a Washington DC police detective.
---
The letters:
USS Marblehead
Santago
June 2nd 1898
My dear Minnie,
This morning dawned with a new idea in our minds, we are now about to undertake a great thing. The collier Merrimac has been stripped of her crew and guns and is now to be used to destroy the mines in Santiago Harbor. She has tons of dynamite surrounding all around her bottom, our intentions are to take her near the mouth of the harbor, than let her go at full speed for the city. Where she strikes the mines planted in the Harbor, she will explode them, and she will also explode as she is nothing but a mass of dynamite and powder. The Spaniards will think Hell Has blown up. Some of the crew has painted all round the ship. "Death to the Spaniards"! The move will soon take place, we are along side now transferring her crew etc. will give you our account of what happened.
3.PM.
13 of our crew, I being one of the number, were sent aboard the Merrimac to clear her decks etc. She will attempt to run in the harbor tonight, over 300 men volunteered to go in her only 8 were accepted. They are to stick to her until she passes by the forts, than anchor her while at full speed and jump for the life boat in which are wires leading to the gun cotton and dynamite, than they press the button-and what happens we must wait to see. If they can't get out of the harbor without being caught, they will attempt to beach and take the chance of going on foot between the forts and the city.
We all had the privilege of taking anything we wanted off the Merrimac, I have lots of relics, I went through the cabins where I found several articles of value.
Friday June 3rd
The Merrimacsteamed for the Harbor at 4 AM she passed over the mines amid a shower of shot and shell, The Spaniards kept up a rain of fire for 2 hours. The 8 men on board the Merrimac let go her anchors as soon as she had passed the forts, she than came to a stop. The enemy there had a true range on her, and she received a tremendous shower of shot and shell. A button was than pressed by an officer of her crew, she trembled, rocked and realed, than sank. The crew did not get in the life boat but jumped for their lives, they were riddled with bullets by Spaniards on the bank, everyone was killed. I talked with the brave fellows while on board the Merrimac they all knew what awaited them, death, certain death, but this did not deter them, they met their fate like all true Americans would.
We were very near the ship as she entered the harbor, shells fell all around us, followed by terrific explosions throwing water high in the air.
The Vixen our scout boat is now down along the shore communicating with the insurgents. The Merrimac is right across the harbor, so no ship can get in or out, this will no doubt be the cause of the Spaniards surrendering, when they realize help from outside is impossible. Only 2 ships escaped out of the harbor, a torpedo destroyer and an English collier.
Saturday June 4th
Yesterday morning a tug boat came out of the harbor with the Spaniard Admiral aboard, they had a flag of truce, she brought us news that all the crew of the Merrimac are safe! and taken prisoner. It is a miracle how those men escaped! The Vixen brought news that 15,000 troops are on there way here, will arrive in 3 days, than we will take Santiago. There are 14,000 insurgents closer at hand, we will soon take this port with such a force. We had a Spanish flag flying on the Merrimac just for a bluff, to make them think she was a Spaniard ship coming into port. As she passed over this mine field she exloded 9 mines, than she swung directly across the channel and was blown up by our brave men. You will hear of a red, white and blue flag flying over Santiago by Tuesday.
Saturday noon June 4th
Our torpedo boat Dupont has just picked up two large torpedoes, this shows that a Spaniard torpedo boat was near us; the Oregon & Mass. kept up a continual fire last night which confirmed the belief. Hereafter we will keep a double look out or we might be blown out of existence. If I go to Key West soon I want to send you all the relics I have of the Maine & Merrimac. We have a Cuban General aboard, are going to transfer him to The Vixen, she will put him ashore near the Insurgents camp. They make raids every night on the outskirts of Santiago, and have cut them off from supplies. You will no doubt have some trouble making out this letter, but bear in mind, these are "war times" and we have no conscience for writing. The deck is cleared of every thing that is not an instrument of war, we are "cleared for action" and cleared indeed. I manage to sleep very well Now, I have two rubber blankets and I always sleep on the forecastle head, just along side my gun.
------- Captain is sick, he---------old, and was out---------are the bridge in------ ------ rain Several of the crew are laid up, but it is nothing serious as far as I can learn. Please save all my letters as I want these for a log I intend to write.
I have a piece of the Cable cut by our crew at Cienfuego, where we lost two men.
We have Jack Yars? on board who write for the NY papers, and one is my best friend Phil Allison of Brooklyn. I get my information from him as he keeps a record of all that happens.
Saturday 2pm
We are to shell and knock--- the fort, our ships-----in two divisions---- lines, our ship--- inside line.
------through this fight you will hear from me again if not I am willing to go. I leave it all to the girl who has taken care of me throughout my life, she knows best.
I will now say good bye & all my love and best wishes to each one
Yours aff-ly A.C.L.
PS
If possible send me some of the latest papers, also other papers, such as Harpers Weekley anything to read
Saturday 4th 3PM
Our orders just arrived from The Admiral, bombardment postponed until morning as our men might be overcome by the heat, ordered also----to fire on Morro Castle ----------crew of the Merrimac is---------------------there.
All Captains of fleet called for consultation this a.m. bombardment postponed until after. The New Orleans sank one of the torpedo boats last night, one of the two that tried to run blockade. All mail ordered to be turned in now, battle may take place this morning.
Good bye to all love to each one
I am as ever
Yours,
Albert C Lynn

---
Bibliography:
Lynn, South T., Jr., Albert C. Lynn letters.
---
Support this Site by Visiting the Website Store! (help us defray costs!)
---
We are providing the following service for our readers. If you are interested in books, videos, CD's etc. related to the Spanish American War, simply type in "Spanish American War" (or whatever you are interested in) as the keyword and click on "go" to get a list of titles available through Amazon.com.
---
Visit Main Page for copyright data