---
A Partial Roster of the crew
of the U.S.S. HIST
During the Spanish American War
Contributed by Douglas Davis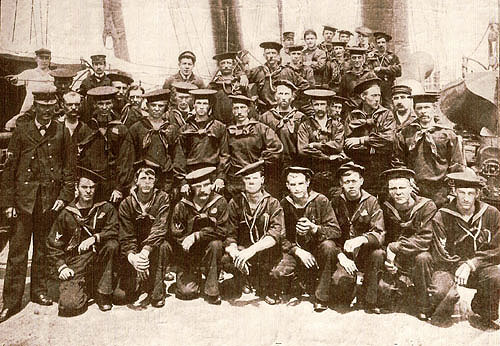 Crewman of the U.S.S HIST
---
Please Visit our Home Page to learn more about the Spanish American War
---
Click here for the Diary of James P. Sullivan of the U.S.S. HIST
---
General:

The following is a partial roster of the patrol boat U.S.S. HIST

The Roster:

Officers:

Young, Lucien, Lt.

Enlisted Men:


Andersen, Anders, Seaman
Allen, William E., Ordinary Seaman
Beach, Horace R., Ordinary Seaman
Bean, Joel E., Fireman, 1st Class
Bellah, Samuel O. Ordinary Seaman
Bouchard, Thomas E., Machinist, 2nd Class
Bourke, Edward J., Chief Gunner's Mate
Brenner, Peter, Fireman, 1st Class
Brown, Augustus H., Chief Yeoman
Burnell, John R., Ordinary Seaman
Callowette, Joseph O., Machinist, 2nd Class
Campbell, Thomas J., Landsman
Christensen, John, Seaman
Collins, John A., Seaman
Dronberger, William C, Machinist, 2nd Class
Engelbreth, Walter, Landsman
Ericson, Knut O., Hospital Apprentice
Fedeler, JohnH., Machinist, 1st Class
Fuller, Isadore W., Mess Attendant
Gates, Samuel R., Blacksmith
Gellart, Isaac S., Hospital Steward
Heggas, William C. A. Ordinary Seaman (Reported aboard on July 2, 1898)
Hitner, Harry F., Electrician, 2nd Class
Johnson, Peter, W.R.S.
Jones, William, Carpenter's Mate, 1st Class
Lacy, Manning S., Ordinary Seaman
McMillan, James, Chief Quartermaster
Neilsen, Jens M., Seaman (Reported aboard July 2, 1898)
Quinn, John, Ordinary Seaman
Rice, Charles, Ordinary Seaman (Reported aboard July 2, 1898)
Rudiger, Emil, Coxswain
Scherenger, Herman, Chief Master-at-Arms
Shea, Walter, Coal Passer
Shea, John F., Fireman, 2nd class
Simcox, Frederick G., Quartermaster, 3rd class
Sprangel, Friedrich G., Chief Machinist
Stein, Karl G., Seaman (Reported aboard July 2, 1898)
Stisen, Charles, Mess Attendant
Sullivan, James P., Fireman, 2nd class
Sullivan, Patrick H., Coal Passer
Sundberg, George H., Coal Passer
Tegethoff, Eugene M., Coxswain
Tewes, Franz, Coxswain
Thoresen, Jacob, Ordinary Seaman
Upton, Stephen V., Landsman
Webster, Clarence J., Boatswain, 2nd class
Wethly, Henry, Boatswain, 1st class
White, Edgar J., Fireman, 1st class
Williams, Jay, Ordinary Seaman
Wilson, Fred, Seaman
Wounsch, Edward, Ship's Cook, 1st class


---
Bibliography:
Weaver, Barry, Col Albert F. Gleim and Danny J. Farak, The West Indies Naval Campaign Medal of 1898 - The Sampson Medal, the Ships and Men. (Arlington, VA: Planchet Press, 1986).
---

Support this Site by Visiting the Website Store! (help us defray costs!)

---

We are providing the following service for our readers. If you are interested in books, videos, CD's etc. related to the Spanish American War, simply type in "Spanish American War" (or whatever you are interested in) as the keyword and click on "go" to get a list of titles available through Amazon.com.
---
Visit Main Page for copyright data