---
Letter From
First New York Volunteer Infantry, Co. K
Private Harold Booth,
(Stationed at Camp McKinley, Waikiki, Hawai'i)
Contributed by Robert Brockway
---
Please Visit our Home Page to learn more about the Spanish American War
---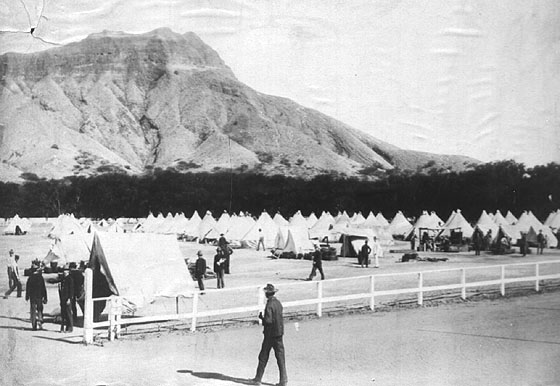 The camp of the 1st New York Volunteer Infantry at the Waikiki Race Track at Honolulu, Hawaii
General:
This is a copy of a letter from Private Harold Booth, 1st New York Volunteer Infantry, dated September 10, 1898 from Honolulu, Hawaii. Booth was stationed at Camp McKinley in the lea of Diamond Head. Camp McKinley was the first US military post in the Hawaiian Islands. The NELSON, with the New Yorkers and US Volunteer Engineers limped into Honolulu Harbor on August 14, 1898, two days after the melancholy annexation ceremony at 'Iolani Palace--then called the Executive Building. They were met at the pier by their commander, Colonel Barber, who had preceded them to the newly established camp which had been built during the previous month. It was located near Waikiki. The volunteers had enlisted in the New York area at the outbreak of war and had been trained at Camp Black, Hempstead, Long Island. The troops were sent west to San Francisco, receiving triumphant welcomes at every whistle stop and arriving to a hero's welcome in San Francisco. They were then shipped to Hawai'i on an old Klondike steamer, the NELSON, which was totally unfit for service, as the letter shows. Booth's voyage was typical of what was endured by troops during the Spanish-American War. The1st New York Volunteer Infantry was sent back to the mainland and discharged in December, 1898. By then most of the troops were ill and very demoralized. The engineers stayed and were joined by two batteries of artillery which were soon after transported to Manila. Several other units were stationed briefly at Camp McKinley. The second battalion of United States Volunteer Engineers remained on the post until it was closed in 1907, following the completion and opening of Fort Shafter on the western edge of Honolulu, the first permanent post in Hawai'i and still open.
It should be noted that there were no Malays in Hawai'i at that time and that the native Hawaiians were not Negroes or part Black. However, during the 1890s, most American naval men stationed at the Hawaiian Station thought the native Hawaiians, including King Kalakaua and Queen Lili'uokalani were blacks and treated them with contempt. Virtually without exception, whites (haoles) in the islands were racists.
The Letter:
(on YMCA letterhead, September 10, 1898):

My dear Cousin Belle & John,
Be not frightened at this I may be slow to write but do it after a while.
Suppose you have heard about the receptions we got along the line and particularly in Frisco. We had a very large time have met so many people from N.Y. and of course a New Yorker always has a soft spot for the old place. One fellow a Net Fox gave me a letter of introduction to persons here and they have done a great deal for my pleasure. We are not allowed much liberty so when we do get our we generally look for some fun or some one that can give us a feed as our food has been something fierce since we have been here. We steal all we can but but the Colonel has gotten on to our racket and has put mounted guards on all the roads leading from camp.
Our camp is at the foot of Diamond Head an extinct volcano the immense gulleys and crevasses show that some time long passed hot lava has poured down its side into the sea the whole island in fact is of volcanic origin, along shore the lava formations are peculiar in the xstreme and large quantities of coral is also found. The crater of this old monument if five hundred feet deep with a lake in the center from the top is on the the most picturesque views you can imagine. Honolujlu can be seen at the foot of Punch Bowl another extinct volcano with its pretty harbor full of brigs & steamers (the cruiser Philadelphia and old timer Mihican are here guarding the coast). The island of Moloki where the unfortunate lepers are exiled for life can be just distiunguished. The palm trees, cocoa-nut palms and banana plants growinfg on all sides, the green Pacific dashing up on the lava reef along shore so many feet beneath you is a picture fit for any artist to copy.
The natives are a funny lot half negro half malay they are intelligent and honest. The Chinese and Japanese I would say predominate there are also Portuguse and about 8000 Americans some very rich these have beautiful homes along the road to our camp called Wa Ki Ki. This is near the prettiest place on the island Ka pio la ni Park. This exquisite land scape is laid out in little squares surrounded on all sides by minute streams lined with palms of all species tall grasses and crossed by bridges of most unique construction in the center of one of these squares is the band stand a perfect canopy of electric lights wehre every Wednesday Eve we are treated to a concert by the Honolulu Band composed entirely of natives. They play all of our home tunes and national airs and nearly make a fellow homesick. I have been offered a position with an architect named Traphagen if the regiment disbanded here.we do not know what will be done yet but I suppose will be taken right back to our native towns and discharged when they have no use for us. Theww fellows are bad natires and ugly they want to go either to Manila or home any where but our now dusty dirty camp where every night we hunt for centipes before lying down and every day the worst looking lizards and bugs crawl from under our property.
It is rather late now to talk about our transport here and I know you have heard something about them if ever a lot of men were trearted like cattle we were on our way across the Pacific raking nine days and some hours to go 1oo miles isn't bad is it? Six hunmdree and fift men on an old Klondike Steamer named the Carles Nelson packed in bunks two deep and four high with no air. Feed on salt horse and prunes it is no wonder that one fellow became insane and jumped over board in mid ocean. He was saved but a sailor lost his life in trying to save him. The old tub took fire five times and broke down once we were all pretty glad when we reached port. The worst part of it is that we will no doubr return "in the same old way" which I have hesard will not be very long althbough there are some rumors that we are booked for Manila. We haqve been issued light flannels, duck suits and a fatigue uniform of brown canvas so are cool and can change from a hard working man to a very gentlemanly soldier at short notice our dress parades are fine we now have a regimental band of twenty five pieces so are hot stuff. Will send you some pictures of our different drills secener ect. when I get the films developed but I think will wait and develope them when we get back.
The boys are now having a laugh outside the tent over our regimental mascot Jennie a young bear. Young Potter of Co. A nephew of the Bishop who has made quite a name for himself in Frisco and here, getting some girl so deadly in love with him that she attempted suicide when he left Frisco gave him to the regiment. He is verey cunning and his antics are comical is a great favorite with akll of us. We also have a crow that has come all the way from Middletown the home of Co. I, a dog from Kingston & one from Newburgh. My pup a foxterrier that I fleeced from a farmer here is known all over as Bobt's Brother as there are a great many dogs that look just like him here there is some one constantly running in with a canine telling me he found him in such a place as a consequence the commissary has been obliged to draw extra rations and a good many people are looking for fox terriers.
Fred ius here with me we have a good time together he is sitting near me now writing to the people at home wishes to be remembered to you all.
Well Jonathan how is business? I really thiink that of all the places I have seen and what I have heard Long Island is a good palce as any for this branch of trade. There is no chance for a fellow here unless he has money. One thing would pay immensely that is an artificial ice machine but how much does one cost?.....

---
Bibliography:
The Booth letter is in the collection at the U.S. Army Archives, U.S Army War College, Carlisle Barracks, Carlisle, Pennsylvania.
LaBarre, John - Images of 1st New York at Waikiki (also, thanks to James LeBarre).
---

Support this Site by Visiting the Website Store! (help us defray costs!)

---

We are providing the following service for our readers. If you are interested in books, videos, CD's etc. related to the Spanish American War, simply type in "Spanish American War" (or whatever you are interested in) as the keyword and click on "go" to get a list of titles available through Amazon.com.
---
Visit Main Page for copyright data