---
A History of the
of the U.S.S. DIXIE
by Patrick McSherry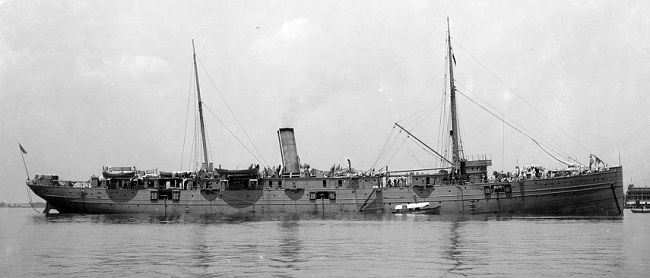 The Auxiliary Cruiser U.S.S. DIXIE

---
Visit our Home Page to learn more about the Spanish American War
---
History of the DIXIE ||| Technotes on DIXIE ||| Crew Roster of the DIXIE
---
GENERAL:
The DIXIE was an auxiliary cruiser that served in the North Atlantic squadron, seeing service in Cuba and on the U.S. east coast during the Spanish American War.
BACKGROUND:
On April 15, 1898, as tensions leading to the Spanish American War were rising, the U.S. Navy purchased the screw steamer EL SOL for conversion into an auxiliary cruiser. The EL SOL was built five years earlier by the Newport News Shipbuilding and Drydock Company. Only five days after her purchase, the vessel was commissioned as the U.S.S. DIXIE under the command of Commander Charles Henry Davis and crewed mainly by members of the Maryland Naval Militia. By June 11, the vessel's conversion was complete and U.S.S. DIXIE departed Hampton Roads for Santiago, Cuba by way of Haiti. She arrived off Santiago eight days later.

The vessel took part in the blockade of Cuba, engaging coastal fortifications, escorting transports, etc. While operating off Cuba, DIXIE captured numerous blockade runners as prizes such as the GREENAN CASTLE and the MANEUBIA. On July 3, DIXIE arrived off Santiago but just after the Battle of Santiago had concluded and Cervera's Spanish squadron was destroyed. The vessel was soon assigned to Watson's Squadron, which was to proceed to Spain itself, but the plan was never put into action. Instead, DIXIE continued to be active in the Caribbean. The vessel, along with the U.S.S. ANNAPOLIS and U.S.S. WASP, entered the harbor at Ponce, Puerto Rico on July 27, forcing the town to surrender and securing a landing place for the U.S. Army forces for the invasion of the island. In fact, a landing party from DIXIE received the surrender of both Ponce and La Playa. In August DIXIE made a call at Guantanamo Bay. While there, a force from the DIXIE landed and took one of the aging guns at the ruins of Fort Toro near Caimanera as a trophy. On August 24 DIXIE left Guantanamo Bay for Philadelphia's League Island Navy Yard, calling at Hampton Roads and Baltimore before arriving on September 22. At Philadelphia she was placed out of commission on March 7, 1899.

From March 7 and July 15, 1899DIXIE was loaned to the War Department for use as an army transport. In November of 1899, the DIXIE was recommissioned as a training vessel, cruising to the Philippines by way of the Suez Canal, returning by the same route and arriving in the U.S. on August 8, 1900. Her next training cruise, from September 29, 1900 to February 28. 1901, was to various ports in the Mediterranean Sea, and then to Venezuela. This was followed by a training cruise to Northern Europe and the Mediterranean from July 24, 1901 to May 7, 1902. Later, DIXIE transported supplies for the relief of the victims of volcanic eruptions on the islands of Martinique and St. Vincent.
DIXIE was taken out of commission again on July 21, 1902 at the New York Navy Yard. The vessel was recommissioned on October 1, 1903 to serve in the Caribbean Squadron where she served mainly as a transport. In the summer of 1905, DIXIE was used to transport a scientific team to the Mediterranean to observe a solar eclipse. On her return, she was again decommissioned. Recommissioned in 1906, she cruised the Caribbean until 1909 when she was assigned to the Atlantic Torpedo Flotilla and Destroyer Squadron as a tender. She transported the Nicaraguan Expeditionary Force to Colon, in the Panama Canal Zone. The vessel also took part in the Mexican Expedition in 1914 as a support vessel.
During World War One, DIXIE was sent to Europe to serve as a destroyer tender operating out of Queenstown, Ireland and Bremerhaven, Germany. After the war, she returned to the U.S., continuing to serve as a destroyer tender on the east coast. DIXIE was reclassified as AD-1 on July 7, 1920, and was assigned to be a tender to the reserve destroyer fleet at the Philadelphia Navy Yard. After returning to her tender duties along the east coast, she was finally decommissioned for the last time on June 30, 1922, and was sold on September 25, 1922.

ADVANTAGES/DISADVANTAGES:
The vessel was capable of reaching adequate speeds, allowing her to catch blockade runners, and, carrying ten 6-inch guns, had a sufficient main battery. However, not being constructed as a naval vessel, she was devoid of any armor, with her crew resorting to sand bags and similar items to help shield her gun crews in battle. Her secondary battery was fairly light in that smaller caliber guns, such as one-pounders were lacking. The vessel was equipped with only a single screw which would limit her maneuverability.

TECHNOTES

| | | |
| --- | --- | --- |
| Classification: | | Auxiliary Cruiser |
| Launched: | | 1893 |
| Commissioned: | | April 19, 1898 |
| Rig: | | Schooner |
| Armament: | | Ten 6-inch rapid-fire guns |
| | | Six 6-pounder rapid fire guns |
| | | Three Colt machine gun |
| Contractor: | | Newport News Shipbuilding and Drydock Company |
| Length: | | 389 feet, 2 inches |
| Beam: | | 48 feet |
| Mean draft: | | 19 feet, 11 inches |
| Displacement: | | 6,114 tons |
| Complement: | | 14 Officers and 157enlisted men |
| Engine type: | | Triple expansion engine, generating 3,800 hp.; Single screw |
| Speed: | | 16 knots |
| Coal bunker capacity: | | 1371 tons |
| Endurance @ 10 knots: | | 5,328 nautical miles |
---
Bibliography:
Clerk of Joint Committee on Printing, The Abridgement of Message from the President of the United States to the Two Houses of Congress. (Washington: Government Printing Office, 1899). Vol. 2 1136, 1216-1217.

Dictionary of American Naval Fighting Ships. Vol. 2 (Washington: Naval Department, 1963) 281-282.
Payne, William C., The Cruise of the U.S.S. DIXIE or On Board with the Maryland Boys in the Spanish American War. (Washington DC: E. C. Jones, Printer, 1899).

Report of the Chief of the Bureau of Navigation. (Washington: Government Printing Office, 1898) 18.

---

Support this Site by Visiting the Website Store! (help us defray costs!)

---

We are providing the following service for our readers. If you are interested in books, videos, CD's etc. related to the Spanish American War, simply type in "Spanish American War" (or whatever you are interested in) as the keyword and click on "go" to get a list of titles available through Amazon.com.
---
Visit Main Page for copyright data