---
U.S.S. DETROIT
By Jose Poncet
---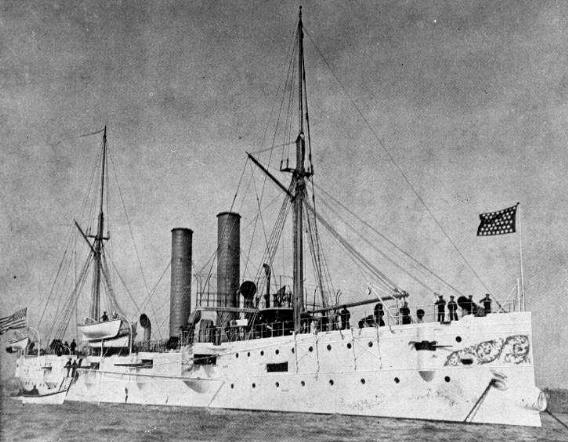 ---
Please Visit our Home Page to learn more about the Spanish American War
---
Click here
for a view of the DETROIT under construction
---
GENERAL:
MONTGOMERY (C- 9), DETROIT (C-10) and MARBLEHEAD (C-11) were protected cruisers, the smallest of that type in the 1898 U.S. Navy. All three were completed in 1894. During the Spanish-American War, they were actively employed in the Cuban and Caribbean areas. DETROIT was disposed of in 1910, but the other two continued in service through the First World War.
BACKGROUND:
The cruiser DETROIT (C-10) was launched 28 October 1891 by Columbian Iron Works, Baltimore, Md.; sponsored by Miss F. Malster; and commissioned 20 July 1893; Commander W. H. Brownson in command.
Since revolutionary riots were taking place in Brazil, DETROIT had to leave Norfolk, Virginia's waters on 6 October 1893 in order to protect American citizens and interests. She had to stay in the harbor of Rio de Janeiro during almost six months and returned to Norfolk on 24 April 1894. Six months later DETROIT sailed to serve on the Asiatic Station for two years. During said period of time, she cruised along the Chinese coast and visited some Asiatic countries. On 17 May 1897 DETROIT returned to New York and, some time later, sailed for Key West where, because of the difficult political situation in Cuba, she remained from 16 October 1897.
When the Spanish-American War broke out, in order to prevent the American littoral from an attack of the Spanish fleet, two squadrons of the US Navy were formed: the "Flying Squadron", under. the command of Commodore Schley, (responsible for the defense of the East coast), and the "North Atlantic Squadron", under the command of Captain Sampson, promoted to Rear Admiral on the first day of the war, (responsible for the offensive against the Spanish ships). This division induced an angry criticism from Captain Mahan, the most prestigious theorist of naval warfare in the US Navy.
DETROIT served on the North Atlantic Squadron and, when Rear Admiral Sampson was ordered to blockade the Cuban coast from Cardenas to Bahia Honda, she was sent to the northwest of the island and was put in charge of carrying out attacking the Spanish boats. During the war, two days after the imposition of the Cuban blockade, she captured the Spanish steamer CATALINA , which had left New Orleans bound for Havana with a load of cotton, staves and provisions. On May 12, 1898, the vessel took part in the controversial bombardment of San Juan, Puerto Rico. During this action, DETROIT received minor damage to her boats, joinery, wiring and a stanchion from the effects of her own guns. She then remained on patrol in the Caribbean until she returned to Boston.
DETROIT returned to Caribbean waters in February 1899 and was sent to Nicaragua and Venezuela to protect national interests. On December 1899 she returned to her base at Key West where, except for two short cruises in 1900 into the Caribbean, she remained until May when she sailed to Portsmouth Navy Yard, Kittery, Maine and, once more, was decommissioned.
DETROIT was recommissioned on 23 September 1902 and carried out several operations in the Caribbean, Trinidad, Chile, Uruguay, Brazil and Santo Domingo, (most of them for protecting national interests, except for a brief cruise to Boston and on to Nova Scotia and New Brunswick in the summer of 1904). She returned to Boston in July 1905 and was definitively placed out of commission 1 August 1905. DETROIT was sold 22 December 1910.

ADVANTAGES/DISADVANTAGES:
The watertight deck of this class of cruisers was more a risk than a protection. Their stability was poor and, because of this, the two initially installed 152 mm bow gun had to be replaced by only one 127 mm gun and their apron shields had to be removed. The engine room was very uncomfortable.
---
TECHNOTES:
| Classification: | | Montgomery Class Protected Cuiser C-10 |
| --- | --- | --- |
| Keel Laid: | | February, 1890 |
| Launched: | | October 28,1891 |
| Commissioned: | | July 20, 1893 |
| Rig: | | Two masted Schooner rig. |
| Armament: | | Ten 127 mm (5 inches) rapid fire guns |
| | | Six 57 mm (6 pounder) rapid fire guns |
| | | Two one-pounder rapid fire guns |
| | | Two Colt revolving cannons |
| | | One 3 inch field gun |
| | | Two 18" above-surface torpedo tubes |
| Contractor: | | Columbian Iron Works, Baltimore, MD |
| Length: | | 257 feet |
| Beam: | | 37 feet |
| Mean draft: | | 14 feet, 7 inches |
| Max. Draft, fully loaded | | 16 feet, 8 inches |
| Displacement: | | 2,094 tons |
| Complement: | | 20 Officers and 236 Enlisted Men, under the command of Commander J. H. Dayton. |
| Engine type: | | Two Vertical triple expansion engines, |
| | | each generating 5,400 hp. at 19 knots |
| Boiler type: | | 3 doule-ended and 2 single-ended "scotch" boilers |
| Coal Bunker Capacity | | 340 tons |
| Normal Coal Supply | | 200 tons |
| Speed: | | 18.71 knots |
| Endurance at 10 knots | | 3,280 nautical miles |
| Armor: | | Protective Deck: 8 mm (5/16 inch) on the flat; 11 mm; (7/16 inch) on the slope. |
| | | Wing turrets and blockhouse: 56 mm thick, (2.2 inches). |
| | | "Woodite" (cellulose) packed cofferdam 1.20 m (3 feet, 11 inches) height, at the openings of the armored deck for a total of 878 Cubic feet |
| | | No inner bottom |
| Cost | | $612,500 |
---
Clerk of Joint Committee on Printing, The Abridgement of Message from the President of the United States to the Two Houses of Congress. (Washington: Government Printing Office, 1899) Vol II, 1094, 1186-1187; Vol. IV 318-319, 373-374
Commandant de Balincourt. Les Flottes de Combat en 1908. Libraire Militaire Berger-Levrault & Cie. Paris. 1908.
DEPARTMENT OF THE NAVY -- NAVAL HISTORICAL CENTER. Online Library of Selected Images. Ships of the Spanish-American War--Cruisers--USS Montgomery, USS Detroit and USS Marblehead.
DEPARTMENT OF THE NAVY -- NAVAL HISTORICAL CENTER. Online Library of Selected Images. Ships of the Spanish-American War--U.S. NAVY SHIPS -- Other Auxiliary Cruisers.
"Dictionary of American Naval Fighting Ships," (1963) Vol. 2, p.269.
NavSource Online: Cruiser Photo Archive. C-10 USS DETROIT.
---

Support this Site by Visiting the Website Store! (help us defray costs!)

---

We are providing the following service for our readers. If you are interested in books, videos, CD's etc. related to the Spanish American War, simply type in "Spanish American War" (or whatever you are interested in) as the keyword and click on "go" to get a list of titles available through Amazon.com.
---
Visit Main Page for copyright data