---
A History and Roster of the
of the U.S.S. CINCINNATI
by Patrick McSherry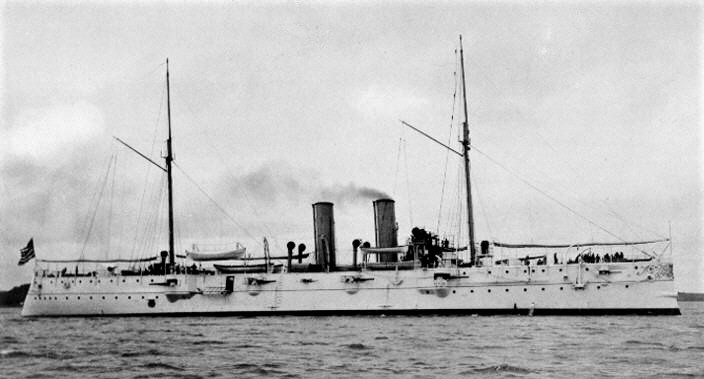 The Cruiser U.S.S. CINCINNATI (Source: Navsource)

---
Visit our Home Page to learn more about the Spanish American War
---
History of the CINCINNATI ||| Technotes on CINCINNATI ||| Crew Roster of the CINCINNATI
---
GENERAL:
The CINCINNATI was a cruiser that served in the North Atlantic squadron, seeing service in Cuba and Puerto Rico during the Spanish American War.
BACKGROUND:
The CINCINNATI was launched on November 10, 1892 by the New York City Navy Yard. The vessel was commissioned on June 16, 1894 with Captain H. E. Glass in command.

CINCINNATI's first cruise was to enforce neutrality laws, specifically to stop the flow of arms, etc., between Florida and Cuba, where there were strong efforts to aid the Cuban insurgents. The CINCINNATI served in this capacity in 1895 and 1896. Following this, the vessel served in the Mediterranean from 1896 to 1897. With the sinking of the Battleship MAINE and the approach of war, CINCINNATI joined the Cuban blockade in April, 1898 and was also involved in the bombardment of Matanzas, Cuba. By the end of May however, CINCINNATI was sent back north to the U.S. for repairs. En route she escorted the Spanish prize vessel, PANAMA as far north as Cape Hatteras where CINCINNATI entered the navy yard at Norfolk. The CINCINNATI's machinery was updated, her boilers retubed, her hull repaired, a mast was removed, and her funnels increased in height by seven feet in an effort to increase draft. She did not return to action until after the armistice was agreed to between the U.S. and Spain, ending the war's fighting.

Subsequently, CINCINNATI was involved in transferring troops from Guantanamo Bay, Cuba to Puerto Rico. She was also involved in a reconnaissance of Culebra Island. Additionally, the CINCINNATI was involved in the salvage of the of the lost Spanish naval vessels following the Battle of Santiago. The vessel escorted the salvaged wreck of the INFANTA MARIA TERESA which was being towed to Norfolk, Virginia. Unfortunately, the vessels were caught in a storm, and the INFANTA MARIA TERESA was lost again near Cat Island in the Bahamas. On December 17, 1898, as CINCINNATI was departing Santiago when she ran aground at full speed, and it took forty hours for the collier SOUTHERY and the gunboat MAYFLOWER to pull her free. On February, 14, 1899, CINCINNATI was decommissioned at the New York City Navy Yard. Here the vessel underwent extensive repairs.

CINCINNATI was recommissioned on December 2, 1901. In 1902 and 1903 the vessel operated in the Caribbean, and was involved in places such as Haiti, Santo Domingo, Panama and elsewhere. When Mt. Pelee erupted in Martinique, the CINCINNATI transported supplies to island. From 1903 to 1907, the vessel served in the Asiatic squadron. In 1907 the vessel returned to Mare Island Navy Yard in California where she was decommissioned on October 12, 1907. In 1911 the CINCINNATI was recommissioned, and was sent to serve in the Asiatic Squadron once again, remaining in that role until 1917, when she again returned to the United States. En route she delivered supplies to Guatemala following an earthquake in that country. She arrived at Hampton Roads, Virginia on January 16, 1918. From February, 1918 to March 1919, CINCINNATI served as the flagship of the American Patrol Detachment, protecting the movement of oil in the Gulf of Mexico.
CINCINNATI was decommissioned for the last time at New Orleans, Louisiana on April 20, 1919. She was sold on August 4, 1921.

ADVANTAGES/DISADVANTAGES:
The vessel carried a full schooner sail rig, meaning that she was not truly designed to be fully part of the modern steam navy. To man the sails, she likely had to carry additional crew for that purpose.

The design of the CINCINNATI resulted in the ship being over-powered, and the temperature in the confined spaces around the powerplant rose to in excess of 200 degrees Fahrenheit. Ventilation was inadequate and the engineering crew suffered greatly. The issue would have been driven home in the heat of the waters off Cuba. It was determined that these conditions would limit the vessel to only short range operations. This decision was probably no surprise since so much space was taken up with the machinery, the vessel's coal bunkers were forced to be of a reduced size. This actually limited the cruising range of the vessel regardless of the severely hot conditions experienced by the crew. The cruising range of the CINCINNATI was 3,000 miles, which was short in comparison to other vessels of a similar size.

The repairs done during the war were probably partially done in an attempt to solve the heat issue. Following the war, the ship was outfitted with a smaller powerplant to again help make the conditions more livable, and increase the vessel's range.

The gun sponsons that protruded from the side of the ship would have made coaling at sea difficult.

TECHNOTES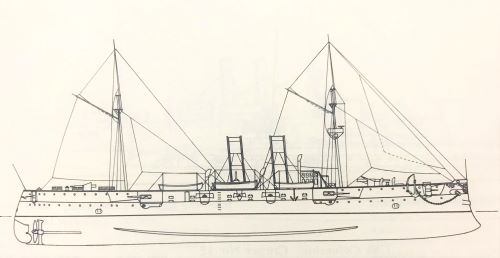 The Profile of the CINCINNATI
| | | |
| --- | --- | --- |
| Classification: | | Protected Cruiser C-7, Cincinnati Class |
| Keel Laid: | | January, 1890 |
| Launched: | | November 10, 1892 |
| Commissioned: | | June 16, 1894 |
| Rig: | | Schooner |
| Armament: | | Ten 5-inch rapid-fire guns |
| | | One 6-inch rapid fire guns |
| | | Eight 6-pounder rapid fire guns |
| | | Two 1-pounder rapid-fire guns |
| | | Two Colt machine gun |
| | | One rapid fire field gun |
| | | 1 Field Gun |
| | | 2 Whitehead torpedo tubes |
| Contractor: | | U.S. Navy Yard, Brooklyn, NY |
| Armor | | 2 1/2" steel (slopes) |
| | | 1" steel (flat) |
| Cost: | | $1,100,000 |
| Length: | | 300 feet |
| Beam: | | 42 feet |
| Mean draft: | | 18 feet |
| Max. draft fully loaded: | | 20 feet, 2-1/8" inches |
| Displacement: | | 3,213 tons |
| Complement: | | 20 Officers and 294 enlisted men |
| Engine type: | | Vertical triple expansion engines, generating 10,000 hp.; Twin screws |
| Boiler type: | | Four double-ended and two single-ended cylindrical boilers |
| Speed: | | 19 knots |
| Coal bunker capacity: | | 480 tons |
| Endurance @ 10 knots: | | 3,000 nautical miles |
---
Below is a list of officers, sailors and Marines assigned to the U.S.S. CINCINNATI

OFFICERS:

BERRY, Robert M., Commander (Commanding)
BRONAUGH, William V., Lieutenant
HOUSTON, Nelson T., Lieutenant
MORRELL, Henry, Lieutenant
STRAUSS, Joseph, Lieutenant Junior Grade
GATES, Herbert G., Ensign
ROBERTSON, Ashley H., Ensign
WILSON, Henry D., Passed Assistant Surgeon
LUKESH, George M., Assistant Paymaster
REID, Robert I., Passed Assistant Engineer
LACKEY, H. E., Naval Cadet

ENLISTED MEN:

AMER, John, Seaman
ANDERSON, Herman M., Apprentice First Class
ASKEW, Mack Daniel, Fireman First Class
BACKSTROM, Harold, Coal Passer
BAKER, Frank Herbert, Apprentice First Class
BESEKE, Herman, Coxswain
BOW, Michael, Chief Boatswain's Mate
BRESLIN, David, Blacksmith
BROWN, Charles Henry, Ordinary Seaman
BROWN, John, Coxswain
BROWN, John Thomas, Coal Passer
BURGER, Fletcher Lynn, Landsman
BURNS, William J., Apprentice First Class
CAHILL, John, Apprentice First Class
CAMPBELL, Frank, Chief Machinist
CASEY, Thomas, Landsman
COBB, Junius, Mess Attendant
COGHILL, George Edward, Fireman First Class
CROSS, Richard Joseph, Machinist Second Class
CURTIS, Edward B., Coppersmith
CONNOR, Michael J., Ordinary Seaman
CROSSMAN, Fred Earl, Chief Yeoman
DARLEY, Joseph Henry, Chief Yeoman
DEENGLAND, Roloff, Ordinary Seaman
DITTRICK, Charles Herman, Coal Passer
DONOHUE, James Joseph, Landsman
DUNCAN, John Henry, Coal Passer
ELEY, Herbert Sheldon, Yeoman Third Class
FOGT, Axel, Seaman
GALLAGHER, James F. J., Boatswain's Mate First Class
GOFF, Orlo Seward, Yeoman Second Class
GOLDBERG, Louis, Apprentice Second Class
GOLEY, Bernard Joseph, Coxswain
GRADY, Michael James, Oiler
GRAMBO, Gustav, Chief Quartermaster
GUSTAFSSON, Carl, Ordinary Seaman
HALL, Charles, Mess Attendant
HENNINGSEN, Heinrich, Quartermaster Second Class
HIGGINS, William Henry, Ordinary Seaman
HIND, Philip, Landsman
HUNLEY, Evan Thomas, Boilermaker
HUNT, Edwin Lucius, Apprentice First Class
HOVEN, Johannes, Gunner's Mate First Class
JACKSON, Alfred, Seaman
JENNINGS, Frederick G., Seaman
JESSUP, Arthur E., Gunner's Mate Third Class
JOHANSON, Karl Johan, Seaman
JOHNSON, Charles P., Oiler
JOHNSON, Harvey A., Apprentice Second Class
JONES, Richard Henry, Mess Attendant
JOSEPH, Frank, Landsman
KELLEY, John, Landsman
KINDO, Yasro, Mess Attendant
KING, Aire Clement, Seaman
LACEY, Thomas Edward, Seaman
LAWLER, Patrick H., Shipwright
LOCHBOEHLER, Frank Joseph, Coal Passer
LOVETT, James O' S., Apprentice Third Class
LUSBY, James Ellsworth, Coal Passer
MAHONEY, Michael, Chief Gunner's Mate
MAPP, William A. S., Painter
MARLIN, Frank, Ordinary Seaman
MARTIN, Joseph, Landsman
MCFOY, Edward Patrick, Seaman
MENZ, Richard, Coxswain
MIHARA, Shigetoshi, Chief Steward
MILLER, Thomas, Seaman
MITCHELL, Frank, Coxswain
MODZEROSKI, Johannes, Seaman
MOLLOY, Frederick Joseph, Fireman First Class
MULDOWNEY, John Andrew, Oiler
MURDOCK, Thomas Lowry, Landsman
MURPHEY, Edgar Benjamin, Seaman
NIERMAN, Peter, Chief Gunner's Mate
NILSEN, Helmer, Ordinary Seaman
NOBLE, William Wright, Seaman
NORDMAN, Karl Wilhelm, Seaman
NORRINGTON, Charles W., Seaman
OBRIEN, James, Fireman First Class
OLIVER, John Herbert, Mess Attendant
OLSON, Frederik, Gunner's Mate Second Class
O'TOOLE, James, Gunner's Mate Third Class
PATTERSON, Charles J., Apprentice Second Class
PERKIN, Harry Marine, Landsman
PERSSON, Ernest John, Gunner's Mate Second Class
PFLUGHAUPT, Albert, Landsman
PIME, Charles Frank, Quartermaster First Class
PLUNKETT, James P., Plumbers and Fitters
PORTER, Frank C., Chief Master at Arms
PRICE, James, Boatswain's Mate First Class
RAGONE, Nicola, Landsman
RAYNOR, Charles H., Yeoman Third Class
REEDY, Daniel J., Chief Machinist
RINES, Lorenzo, Oiler
ROBINSON, Robert, Apprentice First Class
RUSSELL, John W., Wardroom Steward
RYAN, George, Quartermaster Third Class
RYAN, John Thomas, Ordinary Seaman
SAARM, Henry, Gunner's Mate Second Class
SCHULER, Herman, Apprentice First Class
SEAMAN, Edgar Franklin, Seaman
SJADACENE, Sylvestor, Coal Passer
SMITH, Samuel G., Wardroom Cook
STAVANSON, Martin, Ordinary Seaman
STEVENS, Edwin Arthur, Apprentice First Class
STOAKLEY, John W., Boatswain's Mate First Class
STREET, Lester Chapin, Ordinary Seaman
STRUHS, Albert, Seaman
TAAFFE, Viggo, Machinist Second Class
TAKEJIRO, Marsui, Cabin Cook
TOMMOSINO, Francesco, Ordinary Seaman
UFFORD, Robert Henry, Gunner's Mate Third Class
VISELE, John, Landsman
WEIL, Sydney S., Machinist Second Class
WENDEL, John Paul, Chief Yeoman
WHITE, Fred, Sailmaker's Mate
WHITFIELD, Thomas, Fireman First Class
WILLIAMS, George, Mess Attendant

WINFIELD, Richard, Coal Passer
WISE, George Washington, Coal Passer
WRIGHT, Richard T., Steerage Cook
WOOD, Robert B., Chief Machinist
WOOD, Samuel, Boatswain's Mate Second Class
YARNELL, Eugene A., Master at Arms Third Class
ZIMMERMAN, JR., Gustav, Apprentice First Class

MARINE GUARD:

FOX, Francis M., First Sergeant
LUDWIG, John, Corporal
WILLY, Nicholas G., Corporal
ARNOLD, William, Private
BUSH, George, Private
CRONIN, Hunter S., Private
DANFORTH, William R., Private
FAIRCLOUGH, Walter, Private
GARRISS, John W., Private
MITCHELL, George, Private
WILSON, James R., Private

---
Bibliography:
Alden, John D., The American Steel Navy. (Annapolis: Naval Institute Press, 1972) 55, 373.
Clerk of Joint Committee on Printing, The Abridgement of Message from the President of the United States to the Two Houses of Congress. (Washington: Government Printing Office, 1899). Vol. 2 1180-1183, 1248-1249.
"Cruiser Cincinnati," Fall River Daily Herald (Fall River, Massachusetts). July 12, 1898, p. 1.

Dictionary of American Naval Fighting Ships. Vol.2 (Washington: Naval Department, 1963), 119.

"Stuck on a Rock," Arizona Republic (Phoenix, Arizona), December 19, 1898, p. 1.

"The Cruiser Cincinnati," Baltimore Sun (Baltimore, MD), June 4, 1898, p. 2.

"The Cruiser Cincinnati Floated," Elk Creek Herald (Elk Creek, Nebraska). December 29, 1898, 2.

Weaver, Barry, Col Albert F. Gleim and Danny J. Farak, The West Indies Naval Campaign Medal of 1898 - The Sampson Medal, the Ships and Men. (Arlington, VA: Planchet Press, 1986) (data contributed by Douglas Davis).

---

Support this Site by Visiting the Website Store! (help us defray costs!)

---

We are providing the following service for our readers. If you are interested in books, videos, CD's etc. related to the Spanish American War, simply type in "Spanish American War" (or whatever you are interested in) as the keyword and click on "go" to get a list of titles available through Amazon.com.
---
Visit Main Page for copyright data