---
9th U.S. Infantry, Company C
Recommended Equipment
---
Please Visit our Home Page to learn more about the Spanish American War
---
Click here to read the history of the original Ninth Infantry
Click here to read the goals of the 9th U.S., Company C re-enactment organization
Click here to read about some of the favorite events of the 9th U.S., Comapny C re-enactment organization
Click here for experiences at Fort Meigs, Fort Knox, Fort and St. Clair
Go into battle with the 9th U.S. Company C - read what it is like by clicking here!
Spend a Day in Camp with the 9th U.S. Company C - read what it is like by clicking here!
For a printable/mailable membership form for the 9th U.S. Company C, click here!
---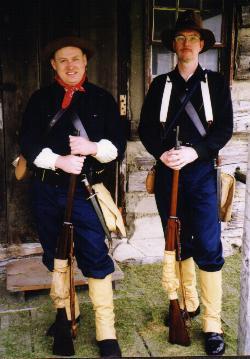 Basic Uniform- to be acquired within 1 year.
Hat- 1883/89 Style, "Trooper" River Junction
Hat Brass-'C'-item CW10, crossed rifles- available from Steve Beaver after joining the unit.
Shirt- 1883/89 Wool, Federal Blue Long Sleeved- River Junction Trading Co.
Trousers- 1885/88 Wool, Infantry Style. - Quartermaster Shop or AEF Supply
Leggings- Ml894 Style
Shoes- Plain Black style, Preferred are- Ml892 style by Missouri Shoe and Boot Co.
Suspenders - The Quartermaster Shop


Rifle and Cartridge Belt
Krag Rifle (Infantry Style) Of Ml892, Ml896, or Ml898- Local gun shop or Gun shows.
Sling,- Military leather style with one Trifoil-M1887- S&S
Bayonet and Scabbard - Paul Milbury or Local Gun or Military Show.
Cartridge Belt- Ml894 Style (is the only accepted style)-James Kanne
Blank Cartridges-.30/40 Krag. - Blanks can be purchased from Steve Beaver

Basic Field Gear- by end of the second year.
Canteen- Ml 878 Style- cover, insulator and long black leather strap- Frazer Bros.
Canteen Cover-Ml878 style-if you have a CW canteen get the cover and strap-Steve Davis
Haversack- M- 1890 Style
Slings- for Canteen and Haversack
Rifle Breech cover- for your Krag
Tin Cup-Ml885 Style- F. Burgess or Frazer Bros.
Mess Kit- MI878 Style or pre 1918 type. Gun Show or Military Show
Mess Utensils-MI874 style or WWI Style-CH29-Knife, CH32 Fork, CH-33 Spoon S&S


Bivouac Gear- to be acquired as situation permits.
Shelter half - CW style from Blockade Runner
End piece for above- Blockade Runner
Pins and Poles - Made after Quartermaster Pattern
Rope- 6' section of cotton rope- Not Clothes line rope.
Blanket- 1878 Style - Gray in color- U.S. in center-we have stencils
Poncho- CW style from Blockade Runner

Garrison Uniform-optional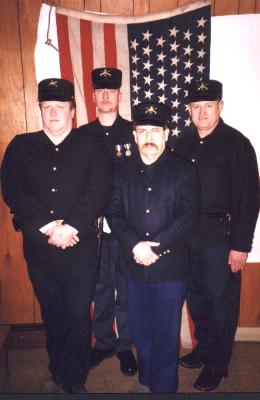 Blouse- M1883- 5 button Style from Quartermaster shop
Belt- Ml874 Style-we make them
Buckle-MI874 item #BB36 from S&S
McKeever Cartridge Box- Frazer Bros. or S&S
Forage Cap-MI885- source being located at this time
Hat Brass for above- same as for 83/89 hat.
It is recommended that new members strive to acquire the basic uniform first. Several members have spare cartridge belts and some weapons for loan at local events. A period of 2 years is allowed to obtain the Basic Unifoms and Equipment.
Because of the availability of the correct M1894 .30/40 cartridge belt is somewhat delayed, more readily available Milts belts will be permitted. Likewise the preferred shoe is the M1892 Style Boot, any plain black style is permitted - No wingtips.
An ultimate goal of all members should be to acquire the Garrison Uniform- However this is an option not a requirement.
Some equipment can be obtained from Paul Milbury. He has been helpful in obtaining Bayonets, cleaning rods, oilers etc. Contact him with your needs.
Because 100% authenticity is our unit's goal we recommend the following Sutlers
Sutlers:
AEF Supply
Call 860-886-1850 6:00 PM to 9 PM Eastern time
River Junction Trade Co.
312 Main St. Box 275 Mc Gregor, Iowa 52157 catalog is $10.00
Paul Milbury-Military historical Arms and Antiques
6912 San Fernando Rd. Glendale, CA 91201
James Kanne-Eureka Arsenal
P.O. Box 1391 Benicia, CA 94510-4391 707-751-1900
Blockade Runner
1029 Bell Buckle Rd. Wartrace, TN. 37183 615-389-6294
Tim Ketcham
15314 Iris Ln- Dumfries, VA- 22026 703 590-4960 evenings (shipping of blanks is no longer available)
Quartermaster Shop
5565 Griswold Road, Kimball, MI. 48074
S&S Firearms
74-11 MyrtleAve. Glendate, NY. 11385 718-497-1100
Frazer Bros.
5501 So.Lamarr Dallas, TX 75206 214-696-1865

---

Support this Site by Visiting the Website Store! (help us defray costs!)

---

We are providing the following service for our readers. If you are interested in books, videos, CD's etc. related to the Spanish American War, simply type in "Spanish American War" as the keyword and click on "go" to get a list of titles available through Amazon.com.
---
Visit Main Page for copyright data
Return to Re-enactors' Page