---
The Roster of the 7th Ohio Volunteer Infantry
Contributed by Richard Mann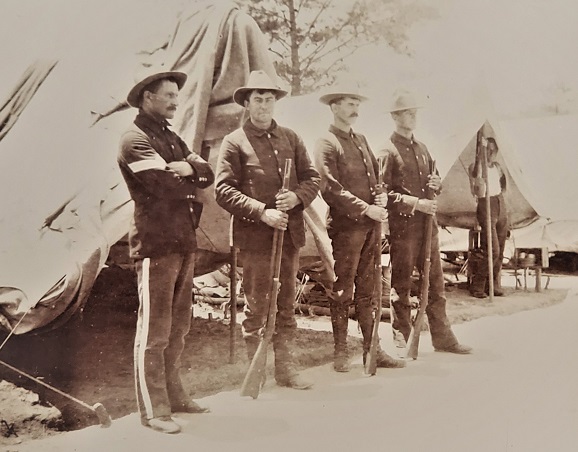 A sergeant and privates from Co. H of the 7th Ohio Volunteer Infantry
---
Please Visit our Home Page to learn more about the Spanish American War
---
Click here for a brief history of the 7th Ohio Volunteer Infantry
---
Regimental Field and Staff ||| Company A ||| Company B ||| Company C ||| Company D ||| Company E
Company F ||| Company G ||| Company H ||| Company I ||| Company K ||| Company L ||| Company M
---
General:
The following is a roster of the 7th Ohio Volunteer Infantry. The unit served its term of service within the continental U.S.
The Roster:
Hamilton, Arthur L. Col., Chillicothe
Burch, Hamlin, D. Lt. Col., Hebron
Hovey, Jusdon, H. Maj., Lower Salem
Irvine, Walter A, Maj., Newark
Gilmore, Tiffin, Adjutant, Chillicothe
Rannells, David A., Surgeon, McArthur
Bonar, Rueben A., Assistant Surgeon, Hebron
Waddle, Edward, F., Assistant Surgeon, Chillicothe
Watkins, William T., Battalion Adjutant, Fleming
Woltz, James M., Battalion Adjutant, Chillicothe
Purdum, James N., Battalion Adjutant, Chillicothe
Life, John M,. Chaplain, Hebron
Regimental Staff:
Briggs, Major L., Regimental Sgt Major
Hamilton, Harry W., Regimental Quartermaster Sgt.
Barrett, Wallace A., Battalion Sgt. Maj.
Socin, Frank E., Hospital Steward
Schambra, Charles C., Hospital Steward
Hoelzel, William N., Hospital Steward
Dolin, Thomas M., Chief Musician
Castle, William L., Principal Musician
Pratt, Charles E., Principal Musician
Field and Staff Discharges:
Brown, William W, Regimental Sgt. Maj.
Gray, Charles S., Quartermaster Sgt. to accept Commission in U.S Marine Corps
Wood, Joseph D. Regimental Quartermaster Sgt. to accept Commission , 2nd Lt., U.S. Volunteer Signal Corps
Scheer, Edward W, Battalion Sgt Maj.
Field and Staff Transfers:
Castle, Olin C., Battalion Sgt. Maj. to Co. M as 1st Sgt.
Field and Staff Deaths:
Wiedler, Edward U., Maj.

Officers:
Blickley, Thomas D., Capt.,
Stichcomb, Dell W., 1st Lt.
Teal, Arthur J. 2nd Lt., from May 18, 1898 to Muster out
Sergeants:
Patton, James W., 1st Sgt.
Emrick, John H, Quartermaster Sgt.
Bowman, Charles R.
Carroll, Whitney P.,
Irvin, Harvey L.
Minor, Fred L.
Corporals:
Adams, Charles E.
Blake, Caleb
Gaver, Earle E.
Harper, Harvey H.
Hitchcock, John W.
Mason, Rufus S.
Milnor, Edwin B.
Rambo, William T.
Rocket, Howard S.
Siemer, John H.
Spencer, Charles J.
Wilson, Victor F.
Musicians:
Kelley, T. R.
Bowman, Edward H.
Artificer:
Watkins, Edward M.
Privates:
Allen, Martin H.
Alvis, James R.
Bell, Eli F.
Black, William E.
Blair, Charles D.
Bland, Septimus
Boling, Ralph
Braddock, Frank M.
Brown, Charles
Brown, Harry Lee
Brown, William J.
Carson, Clarence C.
Colburn, Charles E.
Colburn, George B.
Compton, Fred W.
Connor, Paul M.
Cooke Herbert M.
Crawford, Charles
Crooks, Shelby B.
Drake, John W.
Ferriter, Richard
Freeman, Frank M.
Funk, Charles A.
Garlinger, William
Goodin, George B.
Grinder, Samuel
Hankison, Worle H.
Harmon, James A.
Holcomb, Ephraim K.
Horton, Fred C.
Johnson, Frank F.
Keck, Jacob W.
Kelley, Joseph A.
Larimer, Vernon A.
Lewis, James
Lewis, Schuyler C.
Lowery, Muril C.
McKiernan, Edward I.
Patch, Jesse C.
Penrod, Cyrus F.
Perrigo, William H.
Quest, Frank P.
Rarick, Samuel A.
Ricket, Charles C.
Ricket, Leo P.
Rinehart, James C.
Rinker, Samuel
Seifert, Birchard R. H.
Severance, Jacob
Sheldon, Virgil C.
Sheppard, Howard E.
Sheppard, Thomas D.
Skinner, Charles C.
Slisher, Harry R.
Sowers, Marvin L.
Spencer, Paul R.
Sperry, Charles M.
Spitzer, Elmer
Steele, Charles W.
Stine, Forrest R.
Stowe, Samuel E.
Tague, Jerome
Teal, James A.
Voorhes, Alfred N.
Wahl, Joseph F.
Walker, George M.
Walker, Harry J.
Wallace, Edmund S.
Warfule, Frank H.
Whitmer, Charles E.
Williams, Lewis C.
Williams, Thomas B.
Wiseman, John A.
Wright, Thomas H.
Company A Discharges:
Teal, Arthur, Sgt., promoted to 2nd Lt.
Edward, James, Wagoner
Boring, Guy A., Pvt.
Davis, Marcellus D., Pvt.
Graves, Benjamin Pvt.
Mason, Weaver E., Pvt.
Puterbaugh, Robert W., Pvt.
Rowe, W. Lee., Pvt.
Whitaker, Carlos A. Pvt.
Company A Transfers:
Isham, William J, Pvt. to Signal Corps
Taylor, Horace S. Pvt. to Co. D.

Officers:
Lowry, Frank S., Capt.
Sloane, Albert O., 1st Lt.
Brooks, Herbert W., 2nd Lt.
Sergeants:
Dalton, Frank H. 1st Sgt.
Root, Charles N. Quartermaster Sgt.
Barnes, Fred M.
Border, Benjamin, H.
North, Eli T.
Skinner, William D.
Corporals:
Dalton, Ralph A.
Gist, John D.
Pickering, Charles O.
Musicians:
Bartlett, Harry G.
Thompson, Bernard
Artificer:
Rose, Frank C.
Wagoner:
Staffinger, F. H.
Privates:
Arohalt, Frank O.
Baker, Edward J.
Barnes, Alonzo
Bean, Frank C.
Bean, William H.
Beebe, Peter
Bennett, Edward H.
Black, Charles A.
Brown, Guy H.
Brown, Harry W.
Brown, Justus
Burdsall, Harry S.
Cage, Daniel
Cameron, Charles E.
Cillums, Edward N.
Clark, Thomas E.
Cochran, Malcomb S.
Coe, Edward J.
Davis, Lee
Davis, Thomas E.
Everhart, James M.
Gabriel Earl
Gabriel, William
Gates, George
Gilmore, William F.
Graf, Albert
Green, Frank C.
Greten, John T.
Grones, Lewis E.
Hartley, John
Hawk, H. C.
Headley, Sanford A.
Hill, Hubert O.
Hollett, Clarence
Kale, Pearl H.
Kaler, Watson J.
Keeney, Grandville
Kelly, Charles
King, Hoyt S.
Kinkade, Charles R.
Kinkade, Millard F.
Kirkendall, Emmett R.
Knowles, John O.
Laughlin, Charles H.
Lehman, Joshua A.
Lowry, Don R.
Matheny, William M.
McConaha, John D.
McKinstry, Kossuth T.
McKinstry. Charles
McNanamay, James H.
Milligan, Albert
Milligan, Harry
Moore, Edward C.
Morrison, Harry
Murohy, Lincoln J.
Nanna, Douglas G.
O'Connor, James A.
Peters, John H.
Poston, Charles H.
Rabe, Frank A.
Rasmussen, Hugh P.
Raymond, Elmer H.
Roach, John J.
Rosser, Reno
Sackett, Guy A.
Salters, Elza
Sams, Eber J.
Sands, James H.
Shockey, George W.
Shockey, Joseph A.
Sickles, Lester E.
Six, Peter
Slaughter, Davis C.
Smith, John W.
Thompson, Hart
Thornton, John M.
Tinker, Orlaf G.
Waring, Docktor, L.
Wilt, Walter, U.
Woodworth, E. C .
Company B Discharges:
Edmundson, Clyde E., Cpl.
Charter, Howard. J., Cpl.
Stearns, Clifford, H., Cpl.
Blakely, Jesse, Pvt.
Lowry, Alonzo P., Pvt.
Richmond, Earl, Pvt.
Sutton, Herbert, Pvt.
Brown, William A., Pvt.
Daily, Orville D., Pvt.
Gibson, Ned C., Pvt.
Hambeton, Benjamin F., Pvt.
Company B Transfers:
Faires, William C., Sgt

Officers:
Bovie, Verne M., Capt.
Good, Joseph W., 1st Lt.
Needham, Charles W. H., 2nd Lt.
Sergeants:
Morgan, Everett H. 1st Sgt.
Sutherland, A.T. Quartermaster Sgt.
Eakins, Bert, W,
Karr, Irving R.
Kinder, Charles R.
Martindill, Milliard L.
Corporals:
Chick, Berry
Dugan, Dennis
Durkee, Will
Hanger, David J.
Kuhn, William S.
Martin, Emory
Mathena, John H.
Phetteplace, Odell W.
Safford, Thomas C.
Small, Charles W.
Waddell, George E.
Whittaker, Aaron
Musicians:
Jenks, Earl R.
Wood, Clyde, A.
Artificer:
Hunnel, George D.
Wagoner:
McCune, - -
Privates:
Angell, Henry I.
Baily, Edgar
Blair, Wiley G.
Blake, Ansel T.
Broyles, John W.
Call, Emory
Carter, Will W.
Chambers, William F.
Cofer, Francis
Coven, William C.
Dales, Thomas C.
Dawson, Arthur C.
Dewitt, Herschel M.
Dickard, Randall
Drummond, Chas E.
Dyer, James S.
Dyer, Luther
Edwards, Newton
Elliott, Henry
Fierbaugh, Jacob E.
French, Charles
Frownfeller, Oto
Glenn, Andrew J.
Gould, John W.
Hall, John R.
Halley, John R.
Halley, Samuel T.
Hambin, John
Harrington, Perue
Harrison, Rufus D.
Hashbarger, Albert
Jacox, John L
Jeffers, Tom E.
Jones, Garfield
Karr, Horace W.
Kinder, Frank
Knuckles, William
Long, Albert
Lowe, Joseph R.
Martin, James V.
Mc Kean, John W.
McCain, George W.
McCarly, Frank P.
McKillin, Henry
Moats, Frank
Monk, John
Morgan, Charles R.
Mossman, Howard
Nanna, Lee W.
Neal, Thomas J.
Notter, Lewis A.
Plants, Jerome
Ray, Peter G.
Reynolds, Pearl
Rhodes, Jacob N.
Roach, Douglas
Roach, Samuel
Rusk, Charley
Strobel, Carl A.
Taylor, John R.
Theviner, John W.
Thompson, John
Trobridge, Jefferson D.
Warden, Richard W.
White, George R.
Wright, Clarence E.
Company C Discharges:
Owens, William M., Cpl.
Broyles, Ezra E., Cpl.
Ghist, Millard, Sgt.
Dairyple, Bradford
Myers, John
Angell, Lewis R.
Coulson, Bruce
Couison, Harry
Calhoun, Ira E.
Eads, John W.
Haley, David L.
Holston, William
Hazlett, Prins
McConnell, Morris
Mooney, William H.
Phillips, Rome
Thevenin, Thomas
Wall, Carl M.

Officers:
Wooster, Fred C., Capt.
Rhodes, James H., 1st Lt
True, Otis, A., 2nd Lt
Sergeants:
Blake, Edward, 1st Sgt.
Miraben, Lee, Quartermaster Sgt.
Alban, Rees A.
George, F. Zumbro
Hartshorn, Joseph P.
Whetstone, Allen M.
Corporals:
Boeshaar, Fred C.
Folger, Theodore
Hartshorn, Elum D.
Hockenberry, Clinton
Jacobs, William H.
Koon, Warren M.
Smith, Emery F.
Stickrath, August J.
Twiggs, Warren A.
Watkins, Harry T.
Wharf, Archie, A.
Wilson, Clyde E.
Musicians:
Hardy, M. L.
Hoffman, Edward
Artificer:
Suder, Jacob
Wagoner:
Wilson, Truman
Privates:
Abicht, August
Abicht, James W.
Addlespurger, James F.
Amos, Elmor E.
Anders, Christian
Augenstein, George
Baker, John
Ball, Allen
Barnes, George H.
Belford, Walter
Best, Charles H.
Biehl, Frank H.
Bond, Walter
Bowen, William A.
Bowman, Frank W.
Breckenridge, Wallace
Briggs, Harry
Broom, Henry
Cain, Durward C.
Chapman, Albert E.
Chapman, Elmer S.
Cline, George T.
Cooley, Herman S.
Craig, Ellsworth
Davis, Richard
Davison, Ellas E.
Dye, George
Enochs, Warren E.
Evans, James F.
Foraker, Richard E.
Geren, Walter F.
Gilda, Patrick L.
Gildea, Leonard
Hardy, Arthur G.
Heiddieson, Charles H.
Howell, Ivan
Jackson, Albert
James, Homer M.
Jewell, Lewis E.
Johnson, Irving J.
Kehl, Henry
King, Richard
Knox, Delmar
Laurie, William
Lehuhard, Carl Jacob
Lent, Charles A.
Lightner, George N.
Love, Edward
Mattern, William G.
McClure, Frank G.
McCullough, David R.
Miller, Cliffton E.
Miller, John
Miracle, Wade
Nott, Oscar M.
Oliver, Charles H.
Posey, Alexander
Prewett, George M.
Pryor, Isaac M.
Rhodes, Charles
Richey, Arthur
Richey, Lumley H.
Sanders, Walter J.
Sarver, Ernest L.
Schofield, Carl S.
Semon, Alfred H.
Shockey, Chauncy P.
Slack, William H.
Smith, Enoch F.
Smith, Walter G.
Stackhouse, Doctor J.
Stover, George W.
Travis, Hes
Trein, Frank
Whetstone, Fred
Wilking, Earnest
Williams, Reese E.
Company D Discharges (Privates, unless otherwise noted):
Heydrick, Gilbert F.
Keerps, George
Manoway, William
Neff, James
Richie, Pete
Taylor, Horace S.
Weiss, Jacob
Company D Transfers (Privates, unless otherwise noted):
Hart, Thomas W. to Signal Corps
Wilson, Albert to Co. H
Company D Deaths:
Worstell, John C., Pvt.

Officers:
West, William, Capt. Gross, Edward M, May to August 1898, 1st Lt. Hanshumaker, Louis S., 1st Lt., August 18, 1898 to Muster out
Brooks, Frank O., 2nd Lt., May to July 1898
Hanshumaker, Louis S., 2nd Lt., July 12 to August 18, 1898 Hare, Charles W., 2nd Lt., August 18, 1898 to Muster out
Sergeants:
Hare, Frank, 1st Sgt.,
Cunningham, F., Quartermaster Sgt.
Miller, William C.
Nikolaus, Forrest C.
Stewart, William J.
Corporals:
Breese, Frank C.
Davis, William L.
Gillespie, John C.
Hubbard, Frank S.
McCool, Samuel A.
Powel, George W.
Travis, Robert
Musicians:
Cunningham, C .J.
Wisecup, C. E.
Artificer:
Sibson, William W.
Wagoner:
Kirkbride, H. W.
Privates:
Barron, Louis
Bauer, Herman E.
Bond, William J.
Bratton, Edward A.
Buckle, George L.
Carter, Samuel
Cunningham, Harry
Dillon, John E.
Donocan, William A.
Elliott, Otto R.
Fisher, John I.
Fox, Charles W.
Gautschi, Otto
Greenwood, Homer, L.
Griffin, Robert W.
Hamilton, Edwin F.
Hanna, Frank L.
Heath, Thornton A.
Hill, Harry
Hofferm Albert R.
Irwin, Melvin O.
Keener, Clay
Ketter, Earl W.
Leach, David F.
Lentz, Harvey A.
Long, Elmer P.
Mann, Homer D.
Meyers, Charley
Miracle, Forest H.
Moore, Hiram
Murphy, Herbert
Neely, George E.
Pilcher, William
Pruden, William J.
Ridgeway, William D.
Riley, John Charles
Smith, Howard
Smith, William C.
Stone, Ralph D.
Tharp, Edward S.
Thomas, Daniel H.
Thompson, Howard C.
Ward, Adam
Way, Thomas F.
Way, William S., Jr.
Wheeler, Frank
Wolbert, Richard
Woods, Harry
Company E Discharges:
Bennett, Homer L, Pvt.
Blowers, Robert P., Pvt.
Breece, Charles A, Pvt.
Brooks, Frank O, 2nd Lt.
Campbell, Carl T., Pvt.
Cline, Liewellyn, J., Pvt.
Cook, Branch W. Pvt.
Davis, James, Pvt.
Dipple, Theodore, Pvt.
Eaton, George W., Pvt.
Eddy, Charles D., Pvt.
Elrod, William E., Pvt.
Galbraith, William P., Cpl.
Gross, Edward M., 1st Lt.
Grubbe, William J., Cpl.
Hall, Ira, Cpl.
Hanshumaker, Louis S. Sergeant, to accept commission as 2nd Lt.
Hare, Charles W. Sergeant to accept commission as 2nd Lt.
Harris, Harry, Pvt.
Kane, Hugh B, Cpl.
Kastner, Benjamin W., Pvt.
Kerr, Patrick M
Killene, Edward, Pvt.
Lamping, Frank, Pvt.
Mann, Trueman H., Pvt.
Mason, Charles F., Pvt.
McBee, Charles, Pvt.
Perry, William J., Pvt.
Reidell, Charles A., Pvt.
Rib, William, Pvt.
Stickle, Alex, Pvt.
Thompson, George B., Pvt.
Wood, John C, Wagoner

Officers:
McClain, Baxter D., Capt.
McClure, Charles A. 1st Lt.
Compton, Charles B, 2nd Lt.
Sergeants:
Hayes, Stewart B., 1st Sgt.
Lang, John H., Quartermaster Sgt.
Carnes, Roy R.
Carpenter, Charles W.
Davis, Harvey B.
Hack, Harry D.
Corporals:
Callentine, George
Carnes, Grafton
Jackson, David
Milligan, William C.
Richard, John
Williams, Asa
Musicians:
Platt, Albert M.
Rudolph, Charles
Artificer:
Spahn, Thomas
Wagoner:
Ferrell, G. C.
Privates:
Albert, John A.
Bible, Adam
Bible, Howard
Bock, George J., Jr.
Burchfield, David
Callentine, Charles
Clark, James
Cochran, Bert J.
Collins, Benjamin J.
Compton, William
Courtright, Harvey
Crown, William L.
Dawson, William
Dunmead, Archibald C.
Dunmead, John
Elson, Harrison
English, Osburnfortune, James
Freeman, Edward E.
Gardner, John W.
Groh, John
Guild, Thomas A.
Hankins, Samuel S.
Henderson, Charles O.
Hook, George M.
Huffman, James
Jones, Edward P. L.
Kastetter, William W.
Kunnemund, William
Lane, Walter
Latham, Letham, Lemuel G.
Lazelle, John
Longstreth, Stephen T.
Lynch, William
Manning, William
McClain. Noah L.
McDonald, Lawrence E.
McKenna, Hugh
McMannis, Charles E.
Miller, Claude L.
Miller, Ernest C.
Mills, Earl A.
Patton, Roy J.
Phillips, William H.
Poole, Charles
Powelson, Judson H.
Remer, Harry
Richard, Samuel T.
Richard, Thomas H.
Savory, Eugene F.
Scherrer, John
Senft, Charles
Shaw, George
Shumate, Guy O.
Smith, George S.
Squires, William J.
Talmadge, Grey
Tish, Fred
Wells, James F.
West, George W.
West, Thomas
Woods, Melville C.
Company F Discharges (Privates unless otherwise noted):
Moore, Harry D., Cpl.
Temple, Robert M., Cpl.
Linn, Franklin C., Cpl..
Culberston, Harry, Cpl.
Herbig, Carl R., Cpl.
Bruminger, Clarence
Carpenter, Adolphus D.
Grob, Robert
Weller, Samuel, A.
Arnold, Robert M.
Carter, Charles
Crawford, John
Dawson, Carlos
House, Florus A.
Howard, Harry
Jones, Lloyd T
Koenler, Malcom
Lammer, Andrew J.
Mayer, Ralph
Monahan, William H.
M Carter, Arthur
Shepperd, Clarence
Company F Transfers:
Barrett, Walter S., Pvt., to Signal Corps
Rice, Edgar, Pvt., to Signal Corps
Stewart, Thomas C., Pvt., to Signal Corps
Wolf, Arthur, Pvt., to Signal Corps
Company F Deaths:
Snell, Eugene Jr.

Officers:
Blizzard, Elmer, Capt.
Allen, Carlos B., 1st Lt.
Crawford, George C., 2nd Lt.
Sergeants:
Hamilton, Charles C., 1st Sgt.
Beadle, S. H., Quartermaster Sgt..
Deedim, George
MacDonald, James D
Rille, Fredrick E.
Walton, Charles F.
Corporals:
Alexander, Frank
Baird, Granderson A.
Burke, Michael J.
Eisner, Richard E.
Gooch, Harry L.
Hickey, Dennis J.
Matthews, Charles E.
McCullen, Calvin C.
Ritter, Henry C.
Roe, George E.
Stafford, Ollie E.
Staugh, William H.
Musician:
Marvin, Fredrick T.
Artificer:
Rosebraugh, C. H.
Wagoner:
Vanatta, Frank
Privates:
Allbaugh, Stephen
Amstrong, Moses W.
Anspaugh, Josiah
Bacon, Edward O.
Bagent, George F.
Bashing, Clarence J.
Bishop, Grant
Brown, John C.
Brubaker, William E.
Canady, William
Chambers, John R.
Craig, Walter E.
Damuth, Jason L.
Davis, William
Drapert, Fredrick H.
Edwards, William G.
Fox, Joseph A.
Griffith, Harry B.
Heffley, Daniel
Heim, William H.
Hitchey, Harry J.
Irwin, Fredrick H.
Jones, William R.
Kidwell, George F.
Lederer, Clarence
Loder, Elmer R.E.
Lydic, Delford, J.
Magill, David H.
Mason, George H.
Mayne, Charles A.
McCabe, Peter D.
McCabe, William T.
McCammon, John C.
McNeal, Charles A.
McNeer, Robert E.L.
McNullen, Arthur D.
Mills, William
Moore, Samuel
Nebis, William F.
Neimeister, Home D.
Norman, Edward R.
Norman, John D.
O'Neil, Albert N.
O'Neil, Joseph
Oakleaf, Albert D.
Porter, Stephen, F.
Price, Edgar
Quayle, Jack
Reese, Jesse T.
Rouse, John
Shank, Roy
Shaw, Tillman
Shepherd, Orrie V.
Shrock, Robert T.
Shull, Forrest M.
Smith, William I.
Snider, Mark B.
Stouffer, Wine B.
Stricklin, William P.
Sunderland, Benjamin
Swager, George
Thatcher, Ray
Thompkins, Charles E.
Thompson, James G.
Turner, Charles F.
Walcott, Edgar M.
Warden, Clyde
Weaver,Collins A.
Weekly, Scott H.
Whitten, Frank J.
Williams, Samuel
Woodbury, William N.
Company G Discharges:
Petrey, Charles C., Sgt
Magley, Robert A., Musician
Sloan, Henry, Cpl.
Effinger, Virgil A., Pvt.
Van Wey, Calvin, Pvt.
Wright, Mertis, L. Pvt.
Johnson, Ernest E. Pvt.
McKenna, Edward, Pvt.
Company G Transfers:
McFarland, Edward R., Quartermaster Sgt. to Signal Corps
Alberts, James W., Pvt., to Co. H
Schneph, Frank, Pvt., to Co. H.
Duncan, Charles H., Pvt., to Signal Corps
Hayes, Orrison, J., Pvt., to Signal Corps
Thompson, Harry H., Pvt. to Signal Corps
Company G Deaths:
Kinbark, Albert H., Pvt.
Lee, John J., Pvt.
Sheffin, John T., Pvt.
Company G Desertions:
Kennedy, John M.

Officers:
Brindle, George W,. Capt.
Hurst, Luther, B., 1st Lt.
Franklin, Robert S., 2nd Lt.
Sergeants:
McCoy, Arthur, L., 1st Sgt.
Hedrick, W. E., Quartermaster Sgt.
Stewart, William H.
Somers, Clark
Wilson, Albert
Wolcott, William A.
Corporals:
Cronin, James J.
England, Charles H.
Hand, Harry E.
Hayden, John F.
Howson, John H.
Jones, Forney C.
Korst, Louis E.
McCollister, James C.
Minshall, William E.
Raper, Ernest W.
Ray, Victor L.
Schneft, August
Musician:
Voores, R. L.
Artificer:
Hugill, Homer
Wagoner:
Markam, Ernest
Privates:
Abernathy, Charles W.
Alberts, James W.
Ankrom, Harry
Barnes, Arthur F.
Bean, Herbert
Bohnen, Gustave S.
Clark, Albert
Cleveland, Charles P.
Curtight, William A.
Davis, David E.
Eisenhart, Joshua S.
England, Asa
Gettle, Fred W.
Gilsdorf, Charles
Gudgen, Harry C.
Hall, Frank D.
Hall, Robert J.
Hammel, Edson B.
Hathaway, William R.
Hixon, Benjamin F.
Honser, Louis S.
Ishler, James A.
Jarrach, William
Jeffs, James D.
Johnson, John
Johnson. Jacob
Jones. Charles
Kelley, Clarence
Kelley, James W., Jr.
King, Thomas
Kirsh, Fred Jr.
Krick, Jacob
Laubenschelmer, G.W.
Lewis, Thomas C.
Marsh, Arthur C.
Mason, George E.
McCollister, Chaincy
Mercer, Jesse C.
Miller, Charles
Miller, Frank
Miller, George
Miller, Jacob F.
Miller, John E.
Miller, Wesly R.
Moore, Guy H.
Nation, Carey
O'Mally, John
O'Neal, Charles F.
Overly, Kell
Overly, Noah
Pickens, Julius
Prose, William L.
Quick, Harvey S.
Renick, Joseph D.
Rhoads, William H.
Richard, Charles
Schneph, Frank
Sears, Walter J.
Shaffer, Bert
Smith, Harry W.
Stitt, Jon G.
Story, Samuel C.
Swatman, Titus A.
Thorne, Jesse
Throckmorton, G.L.
Watts, William B.
Whaley, Fred
Whetstone, William
Wisehart, Neal P.
Company H Discharges:
Hughes, Louis P., Cpl.
Carroll, George S., Cpl.
Lansing, Horace C., Musician
Korst, Albert, Pvt.
McFerrin, Albert W., Pvt.
Coffer, Charles, Pvt.
Conelley. James W., Pvt.
Crosby, George E., Pvt.
Eisenhart, James E., Pvt.
Feuchtner, Leo A., Pvt.
Krick, Frank, Pvt.
McGowan, John F., Pvt.
Stephens, William A., Pvt.
Company H Transfers:
Magley, Robert , Pvt., to Co. G
Chapman, Barnard O., Pvt. to Signal Corps.
Reed, parker C. to Signal Corps.
Hamilton, Edwin F. to Hospital Corps
McDonald, Lawrence to Co. F.
Briggs, Major L, Pvt., to regimental Staff as Regimental Sgt. Maj.

Officers:
Thompson, Carmi A,. Capt.
McQuigg, Charles B., 1st Lt.
Corn, Edward E., 2nd Lt.
Sergeants:
Voglesang, H. A., 1st Sgt.
Pratt, Eugene L., Quartermaster Sgt.
Libbee, Edward M.
Smith, Carey L.
Smith, Edward C.
Thompson, William E.
Corporals:
Clarke, William J.
George, Fred W.
Gibbons, Arnold E.
Meyers, William H.
Murdock, Clarence K.
Murdock, Thomas H.
Sample, Aaron C.
Spencer, George
Thuma, Allen L.
Vaughan, Joseph
Young, Joseph A.
Zimmerman, Oscar J.
Musicians:
Callahan, M .J.
Martin, Byard D.
Artificer:
Kemp, Karl C.
Wagoner:
Martin, Fred
Privates:
Allen, Leete H.
Amos, M. Burt
Berridge, Alanzo
Blackwell, Ross R.
Blankenship, Henry
Breece, Elza E.
Burwell, William
Clark, Harry L.
Coffman, Martin V. B.
Corns, Walter C.
Courtney, Willis C.
Cox, Harry G.
Coyer, David
Currington, George
Dempsey, Thomas A.
Doughty, Willard
Elsberry, Benjamin F.
Farmer, Thomas A.
Fellure, Curtis
Gates, Edwin F.
Grant, Charles
Gray, George H.
Haggerty, James G.
Hailey, Harry
Hardy, John
Hart, Harry C.
Hartman, Fred
Harvey, Charles A.
Haskins, Thomas E.
Hastings, Charles F.
Hastings. Lawson D.
Hatton, Robert
Heldorn, Willard
Hosey, Manford A.
Hunter, Henry
Hyland, James F.
James, Oscar W.
Johnson, James
Jones, Charles Richard
Justice, Charles C.
Justice, Phillip G.
Kady, John
Kelley, Frank
Kelly, James M.
Kingery, William H.
Knuth, John P.
Lang, John G.
Lauder, George C.
Leighty, Percy J.
Lewis, John G.
Lynd, Fred D.
Mack, Thomas M.
Martin, Ben W.
Miller, George M.
Moseman, William M.
Mountain, Ralph W.E.
Myers, Joshua H.
Neal, Robert
O'Brien, Edward
Palmer, Emory W.
Pancake, Edward D.
Pancake, Ville
Patterson, Carl G.
Pilcher, David
Rafferty, George E.
Ratliff, Hiram
Rodgers, Charles
Sanders, Henry B.
Schweninger, Frank
Selb, Emery A.
Sharp, Thomas L.
Shelton, Howard
Steed, Albert M.
Turney, Edward C.
Vermillion, J. Frank
Weber, Frank
Willer, Charles F.
Wilson, Frank W.
Wolfe, Cecil O.
Wright, George E.
Wright, William L.
Company I Transfers:
Gray, Charles, Pvt., to field and staff as Quartermaster Sgt.
Reed, William H., Pvt., to Signal Corps
Renick, George S., Pvt., to Signal Corps
Vance, Walter, Pvt., to Signal Corps
Woods, Charles H., Pvt., to Signal Corps
Golden, Newton, Pvt., to Hospital Corps

Officers:
Millhouse, Jonathan, Capt.
Jones, Edward L., 1st Lt.
Andrews, Stemper W., 2nd Lt.
Sergeants:
Munson, Morton M., 1st Sgt.
Jones, Cary W., Quartermaster Sgt.
Atwood, Septimus
Rousculp, Reno B.
Shepardson, John
Corporals:
Baker, Benjamin
Baker, Edward G.
Courtney, John B.
Duggleby, John W.
Jones, Arthur H.
Lake, Charles W.
Webb, William J.
Witmer, Galenus D.
Musicians:
Burch, Charles H.
Smith, Wilbur C.
Wagoner:
Gallagher, --
Privates:
Allen, Thomas
Badakin, Ira E.
Barrett, Michael J.
Belt, Oscar C.
Bries, Louis L.
Brison, Henry C.
Carpenter, Eber
Coleman, Charles F.
Corder, Stewart
Crawshaw, James O.
Critton, Gabriel M.
Croy, James
Davis, Foster
Davis, John D.
Davis, John L.
Deeds, Alva S.
Elliot, Jesse R.
Ferrell, Oliver M.
Goodin, John J.
Hamilton, Harry B.
Harriman, Edgar B.
Harris, Emory L.
Harris, Wilbur S.
Hartman, Berton
Haynes, Arthur
Heston, Frank F.
Insley, Charles B.
Jordan, Samuel
Jury, Ross W.
Lafollett, John
Laird, Harry W.
Lamp, Raymond E.
Lunbeck, Frank F.
Lunbeck, Ralph D.
Mariner, Charles
McCandlish, William N.
McCourt, James J.
Mechling, Albert J.
Miller, James H.
Miller, Murray
Miner, Taylor F.
Moore, Samuel R.
Orr, Clarence E.
Parrett, Harlan A.
Parrett, William A.
Phillios, David
Price, Earl E.
Price, Nick E.
Putman, Robert P.
Rose, William W.
Roshon, Archie A.
Snyder, John C.
Spang, George S.
Spang, John E.
Spangler, Frank
Spenny, Thomas W.
Trigg, Samuel B.
Walker, Ralph
Wells, Charles N.
Welsh, James A.
White, John F.
Wiles, James H.
Wilkins, Clarence D.
Williams, Arthur M.
Williams, Lewis H.
Williams, Rollin F.
Company K Discharges:
Rison, Joseph F, Sgt.
Scovell, David W., Cpl.
Fettersm George C., Cpl.
Frinkbone, Allen T., Cpl.
Boyer, George W., Cpl.
Shellenberger, Reuben R., Artificer
Bishop, Harry A., Pvt.
Chestnut, Charles, Pvt.
Daniel, Walter V., Pvt.
Crabtree, Sherman, Pvt.
Geil, Oren G., Pvt.
Harlow, William F., Pvt.
Harmon, Judson, Pvt.
Holiberg, Louis H., Pvt.
Insley, Simpson, Pvt.
Jenkins, Perry O., Pvt.
Koch, John R., Pvt.
Miller, Arthur R., Pvt.
Voorhis, George H., Pvt.
Witte, Herbert L., Pvt.
Wright, Wiley, Pvt.
Company K Transfers:
Abernathy, Charles, Pvt., to Co. H
Gettler, Fred W., Pvt., to Co. H
Gilsdorf, Charles, Pvt., to Co. H
Houser, Louis, Pvt., to Co. H
Ishler, James A., Pvt., to Co. H
Jeff, James D., Pvt., to Co. H
Johnson, Jacob, Pvt., to Co. H
Kernst, Albert, Pvt., to Co. H
King, Thomas, Pvt., to Co. H
Overly, Noah, Pvt., to Co. H
Whaley, Fred T., Pvt., to Co. H
Wisehart, Neal P., Pvt., to Co. H

Officers:
Gerber, Louis N., Capt.
Russell, Fredrick S., 1st Lt.
Bell, Raymond H., 2nd Lt.
Sergeants:
Barrett, William H., 1st Sgt.
Parsons, Edward J., Quartermaster Sgt.
Bunce, Frank R.
Schreiner, Fredrick W.
Skinner, Liston A.
Zins, Julian
Corporals:
Beaver, Albert J.
Downing, Earl
Farmer, Orval D.
Hartley, Charles A.
Harvey, Walter
McCracken, Herbert L.
Nichols, Ira
Petty, Fred C.
Raynolds, Ernest E.
Rice, Charles E.
Root, Sarnie, O.
Willcock, Jurell A.
Musicians:
Hartley, Oliver A.
Jarvis, William H.
Artificer:
Baber, George H.
Wagoner:
Anderson, Edward
Privates:
Adams, Joseph E.
Allen, Lewis J.
Ament, Joe
Arnold, Gustav
Bailey, David T.
Bartels, William E., Jr.
Bengel, Harry T.
Beuchler, Henry
Boring, James N.
Bowman, Carlos H.
Bryan, Earl F.
Butricks, Joseph N.
Cady, Willis B.
Carey, Charles A.
Carnal, Jesse W.
Chase, Frank E.
Cotterill, Elanthem
Crosby, Cyrus S.
Dewees, Henry S.H.
Dickerson, James H.
Duffy, Thomas D.
Dumble, Fred M.
Ebersbach, William H.
Encwiller, Joseph
Eppelin, Theodore C.
Estep, Jacob
Flanegin, Arthur W.
Fuller, Curtis A.
Gorsuch, William T.
Harner, Emerson G
Harper, Emerson G.
Hartley, Aaron W.
Hartlinger, Merril J.
Hawkins, Clarence F.
Hess, William
Hobbs, Samuel
Hodge, Harry E.
Hogg, Harry E.
Hovey, Gilbert A.
Hulbert, Clyde B.
Jarrett, Sidney A.
Jones, Floyd R.
Kalb, Fred O.
Keebne, Charley H.
Kepler, Charles A.
Koester, Wesley S.
McKenzie, James F.
Mercer. Leslie L.
Mills, Joseph E.
Minich, Theodore E.
Mitchell, Howard H.
Moore, James F.
Morris, Edgar H.
Morris, Edgar M.
Murray, James E.
Nast, Otto B.
Nelson, James L.
Parsons, Charley
Pearce, Milton L.
Peyton, Andrew
Pullins, Charles W.
Redd, Greely
Reibel, Phillip
Renter, Theodore C.W.
Reuter, Charles H.
Root, Hezzie S.
Rowley, George W.
Russell, Winifred L.
Sauer, Edward
Sauvage, George W., Jr.
Schlaegel, Peter
Shaver, Orville O.
Stansbury, Charley W.
Steel, John L.
Swisher, Benjamin W.
Terrell, William F.
Webb, Robert L.
Wendland, William F.
White, Evert E.
Winters, Lane H.
Company L Discharges:
Laird David C., Pvt.
Parker, Harry C, Pvt.
Company L Transfers:
Jewell, Lewis E. to Co. D
Hammel, Edson B., to Co. H

Officers:
Castle, William A., Capt.
Burke, John E., 1st Lt.
Berton, John S., 2nd Lt.
Sergeants:
Castle, Olin C., 1st Sgt.
Brown, Alvin H., Quartermaster Sgt.
Berton, James E.
Cappell, Theodore G.
Jullen, Otto
Umpleby, Arthur
Corporal:
Castle, John H.
DeGreif, Edward P.
Devine, Walter
Goldburn, William
Keesey, Edwin B.
Kothe, Daniel C.
Lewis, Sherman
Thompson, Charles B.
Tweed, Harry J.
Musicians:
Bippus, George W.
Elson, David C.
Artificer:
Fowler, John D.
Wagoner:
Beck, Henry E.
Privates:
Auld, Clyde G.
Barr, Charles R.
Benton, George I.
Billings, Arthur A.
Bolter, William T.
Booth, Daniel F.
Brown, Oliver S.
Cahill, James C.D.
Carson, John D.
Champlin, Herbert B.
Cook, Joseph D.
Cordray, David
Corey, George W.
Cox, Charles L.
Cox, Charles W.
Creter, Schubert R.
Criss, William C.
Davis, Francis M.
Duff, Roland O.
Fearon, M.G.
Feckey, John W.
Frame, Charles
Gibson, Fredrick
Graham, William
Hanna, Albert D.
Harbolt, Clark P.
Harris, Claude E.
Hewison, Joseph
Hillyer, George E.
Hines, Charles A
Holbrook, Stewart A.
Hunt, Andrew J.
Jones, Charles A.
Keller, Edward
Kennedy, John H.
Kothe, Fred A.
Lamneck, Augustus
Lamneck, Edwin
Lewsi, John E.
Lockhart, Edward P.
Lowe, Thomas W.
Ludwig, Clarence
Lutrell, Arthur S.
Lutrell, Walter B.
Marshall, William O.
McCoun, Aaron E.
McCullough, George I.
McGuire, John
Mish, Ralph Y.
Miskimen, Frank S.
Molan, Walter H.
Murray, Wheeler S.
Norman, Frank M.
Norris, William S.
Oppihle, John W.
Parks, Charles H.
Pollen, Lewis E.
Randall, William E.
Rogers, Thomas C.
Roney, Charles E.
Row, Arthur D.
Sells, Bert F.
Shanks, William M.
Shull, Roy
Shurtz, A.M.
Shurtz, W.S.
Speers, Waldo J.
Stevenson, John
Stewart, George N.
Stewart, William W.
Storing, Henry W.
Tweed, Frank B.
Wassem, Bert
Whitman, James S.
Winegarth, Albert G.
Company M Discharges:
Converse, Jay F., 1st Sgt
Dempster, Charles W., Cpl.
Crabtree, Fredrick B., Pvt.
Davis, Rolo R. , Pvt.
Cope, Clarence E., Pvt.
Bell, Howard D., Pvt.
Gaddle, William, Pvt.
Havner, William H., Pvt.
Johnson, Charles A., Pvt.
Price, Frank D., Pvt.
Stitt, David G., Pvt.
Wright, George W., Pvt.
Company M Transfers:
Gudgeon, Lanle, Pvt. to Signal Corps
Lewis, William E., Pvt., to Signal Corps Pvt
Barnes, Edwards O, Musician, to Signal Corps
Miskimen, John S. Artificer, to Signal Corps
Jarrach, William to Co H.
Company M Deaths:
Johnson, William H., Pvt.
---
Bibliography:
Official History of the Ohio National Guard and Ohio Volunteers. (Cleveland: The Plain Dealer (newspaper), 1909).
Peacock, Marcus - Image of Co. H
---

Support this Site by Visiting the Website Store! (help us defray costs!)

---

We are providing the following service for our readers. If you are interested in books, videos, CD's etc. related to the Spanish American War, simply type in "Spanish American War" (or whatever you are interested in) as the keyword and click on "go" to get a list of titles available through Amazon.com.
---
Visit Main Page for copyright data