---
A Brief History of the Third Virginia Volunteer Infantry
By Patrick McSherry
---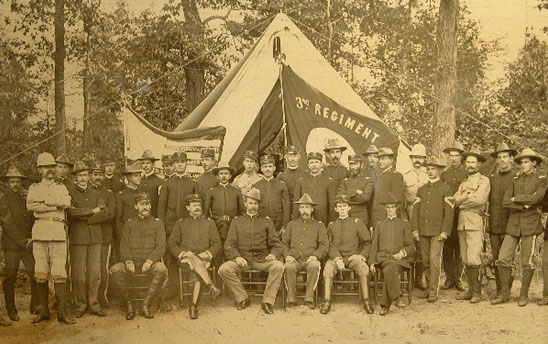 Officers and non-commissioned officers before the of the 3rd Virginia Volunteer Infantry

---
Please Visit our Home Page to learn more about the Spanish American War
---
Click here for a roster of the Third Virginia Volunteer Infantry
---
General:
The 3rd Virginia Volunteer Infantry did not see service outside of the continental United States during the Spanish American War.
Unit History:
The 3rd Virginia Volunteer Infantry was mustered into service at Richmond, Virginia between May 13 and 26, 1898. At the time of its mustering in, the unit consisted of forty-six officers and 955 enlisted men.
The regiment served as part of the First Division of the Second Army Corps, and was encamped at Camp Alger, near Dunn Loring, Virginia. Later, on August 2, it was assigned as part of Second Brigade, Third Division of the Second Amy Corps.
As the spring changed into summer, and disease began to break out, and by August, the decision was made to move the entire Second Army Corps to a new camp at Middletown, Pennsylvania, called Camp Meade. While at the camp, there was a fight of some sort between a white nurse and a black teamster. Some in the regiment attempted to form a lynching party, but the event was stopped, and the regiment was subjected to four role calls per day.
The regiment was mustered out of service on November 5, 1898 at Richmond, Virginia. At the time of mustering out, the regiment consisted of forty-six officers and 1,222 enlisted men.
During its term of service, the regiment had one officer and twelve enlisted men die of disease. In addition, one enlisted man committed suicide and one was court-martialed. Significantly, and unusually, the regiment had no desertions during its period of service.

---
Bibliography:
(As a service to our readers, clicking on title in red will take you to that book on Amazon.com)
Clerk of Joint Committee on Printing, The Abridgement of Message from the President of the United States to the Two Houses of Congress. (Washington: Government Printing Office, 1899) Vol. 3, 474, 477, Map of Camp Alger, opposite page 484..
Pendleton, Robert - photo of the 3rd Virginia
Sauers, Richard A., Pennsylvania in the Spanish-American War. (Harrisburg: Pennsylvania Capitol Preservation Committee, 1998) 26.
Statistical Exhibit of Strength of Volunteer Forces Called into Service During the War with Spain; with Losses from All Causes. (Washington: Government Printing Office, 1899).

---

Support this Site by Visiting the Website Store! (help us defray costs!)

---

We are providing the following service for our readers. If you are interested in books, videos, CD's etc. related to the Spanish American War, simply type in "Spanish American War" (or whatever you are interested in) as the keyword and click on "go" to get a list of titles available through Amazon.com.
---
Visit Main Page for copyright data