---
Roster of the 2nd Wisconsin Volunteer Infantry, Co. F
Contributed by Mike Phillips
---
Please Visit our Home Page to learn more about the Spanish American War
---
Click here to read about the 2nd Wisconsin on a forced march!
Click here to read about the 2nd Wisconsin's departure for Puerto Rico!
---
General:
This unit served in Puerto Rico. It left for the from on April 28th, 1898 and returned home on September 18th, 1898. The unit is from the Winnebago County area of Wisconsin.


The note reads " Capt. Frederick R. Day Commanding, of Co. M." This shows a Gatling gun company, and is probably a photo taken in the Philippines.
Note that this is Co. M, Co. F, whose roster is listed below.
---
The Roster:
Regimental Officers:
Field and Staff Officers:
Colonel, Charles A. Born
Lt. Col. Albert Solliday
Maj. Charles J. Hunter
Maj. Nathan E. Morgan
Maj. Frank W. Gruetzmacher
Adjutant, Charles A. Green
Bat. Adj. Samuel H. Longdin
Bat Adj. Gustave Disch
Bat. Adj. Ulrich Moeckli
Surgeon, Harry E. Bradley
Ass't Surg. F.C. Moulking
Ass't Surg. Horace E. Mann
Q.M. Julius A. Nemitz
Chaplin, Edward H. Smith
Company Officers:
Captain, Ulysses G. Carl
1st Lieutenant, Henry L. Lenz
2nd Lieutenant, Godfrey Fritz
Sergeants:
1st Charles W. Boelter
Q.M. John Taddy
John Plier
Wm. F. Papke
Emil F. Kraning
Samuel H. Sutton
Corporals:
Herman Hilke
William Sears
Emil Philipp
William Reedy
Walter B. Ward
John Streich
Musicians:
Reinhold Bathke
Charles F. Potratz
Artificer: Wm. W. Farrow
Wagoner: James E. Robinson
Privates:
Anklam, Julius A.
Biederman, Herman
Bestler, Peter J.
Blake, John O.
Boehmer, Arthur
Butt, Charles
Blechel, John
Barsch, Henry
Brady, William T.
Burt, Charles
Carrey, Alfred B.
Chamberlain, Charles W.
Curtis, Bert D.
Celucey, Theodore (Died at Camp Thomas, June 11th 1898)
Daggett, Wallace H.
Daley, John
Donner, Frank
Drews, Henry
Ehnow, Paul M.
Evans, Charles E.
Farrow, Robert
Fagg, Benjamin F.B.
Fitzgerald, James
Fullerton, Elmer A.
Grandey, Arthur R.
Getke, Edward
Greenwood, Bert
Gehrke, Frank
Grose, Edward
Gruenke, August
Heide, Ernest E.
Heft, Herman F.
Holsknecht, Henry
Holm, Peter
Heller, John
Hook, William H. (Died at Camp Harvey, May 16th, 1898)
Jones, Charles O.
James, Elmer M.
Johnson, George H.
Kamrath, Herman
Kandt, Otto (Corporal, Died at Charleston, South Carolina, July 20th, 1898
Kelsey, Irving E.
Kelsch, James P.
Keefe, George
Kinigl, Joseph
Kreutzer, John
Lannon, Thomas
Lansing, Clifford A.
Malchow, Richard
Mathe, Joseph
Mathwig, Fred
Moesh, Ernst
Marshall, La Baron T.
Munthe, Fred W.
Mueller, Ernest
Meyer, Jacob C.
Morris, Fred
Novotni, Frank
Nagel, Herman
Nelson, John Jr.
Ney, Peter
O'Brien, Michael J.
Ott, Albert
Pingel, William H. (color sergeant, died at FT. Thomas, Ky. July 14th, 1898 )
Pendergast, William J.
Pahlow, Gustave
Philipp, Jordon
Peck, Maurice
Prengel Robert F.
Renner, Fred
Shell, William
Shildt, Fred
Schmidt, Leonart
Scheuer, Frank
Schmidt, Peter
Seal, William
Stearns, Harry
Stanley, James M.
Stahl, Earnest
Sutton, William J.
Thompson, Frank E.
Tremnel, Jacob
Vogler, Richard
Wilde, Walter
Wolff, Martin C.
Wagner, Nicholas
Walter, Martin
Wyman, Joseph M.
Zentener, Fred
Zerbel, George
Ziebell, Otto
Zielke, Louis A.
Zilske, Paul C.
Zwickie, Ralph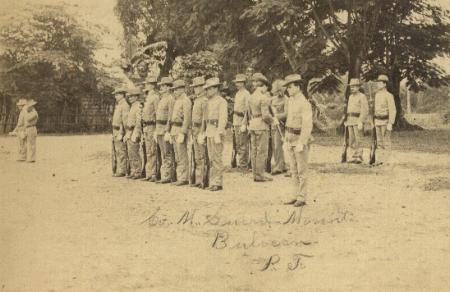 The note reads: Co. M Guard Mount, Bulocan, P.I.
---
Bibliography:
Roster is from a booklet issued for a banquet which was held for the members of the unit when they returned home on Sept. 18,1898.
---

Support this Site by Visiting the Website Store! (help us defray costs!)

---

We are providing the following service for our readers. If you are interested in books, videos, CD's etc. related to the Spanish American War, simply type in "Spanish American War" (or whatever you are interested in) as the keyword and click on "go" to get a list of titles available through Amazon.com.
---
Visit Main Page for copyright data