---
The 2nd Texas Volunteer Infantry, Company K

Living History and Re-enactment Organization
by Ed Owens
---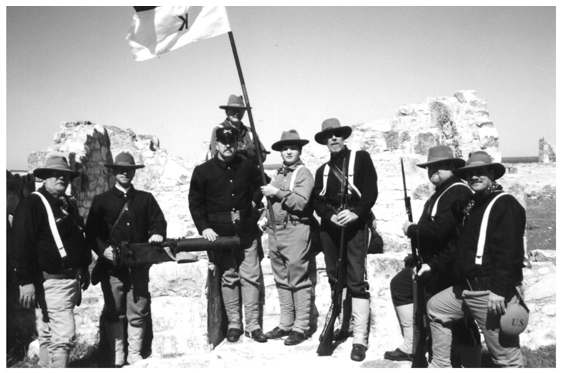 Members of the 2nd Texas Volunteer Infantry, Co, K at Fort Mckavett
---
Click here to read the history of the original 2nd Texas, Company K
---
Company K, 2nd Regiment, Texas Volunteer Infantry is based in the Dallas-Fort Worth area of Texas. At this time we have no sponsors nor do we collect dues. Each man is responsible for his own uniform and gear.
We have chosen a local Dallas unit to portray even though Co. K (the "Dallas Guard Zouaves") did virtually nothing during the war. As Texans, and long time Civil War re-enactors, we thought it would be a change to not have to travel to Virginia and pretend to be soldiers from Ohio!
Admittedly the uniform requirements for Co. K are a little lax at this time. This was done on purpose. There are over 1000 re-enactors in the North Texas area, we intend to convert as many as we can to the Spanish American War. Allowing a man to use some of his Civil War gear ( i.e.. trousers, shoes, and canteen), gives him the opportunity to see if he really wants to do this. This can be a very expensive hobby. However, after a reasonable time, the new recruit is expected to improve his kit.
Our goal for this year is to develop an impression of a company of either the 11th or 23rd U.S. Infantry, which also have strong Texas ties. We will not be abandoning Co. K, but for national events our standards need to be a lot higher.
If you would like more information you may email Ed Owens or call him at (214) 977-8783.
---

Support this Site by Visiting the Website Store! (help us defray costs!)

---

We are providing the following service for our readers. If you are interested in books, videos, CD's etc. related to the Spanish American War, simply type in "Spanish American War" (or whatever you are interested in) as the keyword and click on "go" to get a list of titles available through Amazon.com.
---
Visit Main Page for copyright data


Return to Re-enactors' Page