---
Michael Welch and the 2nd U.S. Volunteer Engineers
by Charles W Marshall
---
Please Visit our Home Page to learn more about the Spanish American War
---
Click here
for a partial roster of the 2nd U.S. Volunteer Engineers
---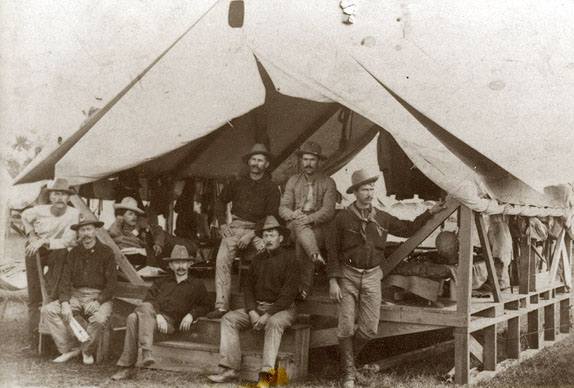 This is believed to be a view of the 2nd U.S. Volunteer Engineers, most likely men of Company B.
Seated in the rear and wearing the dark shirt is Pvt. William Feldman, presumably with his tentmates.
Feldman was born in 1867 in Cincinnati, Ohio. Prior to the war, Feldman was employed as a
mason/bricklayer. Following his service with the 2nd U.S. Engineers, he went to Indianapolis, Indiana
and continued his trade. In 1926, he returned to Cininnati and had his own masonry contracting
business, before returning to Indianapolis in 1930. Feldman died in 1960.
---
General:
Michael Welch served with 2nd U.S. Volunteer Engineers during the Spanish American War. The unit consisted of two major portions which never actually saw each other. One portion served in Cuba, the other in Hawaii.
Unit History and the Life of Michael Welch:
Michael Welch was born on October 25, 1844 in County Kerry, Ireland. He was the son of Patrick Welch and Julia Shean, both of Ireland. After immigrating to the United States in about 1870, Michael enlisted in the U.S. Army twice (he apparently lied about his age when he enlisted, stating he was ten years younger than he really was). It was during his second hitch that he served in the Spanish-American War and, officially, in the "Philippine Insurrection," mow known as the Philippine-American War.
Michael's first period of service was between September 28, 1882 and September 27, 1887, when he served with Company G, 14th Infantry. Mr. Welch enlisted in Chicago, Illinois and was discharged at Vancouver Barracks, Vancouver, Washington at the end of his period of service. On discharge, he held the rank of private.
After being discharged, Michael stayed in the Portland, Oregon area and on May 8, 1888 he married Margaret McGuire who, like him, was also an Irish immigrant. They were married in the Cathedral of the Immaculate Conception in Portland, Oregon. Michael and Margaret were members of the Catholic Church.
Michael Welch's second period of service lasted from June 20, 1898 to May 16, 1899. During this time he served with Company M, 3rd Battalion, 2nd U.S. Volunteer Engineers during the Spanish-American War. Michael was married, had a family and was working as a miner at the time he re-enlisted in the Army, this time as a member of the engineers.
The 2nd U.S. Volunteer Engineers was mustered into service between June 27 and July 12, 1898. Members of the unit were to have some sort of specialized mechanical skill, such as blacksmiths, telegraphers, carpenters, etc., and Michael skills in mining were deemed sufficient to gain him entry into the unit. At the time of mustering in, the unit consisted of forty-nine officers and 1,087 enlisted men.
The 2nd U.S. Volunteer Engineers consisted of two entirely separate entities that never saw each other during the period of the unit's existence. The Headquarters staff, as well as Companies A-H (1st and 2nd Battalions) were raised in Ohio, Indiana, Illinois, Minnesota, and Nebraska. Companies I-M (3rd Battalion), of which Michael was a member, were raised in Colorado, Utah, Montana, Idaho, Nevada, California, and Oregon.
The various companies were formed in the following locations:
Field and Staff - Fort Sheridan, Illinois
Company A - Springfield, Ohio
Company B - Cincinnati, Ohio,
Company C - Cincinnati, Ohio
Company D - Indianapolis, Indiana
Company E - Chicago, Illinois
Company F - Chicago, Illinois
Company G - St. Paul, Minnesota
Company H - Omaha, Nebraska
Company I - Denver, Colorado
Company K - Salt lake City, Utah
Company L - San Francisco, California
Company M - Portland, Oregon (Michael Welch's company)
Companies A-H performed a variety of works in the U.S., including constructing Camp Wikoff at Montauk Point, Long Island where members of the unit laid out streets, erected tents, drained marshes, constructed roads, sinks, waterworks, lighting and telephone systems. Soon the worn and weary troops returning from Cuba would occupy the camp. The unit also constructed Fort McKinzie near Augusta, Georgia. Portions of the unit took part in the Philadelphia Peace Jubilee in October of 1898. Finally the unit was sent to Cuba, leaving the U.S. on November 23, 1898, arriving in Cuba two days later. While in Cuba, the 2nd Volunteer Engineers was involved in operations such as building waterworks, railway switches, roads, sewers, store houses, etc. The unit also cleaned and repaired forts, batteries, streets, surveyed temporary fortifications and even prepared cemetery graves. It stayed in Cuba until April 15, 1899, returning to the U.S. two days later. Companies A-H were mustered out of service on May 16, 1899 at Augusta, GA, and I-M at San Francisco, California.
Companies I-M, 3rd Battalion, served in Hawaii, leaving San Francisco on the steamer "LAKME" on August 5, 1898, and arriving in Honolulu, Hawaii on August 17, 1898. Michael and the other men of the 3rd Battalion basically built Camp McKinley, which was about 4.5 miles from Honolulu. While serving in Hawaii, the unit built quarters, quartermaster offices, storehouse, administration building, engineers' offices, stables, guard house, hospital, and bake shop, as well as macadam roads, sewage and water systems. The 3rd Battalion never actually went to the Philippines into the combat zone. They were stationed in Hawaii the entire time until receiving orders to depart for the U.S.
On April 20, 1899, the 3rd Battalion marched to Honolulu, where they boarded the steamer, "Australia" and arrived back in San Francisco eight days later on April 28, 1899. The 3rd Battalion then returned to the Presidio of San Francisco.
During its period of service, the 2nd US Volunteer Engineers consisted of 61 officers and 1,103 enlisted men. It lost 12 men to disease, 49 discharged for disability, and 22 to desertion.
After his service, Michael came back home to Portland, Oregon where his family was waiting for him. He and his wife Margaret stayed in the Portland area of Oregon and in June 1900, they were living at 267 SW Clay in Portland, Oregon where Michael was working as a day laborer. In 1902, they moved to a farm in Dole, Washington, a rural farming area just north of Vancouver, where Michael worked his land as a farmer.
Michael died in Dole on March 8, 1922 and was originally buried in the Vancouver Post Barracks Cemetery (Section 4W, Grave #689). Eight years later he was disinterred and reburied in the St. James Acres Catholic Cemetery in Vancouver next to his wife Margaret on July 30, 1930, the day after her funeral. Michael is now buried in Section O, Lot 163, Grave #4 (Margaret is buried next to him in Grave #5).

---
Bibliography:
Statistical Exhibit of Strength of Volunteer Forces Called into Service During the War with Spain; with Losses from All Causes. (Washington: Government Printing Office, 1899).
Monthly Returns for the Second U.S. Volunteer Engineers (courtesy of Charles Aresta)
Michael Welch Family Records.
---

Support this Site by Visiting the Website Store! (help us defray costs!)

---

We are providing the following service for our readers. If you are interested in books, videos, CD's etc. related to the Spanish American War, simply type in "Spanish American War" (or whatever you are interested in) as the keyword and click on "go" to get a list of titles available through Amazon.com.
---
Visit Main Page for copyright data