---
Roster of the 2nd Missouri Volunteer Infantry
Contributed by Marsha Wise and Todd J. Wilkinson
---
Please Visit our Home Page to learn more about the Spanish American War
---
Company A ||| Company B ||| Company C ||| Company D ||| Company E ||| Company F
Company G ||| Company H ||| Company I ||| Company K ||| Company L ||| Company M
---
General:
This is a roster of the 2nd Missouri Volunteer Infantry.
The source: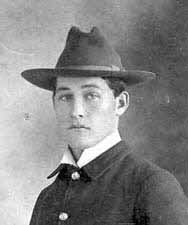 Rush Upton Albright
The majority of this information came from a book found among the possession of Rush Upton Albright, who served with the regiment. Albright was born in Lamar, Missouri on September 28, 1880. Rush was one of nine children born to Samuel and Rosa (Edwards) Albright. Rush joined the Company C, 2nd Missouri Volunteer Infantry during the Spanish American War, along with his brother Irvin Albert Albright. Rush also served several months in the Philippine Islands in 1900.
After Rush returned to civilian life, he drove horse & buggy delivering papers for the family store - Albright's News and Cigar in Joplin, Missouri. While on this delivery route, he met Fannie Louisa Cook, a native of Carhampton, England, whom he married in September 1906. Rush and Fannie were married and loved each other for 59 years. They had six children; Guy, Daisybelle, Zella, Thomas, Roy and Nina. Zella and Thomas died at an early age.
In 1922 Rush packed up his family and headed to California. They had never owned or driven a car prior to this trip – the family had an adventure of a lifetime crossing from Missouri to California. Rush and family settled in Sacramento, California where he worked as the Manager of Piggly Wiggly Market for several years. Rush also was a salesman for the Coca Cola Company. He later went on to own and manage his own grocery store, Albright's Grocery.
Rush served as commander of the United Spanish War Veterans, J. Holland Laidler Camp No. 5 in Sacramento, California and held that post until his death. He attended numerous 2nd Missouri Voluntary Infantry Reunions in Lamar, Missouri. Rush was also a member of the Blue Lodge, Free and Accepted Masons in Missouri.
Rush was a wonderful patriarch of the family and served as a great role model for all his descendants. Every year the family would gather at Papa's house for holidays and special visits from Albright relatives.
Rush died of a heart attack on Dec 19, 1965 and is buried at East Lawn Cemetery in Sacramento, California.

Rosters:
Company A (Carthage Light Guard; Carthage, Missouri):
Officers:
Captain – J. A. McMillan
First Lieutenant – J. H. Bailey
Second Lieutenant – C. F. Drake
Sergeants:
First Sergeant, Dan R. Smith
R. L. McCullough
W. E. Hiatt
F. W. Manchester
Lyle Jackson
J. R. Simpson
Corporals:
Joe C. Stebbins
T. J. Gilbreath
W. H. Jackson
E. C. Woodmansee
H. A. Wells
G. E. McCartey
H. Betebenner
B. F. Brown
F. H. Sefton
C. Woodmansee
G. B. Williamson
C. M. Hodshire
Musicians:
Guy I. Patterson
Walter G. Slagle
Artificer – E. R. Robison
Wagoner – J. A. Kirby
Privates:
Wm. B. Bane
H. J. Bailey
R. T. Bradford
F. P. Bradford
H. L. Bright
W. C. Brown
J. W. Brock
W. A. Brock
C. O. Burnham
E. P. Billot
E. E. Belknap
W. M. Collier
Arthur Courtney
J. W. Cox
A. L. Coy
Ed Coy
D. E. Crabtree
H. R. Colley
John N. Day
John H. Dalby
Augustine Doss
Plummer Edwards
A. M. Estis
J. W. Evans
I. J. Flannery
Chas. H. Fry
John H. Gill
Chas. W. Haines
O. O. Hart
Ben F. Hatcher
H. J. Hathcock
John Henkle
G. O. Henning
J. D. Herron
E. C. Hiatt
F. M. Hiatt
O. E. Harrison
C. D. Howell
G. J. Hendrick
Ed Hill
J. A. Huddleston
Roy E. Jordan
J. W. Jones
R. I. Kinney
Jos. B. Kyle
G. A. Kite
C. H. Kiper
R. M. Lyons
B. I. Marie
W. L. Morris
H. M. Miles
Walton Marshall
Clarence Murray
A. McCullough
B. F. Noel
H. A. Neihardt
Oscar O'Daniel
Joe M. Peeley
M. C. Pinnell
Ralph Purcell
Ernest Potter
F. M. Randall
B. O. Recce
P. E. Reniker
H. F. Robbins
Wm. Roebuck
J. W. Ross
Geo. E. Robb
S. S. Smith
W. D. Smith
Jacob Smith
J. A. Spillman
D. R. Samples
Thomas M. Trowbridge
Guy L. Thomas
Leonard White
W. E. Wood
C. C. Woodmansee,
S. H. Willard
W. E. Walker, Chas.
Weston, G. A. Weer
Death – Sergeant Chas. P. Woods.
Discharged – H. L. Bright, Jacob Smith.

Officers:
Captain – Vernon L. Johnson.
First Lieutenant – James A. DeArmond.
Second Lieutenant – Benjamin R. Wade
Sergeants:
First Sergeant, Robert P. Colyer
Quartermaster Sergeant Wm. A. Fersan
Jachin E. Harper
Wm. W. Cannon
Alvin T. Keeler
Milford T. Orear
Corporals:
Chas. M. Cameron
John W. Hartsock
Frederick A. Boxley
Chas. E. Henry
Albert A. LaFollett
Wm. A. Cobbs
John Bosma
Chas. W. Clardy
Wm. E. Jackson
Jas. M. Graves
Clarence E. Smith
Thos. R. Caruthers
Musicians:
Henry E. Mirns
Benj. F. Easley
Artificer – Wiliam L. Kelley
Wagoner – Arthur D. Morgan
Cook – Charles E. Castor
Privates:
John F. Aldridge
Preston J. Bolin
Albert Bolin
John C. Brandenburg
Newton Brannock
Tobias H. Brown
Isaac M. Bryant
Elijah A. Butler
Frank Campbell
Geo. L. Caruthers
Elmer L. Craig
Preston Davis
Ray A. Davis
David R. Depew
Thos. J. Easley
Amelius C. Fleming
Lee R. Foster
Carl S. Fuler
Geo. K. Hargrave
Chas. C. Harper
Thos. B. Harris
Nathan Hart
Geo. F. Hartwell
Rex I. Heinlein
Harley P. Hensley
Wm. Huckeby
Howard P. James
Joshua L. Jones
Quintus A. Kaunne
Andy Kiefhaber
John J. Lamb
Wm. Leeper
Ben B. Lockman
Robert U. Lotspeich
Benj. H. Lukinbill
Chas. E. McCoy
John W. McKissick
Lee W. Mathews
Wm. E. Mayes
Frank H. Miller
Chas. S. Missimer
Highland Mitchell
Author L. Mock
Herbert H. Moore
Harry C. Morgan
John L. Morgan
Wade H. Nichell
Chas. H. Orr
Geo. Poland
John W. Porch
Ferris W. Razey
Harvey A. Ritner
John A. Robinson
Claude R. Rogers
Chas. G. Schooley
Clarence J. Schooley
Jos. F. Shoffer
Oscar P. Sisson
James S. Stancliff
Wm. T. Stover
Walter Swadley
Harrison J. Titsworth
Isaac A. Titsworth
Wade H. Troupe
John W. Wainright
Chas. A. Walters
Robt. M. Wheeler
Frank T. White
Homer J. Wilmoth
Frederick S. Wolf
Merrit W. Zinn.
Deaths – Privates Conley L. Smith and Washington W. Concklin. Buried in National Cemetery, at Chattanooga, Tenn.
Discharged for Disability – Privates Charles E. Mudd and William McClure.
Discharged – Private Donald T. Bain.

Officers:
Captain – Frank M. Thorpe.
First Lieutenant – James M. Allen.
Second Lieutenant – Roy W. Aldrich.
Sergeants:
First Sergeant, Percy H. Barney
Quartermaster Sergeant, Paul Tucker
Joseph H. Hall
Charles Coulter
Elbert L. Castle
Lovell B. Wilson.
Corporals:
Wilber J. Stemmons
Henry S. Weissenpluh
Andrew F. Wright
James A. Elliott
Chas. H. Burkey
Wm. L. Neiswender
Jas. E. Crabb
Lawrence W. Hedgecock
Wm. J. Givens
John J. Frick
Victor A. Stephenson
Carl A. Nelson
Artificer: Joseph W. Beck
Wagoner: Robert F. Vest
Musicians: Chris. B. Hulston, Merrill M. Griffith
Privates:
Harry M. Abbott
Albert I. Albright
Rush U. Albright
Ernest T. Allen
Joseph B. Allen
James L. Arnold
Robert E. Boudy
Chas. B. Brown
Robt. S. Bell
David E. Bell
Wm. B. Blankenship
Jas. B. Blankenship
Andrew J. Bridgewater
Wm. R. Bryant
Christopher C. Burton
Chas. O. Cautry
Jas. G. Cautry
Jas. C. Carson
Thos. A. Chapman
Geo. G. Cody
Lester L. DeGood
Isaac R. Dingman
Roy P. Dix
Harry Dye
Geo. Elroy
Jesse K. Elsie
Frank F. Emmering
Eph England
Edw. L. Frick
Jas. R. Gale
Chas. T. Garlick
Samuel Gates
Ralph M. Gilmore
Jos. Golliday
Robt. E. L. Gregory
Chas. E. Hall
Jesse H. Harlan
Daniel Hewitt
Elbert L. Hobbs
Wm. T. Houchins
Pearle Hutchison
Chas. H. Isaacks
Jas. W. Jobe
Wm. O. Jones
Frederick W. Knehl
Hiram S. Kilgore
Isaac S. Leabo
Chas. Lyngar
Frank Lyngar
Samuel J. Lyons
Arthur T. McGee
Harry E. Meddick
Geo. P. Mertz
Harry C. Moore
Arthur J. Morgan
James W. Morrison
Frederick R. Nourse
Deigh. S. Forris [Norris?]
Vollie Odneal
Wm. E. Owens
Edward R. Pegg
Robert A. Poage
Fred E. Ragsdale
Jos. H. Raney
Adolph Rempo
Wm. T. Robertson
Adam Seibli
Luther M. Shaw
John W. Simmons
Benj. J. Smith
Chas. E. Stanley
Fred G. Stewart
Orval A. Steiner
Geo. C. Stinger
Thos. L. Studdard
Fred Sullens
Eunice Tackett
James E. Thompson
Everett I. Thornton
Clayton Vaughn
Howard Vint
Charles W. Weber
Reed Wilson.
Deaths:
Federick W. Kuehl, at Division Hospital, Third Division, First Army Corps, Camp Geo. H. Thomas, Chickamauga Park, Ga., July 26, 1898, at 6:30 A. M., of typhoid fever. Buried at National Cemetery, July 26, 1898. Grave No. 13180.
George C. Stinger, at Second Missouri Infantry, U. S. V. Hospital, Camp Geo. H. Thomas, Ga., Aug. 11, 1898, at 5 P. M., of typhoid fever. Buried at National Cemetery, Chattanooga, Tenn., Aug. 12, 1898, Grave No. 13211.
Discharged:
James E. Thompson, October 8, 1898, by reason of physical disability. Overcome by heat July 1, 1898, which rendered him unfit for service.

Company D (Sedalia, Missouri):
Officers:
Captain – G. S. Edmonson.
First Lieutenant – S. P. Johns.
Second Lieutenant – S. W. James
Sergeants:
First Sergeant, H. O. Moss
Quartermaster Sergeant, H. L. Rodgers
W. A. Cue
R. R. Highleyman
J. N. Evans
E. B. Lyons
Corporals:
J. R. Hedrick
O. A. Holst
E. L. Hardin
G. H. Evans
S. L. Floyd
T. H. Niles
J. P. Swisher
J. F. Ashbrook
B. S. Jackson
A. L. Short
C. F. Fust
C. K. Conard
Musician: W. A. Jenkins
Artificer: J. W. Goetz
Wagoner: W. E. Selvey
Privates:
M. Anderson
B. Andrews
C. O. M. Barnes
R. Blake
G. L. Buster
F. L. Bradley
D. Brenner
J. Brown
C. H. Bryan
H. W. Bourland
G. W. Byard
F. Carr
A. M. Chiles
J. N. Challacombe
C. W. Collis
J. F. Curran
C. W. Davenport
B. E. Davis
E. E. Devaul
A. I. Devaul
J. J. Dodge
B. Dorris
W. V. Eberhardt
C. H. Ernst
G. S. Fall
T. F. FitzGibon
I. S. Gill
T. Goodfellow
W. E. Grimm
W. A. Hamilton
F. E. Hancock
H. H. Hannekamp
R. Harmon
C. H. Hayes
D. Heidelburger
J. M. Howerton
J. A. Hower
W. C. Hyatt
J. W. Jackson
E. M. Jones
J. Kaiser, Jr.
F. E. Kelley
J. King
W. H. Kirkman
A. Louther
G. N. Markel
H. H Martin
E. Miller
J. Moffett
J. Moles
J. R. Murray
H. Mussman
T. F. Myers
H. L. McCune
G. A. McDugal
A. L. McNece
P. L. Orton
J. A. Owens
J. M. Parker
G. A. Parker
B. Prigmore
C. P. Quinton
L. Ramsey
F. L. Scholl
C. Schafer
F. Schaer
N. C. Smith
W. W. Stotts
F. Sweet
J. V. Tapp
T. L. Terry
C. H. Thornton
J. E. Weinig
A. Welbourn
R. J. Wershing
E. L. Wheeler
J. A. White
F. M. Wilson,
P. Wilson
W. C. Young
J. W. Young
A. Zurn.
Deaths:
C. P. Quinton, July 28, 1898. Buried in National Cemetery July 29, 1898.
J. M. Howerton, Autust 15, 1898. Buried in National Cemetery August 16, 1898.
Transferred:
T. F. FitzGibon, to United States Signal Corps, August 5, 1898.
J. W. Young, to Hospital Corps, July 29, 1898.
A. Zurn, to Hospital Corps, July 29, 1898. G. A. Parker, to band, July 5, 1898.

Company E (Pierce City, Missouri)
Officers:
Captain – W. A. Raupp.
First Lieutenant – S. J. Douthitt.
Second Lieutenant – E. A. Cuendet
Sergeants:
First Sergeant, Wesley C. Gillen
Quartermaster Sergeant
Wm. H. Schuerhoff
Hugh T. Parker
Byron T. DeVerse
Sidney P. Northcutt
Albert I. Sharp
Corporals:
David E. Howard
Guy W. Moore
Frank Blair
James Hand
Edward Hand
Claude L. Minor
Ernest Young
Harry E. Davies
Glen J.Reed
Chas. H. Smith
James Robert Faris
John Stalter (trumpeter)
Jacob Stalter (trumpeter)
James M. Orrick
Jasper W. Moore
Wagoner: Wm. M. Dixon
Artificer: Glen H. Mettler
Privates:
L. S. Baney
Thos. W. Bellew
Burt Briant
Bert B. C. Crawford
Jas. T. Coleman
David L. Chappell
Elmer L. Carlin
Petere B. Davidson
Elmer Case
Thos. J. Dotson
Clarence K. Dow
Clark Drake
J. W. Dillman
Edward English
Wm. Farnan
Walter Fenton
Nile Forbes
Pere Grigg
Jesse Garner
Thos. W. Guthrie
G. M. Gibson
Thos. A. Greathouse
Bert A. Herron
Perry Howard
J. R. Hite
Lorn E. Hughes
Ernest L. Hickman
Tennyson Howell
Frank L. Johnson
Charley Jones
Mathew Jones
W. M. Jordan
Chas. Kenn
Daniel Lowery
Chas. W. Lay
Wm. Minor
Bert Majors
Calvin S. Morrison
H. G. Mayers
John E. McColley
Thos. McColley
Chas. A. McNeil
John McLaughlin
Roy McQueen
Frank McKenna
Vernon Maxey
George Newman
C. Y. Noss
Ed Nicholson
Carl Osborn
Arthur L. Outhouse
R. S. Owens
John G. Paxton
J. A. Patton
Alfred Preston
Frank Rector
Chas. A. Ray
Roland Reed
Wm. M. Rankins
Fred Rhoades
Oscar O. Rhoades
Frank Schultz
W. E. Samuels
Benj. F. Smith
F. J. Stevens
J. W. Sampson
John Seass
Albert K. Sinclair
Jas. H. Strafford
A. L. Southard
John Worden
Chas. Woods
C. W. Wells
I. A. West
Monroe West
J. W. Walker
Ed Woollord
Ren Wilks
H. A. Weikal
Deaths:
Corporal Jas. M. Orrick, August 6, 1898. Private John Worden, July 17, 1898.
Transferred:
Corporal J. W. Moore
Privates J. T. Dotson and Benj. F. Smith, to Signal Corps, October 6, 1898.
Private Mathew Jones, to Hospital Corps, July 21, 1898.
Discharged:
Private J. W. Dillman, August 22, 1898.
Privates Frank Rector and Frank McKenna, October 9, 1898.

Company F (Clinton, Missouri; "The Landor Light Guards"):
Officers:
Captain – A. C. Landor.
First Lieutenant – J. W. Avery.
Second Lieutenant – W. C. Dixon
Sergeants:
First Sergeant, F. H. Douglass
Quartermaster Sergeant, A. A. Wilson
F. L. Paxton
W. C. Arnold
E. N. Brandenburg
C. C. Canan
Corporals:
W. A. Cork
J. C. Dean
D. G. Hoard
D. W. Keyes
C. L. Allen
Berry Anderson
H. Baumgartner
Wm. L. Haynie
E. H. Severs
L. A. Violette
C. D. Wallace
C. L. Wilson
J. P. Evans
Musicians:
E. E. Seifried
J. T. Doyle
Artificer: P. C. Keyes
Wagoner: J. T. Angelo
Privates:
George Armstrong
Elige Armstrong
C. Ansley
Wm. Barber
W. C. Bolton
H. C. Bertram
Chas. Blewett
H. A. Brollier
F. R. Carpenter
F. B. Clark
J. W. Canada
E. S. Couse
Wm. W. Campbell
J. B. Cowell
F. B. Crowley
Edgar Cator
J. W. Dannor
Harry Daum
O. C. Davis
W. F. Earnheart
G. W. East
R. W. Edmondson
R. D. Elder
F. B. Fretz,
W. E. Greer
D. H. Goodnow
Geo. W. Hamel
T. L. Hamilton
J. W. Henry
Geo. Herrman
G. E. Herndon
Chas. A. Howe
J. B. Holcomb
Louis Horst
Geo. Huey
W. P. Hudewald
G. F. Hollingsworth
W. H. Houser
J. H. Knight
J. E. Lawson
J. T. Lee
J. C. Maus
S. A. Moore
Joe McAfee
F. L. McFadden
E. C. Morgan
Wm. F. Malotte
Leon Madden
Isaiah Monger
T. S. Nichols
Ralph Parrott
C. B. Polston,
Chas. B. Parks
Geo. W. Parks
Chas. F. Pomeroy
E. G. Redford
H. F. Rimer
A. T. Ready
Wm. L. Ruddell
S. A. Selieman
Wm. H. Senior
Allen Sheldon
C. E. Shreeve
Fred Simpson
A. C. Smith
L. W. Stickrod
Harry Selby
R. L. Swarthout
W. B. Shaw
J. P. Skerrett
R. Z. Taylor
G. Van Ness
Geo. Wells
J. W. Westerman
Frank Wiley
Roy J. Wood
Peter Wolf
Transferred:
Privates Polston and Maus, to Ambulance Corps and Division Hospital, July 20th.
Privates Parks, Wiley, and Herndon, to Ambulance Corps, August 3d.
Private Pomery, to Ambulance Corps, August 4th.
Honorably Discharged:
Sergeants Brandenburg, Canan, Wilson and Corporal Hoard, October 17th
Corporal Allen, September 14th, services faithful and honest.

Officers:
Captain – Robert A. Spears.
First Lieutenant – E. L. Shepherd.
Second Lieutenant – E. E. Duckett
Sergeants:
First Sergeant, A. S. Tschappler
C. W. Calvin
A. M. Kidd
F. W. Sansom
D. D. Watson
H. D. Mears
Corporals:
E. J. Boggs
Wm. Jones
Jas. Kelly
A. S. Owen
C. A. Warren
L. M. Ingraham
R. G. Boreing
David Garrison
Frank Smith
F. T. Hinckley
T. F. Clary
Wm. St. Clair
Musicians:
W. Axton
Ben Ebling
Wagoner: Charles Monson
Artificer: C. W. Sloan
Privates:
Jesse Axton
J. N. Baily
J. T. Bean
Chas. Bierman
Wm. Botkin
R. E. Barnett
E. E. Brubaker
Jerry Butts
Jas. Clary
Will Clary
C. M. Chenoworth
E. E. Colier
Ben Cory
E. J. Crampton
Jay Dunwoody
Chas. E. Dewitt
Claude Flemming
Jason Fellows
M. P. Fox
G. K. Freeman
Roy Greer
Chas. Gould
Jas. Gilmore
Y. A. Hays
Wylie Hodshier
H. H. Hoback
Clyde Hites
Logan Horner
J. T. Howard
Henry Helm
A. J. Halterman
Wm. Johnson
R. E. Jones
C. D. Johnson
Jos. Jirauch
S. H. Jones
Fred Kinner
Fred Kerr
Lester Loy
Walter Laud
A. O. Lanyan
H. H. Lewis
Jeff D. Long
Dennis Landon
Harley McCollough
Percy Mylius
L. R. Nugent
J. E. Nischwitz
H. W. Neff
Otto Nickoleson
Norton Oliver
Harry Plimmer
J. D. Penrose
Frank Reba
C. J. Rhoads
Wm. F. Rice
Chas. E. Rice
Thos. Rogers
E. S. Riseling
H. W. Ryan
J. E. Smith
Chas. Shafer
Henry Saulesbury
C. V. Spyres
H. S. Shryock
C. H. Smith
Nick Spore
Patrick Spore
Newel Short
Frank Treganza
G. A. Thompson
Thos. Thomason
A. Woodward
Melvin Walls
Walter Wilkes
Louie Watzdorf
Geo. Zietler
Death: Private E. E. Brubeker, September 20th, of typhoid fever.
Transferred: C. W. Hudson and George M. Eckhart, to Hospital Corps.
Discharged: Walter Ladd, for disability.

Officers:
Captain – George B. Cogswell.
First Lieutenant – Louis H. Levens.
Second Lieutenant – Robert E. Jordan
Sergeants:
First Sergeant – Jas. J. Corey
Quartermaster Sergeant, Wm. Williams
Luther D. Corbin
Robt. L. Williams
Floyd F. Clinton
Wm. A. Turner
Corporals:
Geo. W. Kemp
Julius C. Blome
Lindsey M. Taylor
Wm. M. Gordon
Ellis E. Smith
John L. F. MacBride
Dwight C. Clinton
Chas. P. Fillebrown
Harry F. Stegman
Lewis W. Boehm
Sam T. Holden
Thos. F. Shepley
Musicians:
William F. Linkelmann
Fred H. Walden
Artificer: James Alderson
Wagoner: Warren H. Mallory
Privates:
Oscar J. Anderson
John T. Bouldin
Wyatt E. Blome
Oscar H. Benjamin
Henry Borghardt
Edward S. Brown
Wesley P. Bruer
Wm. Bullard
Richard J. Cantwell
Wm. T. Chaney
John W. Collins
Wm. H. Combest
Fred H. Corey,
Harry C. Dawson,
Arthur Dees
Jesse L. Dame
Wm. O. Day
Samuel Eubanks
Cyrus W. Eastwood
Jos. G. W. Emenhiser
John W. Grant
Wm. F. Grayam
Chas. F. Gunsolla
Wm. High
Leonidas L. Hill,
H. J. Holland,
Walter W. Hughes
John Harmon
Jos. W. Hall
Geo. W. Jackson
Bert Jordan
Emmett E. Kelso
Eric C. Kelsey
Fred Kerchner
Albert Klepzig
Thos. H. Lockhart
G. R. Maddox
Joe O. Meals
Wm. N. Meyers
Fred W. Mitzner
J. Ed Morgan
Wm. E. Morris
Millard Milligan
John W. McCann
Wm. McClain
Wm. H. McWilliams
Bert McMahill
Edward E. Miller
James Nunley
Sanford P. Newby
Cyrus J. Parker
James H. Potter
Robert L. Porter
Arthur H. Pratt
Richard T. Pool
John J. Quinlan
Geo. T. Rimmer
J. C. Roark
Clarence S. Russell
Walter E. Smith,
Allen F. Stockdale
Chas. E. Stradley
Thomas F. Sunderland
Minrad Schlegel
Chas. Sharp
Walter Stonum
Geo. Stonum
Jacob Siples
Wm. E. Scott
Marvin Sumpter
George E. Taylor
Claude Teel
Ed Worthington
Robt. W. Woods
John P. Ward
Marion R. White
Roy C. Williams
Raymond S. Wright
Transferred:
Private H. A. Wilbur, to Third Tennessee Volunteer Infantry, July 12, 1898.
Private Walter L. Samples, to Hospital Corps, July 19, 1898.
Private Floyd B. Cramer, to Hospital Corps, July 19, 1898. (Died at Chickamauga Park. Buried at Nevada, Missouri).
Discharged:
Private Humphrey Madden, June 2, 1898. Private Lucius Wood, October 7, 1898.

Officers:
Captain – L. T. Beck. (Resigned October 10th.)
First Lieutenant – J. H. Bailey. (Commanding.)
First Lieutenant – Morell Tomlin.
Second Lieutenant – D. M. Dodge.
Sergeants:
First Sergeant, F. E. Modie
Quartermaster Sergeant, W. F. Logan
Seth J. Campbell
Leo D. Kerstetter
K. B. Mitchell
J. W. Fauntleroy
Corporals:
N. L. Beam
Samuel Harbit
George Neill
L. M. Littlefield
W. R. McCandless
L. R. Franse
R. S. Mitchell,
J. L. Doolittle
E. A. Bledsoe
V. C. Kerstetter
O. I. Phelps
Richard Cheataur
Trumpeter: T. H. Norris
Artificer : W. T. Beam
Wagoner: Charles Canton
Privates:
E. L. Anderson
Oscar Arnold
Bert Bailey
J. P. Baker
E. C. Bledsoe
J. D. Blocker
Melvin Bradfield
B. A. Brown
O. E. Brown
R. L. Butts
F. H. Carson
J. C. Chambers
H. E. Clay
R. J. Cobine
C. C. Cocking
O. O. Coiner
A. A. Culp
H. C. Culp
J. L. Darr
Carl Davidson
O. L. DeHaven
Doyle, Lawrence
J. K. Durrell
J. M. Edwards
Gerald Elliott
John Ellis
R. T. English
Fred Gibson
M. A. Glassburn
S. V. Goade
J. J. Hastings
A. T. Hughes
J. R. Hughes
Geo. Hunt
R. B. Ingram
S. R. Ingram
G. H. Inhoof
H. G. Jordan
A. M. Kaugh
J. I. Lauver
Guy Long
N. J. McCall
O. D. McLaughlin
H. R. McVey
H. A. Meyers
C. W. Mills
J. E. Moore
W. E. Murphy
T. P. Norton
M. A. Parrish
J. B. Phillips
C. J. Polston
R. R. Proctor
J. E. Roach
O. A. Roberts
J. J. Roernass
W. T. Ryan
H. A. Slack
H. A. Smith
G. W. Squires
C. W. Stevens
C. O. Stevens
G. F. Sweet
S. M. Tabor
H. N. Thorton
W. J. Turner
J. M. Ward
W. N. Watson
W. L. Wiese
J. B. Wells
W. L. Wells
W. Wells
J. F. Welsh
J. J. Weston
B. M. Whipple
Jonas Whitt
J. A. Willis
J. B. Wilson

Discharged: C. E. Wheate and S. I. Millard, on account of ill health.
Deaths: John Shime, July 1, 1898, W. G. Hughes, June 26, 1898; at Camp Thomas, Ga.


Officers:
Captain——Diggins, Archibald B.
First Lieutenant——Benedict, Charles W.
Second Lieutenant——Durst, Hairy D.
Non-commissioned Officers:
First Sergeant-Sansone, Charles
Quartermaster Sergeant——Anthony, Robert L.
Sergeant——McCauley, William R.
Sergeant——Cunningham, Thomas P.
Sergeant——Roberts, William
Sergeant——Hardin, William R.
Corporal——Kirkpatrick, Harry F.
Corporal——Price, William R.
Corporal——Walker, Isaac G.
Corporal——Wood, Jr., Henry N. B.
Corporal——Banks, Frederick O
Corporal——Ward, Edward L.
Corporal——Austin, Albert M.
Corporal——Alderfer, Wilbur J.
Corporal——Newson, Clifford S.
Corporal——Ferbrache, Presley E.
Corporal——Gilbert, Ransom R.
Cook——Kurtz, Louis
Musician——Harcum, Glen E.
Musician——Crenshaw, Thomas T.
Artificer——Lilly, John M.
Wagoner——Fallin, Walter A.
Privates:
Alder, Rolla C.
Anderson, Lynn N.
Baker John C.
Baker, James E.
Beaty, Werner C.
Benjamin, Mortimer
Boyden, George T.
Boyer, William P.
Bremer, John L.
Bronekamp, Edward T.
Brown, Daniel K.
Brown, Harry C.
Campbell, John P.
Campbell, William F.
Carlisle, Robert R.
Casebeer, Archie B.
Cater, Theodore T.
Coffland, James W.
Costello, Edward J.
Curry, James T.
Dacy, John F.
Dooley, John L.
Dooley, John L.
Doolittle, Oscar F.
Drager, Albert W.
Durnell, Benjamin F.
Elliott, Randle
Emmerton, Charles A.
Fain, Fred O.
Fallin, Wilburn M.
Gardner, Homer E.
Gregson, Carl A..
Guthrie, Sidney E.
Hale, Joseph
Hannon, Edward F.
Hansell, Milton L.
Hardman, James C.
Hayton, William W.
Heacker, Joseph J.
Heacker, Jr., Frank A.
Hopkins, Homer C.
House, Amos B.
Jenkins, James E.
Jones, Thomas R.
Kelly, William J.
Krafft, Theodore J.
Lamons, Henry T.
Linsley, Walter T.
Linsley, Walter T.
Long, Leslie S.
Marsh, Myron C.
McBride, Clarence L.
McCall, John B.
McCracken, Benjamin N.
McLaughlin, Liberty U.
McMurry, Loyd E.
Melville, Charles J.
Moore, Arthur E.
Morrison, John D.
Orchard, Jesse
Palmer, James G.
Penticost, Fred W.
Phelps, John S.
Porch, James H.
Pryor, Oscar A.
Rankin, Guy D.
Reece, Walter S.
Richesin, Marcellus
Roberts, John P.
Sawyer, Robert M.
Schlemmer, Julius J.
Shriver, Fred M.
Smith, William M.
Smythe, Will L.
Sport, Nick
Sport, Patrick
Starr, Frank A.
Stoughton, Benjamin W.
Thorn, Claud G.
Thornbrough, John L.
Tracey, Chauncey I.
Walker, William G.
Wallace, Lewis E.
Weaver, Campbell J.
Welch, Charles O.
Wimburly, Runzy
Wimburly, Runzy
Wishart, Dow

Company L (Jefferson City, MO; "Governor's Guards")
Officers:
Captain – Claud L. Clark.
First Lieutenant – Leof. Harding
Second Lieutenant – Frank W. Bradburg
Second Lieutenant – Adison D. Elston, resigned
First Lieutenant – Otto Flemming, discharged
Sergeants:
First Sergeant, Don. R. Chapman
Quartermaster Sergeant, Joseph F. Schlur
Arthur E. Willis
Arthur H. Adams
Charles J. Gruber
John F. Burger
Corporals:
Joseph Goldman
Louis L. Jobe
Chas. E. Burch
Byron E. Carey
Thomas C. Goodall
John P. Martin
Walter B. Marshal
Ernest S. Kelsey
Bert. Rush
John M. Weiss
John W. Routzong
James H. Greenway
Musicians:
Robert E. Denny
Alvin C. Miller.
Artificer: Gustave F. Reinke
Wagoner: Richard Ebbrecht.
Privates:
John H. Allen
August Anderson
Walter A. Arnold
Claude Barton
James M. Blank
Francis M. Bonewitz
Robert E. Bowlin
Albert W. Boyce
Albert W. Brademan
Albert W. Bradyhouse
William H. Burger
Henry W. Dampf
Grant Davidson
John W. Deaver
John W. Dick
John Dickson
Charles B. Donnell
Geo. H. Drier
Beno Goldman
Simon Goldman
Oscar Gollf
Wiley S. Grant
John H. Green
Walter D. Green
Logan L. Haggard
Charles W. Harp
Alvarado Hicks
Chas. Hoyt
William H. Irwine
Elmer James
James P. Johnson
Thomas D. Jones
Nicholas Keillman, Jr.
Peter E. Keissling
Guy J. Lesher
Stonewall Lobban
John P. McCarthy
Alvis A. McMillan
Flewe H. McPherson
Wesley C. Martin
William Mehr
Henry C. Meyers
Frank S. Newkirk
William D. Noal, Jr.
James R. Owsley
Fred. W. Opal
Lawrence Peasner
John A. V. Peterson
William H. Poston
Wm. W. Pouless
Warren S. Prine
Edgar Reagan
Fred. M. Reeves
Hade Roark
Dr. J. E. Robinett
Lee Robinett
Hugh W. Rogers
John H. Rolfus
Irvin P. Roper
Eugene Scott
Joseph Stephens
Frank D. Stickney
Charles L. Stressner
John H. Swearingin
Royal F. Trader
Joseph Treiber
Clarence Todd
Thomas Welch
Thomas Williams
Aug. H. Woehrman
Fred. Wulfurt
Samuel Waters
Geo. Young
Harry H. Zetche
--- Zugamier.
Discharged:
Sergeant John F. Thien
Joseph Noble
Fred. W. Opal
Warren S. Prine
Harry H. Zetzche.
Deaths:
Claude Barton, Jefferson City, Mo.
Guy J. Lesher, Camp Hamilton.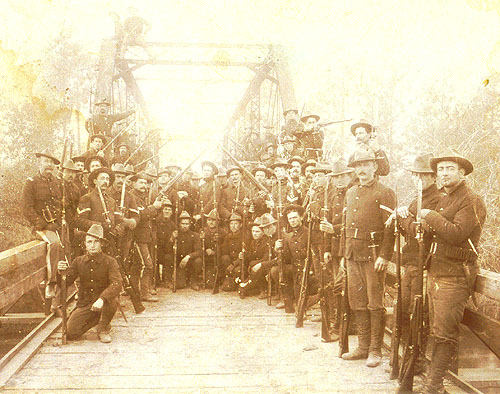 Members of the 2nd Missouri Volunteer Infantry, Co M.
William Perry Smith of Co. M is standing on the bridge rail at left, with his arm pointing to the right.
Officers
Captain —— McAfee, E. C.
First Lieutenant —— Towuaha, G. H.
Second Lieutenant —— Cravens, J. D.
Non-commissioned officers:
First Sergeant —— Massey, B. M.
Quartermaster Sergeant —— Newton, Emmett
Sergeant —— McElhany, Ralph
Sergeant —— McAfee, Jr., C. B.
Sergeant —— Campbell, E. H.
Sergeant —— Gatts, W. E.
Corporal —— Hennery, U. S.
Corporal —— Arnold, A. L.
Corporal —— O'Daniel, J. C.
Corporal —— Angel, Lucien O.
Corporal —— Hazzard, H. W.
Corporal —— Sampey, A. F.
Corporal —— Symington, J. M. [James]
Corporal —— Lawrence, E. E.
Corporal —— McKinney, O. A.
Corporal —— Ball, W. B.
Corporal —— Gentry, R. C.
Cook —— McClintock, A. L.
Musician —— Blain, E. R.
Musician —— Mullins, F. C.
Artificer —— Thompson, E. A.
Wagoner —— Morris, O. W.
Privates:
Ables, H.
Alar, William
Arbuckle, Jud
Arnold, Oscar
Barton, W. E.
Bates, F. R.
Bays, J. E.
Braswell, W. F.
Bryant, J. H.
Burnett, George
Burson, Leon
Burton, C. J..
Butler, J. T.
Camp, Herschel
Campbell, Abner
Cass, L. W.
Choat, J. E.
Clay, John R.
Coffland, C. A.
Coss, C. E.
Cotton, G. W.
Davis, Frank
Debo, J. H.
Dick, Charles
Diringer, F.
Emmerson, W. D.
Farley, John
Frasher, J. W.
Frasher, O. A.
Gault, Clyde
Gibson, Thomas F.
Gilliland, Jesse
Glen, W. F.
Gold, V. R.
Hampton, A.
Harmon, W. H.
Harris, Joseph
Howard, W. F.
Jener, W. A.
Keech, W. M.
Lawson, A. M.
Lemon, W. A.
Lewis, M. E.
Mack, Charles E.
Marr, F.
Matlock, N. W.
McAdoo, Joseph
McClure, C. L.
McCoy, A.
McCoy, Charles
McKinney, E. E.
McKinney, M. B.
McKinney, R. G.
McNaught, L. Q.
McQuitty, W. D.
Miller, F. A.
Overshart, F.
Pebit, Joe
Phelps, W. G.
ritchey, L. V.
Rogers, Charles
Rush, Charles R.
Sams, J. R.
Scott, J. F.
Siler, J. P.
Skinner, S. G.
Smith, A. E.
Smith, W. P.
Snyder, J. J.
Spratley, A.
Stewart, J. A.
Stokes, J. W.
Stratton, H.
Styker, H. A.
Tandle, W. H.
Thornburgh, J.
Van Geison, O.
Van Vant, E.
Wade, Ross
Wallace, J. D.
Willis, Clyde
Young, H. C.
---
Bibliography:
Bobila, Pamela Diane - Photo of Co. M; info. on first name of Cpl. Symington, Co. M.
Fairbanks, Johnathan and Clyde Edwin Tuck, Past and Present of Greene County, Missouri. (See http://thelibrary.springfield.missouri.org/lochist/history/paspres/ , Chapter 11, Partv 11).
---

Support this Site by Visiting the Website Store! (help us defray costs!)

---

We are providing the following service for our readers. If you are interested in books, videos, CD's etc. related to the Spanish American War, simply type in "Spanish American War" (or whatever you are interested in) as the keyword and get a list of titles available through Amazon.com.
---
Visit Main Page for copyright data