---
A Brief History of the 1st United States Volunteer Infantry
By Patrick McSherry
---
Please Visit our
Home Page
to learn more about the Spanish American War
---
General:
The 1st United States Volunteer Infantry was raised during the Spanish American War, but the unit did not see service outside of the continental United States during the war.
The History:
The 1st United States Volunteer Infantry was mustered into service between May 25 and June 4, 1898 at Galveston, Texas. The unit initially consisted of 46 officers and 971 enlisted men.

The regiment departed Galveston being ordered to New Orleans, Louisiana where it arrived on July 23. While the regiment was in New Orleans, an armistice was reached between the United States and Spain on August 12 ending the war's fighting. Six days later the regiment departed New Orleans, returning to Galveston, Texas.

By the time of their muster out on October 28 at Galveston, the unit had decreased in size, still having 46 officers but only 956 enlisted men.
During its period of service, the unit had lost one of its officers and two enlisted men killed in accidents. Three three enlisted men died from disease, one enlisted man murdered, and sixteen enlisted men deserted.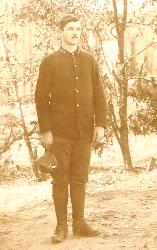 This is a view of Norman B. Perry of the 1st United States Volunteer Infantry.
---
Bibliography:
(As a service to our readers, clicking on title in red will take you to that book on Amazon.com)
Arnett, Nancy, image of Norman Perry.
Statistical Exhibit of Strength of Volunteer Forces Called into Service During the War with Spain; with Losses from All Causes. (Washington: Government Printing Office, 1899).
---

Support this Site by Visiting the Website Store! (help us defray costs!)

---

We are providing the following service for our readers. If you are interested in books, videos, CD's etc. related to the Spanish American War, simply type in "Spanish American War" (or whatever you are interested in) as the keyword and click on "go" to get a list of titles available through Amazon.com.
---
Visit Main Page for copyright data