---
A Brief Biography of
1st Lieutenant Wendell Cushing Neville, U.S.M.C.
(May12, 1870 - July 8, 1930)
Contributed by Robert Pendleton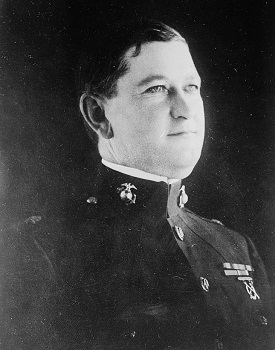 General Wendell Cushing Neville, circa
1915-1920 (Library of Congress).
---
Please Visit our Home Page to learn more about the Spanish American War
---
General:
1st Lieutenant Wendell Cushing Neville was leader of first platoon, Company D, commanded by Captain William F. Spicer, First Marine Battalion (Reinforced), North Atlantic Squadron. The company was in continuous action against Spanish infantry and irregulars at Guantanamo Bay, Cuba, 11 through 14 June 1898..

The Biography:
Wendell Cushing Neville was born in Portsmouth, Virginia, on 12 May 1870, the son of Willis H. Neville and Mary Elizabeth (Cushing) Neville.
After attending Galt's Academy in Norfolk, Virginia, he was appointed from Virginia to the United States Naval Academy and graduated in the Class of 1890. Before he finished the post-graduate two years of sea duty as a naval cadet, he was commissioned second lieutenant of Marines on July 1, 1892. After a year and a half of training and service at Marine Barracks, Navy Yard, Washington, District of Columbia, he was promoted to first lieutenant on February 26, 1894. He then spent three years at sea assigned to the Marine Guards on board the battleship TEXAS, and cruisers CINCINNATI, and RALEIGH.
At the time of the organization of the First Marine Battalion, April 17-22, 1898, he was assigned to shore duty at Marine Barracks, New York Navy Yard, New York City, New York, and there joined the battalion as first platoon leader of Company D on April 19, 1898. During the Spanish-American War fighting at Guantanamo Bay from June 11, 12, 13, and 14 (Battle of Cuzco Well where he tripped and injured his hip and ankle in an accidental fall after the fighting was over) he was brevetted captain for gallant conduct. After the dissolution of the First Marine Battalion at Marine Barracks, New York Navy Yard, he resumed duty at that barracks and the brevet rank of captain was made permanent on April 4, 1899.
He was assigned to the 4th Marine Regiment during China's Boxer Rebellion and was in battle at Tientsin and was commended for gallantry. After the Boxer Rebellion in September, 1901, he was assigned, with the 4th Marine Regiment, to the Philippines where he was the military governor of the Province of Basilan.
On his return to the United States in March of 1903, during the next ten years, he served in Cuba, Nicaragua, Panama, and Hawaii. On December 4, 1904 he was promoted to the rank of major.
On February 25, 1914 Neville was promoted to lieutenant colonel and was dispatched to command the Second Advanced Base Regiment (later renamed 1st Regiment of Marines) which landed from the transport PRARIE at Vera Cruz. For his actions at Vera Cruz, Lieutenant Colonel Neville was awarded the Congressional Navy Medal of Honor. His citation reads "For distinguished conduct in battle, engagement of Vera Cruz, April 22, 1914, was eminent and conspicuous in command of his battalion. He exhibited courage and skill in leading his men through the action of the 22nd and in the final occupation of the city."
Prior to World War I, Lieutenant Colonel Neville was assigned to command the combined Allied guard at Peking, China, in July of 1915. On August 29, 1916 he was promoted to the rank of colonel. A few months after the commencement of the war he returned to the United States and on January 1, 1918 was placed in command of the Fifth Marine Regiment in France where he led the regiment in action at Belleau Wood, Vaux, France, June 6 -July 1, 1918. In July 1918 his command was enlarged to include the Fourth Marine Brigade which he directed during the remaining days of the war and during occupation service in Germany.
He returned to the United States as a brigadier general in 1919. Promoted to major general in March 1920, he served as assistant to the Commandant of the Marine Corps and later became Commanding General, Department of the Pacific with headquarters in San Francisco. After that tour of duty he was assigned as commanding general, Marine Corps Base Quantico, Virginia.
On March 5, 1929 he succeeded Major General John A. Lejeune as 14th Commandant of the Marine Corps. While in office he died suddenly on July 8, 1930. Major General Neville's wife, Frances Adelphia (Howell), preceded him in death on December 4, 1927 and both are interred at Arlington National Cemetery.

---
Bibliography:
Marines in the Spanish-American War 1895-1899 Anthology and Annotated Bibliography, History and Museum Division, Headquarters, U.S. Marine Corps, Washington, D.C., 1998.
First Marine Battalion(Reinforced) Muster Rolls, Company D, 1 April through 31 August 1898, Compiled by Robert M. Pendleton, unpublished manuscript.
Who's Who in Marine Corps History, Major General Wendell Cushing Neville, U.S.M.C., (Deceased), United States Marine Corps History and Museum Division, Quantico, Virginia.

---
Support this Site by Visiting the Website Store! (help us defray costs!)
---
We are providing the following service for our readers. If you are interested in books, videos, CD's etc. related to the Spanish American War, simply type in "Spanish American War" (or whatever you are interested in) as the keyword and click on "go" to get a list of titles available through Amazon.com.
---
Visit Main Page for copyright data