---
The Biography of
Acting Sgt. Maj. William Carter, U.S.M.C,
of the
1st Marine Battalion (Reinforced)
(January 1, 1865 – March 26, 1925 )
Contributed by Robert Pendleton

---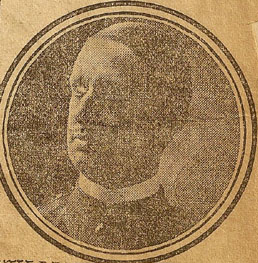 William Carter

---
Please Visit our Home Page to learn more about the Spanish American War
---
Click here to read a history of the First Marine Battalion in the Spanish American War
---
General:
Private William Carter (actual name Warren Ordway Carter) enlisted in the Marine Corps on June 28, 1894 under the pseudonym of William Carter. During the Spanish-American War of 1898 he was a member of the Headquarters Staff, 1st Marine Battalion (Reinforced) and was in action at Guantanamo Bay, Cuba.
During his service at Guantanamo Bay, he was promoted to the rank of sergeant and then acting sergeant-major for his coolness and gallantry in action. He later served during the Chinese Relief Expedition in 1900 and the Philippine Insurrection during 1901. Carter was honorably discharged from the Marine Corps at Washington Navy Yard, Washington, D.C. on June 25, 1904.
In the interest of clarity this writer will continue to refer to the subject as "William Carter," the name under which he preferred to serve in the Marine Corps. Though named Warren at birth, he enlisted as "William" and was never challenged by the Corps regarding his pseudonym. Also, apparently, he never requested that his name be corrected, going by William for the remainder of his life.

The Biography:
Warren Ordway (a.k.a. William) Carter was born on January 1, 1865, at Brooklyn, Kings County, New York, the first of two sons born to Brevet Major Eugene Carter, U.S. Army, and Mary Emory (Ordway) Carter. Eugene and Mary had been married during the tumultuous American Civil War on April 4, 1864, at Bradford, Massachusetts, by the Reverend J. T. McColligan.
William's father, Major Eugene Carter, was one of four brothers that wore the Union blue during the Civil War, all serving in the U.S. Army. One of the brothers, Captain Robert Goldthwaite Carter, was a recipient of the Medal of Honor for his actions during the Indian Wars in a battle with Comanche Indians at the Brazos River, Texas, on October 10, 1871. Major Eugene Carter himself graduated from West Point on June 28, 1861. He served ten years in the U.S. Army and was honorably mustered out of the service on June 2, 1871. Six years after William's birth, Eugene's and Mary's second son, George Henry Carter was born on July 19, 1871, a little over a month after his father returned to civilian life. Eugene Carter and his brother-in-law, John Corson, established the Corson & Carter Shoe Manufacturing Company at Haverhill, Massachusetts. Six years later, on February 10, 1877, Eugene died at home in Bradford, Massachusetts, of acute pneumonia.
William Carter joined the U.S. Marine Corps at the age of 29, though his enlistment papers state that he was "about 25 years of age." He enlisted at New York Navy Yard, Brooklyn, New York aboard the Receiving Ship U.S.S. VERMONT on June 28, 1894. At the time of his enlistment, Carter stood 5' 10 1/8" in height. He had light blue eyes, brown hair, and was of fair complexion. His civilian occupation at time of his initial enlistment was that of Fireman. Carter was sent for training to Marine Barracks, New York Navy Yard. On July 30, he was transferred to the Marine Guard, U.S.S. NEW YORK where he served 2 years and 11 months on sea duty.
On July 19, 1897, Pvt. Carter was transferred to Marine Barracks, New York Navy Yard, Brooklyn, New York. With war imminent, on April 22, 1898, he was detached from Marine Barracks to serve with the newly formed 1st Marine Battalion (Reinforced), under the command of Lt. Col. Robert Watkinson Huntington. Carter served on the Battalion's Headquarters Staff. With the remainder of the Battalion, he boarded the transport U.S.S. PANTHER that same day, steaming from New York Navy Yard for Key West, Florida, (via Fort Monroe, VA). The battalion arrived at Key West a week later, on April 29.
After spending more than a month on board PANTHER, Carter and the battalion as a whole disembarked and established their camp just east of West Martello Tower
at South Beach. The Marine Camp at Key West was named Camp Sampson in honor of Admiral William T. Sampson. On June 6, the Battalion received the order to re-embark on board the U.S.S. PANTHER and to steam for Cuba on June 7. After landing at Fisherman's Point in Guantanamo Bay three days later, the first major American force to land in Cuba, the Battalion soon found itself in heavy action through June 14. On the 14, the Battalion took part in the Battle of Cuzco Well during which the Spanish and Cuban loyalist forces were defeated and forced to withdraw. During this battle, Carter volunteered as a rifleman, and was cited for his coolness and notable execution on the firing-line by Captain George Frank Elliott, expedition commander. Carter was promoted from private to sergeant then to Acting sergeant-major of the Battalion by order of Lt. Col. Huntington on June 20, 1898. Huntington noted that the promotion "was not only for his fitness but for his coolness and gallantry in action."
On August 5, 1898, Carter, along with the Battalion embarked on board the transport U.S.S. RESOLUTE, which left the bay on August 9 the ship bound for Manzanillo. The invasion of Manzanillo was planned for August 13, but the signing of an armistice between the United States and Spain ended the war's fighting before the invasion occurred. The RESOLUTE returned to Guantanamo Bay and then steamed for the United States on August 18. After landing some Army Artillery detachments at Montauk Point, Long Island, New York on August 24, the ship weighed anchor, bound for Portsmouth Naval Shipyard, Seavey Island, Kittery, Maine, arriving the next day.
On August 26, Carter and the remainder of the Battalion disembarked and set up Camp Heywood opposite Camp Long, the stockade where the Spanish prisoner of war awaited repatriation. Following the prisoners' repatriation, the Battalion was disbanded on September 22, 1898 and William Carter was transferred back to his former duty at the Marine Barracks, New York Navy Yard. This also involved Carter being reduced in ranks since his sergeant-major rank was specifically an appointment for duty with the 1st Marine Battalion (Reinforced).
After his return from Cuba, Sergeant William Carter, now 33 years of age married Phoebe Ann Steedman, age 22, of New York City on October 4, 1898. The ceremony was conducted by Pastor N. Bjerring, Church of the Redeemer, 943 Lexington Avenue in the Borough of Manhattan. Phoebe was the daughter of William and Mary Steedman, City of New York. The couple eventually had four children :

Eugene Robert Carter, (July 17, 1899- November 27, 1953)
Harriet Mary Carter (Sickles), (April 6, 1901- )
George Henry Carter, (July 5, 1907- July 5, 1995)
Warren Ordway Carter Jr. (January 14, 1910 - January 28, 1910)

On June 23, 1899 Brig. Gen. Charles Heywood, Commandant of the U.S. Marine Corps, appointed Sergeant Carter to the new Marine Corps rank of gunnery sergeant (established March 3, 1899) to date from June 1, 1899. He was the 4th of 72 new gunnery sergeants and was detailed to duty at Marine Barracks, New York Navy Yard, Brooklyn, New York.
Four days later, on June 27, 1899, upon the completion of his first enlistment, he was honorably discharged. The following day, he re-enlisted for a second five year enlistment, with the rank of gunnery sergeant to rank from June 1, 1899. On August 29, he was assigned to duty at the Marine recruiting station in Stamford, Connecticut, commanded by Captain Wendell C. Neville. Carter had served with Neville before, in the 1st Marine Battalion (Reinforced).
On July 20, 1900 Gunnery Sergeant Carter was assigned as acting sergeant-major of the 3rd Marine Battalion, Major Littleton W. T. Waller, commanding. The 3rd Battalion was sent to the Philippines, arriving on December 15, 1899. Within three days of its arrival the 3rd Battalion was disbanded with its personnel being distributed between the 1st and 2nd Battalions, which had arrived previously. Subsequently, the 1st and 2nd Battalions became the nucleus of the new 1st Marine Regiment, formed with the added strength of the 4th and 5th Independent Marine battalions, under the command of Lt. Colonel, George Frank Elliott. The regiment was formed between January 1st and 6th, 1900.
A portion of the force, a provisional battalion composed of Companies A, C, and H, of the 1st Marine Regiment, commanded by Major Waller, was dispatched to China as part of the Chinese Relief Expedition, or "Boxer Rebellion." The battalion landed at Taku Bar, China, on June 19, 1900. On July 11, Colonel Robert Meade and 300 men of the 1st Regiment joined with Major Waller and then advanced to the relief of Tientsin, and Pekin, China. Gunnery Sergeant William Carter took part in the operations in China and was detailed as acting sergeant-major to the 5th Independent Marine Battalion on July 20, 1900. On July 22, 1900 the Marine force returned to the Philippines. With this added strength, the Marines were organized into a provisional brigade of two regiments, each with two battalions.
On March 14, 1901, Gunnery Sergeant William Carter was transferred from the Philippines to the Marine Barracks, Mare Island, California. On April 23, he was additionally transferred to the New York Navy Yard, Brooklyn, New York and served on recruiting duty, being placed in charge of the Marine recruiting offices in Buffalo, New York.
On August 31, 1902, Carter was detailed to serve as First Sergeant of the Marine Guard on the U.S. Receiving Ship COLUMBIA. Next, on September 21, 1903, he was assigned to the same position aboard the U.S. Receiving Ship HANCOCK, a position he held until February 23, 1904 when he transferred back to the Marine Barracks, New York Navy Yard. On April 7, he was transferred to Marine Barracks, Washington Navy Yard at Washington, D.C. It was here, on June 25, 1904, having served his second five–year enlistment that William Carter, age 39, was honorably discharged.
Following his service, William Carter returned to his family at Brooklyn, New York. He was employed as an ordnance man at New York Navy Yard and was subsequently employed as a letter carrier, U.S. Post Office; sugar sampling sampler, U.S. Customs Service, and as a bank watchman.
At age 57, William Carter applied for a veteran's pension, on May 15, 1922. Three years later, at the age of 60, William Carter died at Brooklyn, New York, on March 26, 1925. He was buried at Cypress Hill National Cemetery, Brooklyn, New York, Section 2, grave site 9331.
His widow, Phoebe Ann (Steedman) Carter, born March 3, 1876, died at Ovid , Michigan on January 25, 1959, aged 83 , and was interred beside her husband at Cypress Hill National Cemetery, Brooklyn, New York.
Semper Fidelis
---
Bibliography:
William Carter's family papers, photographs, and other indispensable family documents and genealogical information were generously provided by Mr. and Mrs. Fred and Susan Carter Johns. Mrs. Johns is the daughter of George Henry Carter, the granddaughter of Gunnery Sergeant William Carter, USMC, and great-granddaughter of Brevet Major Eugene Carter, US Army.
Mr. Carter Andrew Kampakis, a great-great-grandson of Gunnery Sergeant William Carter, provided various documents including the Death Certificate of Phoebe Ann (Steedman) Carter as well as the location of their interment at Cypress Hill National Cemetery, Brooklyn, New York.
Mr. Fred Johns provided the scan of the newspaper image of William Carter.
William Carter collection, Archives and Special Collections Branch, Library of the Marine Corps, 2076 South Street, Quantico, Virginia, 22134-5067
United States Military Academy, West Point, Special Collections, Biographical Register of the Officers and Graduates of USMA, http://www.library.usma.edu/archives/special.asp
New England Historical and Genealogical Library, 99 Newbury Street, Boston, Massachusetts, 02116-3007
Other sources:
Carter, Robert Goldthwaite Carter, Four Brothers in Blue. (Washington Press of Gibson Brothers, Inc., 1913) The paperback edition (ISBN 0-8061-3185-3) was published by the University of Oklahoma Press, 1999.
Pendleton, Robert M., Ed., 1st Marine Battalion (Reinforced) MUSTER ROLL, Headquarters Staff Muster Rolls, Manuscript (Quantico, VA: Marine Corps Heritage Foundation, June, 2007)
Journal of [the] Marine Battalion at Guantanamo [Bay], Cuba, 1898, (NARA RG 127 Entry 153) National Archives and Records Administration (NARA), Old Military and Civil Records (NWCTB), 700 Pennsylvania Ave., NW, Washington, DC 20408
Johnstone, Maj. John H., USMC, A Brief History of the 1st Marines. (1968)
Note to the reader: In the spring of 2010 the Marine Corps Museum, Quantico, Virginia will exhibit artifacts; an American flag raised in Cuba (item 841473), Tientsin map (Boxer Rebellion wall poster (item 840873) and warrant letters obtained in China that were owned by Gunnery Sergeant William Carter.
---

Support this Site by Visiting the Website Store! (help us defray costs!)

---

We are providing the following service for our readers. If you are interested in books, videos, CD's etc. related to the Spanish American War, simply type in "Spanish American War" (or whatever you are interested in) as the keyword and click on "go" to get a list of titles available through Amazon.com.
---
Visit Main Page for copyright data