---
The Partial Roster
of the
15th Pennsylvania Volunteer Infantry
---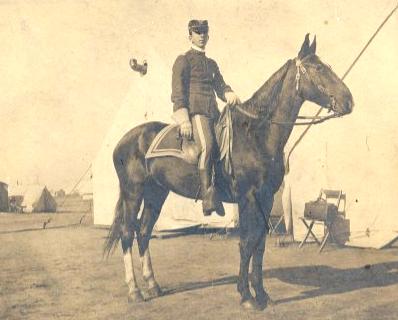 This is an image of Lt. James H. Hoskinson of the 15th Pennsylvania of Erie, Pennsylvania, who served as the battalion adjutant. He was killed in a fall from his horse on December 14, 1898 at Athens, Georgia. The contributor is interested in more information on Lt. Hoskinson, and can be contacted by email by clicking here.
---
Please Visit our Home Page to learn more about the Spanish American War
---
click here to read about the death of Lt. James Hoskinson
Click here to read about the 15th Pennsylvania at Camp Hastings, Mount Gretna, PA
---
Regimental Field and Staff ||| Company D ||| Company G
---
General:
The following is a partial roster of the 15th Pennsylvania Volunteer Infantry. The unit was mustered into the United States service at Camp Hastings, Mount Gretna, Pennsylvania.
If you have any additional rosters for companies of this regiment, please consider contributing them to the website (for more info., click here)
Please note that due to deterioration of the original document for Company D, there are one or two instances where a last name could not be transcribed with certainty (marked by an asterisk - * -), but the utmost care was given to be as accurate as possible. Any notations on the document were transcribed as originally recorded.
The Roster:
Colonel, William A. Kreps
Lieut.-Col., William T. Mechling
Major, Daniel F. Crawford
Major , Frank C. Baker
Company D (Organized at Clarion, Pennsylvania):
Officers:
Captain, Aaron J. Davis
1st Lieut., Frederick L. Pinks
2nd Lieut., Frank J. Hackett
Sergeants:
First. David S. Bigley Discharged Dec 17, 98
Q.M., William O. Ganbe (or Ganoe) *
Ralph G. Long 1st Sergt Jan 6, 99
William J. McCammon
Frank L. McCarthy
Charles M. Sampsell
Corporals:
Samuel L. Pickens Segt., January 6, 99
Paul H. Allmacher
Edward S. Rimer Discharged Nov 21, 98
Curtis W. Benn
Albert H. Finnefrock
Harry C. Rhea
Edward M. Bell Cpl., July 1st, Discharged Nov 7, 98
George F. Vowinckel Cpl., July 1st, Discharged Oct 23, 98
Theophilus L. Wilson Cpl.,July 1st, Discharged Oct 7, 98
Charles C. Wilson Cpl., July 1st 98
Charles H. Harpst Cpl., July 1st 98
Benjamin L. Davenport Cpl., July 1st, Dis Dec 10, 98
Musicians:
Harry T. Corbett Discharged Oct 12, 98
Edwin N. Stover
Artificer:
James T. Lowry
Wagoner:
Urban B. Howard
Privates:
Anderson, Walter R. Discharged Nov 2, 98
Allmacher, Harry J
Baker, John H.
Barger, Joseph F.
Blake, Murray, E.
Beatty, Walter C.
Brush, Charles F.
Brothers, George W.
Boyles, Bird W.
Brookbank, James H. Discharged Disability Jan 6, 98
Bradenbaugh, Edward V.
Boocks, William A.
Black, Adam
Cochran, Charles D. Deserted Sept 23, 98
Christy, Robert R. Bugular
Clover, Ralph W.
Cunningham, Frank W. Discharged Nov 21, 98
Corbett, Hazel F.
Davies, George
Davis, Charles L.
Fleming, Charles E.
Fleming, Robert L.
Fitzgerald, Jay E. Discharged Nov 27, 98
Finnefrock, Clyde C., Cpl. Dec 1st 98
Fisher, Harry H.
Fisher, Arthur J.
Freck, Gilbert C. Died Sept 1st, 98
Fitzsimmons, David M., Cpl., Dec 1st, 98
Frampton, Benjamin W., Cpl., Dec 1st, 98
Ganoe, Chambers E.
Gillingham, George W.
Goughler, John W.
Gerheim, John W.
Hulings, Ward P.
Hamilton, Ezra D.
Hosey, William S.
Himes, Earle R.
Harriger, Delbert A.
Iseman, Homer J.
Jewart, John F.
Johnson, William O.
Kinard, Moses C.
Knowles, Forgus F.
Lowry, Robert M. Discharged Oct 29, 98
Lohr, Harry B.
Long, George H.
McCammon, Harry W.
Mahood, William H.
Morrison, Harry H.
McClain, Herman L.
Montgomery, Robert R.
McElhinney, Robert J. Transferred to Signal Corps Nov 20
Miller, Caspar A.
Martin, James, E.
Newell, Charles A.
Nevell, Maurie B.
Neil, James J.
Passer, Henry Discharged Jul? 2, 98 *
Robinson, Hiram P. (II?)
Rimer, Frank H.
Rairigh, Charles A. Corp Jan 13, 98
Robb, Robert R.
Sayers, Charles M. Discharged December 11, 98
Spence, Bernard M. Discharged September 22, 98
Spence, Richard P.
Snyder, Charles J. Hospital Corp
Showers, Harry B.
Say, Lot B.
Shannon, Arthur E. Discharged October 29, 98
Sipler, George A.
Shoup, Harold A. Discharged December 17, 98
Stafford, Thomas E.
Walker, William R.
Walker, James S.
Wilson, Robert C. Discharged October 20, 98
Whitehill, Arthur B.
Whitehill, Clare E.
Williams, Dana C.
Williams, Earl E.
Wyman, George E.
Woodward, Elmer E. Cpl., Dec 1st, 98
Wurdack, Josef A.
Woodling, Thomas L.
Youkers, Frank G.
Company G (Organized at Sharon, Pennsylvania):
Officers:
Captain John W. Smith
1st Lieut. George M. Smith
2nd Lieut. George B. Troutman
Sergeants:
First Sgt. Evan G. Swogger
Quartermaster Sgt. William B. Bolton
Fred J. Keiser
William S. Dunham
Joseph A. Patton
Charles C. Beckman
Corporals:
John Beswick
Samuel Wilkes
Daniel F. Groscost
Gavin B. Allen
Charles A. Quinby
James H. Phillips
Clifford B. Banister
George H. Murchie
Thomas Brown
Andrew J. Mitchell
William G. Clark
Floyd Chapman
Musician:
Charles W. Duvall
David J. Kays
Artificer:
Robert McCleery
Wagoner:
Sherman E. Mattocks
Richard D. Hendrickson, Clerk
Privates:
Austin, Fred E.
Anderson, Jonas F.
Applegate, Harry A.
Barrett, John D.
Brown, George
Bilkey, William R.
Bees, David
Bond, Gilbert M.
Bailey, Thomas A.
Craw, George M.
Crosthwaite, Harry
Cozadd, John J.
Cozadd, Charles O.
Carnes, Clarence M.
Caniff, Thomas
Crawford, Clayton, E.
Dunham, William G.
Evans, Daniel T.
Earl, Wallace L.
Franklin, John Jr.
Fisher, Anton
Foringer, Randas
Groscost, James H.
Groscost, Fred W.
Gill, William H.
Hilkirk, Arthur
Hayes, Arnold W.
Haun, Frank D.
Hildebrand, Lucien G.
Hunter, Washington G.
Kagarise, John W.
Kreps, Charles F.
Lockhart, Fred
Lewis, Thomas S.
Loomis, James E.
Lynch, Fred A.
Lytle, William H.
Myers, William M.
Mallorie, Harry C.
McCullough, George W.
McKnight, Cecil E.
McElhatten, Chauncey O.
Miller, Ralph H.
Mulcahy, John R.
McConkey, William J.
Manning, Sylvester T.
McBride, John W.
May, Alfred W.
Morford, Albert B.
McBurney, James W.
Mahannah, Harry
Malsom, Charles W.
Moses, Edward
Nickle, Martin
Peters, George E.
Porter, Ford C.
Porterfield, George A.
Phillips, Fred
Ramsay, Charles S.
Rice, Samuel E.
Robison, Walter D.
Robinson, James
Robinson, John J.
Sperry, George L.
Swartzlander, Henry M.
Shatzer, Edward
Smith, George T.
Smith, Harry B.
Smith, Frank J.
Stambaugh, Levi
Shannon, Herman
Shaffer, Calvin A. (Company Cook)
Smail, Fred E.
Stokke, Andrew M.
Teague, William M.
Thomas, Arthur
Wheeler, Wells
Williams, William R.
Williams, John
Welch, James
Waters, Daniel
Wible, Henry B.
Zimmerman, Clyde L.
Burke, John H. (Servant)

---
Bibliography:
Davis, Martin - Memorial Roster of the Company D (private collection) and image of James Hoskinson
Chilcote, Elaine - Memorial Roster of the Company G (private collection of papers of Cpl. Floyd Chapman)
Stewart, Adj. Gen. Thomas J., Record of the Pennsylvania Vounteers. (Harrisburg: William Stanley Ray, 1901) 631.
---

Support this Site by Visiting the Website Store! (help us defray costs!)

---

We are providing the following service for our readers. If you are interested in books, videos, CD's etc. related to the Spanish American War, simply type in "Spanish American War" (or whatever you are interested in) as the keyword and click on "go" to get a list of titles available through Amazon.com.
---
Visit Main Page for copyright data