---
Gunboat U.S.S. Petrel
By Patrick McSherry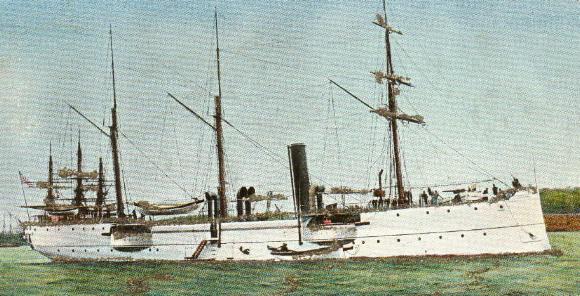 ---
Please Visit our Home Page to learn more about the Spanish American War
---
Click here for an 1898 crew roster
Click here for Commander E. P. Wood's account of the Battle of Manila Bay
---
GENERAL:
The USS PETREL was one of the early vessels in the modernization of the United States Navy. She sailed into Manila Bay with Commodore Dewey's USS OLYMPIA, and the remainder of the Asiatic Squadron on May 1, 1898, and aided in the destruction of Admiral Montojo's Spanish squadron. She continued to see active service throughout the war.
BACKGROUND:
The Gunboat USS PETREL was launched on October 13, 1888, and commissioned on December 10, 1889 with Commander W. H. Bronson in command. Initially, until September 1891, she served with the North Atlantic Squadron, when she was sent to the Asiatic Squadron. In July and August, 1894, she was detailed to the Bering Sea to discourage seal poaching. Because she was heavily armed for her size, she was nicknamed the "baby battleship".
On May 1, 1898, the USS PETREL was a part of Dewey's squadron that entered Manila Bay and destroyed the Spanish Fleet. She was the third ship in the line of battle, after the USS OLYMPIA and the USS BALTIMORE. Following the battle, she sent one of her boats into the inner harbor to sink six Spanish vessel there. Following this action, the USS PETREL sailed to Cavite and forced its surrender. On May 2, she sent a landing party which seized the Cavite arsenal, two tugs (the RAPIDO and HERCULES) and three launches.
For the remainder of the Spanish-American War USS PETREL continued to serve around the Philippines. With the USS BOSTON, she shelled Panay Island on February 11, 1899. On February 22nd, she sent a landing force to occupy Cebu. In October, she the and the USS CALLAO aided the Marine Corps' assault on Neveleta with a bombardment.
Following the war, the USS PETREL was decommissioned at Cavite. On May 9, 1910, she was recommissioned. She steamed to Europe and then the East Coast of the United States. From 1912 to 1915, she cruised the Caribbean, protecting American interests as the need arose. In 1916, she became a station ship in Guantanamo, Cuba.
When the United States entered World War One, the USS PETREL was brought back into action, and served with the American Patrol Detachment at Boston.
On July 15, 1919, USS PETREL was finally decommissioned in New Orleans. She was stricken from the Naval Register on April 16, 1920 and sold to Snare and Treest of New York on November 1, 1920.
ADVANTAGES/DISADVANTAGES:
The USS PETREL was very well armed for size. She was, however, quite small. Also, and very importantly, her engines were of the single screw, horizontal back-acting compound type, which was quite antiquated, making her one of the slowest vessels in the fleet. Lastly, the USS PETREL's watertight, protective deck extended only over the most important portions of her lower deck and was of very light construction.
Gunboats such as the USS PETREL were intended for use on inland waterways, rivers, and areas of shallower draft. They were also to be used for harbor blockading, freeing up larger vessels for other purposes.

---
TECHNOTES:


| Classification: | | Gunboat PG-2 |
| --- | --- | --- |
| Keel Laid: | | August 27, 1887 |
| Launched: | | October 13, 1887 |
| Completed: | | December 22, 1887 |
| Commissioned: | | December 10, 1889 |
| Rig: | | Barkentine |
| Armament: | | Four 6 inch guns |
| | | Two 3-pounders |
| | | One 1-pounder |
| | | Two 37 millimeter guns |
| | | Two Gatling Guns |
| Contractor: | | Columbia Iron Works and Dry Dock Co., Baltimore, MD. |
| Length: | | 176 feet, 3 inches |
| Beam: | | 31 feet |
| Mean draft: | | 11 feet, 7 inches |
| Max. draft fully loaded: | | 13 feet, 5 inches |
| Displacement: | | 892 tons |
| Complement: | | 10 officers and 112 enlisted men under the command of E. P. Wood. |
| Engine type: | | Horizontal, back-acting compound engine with a 33 inch stroke, generating 1,045 hp. Single screw. |
| Boiler type: | | 2 cylindrical straight-way boilers. |
| Speed: | | 11.55 knots |
| Coal bunker capacity: | | 200 tons |
| Normal coal supply: | | 100 tons |
| Endurance @ 10 knots: | | 4,000 nautical miles |
| Armor: | | 3/8" on slopes of watertight deck, |
| | | 5/16" on flat of watertight deck. |
| Cost: | | $247,000 |
---
Bibliography:
(As a service to our readers, clicking on title in red will take you to that book on Amazon.com)
Alden, Cmdr. John D., USN (Ret.), American Steel Navy , (Annapolis: United States Naval Institute Press, 1972).
Clerk of Joint Comittee on Printing, The Abridgement of Message from the President of the United States to the Two Houses of Congress. (Washington: Government Printing Office, 1899. Vols. 2,4.
Harris, Brayton, Lt Cmdr., U.S.N, Ret., The Age of the Battleship 1890-1922, New York: Franklin Watts, Inc., 1965.
---

Support this Site by Visiting the Website Store! (help us defray costs!)

---

We are providing the following service for our readers. If you are interested in books, videos, CD's etc. related to the Spanish American War, simply type in "Spanish American War" (or whatever you are interested in) as the keyword and click on "go" to get a list of titles available through Amazon.com.
---
Visit Main Page for copyright data